Life
Mike Bagwell on His Spectacular Bagwell Christmas Lights Display
When the most wonderful time of the year arrives, 417-landers flock to Bagwell Lights.
By Stephanie Towne Benoit | Photo by Brandon Alms, courtesy Mike Bagwell
Dec 2016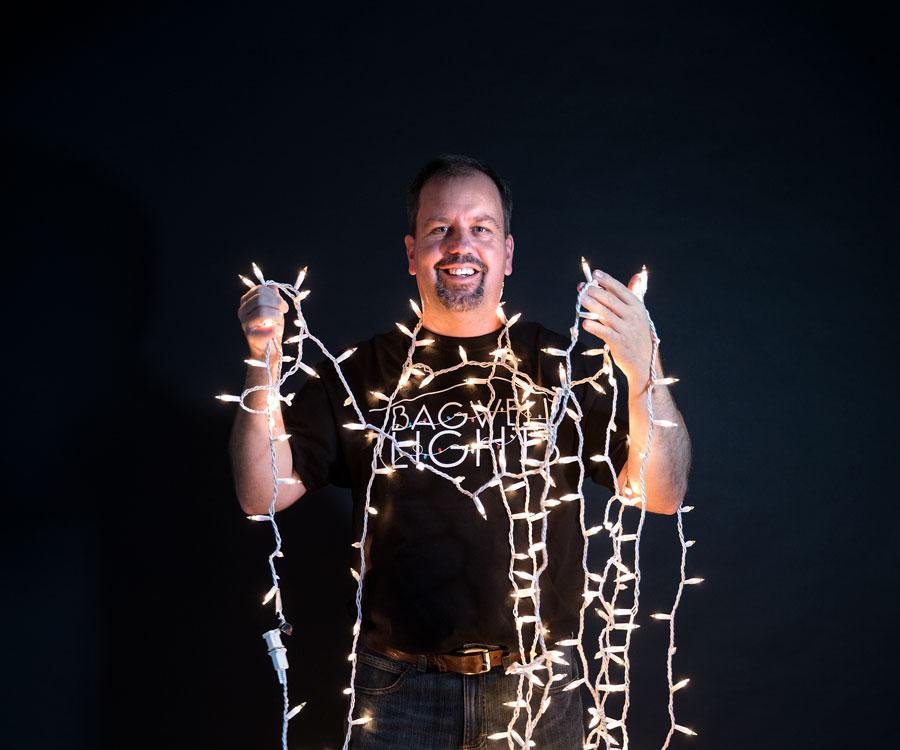 417 Magazine: How did you get started doing the display? 
Mike Bagwell: As a kid, I always loved Christmas lights. When I lived at my childhood home, I put on as much as I could put up without blowing the circuits. When I got my own home, I started branching out and expanding. Dad had retired by the time I bought my own house, so he was my helper, my right-hand man. He always called it free labor, but he enjoyed it, and it gave us father-and-son time that we could do projects and stuff together. I was kind of the mastermind creator of it all, and then he helped me put it together. [Editor's note: Bagwell's father passed away in 2015.] 
417: Doesn't the display span multiple yards? 
M.B.: Yeah. My house is right next door to my parents. One yard, which is mine, is animated, and it's synchronized to music. And my parents' yard is just animated. And so you kind of have some of the old-fashioned animation, and then you have the newer style of lights synchronized to music. So between the two houses, it gives something for everyone. And then our surrounding neighbors, to help them be part of it, we provide lights and we set them up and take them down for them and help them with leaves and stuff to help compensate for the traffic. 
417: Why have you done the display year after year? 
M.B.: I love Christmas; I love Christmas lights. And to me, you've got to share it with people. We are all celebrating Jesus's birth. So each year, we add more lights as if adding more candles on the cake in honor of him is what I say.  
417: How many lights are in the display in total? 
M.B.: Over 150,000 individual lights. So when you are starting with string No. 1 of the first 100 lights, it's a little overwhelming. But you just keep going at it piece by piece and plan out what you are going to do each weekend. 
Bagwell Lights spans across several lawns and uses more than 150,000 lights.
417: So you and your helpers do the setup on weekends? 
M.B.: The weekends, and every night [after] work. So anything new that we are going to add we start in June, July and August.  
417: So it's literally Christmas in July. 
M.B.: Yeah. If [we] are going to add anything new, that's [our] time for starting to create stuff. So like this year, we are redoing all of our roof lights. We have these bar lights. They went up in 2009. They were first-generation LEDs and they are starting to fail, so we are replacing those [bulbs]. Each has at least 50 bulbs. We have to hand tape every bulb on there, and you have to glue them in. And you are talking 200 man-hours. So that's what we did during the summer.  
417: What would you say is the most surprising thing you've done to get the display ready? 
M.B.: Well, [what] always stood out to my parents and my friends is I guess the amount of money. To me I sacrifice vacation and take that time building stuff and put it into the display. I love bringing joy and happiness to others, and it's fun building and creating things.  
417: Do any memories stand out from previous seasons? 
M.B.: We've had families that have come [to see it] that couldn't really afford Christmas, and they couldn't afford to give their kids anything. They came here and saw their kids so happy that it made them cry, and they come up to the house and thank us for making a nice Christmas moment for the family together. Then you realize what Christmas is really about. It's not about us getting stuff. It's taking time and having the joy of the season and sharing it with one another.