Life
Up Your Adrenaline at These Springfield Indoor Attractions
Kick cabin fever to the curb with Springfield's newest high-flying, axe-chucking, adrenaline-pumping attractions.
By Lillian Stone
Dec 2018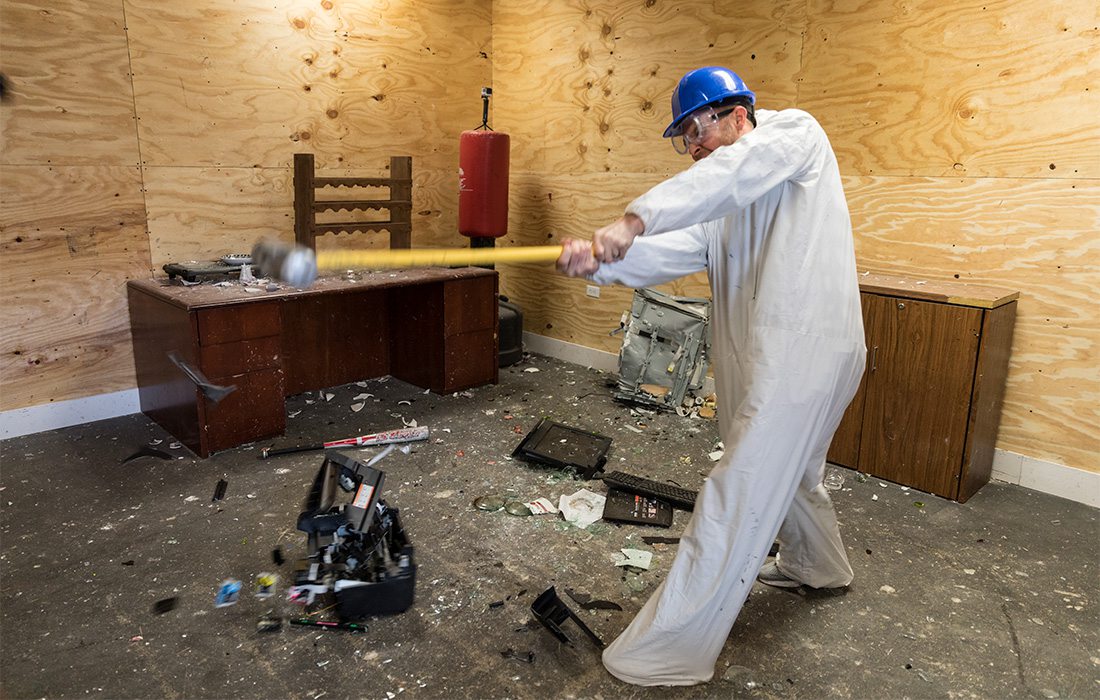 Cabin fever is a sneaky ailment. One minute, you're cozied up at home, sipping a steamy beverage and avoiding any and all attempts at physical activity. The next, you're twitching around in your banded sweatpants, desperate for an outing. Luckily, Springfield is full of unorthodox indoor adventures that promise to remedy those winter blues.


Heave a Hatchet
TommyHawks Axe House
1631 W. College St., Springfield, 417-350-1221
Competitive axe throwing was popularized in Canada, and it's currently taking the states by storm. Now, 417-landers can channel their inner Jeremiah Johnson at TommyHawks Axe House. The custom tomahawk manufacturer opened a hatchet throwing outpost on Springfield's north side—think of it like a shooting range or batting cage, but with rugged, steely weapons of yore. Gather up your most dexterous pals, reserve your group's throwing lane online, then slurp a brewski—TommyHawks is a BYOB establishment—for an especially groovy axe throwing experience. Serious hatchet heavers can even join a competitive throwing league in preparation for the annual World Axe Throwing League (WATL) tournament.


Kick Axe
Craft Axe Throwing
431 S. Jefferson Ave., Suite 132A, Springfield, 417-409-2496
For a slightly more casual axe throwing experience, head to Craft Axe Throwing for a group-friendly game that's not unlike miniature golf. Groups up to four are assigned an individual axe throwing lane, allowing competitors to chuck axes at a giant target, earning points based on their axe's proximity to the bullseye. Craft Axe Throwing is perfect for first-timers—there are instructors on-site, and you can even book birthday parties and corporate retreats online. You can't bring your own alcohol, but Craft Axe Throwing does offer a full bar.


Release Your Rage
The Rage Room
1950 S. Glenstone Ave., Suite I, Springfield, 417-872-9055
Something about being cooped up indoors makes little frustrations seem positively infuriating. If you're dealing with pent-up frustration over work conflicts, personal drama or political mayhem, you need a rage room. These safe stress-relief destinations are sweeping the nation, allowing patrons to relieve frustration by physically smashing items like computers and dishware—all in a secure environment with killer tunes. The Rage Room offers delightfully destructive experiences for individuals and small groups of up to four people. Make sure to book your party online in advance, and come equipped with tennis shoes or boots. Although you can bring your own items to smash, The Rage Room provides smash-ready goods, plus the weapons and special gear necessary to keep you safe while you're smashing.


Nock an Arrow
Midwest Archery
4725 N. MO-13, Springfield, 417-403-2141
Make Katniss Everdeen proud at Midwest Archery, a family-owned business located in a former Carpet Barn just north of Springfield. Midwest Archery started by selling archery equipment—in fact, the business still offers 6,000 square feet of pure archery heaven with bows, tree stands and more. The indoor practice range, however, is the real attraction, allowing even first-time bow shooters to live out their Robin Hood fantasies. The range offers 12 20-yard lanes, and there are instructors on-hand to assist newbies. No reservations are required; walk-ins are welcome to reserve a lane for only $5 an hour or $15 for the entire day.


Catch Some Air
Urban Air Adventure Park
2825 S. Glenstone Ave., Springfield, 800-960-4778
Opening in February 2019, Urban Air Adventure Park will soon be the perfect place for youngsters—and the young at heart—to release their wintertime wiggles. The newest addition to the Battlefield Mall will feature oodles of high-flying attractions including an indoor roller coaster, dodgeball courts, a stunt airbag for adventurous kiddos, a ropes course, an indoor climbing wall and ProZone performance trampolines that cover the park's floors and walls. If you're looking for a challenge, make sure to try your hand at the Urban Warrior Course, full of obstacles that will tempt athletic kids and adults alike. After an afternoon of fun, sit down for tasty eats at the park's Urban Cafe.