Dishes
5 Best Vegan Eats
Our art director scoured local menus to find her very favorite no-meat, no-cheese, no-eggs, all-vegan-all-the-time dishes. They're so good, even carnivores should branch out and give them a try.
By Jessica Kennon Spencer
Feb 2014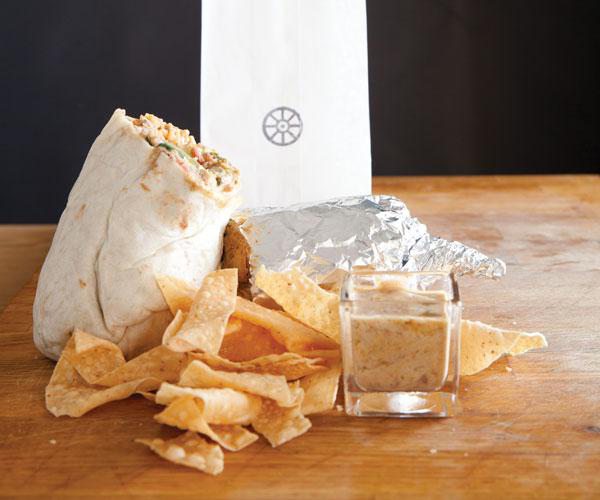 1. Veggie Special Burrito 
$6.25 at The Wheelhouse 
836 N. Glenstone Ave., Springfield, 417-773-7717
The Wheelhouse food truck in the Springfield Mobile Food Park has emerged as one of the most vegetarian-friendly eateries in 417-land. Order the ultra-gigantic Veggie Special Burrito—without cheese but with satay peanut sauce—and prepare yourself for a tasty new take on the traditional burrito. Thai-Mexican flavors like cumin, white pepper and coriander seeds along with fresh broccoli, peppers, squash and the optional spicy cabbage mixture rocket this handheld meal to another level of tastiness. 
What to order on the side: Tortilla chips and bean dip with satay peanut sauce (without cheese).
2. Mushroom Steak Sandwich
$8 at Grad School
434 S. Jefferson Ave., Springfield, 417-866-8163
This delicious, gooey sandwich can't be beaten. To make it vegan, order it without the cheese— you won't miss any flavor. Fat strips of portobello mushrooms are sautéed with bell peppers, onions and spicy sauce and then layered on Grad School's house-baked bread, slathered with guacamole and topped with fresh baby spinach. It's finished in a hot sandwich press. 
What to order on the side: Grad School's French fries, a Best of 417 winner (see p. 92).
3. Lomo Saltado with Mushrooms
$11 at Café Cusco
234 E. Commercial St., Springfield, 417-868-8088
The Lomo Saltado is one of many vegan options at this Peruvian eatery. It's a stir-fry dish with a blend of vegetables including mushrooms, red peppers and onions, thick papa fritas (French fries) and fresh cilantro. The combination is delicious and tastes bright and fresh. 
What to order on the side: Mazamorra Morada (without whipped cream) is a warm, sweet pudding made from purple corn, guava, pineapple and mango. 
4. Falafel and More
$2.99–10.99 at That Lebanese Place
338 E. Commercial St., Springfield, 417-536-6677
This Commercial Street eatery has so many vegan options, we couldn't pick just one. Bring a hungry friend, and order the hummus or baba ghanouj with pita bread (it's some of the best I've had in town), tabbouleh, falafel and split lentil soup. The Batata Harra, a giant dish of spicy potatoes with cilantro and garlic seasoning is delicious but almost too much to eat alone. The best part is that there's no need for modification here—all of these items are served vegan. 
What to order on the side: The tahini sauce that comes with the falafel is creamy and delicious, but still sans dairy. It's great  for dipping with the  falafel, potatoes and pita bread. 
5. Oh My Veggie roll
$12.95 at Kai 
306 S. Campbell Ave., Springfield, 417-832-0077
Vegan sushi pickings can be pretty slim and often boring. For more fanfare, forgo the veggie or cucumber roll and opt for the Oh My Veggie roll, ordered vegan with no aioli, available at Kai and Haruno. It's a maki roll with cucumber, avocado and two kinds of pickled radish. It's draped with thin avocado slices, dusted with seasoning and then lit on fire and delivered to your table. Wait for the flame to die down, and dig in! You'll enjoy the perfect blend of warm and creamy avocado, a little spice and a tasty bite of fresh veggies underneath. 
What to order on the side: Seaweed salad, edamame and miso soup.