Travel
Washington, Missouri
When you need to escape winter and fill up on good food, historic culture and beautiful views, take a weekend drive to the riverfront town of Washington.
By Rose Marthis | Photo by Slava Bowman, courtesy The Blue Duck
Feb 2015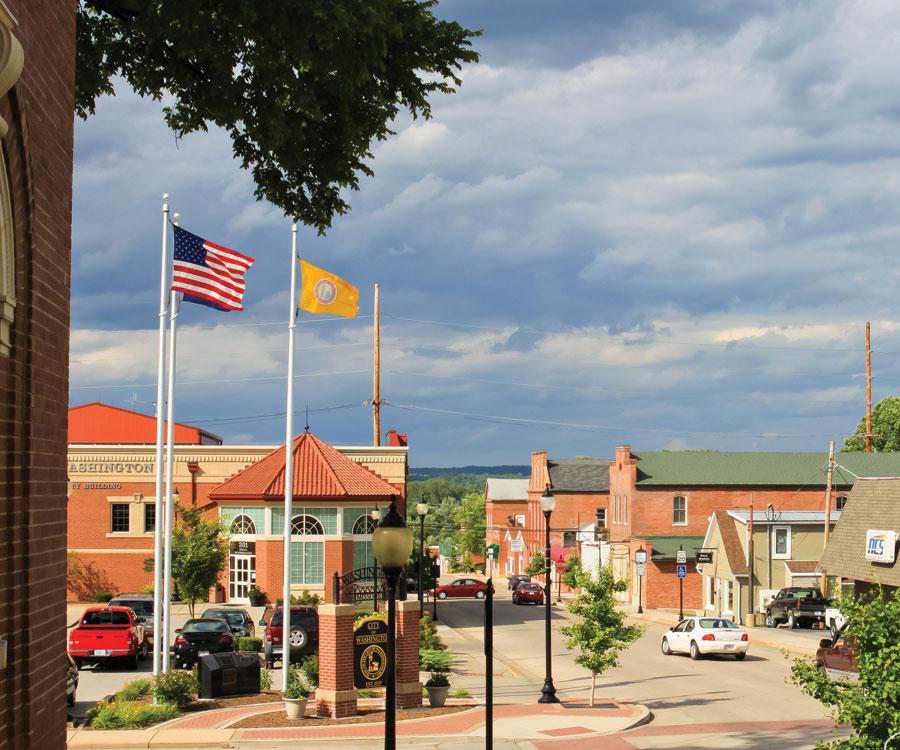 By this time of year, we're tired of the winter cold and need an escape to perk us up. The perfect mini road trip destination is Washington, Missouri, just less than three hours east of Springfield. The town is bustling with art, culture and history and is filled with cute shops and great places to eat local food and satisfy a sweet tooth. With everything close to downtown or directly overlooking the river, a weekend getaway here can be perfect for either a girlfriends trip or a romantic escape. 
STAY
Keep close to the fun by staying at the Old Dutch Hotel & Tavern downtown (227 Elm St., Washington, 636-390-4400, olddutchhotelandtavern.com). The building dates back to the 1920s. The high ceilings, crown molding and deep windows keep the historic character, and there is even a room President Truman stayed in that has the original fireplace. 

The Blue Duck offers delicious fare including steamed mussels with a white wine sauce.
EAT
Enjoy a delicious lunch or dinner while you overlook the river at The Blue Duck (516 W. Front St., Washington, 636-390-9131, blueduckwashmo.com). Everything is made in-house, including house-cured meats, breads made from scratch and hand-made desserts. For dinner, try the smoked fried chicken with fried spinach, mashed potatoes and a biscuit waffle or the braised duck wing and quarter in a black olive caramel sauce. 
A fun, casual evening can be spent at John G's Bier Deck (107 W. Main St., Washington, 636-432-1337) and John G's Tap Room (107 W. Main St., Washington, 636-239-5010), the home of Augusta Brewing Company. This micro-brewery, located in an old grocery store that the family has owned for 144 years, is in the heart of downtown, and the beer deck behind the restaurant has a view of the river. Stop in to enjoy the fish and chips and one of the almost 30 styles of beers produced throughout the year. A February favorite is the Imperial Coffee Chocolate Stout. 
SHOP 
Washington is full of antique shops and local treasures, but a shop that stands out is Fern & Sycamore (319 Elm St., Washington, 636-667-1919). The store has been open since 2012, and everything for sale is made in America. They have more than 80 manufacturers represented, carrying everything from home, garden and kitchenware to pet accessories and gifts including blankets, playing cards and birdhouses. There is even a focus on Missouri products such as leather made in Aurora branded with the Fern & Sycamore logo. Look for the tidbits of information on all the companies carried in the store to learn a little more about American manufacturing history. 
SEE
Washington is chock full of places to immerse yourself in art, history and culture. Head over to the Fort Charrette Historic Village and Museum (966 Charrette Lane, Washington,
636-239-4202) to taste the way life used to be in the 1790s. This restored French and American Indian trading post has inhabited historic log houses fully furnished with 18th-century style antiques. Call ahead to make an appointment for a tour with a historian that takes you through the village that took 25 years to develop. 
If you have a craving to check out some art, browse through the Art Center Gallery (120 W. Main St., Washington, 636-239-5544) for a variety of hand-made sculptures, paintings and jewelry. If you find a print you love, they can fit a custom frame to match your home design or make a great gift.
INDULGE
After a long day of shopping and exploring, it's time to satisfy your sweet tooth at the Fudge Shoppe (219 W. Main St., Washington, 636-239-0153, fudgeshoppe.net). Nestled in the middle of downtown, the Fudge Shoppe has different flavors of fudge and 60 to 80 types of hand-made candies. Indulge in the cookies and cream fudge, or the February special: hand-dipped strawberries.