Spaces
A Lakeside Retreat
By Savannah Waszczuk | Photos by Jeremy Mason Mcgraw
Jan 2014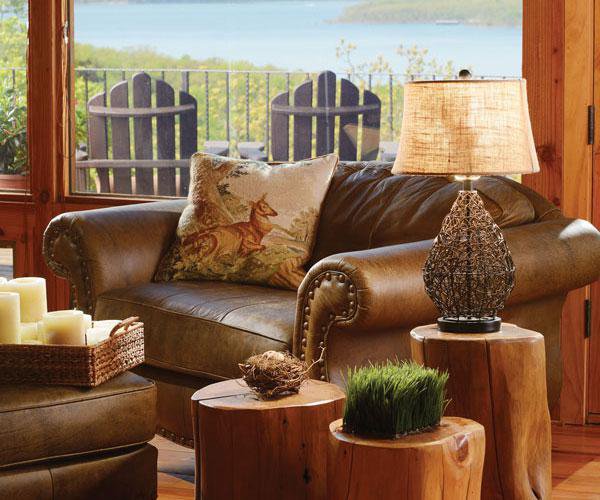 When designing her family's lake house, Interior Designer Nancy Dahlberg played two very important roles: homeowner and interior designer. "Any time I approach an interior design project, I ask: 'What do you want this space to do for you, and how do you want to feel when you're here?,'" Dahlberg says. She did the same with this project, this time asking the questions to herself and her family. That's when the concept of the inside-outside lake house, which is what Dahlberg calls the home, was born. "We wanted to walk in and see the lake," Dahlberg says. "We wanted it to feel like even when you're inside, you're outside." Dahlberg's oldest daughter, Kathleen Dahlberg Fogler, is an architect, and she and Dahlberg designed the space together. Dahlberg unified the home's look by using a common color theme and pulling in natural elements. Since they built the house in 2009, it has been a great retreat for Dahlberg, her husband, Tom, and their three grown children, who currently live in Denver and Boston. "No matter where everyone lives, we all love to come here and spend time together," Dahlberg says. 
Wide Open Spaces: The home's great room consists of living, dining and kitchen spaces and features front and back window walls that are mirror images of each other, providing views of Table Rock Lake and a pine grove. The space boasts a rustic feel with a stone wall, pine tongue-and-groove ceilings and floors, Douglas fir beams and alder cabinetry. The living area features a plush sectional, a table made from a tree removed from the property and an oil painting of Table Rock Lake painted by Nancy Dahlberg and her daughter, Kathleen Dahlberg Fogler.
\
Dinner with a Veiw: Situated near the wall of windows, the home's dining table (above) provides the family with a great view while they eat. "We even chose a table and chairs that sit a bit higher, so you can see over the treetops onto the lake," Dahlberg says.
Master Escape: The master bedroom is given a luxurious-yet-comfortable touch with soft cotton bedding. Burlap on the end tables adds an eye-pleasing contrast. The bed is an antique that once belonged to Dahlberg's mother, and repetition in the space is found in the ropes used on the tables at the foot of the bed and mirrors.
Bathroom Creativity: In the downstairs bathroom, Dahlberg created a custom sink and matching side tables from barrels she purchased at the Independent Stave Company in Lebanon.
Hot in the Kitchen: The kitchen is home to a few hidden secrets, including built-in storage in the island and a pull-up food processor built into the counter. The hidden refrigerator and appliances ensure no attention is taken away from the room's main focus: the lake view. "We wanted to make sure your eyes move right through the space and go out to the lake," Dahlberg says.