Dishes
The Scoop on Cone Chips
Local entrepreneurs take the sweet-and-crunchy parts of an ice cream drumstick and turn them into tasty and portable three-bite-size snacks.
By Kathryn Bennett
Jan 2014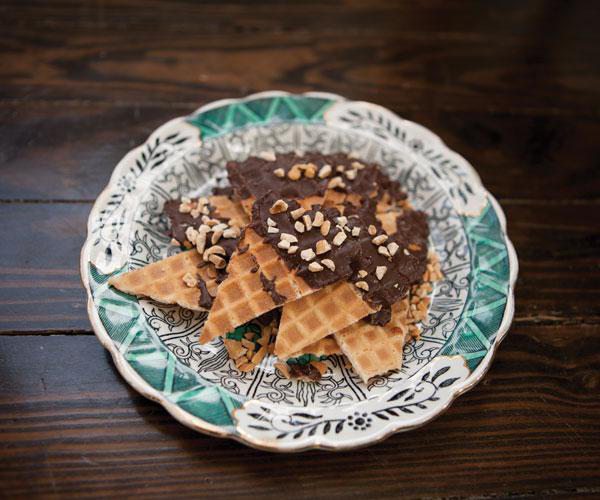 Thirty years ago, Ken Craig went for a visit to Dairy Queen, not knowing that the visit would spark an idea for a new food creation. As a mother turned around and accidentally knocked an ice cream cone from her surprised child's hands, the pieces of the treat were scattered on the ground. Looking at the mess, Craig saw the beginnings of what would later become the Cone Chip—a crispy triangle of waffle cone dipped in chocolate and nuts. 
Craig is retired from the Air Force and was an audio-video engineer for years. When he started working for Bass Pro Shops, he met Mark Anthony Boring, now his business partner in the Cone Chip company.
One day, Craig discussed his snack idea with Boring, who encouraged him to go for it. Craig was no stranger to business ownership, and Boring also came from a background in small business as an independent construction contractor. The two used their combined brainpower to develop Cone Chips. "We took an old, 1933 single-room schoolhouse and made it into a commercial kitchen, and that's where we're making the chips at now," Boring says. The business officially opened on Valentine's Day last year.
"What we didn't expect was how fast people would accept this product," Craig says. Current flavors include cones dipped in milk chocolate with or without nuts, cones dipped in dark chocolate with or without nuts and cones dipped in white chocolate. Craig and Boring plan to experiment with a cheese-flavored cone chip exclusively created to go with wine. 
Craig says manufacturing is the most difficult part of the business. "As of right now, every single cone chip is hand-made," says Craig. With business going well, the two are considering expanding their reach. Their goal is for Cone Chips to be a household name. Both business partners understand the importance of perseverance as a small business. "Wake up early, stay up late, and just keep putting coal on the fire," Boring says.
You can purchase Cone Chips at numerous 417-land locations, such as Harter House and several Branson-area theaters. Visit conechips.com for a list of spots where you can get your hands on these tasty treats.