Spaces
Wheeler's Furniture
Wheeler's Furniture in Springfield has a history of success, and with a devoted family behind the reins and dedicated employees, this family business extends well beyond the bloodlines.
By Ettie Berneking | Photos by Kevin O'Riley, Becky Lindell
Jan 2014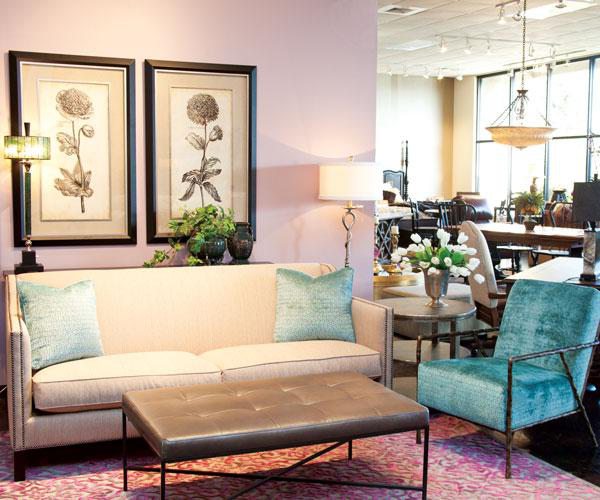 Wheeler's Furniture, 3861 South Avenue, Springfield
417-889-3200
wheelersfurniture.com
Open Monday–Saturday, 10 a.m.–5 p.m. 
Atmosphere
Tucked behind the movie theater on South Campbell Avenue, Wheeler's Furniture and its 20,000-square-foot facility is packed with well-designed vignettes. Each "room" is fully equipped with plush couches, beds, reading chairs and lamps. Warm light floods in through expansive windows, and the calming sounds of steel guitar play softly overhead. If Alice had her own pad in Wonderland, this is what it would look like—a jigsaw puzzle of home furnishings where each room has a whole new look and style. 
Key People
Glenda Bennett and her husband, Richard, have owned Wheeler's since 1986 when Richard, a store manager at the downtown Wheeler's location, decided to buy the business. For those who knew Richard and Glenda well, the purchase didn't come as a surprise. Richard's family has been in the furniture business since 1910 when it opened a home furnishings store in Quincy, Illinois. As for Glenda, she says she was always interested in interior decorating. "When I was a little girl, I used to redecorate my room all the time and would even sew my own drapes," she says. Today, Richard is still involved in the daily operations of the business, but it's mostly Glenda who serves as the face of Wheeler's. At one point, Glenda and Richard were joined on the store floor by their son, daughter-in-law and both of their daughters. But as involved as Glenda is in the store's operation, she's quick to pass off much of the store's success to her employees, who she says are more like family than co-workers. There are 11 employees working at Wheeler's, and only a few of those are new. The store's operations manager has been with Wheeler's for 20 years. The head designer has been part of the team for 23 years. The warehouse manager is celebrating 13 years with the company. It's no wonder Glenda considers her employees family.
What You'll Find
The variety of furniture displayed throughout the store is impressive. On one side of the store, you'll find a robust collection of traditional, higher-end furnishings with lines including the iconic Stickley brand's mission-style pieces. Wheeler's is one of the only stores in Springfield to carry the Stickley line with its love of all things oak. On the other side of the store, more contemporary pieces of furniture are assembled. Brighter colors and patterns offer a breath of fresh air. And the over-stuffed, plush couches with their curvy lines look über cozy. But what's even more intriguing than the variety of furnishings is the prices. Every day at Wheeler's is a Black Friday blowout sale. "We sell everything at least 40 percent off retail all year long," Glenda says.
417 Verdict
With a staff of devoted and talented employees and a family business serving as the underlying current, it's easy to see why Wheeler's has been a Springfield staple since it opened its doors more than 70 years ago. The store has a loyal customer base thanks to Glenda and Richard's combination of great staff, great selection and great prices. If you're in the market for some new furnishings or simply love to explore, you'll definitely want to check out this store.