Features
Best Winter Dishes
For this indulgent, stick-to-your-ribs feature story, we found the most comforting, indulgent, warm-and-cozy dishes at local restaurants to share with you.
By Savannah Waszczuk | Produced by Heather Kane
Jan 2015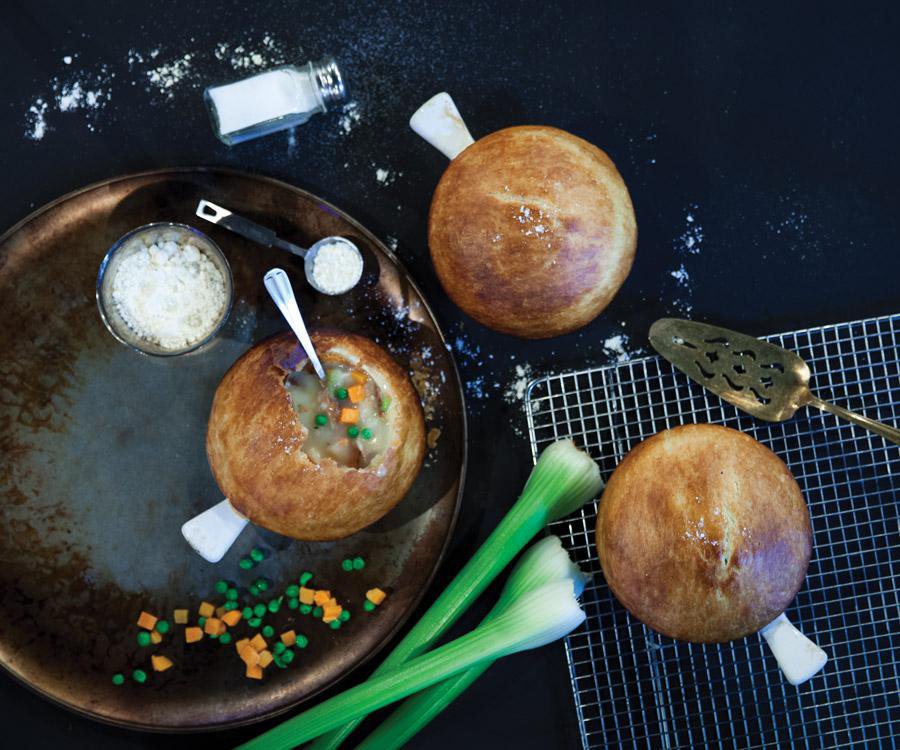 When it's super-cold outside, there's nothing more inviting than a piping hot bowl of soup or a steaming plate of pasta at the dinner table. After all, there's a reason it's called comfort food. For this indulgent, stick-to-your-ribs feature story, we found the most comforting, indulgent, warm-and-cozy dishes at local restaurants to share with you. From steaming soups and stews to plates piled with meatloaf, mac and cheese, pasta and more, these hearty dishes are sure to fill your belly and warm your soul. January might be the month of ice storms and sub-zero temps, but the dishes featured here are anything but chilly. Dig in.
Chicken Jalfrezi
$13.95 at Gem of India, 211 W. Battlefield Rd., Springfield, 417-881-9558, gemofindia.net 
This filling entrée is loaded with tender hunks of white-meat chicken that are cooked with garlic, ginger, red and green bell peppers, onion and broccoli. It's all coated with a garlicky, gingery sauce and topped with a hefty handful of fresh cilantro, making it a flavor-filled creation you'll want to eat every last bit of. Paired with a side of rice, this dish is warm, savory and plenty filling.
Jambalaya
$5.50–9.50 at Big Easy Grill, 3027 E. Sunshine St., Springfield, 417-832-0040
To make the jambalaya at Big Easy Grill, Shreveport, Louisiana, native Hank Visio combines chicken, sausage and shrimp with rice and a tomato-based Cajun sauce. There's also a dirty variety that's made with a beef base. (Ordering tip: Try a combo of the two!) The jambalaya is offered mild, medium or spicy and served with French baguette and Cajun butter, making it a Southern-style favorite. 
Pasta Con Camerones y Vieyras 
$28 at The Argentina Steakhouse, 1410 E. Republic Rd., Springfield, 417-886-8010, theargentinasteakhouse.com
This pasta dish is made with an Argentinan alfredo sauce (imagine traditional alfredo with a Cajun kick) plus asparagus, mushrooms, cherry tomatoes, penne, black tiger shrimp and sea scallops. Some argue that the seafood is the best part, and others fight for the decadent sauce. Our opinion? Just enjoy them both.
Cast Iron fried Cornbread
$5 at Metropolitan Farmer, 2144 E. Republic Rd., Springfield, 417-720-1665, metropolitanfarmer.com
This classic homemade cornbread is made over-the-top delicious with drizzles of bacon drippings and maple syrup. Each order comes with two square pieces of the treat, plus plenty of whipped butter that's made in house. There's no better way to start a meal. 

Japanese Shoyu Ramen Soup
$6.95 at Kai Sushi Lounge & Bar, 306 S. Campbell Ave., Springfield, 417-832-0077, kaiafterdark.com
Available during lunch, the Japanese Shoyu Ramen soup at Kai features Japanese ramen noodles, bean sprouts, green onion, cabbage, boiled egg and spinach all swimming in a rich pork-based broth. It's a lighter meal, yet rich, flavorful and plenty filling. 
Karahi Lamb
$13.95 at Taj Mahal Indian Restaurant, 1250 Republic Rd., Springfield, 417-719-4573
This indulgent entrée includes tender slow-cooked lamb with bits of fresh onion and bell pepper. It's served with a savory onion-based sauce and rice and is available mild, medium and spicy. It's great served mild, but if you like the heat, go for the spicy, and go to town. It's sure to warm you up!
Chicken Pub Pie
$9.99 at Dublin's Pass, 2767 W. Republic Rd., Springfield, 417-877-7625; 317 Park Central East, Springfield, 417-862-7625; dublinspass.com
A thick layer of homemade mashed potatoes made just like Grandma's (with plenty of cream and butter!) acts as the base for this pub pie. It's loaded with chicken gravy, tender chicken, carrots and peas, and it's topped with a pastry filling and baked until golden brown. Grab a fork, and dig in. 
Cioppino
$18.99 at Nonna's Italian Café, 306 South Ave., Springfield, 417-831-1222; 3512 S. National Ave., Springfield, 417-890-8300; nonnascafe.com
This classic Italian dish is the ultimate indulgence for seafood lovers. Best described as a brothy seafood stew served over pasta, the cioppino at Nonna's Italian Café combines linguine, crab meat, mussels, scallops and shrimp with a rich and flavorful broth that you'll want to sop up every bit of. (Don't worry, Nonna's has great bread service for this.) It's a lot of pasta, a lot of seafood and a whole lot of delicious. 
Posole
$3.50 at Springfield Gourmet Taco Company, 3120 E. Sunshine St., Springfield, 417-315-8745, gourmettacocompany.com
Hatch green chiles and hominy combine to make this stew-like creation at Springfield Gourmet Taco Company, and you add beef, pork or chicken when you order. It's all served with a quartered flour tortilla, making a delicious Mexican creation that will warm you from the inside. 
Braised Short Ribs
$28 at Osage Restaurant, 150 Top of the Rock Rd., Ridgedale, 417-335-2777, topoftherock.com
Slow-cooked, tender short ribs are complimented by jalapeño-cheese grits and maple-braised acorn squash in this soul-warming meal served at Top of the Rock. The grits offer sharp and sweet tones to help balance out the rich meat, and the squash is the perfect side to eat between bites. Little in this world is tastier than slow-cooked meat, and this dish's variety is as good as it gets. 
Pho
Starting at $9 at Bambu Vietnamese Cuisine, 1338 E. Battlefield, Springfield, 417-881-9881, springfieldbambu.com
When it comes to the pho at Bambu Vietnamese Cuisine, it's all about the broth. To make the savory concoction, they combine beef bone, ginseng, cinnamon sticks, anise seeds, coriander, fennel, cloves, green onion, yellow onion, ginger and more in a pot, and they let it simmer for 18 to 24 hours. When it's time to order, diners have their choice of adding chicken, meatball, brisket, tendon and tripe. 
Smoked Tomato Soup
$4.95 at The Keeter Center at College of the Ozarks, 1 Opportunity Ave., Point Lookout, 417-239-1900, keetercenter.edu 
The smoked tomato soup at The Keeter Center at College of the Ozarks is made with smoked tomatoes, olive oil, onions, tomato paste, thyme, garlic, bay leaves and a little sugar. It's smoky and a tad sweet and comes topped with freshly made whipped cream and a dab of pesto, which takes it over the top.
Red Curry With Duck
$15.99 at Thai Thai Cuisine, 1615 West Hwy. 76 Suite H-I, Branson, 417-334-9070
While the red curry with duck at Thai Thai Cuisine is served mild, you can make it spicier if you're after a little heat. But no matter how hot you like it, this dish is sure to fill your belly with deliciousness thanks to the barbecue duck, tomatoes, bell peppers, basil and red curry sauce. It's all served with steamed jasmine rice, so be sure you come hungry.
Brian B
.
$8–12 at Metropolitan Grill, 2931 E. Battlefield, Springfield, 417-889-4951, metropolitan-grill.com
Beef and Spanish sausage team up to create a stellar meatball at Metropolitan Grill. Named the Brian B., the meaty treats from the appetizer menu are each served on nests of spaghetti squash and topped with mozzarella cheese, a peach and fennel compote and a wonton crisp. The squash and compote add a fresh twist to the otherwise indulgent dish. 
Short Rib and Mushroom Rigatoni
$18 at Fire & Ice Restaurant and Bar, 2546 N. Glenstone Ave., Springfield, 417-522-7711, oasisfireandice.com
To create this dreamy pasta dish, rigatoni noodles are coated in a luscious brandy cream sauce and tossed with shallots, garlic, mushrooms and slow-braised short ribs. The brandy and sautéed shallots add a bit of sweetness that contrasts well with the pungent garlic, and the wild mushrooms provide a deliciously tender addition. As for the short ribs, each hunk is a meaty victory that will take your love of beef to a whole new level.
Chicken Ranch Alfredo Pasta
$6.99–13.49 at Big Whiskey's, multiple 417-land locations, Springfield and Ozark, bigwhiskeys.com
Yes, this dish is exactly as indulgent and delicious as it sounds. To make the almost-too-good-to-be-true creation, rich, velvety Alfredo sauce is married with a hint of creamy ranch dressing to form a luscious creation. The sauce is swirled with penne noodles, grilled chicken and bacon and then topped with gouda cheese and tomatoes and served with garlic bread. Yes, it's okay to eat it all.
French Onion Soup
$4.59–5.29 at Jimm's Steakhouse & Pub, 1935 S. Glenstone Ave., Springfield, 417-886-5466, jimmssteakhouseandpub.com
The French onion soup at Jimm's Steakhouse & Pub is delivered to your table in an adorable little soup crock. The rich, beefy broth is loaded with sweet caramelized onions and boasts savory and buttery flavors, and a house-made Holland rusk is placed atop the soup to soak up plenty of the robust broth. It's all topped with a piece of Provolone cheese, which is melted over the top of the crock, keeping the soup piping hot and providing plenty of stringy, delicious goodness to enjoy. 
How to Eat 
French Onion Soup
We've all been there: You order a bowl of French onion soup, and 10 minutes later you have a string of cheese slapping your chin and a beefy broth stain on your new white shirt. Fully ready to experience struggle and strife, I threw my ego aside and headed to Jimm's Steakhouse & Pub to take some soup-eating notes so that you all, our dear readers, will be able to tackle the treat as a prim and proper lady or gentleman. 
1. Dive Right In. Shortly after I ordered my bowl of French onion soup, a cutesy little soup crock blanketed in a beautifully broiled slice of provolone arrived in front of me. My first thought (after "I want all that cheese in my mouth. Right now.") was, "Is there a proper way to tackle this? Where do I break the cheese? Do I need to insert my spoon at the edge?" The answer to it all is no. Just no. It's a bowl of soup, not brain surgery. Pick a spot and get to work. 
2. Cut the Cheese. Once you first break through that shielding layer of provolone, do a little twisting and twirling to get some of it to the bottom or side of the crock. Once you're there, move your spoon in a sawing motion to break the cheese in smaller pieces. With bite-sized pieces, there's no risk of a string slopping its way out of your mouth. If you come across cheese that simply won't break, twirl it around your spoon as you twirl spaghetti, then proceed. 
3. Enter the Previously Approved Area. I know busting through the cheese shield for the first time is fun. We all know it. That's why kids play with their food. But after that first burst (step 1), resist additional shield breakage. Simply break off from the edge of the broken cheese shield, saw, twirl and eat (as explained in step 2). While additional attempts at breakage seem enjoyable, they will likely end in splashing broth, wasted soup and a significant feeling of shame.
4. Include the Whole Gang. Teamwork makes the dream work, and that's exactly how this soup plays its game. For a full flavor profile, you need the perfect bite containing a bit of onion, a bit of bread, a bit of cheese and a bit of broth. Cut the onions just as you cut the cheese.
5. Work With Your Crowd. Of course if you're at a business lunch, you should approach this soup with the utmost care. In fact, you may not even want to order it. But if you're enjoying a bowl with your family or gal pals, let loose. Yes, this means you can break off that bubble of cheese that crusted over the edge and eat it. Just like rainbows and newborn babies and the first site of blooming flowers in the springtime, French onion soup is one of the most beautiful things in this game of life. Enjoy it.
4 Warm-You-Up

Drinks We Love
When it comes to staying warm in the wintertime, a big plate of food isn't all that can help. These local drink spots are creating some killer beverages that are sure to warm you up from the inside out.
1
.
The J
.
O
.
B
.
Hot Toddy 
at J.O.B. Public House, 319 E. Walnut St., Springfield
The J.O.B. put its own twist on the traditional hot toddy, and it's a good one. This warm-you-up drink is made with Earl Grey tea, Gosling's black seal rum, organic apple cider, fresh lemon, orange slices and cinnamon sticks. It's finished with a teaspoon of local honey and garnished with a lemon slice. 
2
.
Spanish
-
flaming Coffee
at Aviary Café and Creperie, 400 E. Walnut St., Ste. 100, Springfiield and Aviary Creperie and Patisserie, 2144 E. Republic Rd., Ste. 120, Springfield
To create this drink, the rim of a wine glass is dipped in brown sugar and cinnamon, then a hefty dose of 151-proof rum is poured in. Next the rum is caught on fire and moved about, to heat the glass and caramelize the brown sugar-cinnamon mixture. Pours of Kahlua and coffee are thrown in with nutmeg and cinnamon, and it's all topped with house-made whipped cream.
3
.
Hot Whiskey Harvest
at Copper Run Distillery, 1901 Day Rd., Walnut Shade
This drink is the only beverage that Copper Run Distillery serves hot. It's created with cinnamon-infused whiskey, cranberry juice, maple syrup, orange and cloves. Thanks to the cranberry juice, it's slightly tart with a lot of flavor and body. 
4. What She
'
s Having
$9 at Scotch & Soda, 310 South Ave., Springfield, 417-719-4224
While this drink isn't served hot, it's made with Coffee Ethic cold-brew coffee, Rittenhouse rye, yellow chartreuse and Benedictine. The combo of 100-proof rye whiskey and caffeine is sure to warm you right up, and you'll enjoy the flavors of strong coffee, whiskey spice, sweet anise and sweet botanicals all at once.
Seafood and Grits
$48 at Worman House Restaurant, 612 Devil's Pool Road, Ridgedale, 417-335-2777, bigcedar.com
In the South, grits are basically the definition of comfort food. This dish at Worman House Restaurant combines the creamy Southern favorite with fresh pan-seared scallops, sautéed shrimp and a broiled half lobster (wow!) for the ultimate indulgence. The dish is finished with a rich onion broth and a sweet spicy cayenne butter, which make it over-the-top delicious. 
Famous Soups
Starting at $4.25 at Nearly Famous, 2708 S. Glenstone Ave., Springfield, 417-883-3403, nearlyfamous.net
The soups offered at Nearly Famous Deli & Pasta House are a favorite to many. Monday is creamed soup day (choices rotate), and Tuesday is the day when you can snag a bowl of the Sopa de Elote, a spicy, creamy Mexican corn chowder. Wednesday is the day to order pot roast soup, and Thursday is the day for baked potato soup. On Fridays you can order crab bisque, and chicken noodle is up for grabs on Saturday. The restaurant's well-known deli tomato soup is offered every day, and there's a hearty chili loaded with onions, green peppers, ground beef and red kidney beans and  topped with shredded cheddar available during the winter months.
Smoked Trout Chowder
$6.29 per pound at MaMa Jean's Natural Market, multiple locations, Springfield, 417-429-1800, mamajeansmarket.com
While many of the soups at MaMa Jean's Natural Market make us drool, we find the smoked trout chowder extra-hard to resist. The star of the chowder is smoked local rainbow trout from Rockbridge Trout and Game Ranch. While this provides a great depth of flavor, it's combined with bacon, potato, celery, carrot, onion, corn, half and half, dill, parsley, sea salt and a few other key ingredients to help take it over the top. While it is offered at all of the MaMa Jean's locations in Springfield, it's only up for grabs at any one of them every couple weeks or so. Be sure to check the signs!
Autumn Squash Bisque
from Gilardi's, 820 E. Walnut St., Springfield, 417-862-6400, gilardisonwalnut.com
You can find this luscious soup on the menu at Gilardi's, and it's tasty enough to be the super-star of any meal. The house-made soup is thick and rich—the ideal combination of local butternut and acorn squashes, roasted red bell pepper, red onion, ginger and a hefty dose of whipping cream. Diced celery and carrots create a nice base to start everything off, and a bit of local honey finishes off the tasty creation. 
Cottage Pie
$9–13 at Farmers Gastropub, 2620 S. Glenstone Ave., Springfield, 417-864-6994, farmersgastropub.com 
A couple of layers of comfort food are lovingly spooned together to create the cottage pie at Farmers Gastropub. It all starts with a hefty helping of Black Gate Farms ground beef, which gets mixed with savory house-made beef stock, sautéed onions, softened diced carrots, green beans and seasonings to create the base. Once the warm, fill-your-belly meat and veggie combo is loaded into the dish, it's covered with a thick blanket of house-made mashed potatoes mixed with cheddar cheese. Filled with meat, potatoes and veggies, the classic British creation is a complete meal. If you're not up for tackling an entire pie, you can order a mini version with a side salad. 
Spaghetti Red
$9 at Eagle Drive-In, 4224 Hearnes Blvd., Joplin, 417-623-2228
After Joplin's famed Fred and Red's restaurant shut its doors, a few sulking diners asked the foodie experts at Eagle Drive-In if they could take a stab at the old greasy spoon's Spaghetti Red dish. Always up for trying something new, the kitchen crew at Eagle Drive-In accepted the challenge. To create the dish, they make their own version of chili with prime rib, Mother's Brewing Company's Three Blind Mice beer and bloody Mary mix, then serve it atop a pile of spaghetti noodles and top it all with diced red onions, pickles, Parmesan cheese and, wait for it, garlic aioli. 
The Mac & Cheese
$7–10 at Springfield Brewing Company, 305 S. Market Ave., Springfield, 417-832-8277, springfieldbrewingco.com
There's not much that's more comforting than a big ol' plate piled with mac and cheese. At Springfield Brew Co, the dish is made with shell pasta and a four-cheese Mornay sauce, then topped with garlic bread crumbs and shaved Parmesan. Insider tip: Be on the lookout for another variety of macaroni and cheese here. At press time, Brew Co. was close to announcing a new menu that includes Paul's Cheddar Mac, a macaroni and cheese made with Paul's cheddar ale.  
Steakhouse Soup
$8.50 at Level 2 Steakhouse, located in the Hilton Branson Convention Center Hotel at 200 E. Main St., Branson, 417-243-3433, level2steakhouse.com
If you imagine all that's great about eating a steak dinner and then magically morph it into a soup, you'd get the steakhouse soup at Level 2. This dreamy concoction features hunks of certified Hereford beef swimming in a creamy broth that's thickened with smoked potatoes. You'll also find chunks of potatoes in there, along with a vibrant punch of flavor from sweet Hawaiian onions and leeks. There's also cream, of course, and cheese, green onions and sour cream on top. It's so delicious, you may just lick your bowl when it's gone. Don't worry, we won't tell anyone.
Yesterday
'
s Soup
Approximately $4.75 per cup at Flame Steakhouse, 314 W. Walnut St., Springfield, 417-862-4444, flamesteakhouse.com
Many things get better with age. This is the entire idea behind Yesterday's Soup at Flame Steakhouse. After sitting overnight, the flavors enhance, and the soup becomes a much richer, more indulgent treat. While there's always an option to order Yesterday's Soup, the flavors rotate between American onion soup, mushroom beef and sage soup, tomato gin basil soup and more of the chef's seasonal favorites.
Ossa Buco alla Milanese
$25–28 (depending on market price) at Nicola's Ristorante, 3631 E. Sunshine St., Springfield, 417-886-3700, nicolasristorante.com
Chef Nicola Gilardi prepares and serves this veal dish just as it's prepared and served in Milan. Basically a veal shank stew, this meaty anchor is served with mushroom and saffron risotto to make a meal that'll knock your socks off.  
Dr. Pepper Short Ribs
$9.50–19.75 at Touch Restaurant, 1620 E. Republic Rd., Springfield, 417-823-8383, touch-restaurant.com
When a piece of meat literally falls apart when you poke it with your fork, you know it's going to be delicious. This is the case with the Dr. Pepper Short Ribs at Touch Restaurant. These meaty treats are slow cooked for 12 to 14 hours with onion, red wine, tomatoes and Dr. Pepper, then they're heated until the meat falls off of the bones. They're served with jalapeño-cheddar polenta and an over-easy organic egg, and all together, it creates a savory delicious meal that's sure to warm your soul. 
Three Onion Soup
$6 per bowl at Wilder's Steakhouse, 1216 S. Main St., Joplin, 417-623-7230,wilderssteakhouse.com
The culinary pros at Wilder's Steakhouse make their own beef stock, and it's used as the base of the three onion soup that's been served here for 20 years. To make the treat, white and red onions are sautéed and then added to the rich broth base along with a handful of herbs and a blend of secret seasonings. Next, the mixture is poured into a traditional onion soup crock and topped with a large house-made crouton and velvety smooth Gruyère cheese. It's all finished under the broiler, where intense heat melts the Gruyère into a perfectly gooey, slightly browned sheet of deliciousness. 
Slow
-
Braised Lamb Shank
$30 at Chateau Grille, Located at Chateau on the Lake, 415 N. State Hwy. 265, Branson,
417-334-1161, chateauonthelake.com
When cooking, low and slow is often the way to go. This is the case at Chateau Grille, where the lamb shank is slow-braised for three hours before it's served. To make the creation, the delectable meat is first dredged in potato flour, which helps make a nice, thick au jus. Next it's braised, then plated with a forest mushroom Asiago risotto and a warm haricot vert and bacon salad. While the lamb is delicious enough to bring you to tears on its own, the savory sides take the whole meal to over-the-top amazing.
Green Curry With Shrimp
$11–19.95 at Bangkok City, 1129 E. Walnut St., Springfield, 417-799-1221, bangkokcityspringfield.com
Before you order, be warned: This dish packs a pretty intense heat. It's loaded with green beans, jalapeño, Asian eggplant, onions, shrimp and coconut milk, plus a generous pile of rice to help it all go down smoothly. If you can handle a little heat, you'll love this creation.
Ham and Beans
Starting at $3.25 at Casper's Diner, 601 W. Walnut St., Springfield, 417-866-9750
To make this traditional stick-to-your-ribs meal, the pros at Casper's Diner cook off and dice up ham from whole ham hocks, place it in a pot with Great Northern beans and Casper's secret blend of seasonings and slow cook it for about four hours. The dish is great served plain, but some people add onions, cheese or seasoned salt for an extra kick. Secret tip: Come in on a Friday to enjoy the dish with a big ol' hunk of cornbread smothered in butter. 
Meatloaf
$8.99 at Enoch's BBQ & Southern Classics, 307 S. National Ave.,Springfield, 417-865-2888, enochsbbq.com
Every Monday, Enoch's BBQ & Southern Classics offers meatloaf as its blue plate special. The traditional meatloaf here is topped with a brown sugar-ketchup sauce and is available with two sides, with the most popular choices being mashed potatoes with brown gravy and green beans and bacon. You'll also get a side of cornbread, perfect for chomping on between bites. Yummo!
A Snowy 
Treat
Making snow ice cream is one of the yummiest ways to while away a snow day.
A while back, our associate publisher, Logan Aguirre, shared a recipe for snow ice cream on the blog at 417mag.com. (That's her daughter, Lucy, gobbling it up.) It was a hit among readers, so we thought it would be fun to share the snow ice cream love one more time, with variations, for the next time there's a fresh blanket of snow on your lawn.
Basic Snow Ice Cream Recipe
Ingredients:
1 gallon snow
14 ounces Eagle Brand 
Sweetened Condensed Milk
1 teaspoon vanilla
Directions: Mix together, and enjoy!
Variations:
1. Drizzle with maple syrup.
2. Whip out the rainbow sprinkles, and pour 'em on.
3. Add chocolate chips before you mix.
4. Use rum instead of vanilla—if you're a grown-up, of course.
5. Drop a scoop of prepared snow ice cream into some soda for a from-the-yard float.
 

Three Crazy-Good 
Cobblers and Pies
These three drool-worthy desserts will help fill your belly with warm happiness.
1
.
Gooseberry Cobbler 
$4.99 per serving at Smith's Restaurant, 1340 Hwy. U, Bolivar, 417-777-6484, smithsrestaurant.com
A sweet and rich combination of sugar, butter and gooseberries blanketed with a flaky pie crust and sprinkled with more sugar
2
.
Sawdust Pie 
$2.50 per slice or $12 per whole pie at Cooky's Café, 529 Main St., Golden City, 417-537-4741
Thin and flaky pie crust loaded nice and high with a delectable combination of sugar, crunchy pecans, sweet coconut and crumbled graham crackers
3
.
Raisin Pie
$2.29 per slice or $8.59 per pie at Rosie Jo's Café, 915 W. Jackson St., Ozark, 417-581-6057
A double-crusted pie made with two layers of flaky homemade pie crust (one on top, one on bottom), plump raisins, flour, sugar, cinnamon and a hint of lemon 
Lasagna
$10–15 at Avanzare Italian Dining, 1908 S. Glenstone Ave., Springfield, 417-567-3463, avanzareitaliandining.com
Literally every single ingredient that goes into Chef Tony Garcia's lasagna is something to write home about. The reason behind this is simple: it's all made fresh at the restaurant. This classic Italian favorite combines freshly made Italian sausage with homemade lasagna noodles and Garcia's famed homemade red sauce. There's also a generous spread of Parmesan and mozzarella cheeses involved, and it's all lovingly piled up to create a dish that's been a favorite item for years. Served with tomato cream sauce, it's a super-indulgent meal that's made with love.
The Easiest Bread You
'
ll Ever Bake
Dutch ovens are the perfect partner in the kitchen if you're in the mood for soups, stews and roasts. This winter, try using it to bake some tasty bread instead.
Ingredients:
3 cups all-purpose flour
3 teaspoons kosher salt
1 tablespoon fresh rosemary, chopped
½ teaspoon active dry yeast
1½ cups lukewarm water
Directions
1. In a mixing bowl, mix the flour, salt, 1 tablespoon of rosemary and yeast.
2. Add water, and stir until dough has just formed.
3. Cover bowl with plastic wrap, and let sit for at least 12 hours. The dough will rise and turn bubbly.
4. Preheat oven to 450°F. Once the oven has warmed up, place the Dutch oven inside for 30 minutes.
5. Flour a flat surface, place the dough over the flour, and form it into a ball. Let dough rest while Dutch oven warms.
6. Flour your hands, then place the dough into your Dutch Oven. Cut slits into the top of the loaf. Sprinkle with remaining rosemary and a little coarse sea salt.
7. Place the lid on your Dutch oven, and bake for 30 minutes.
8. Remove the lid, and bake for an additional 10 minutes or so uncovered, until the crust is nice and brown. 
Kimchi Chigae Soup 
$7.95–8.95 at Soo's Korean Restaurant, 3644 S. Campbell Ave., Springfield, 417-889-2220 
This soup arrives at your table so hot that it's actually boiling—like a little cauldron of bright red broth with big cubes of tofu and tender chunks of kimchi bobbing in the bubbles. Every bite offers a pungent kick that warms you from the inside with both spice and heat. You have your choice of adding pork or beef if you want, but here's our secret: Ask for some rice cakes instead. They add a fun, chewy texture and cool down the soup's heat. And like all entrees at Soo's, this soup is served with fun little side dishes called banchan.