Style
Bree's Little Closet Takes Fashion to the Streets
College student Brianna Barnett took a leap of faith and left her job in retail to open a mobile fashion truck. Using parking lots as her runway, she's showing us why chasing your passion is always in fashion.
By Jennifer Adamson
Jan 2019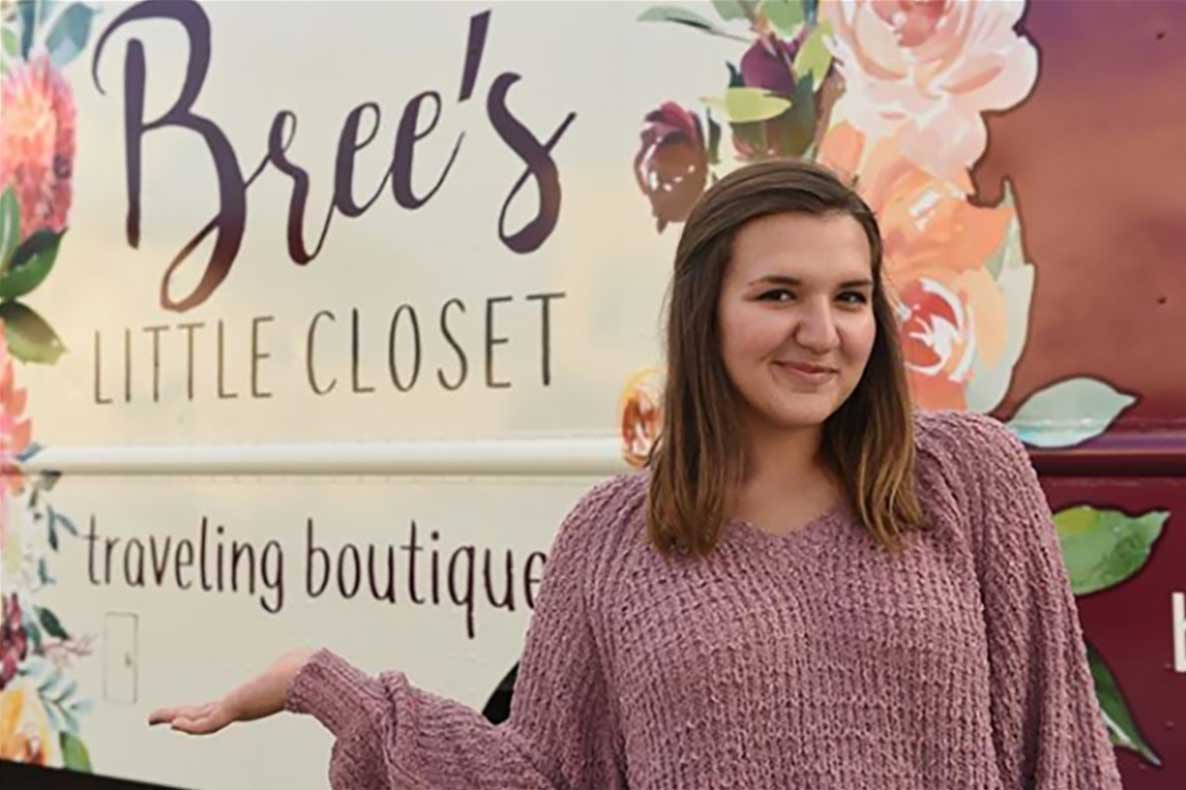 Instead of family photos, Brianna Barnett keeps a folded napkin in her wallet. On it, scribbled in black ink, is a design that would later be painted on the side of an old tools truck and recognized across Springfield as Bree's Little Closet. Today, just over a year after envisioning the idea with her mom and business partner, Tina Barnett, the wheels are rolling on Springfield's first traveling boutique, joining Torn Boutique's fashion truck, which opened out of Ozark in August 2018.

"I've always wanted to go into the fashion industry," says Brianna. But after working in retail to gain firsthand knowledge, as well as researching the costs of a brick-and-mortar location, Brianna became discouraged and thought she might not have what it takes to prosper. That's when her mom stepped in to button up the plan.

"My husband and I have always been supportive of whatever our kids would like to do, and we've given them the information to pursue it," Tina says. "I had the idea to look up boutiques on Pinterest and see what her options might be."

Intrigued by fashion trucks they saw online, Tina and Brianna decided to explore the concept. Within two months, they had visited with a traveling boutique owner in St. Louis, refurbished a dilapidated truck found on Craigslist and begun renovating the interior. Even with shelving along both sides and a dressing room and cashier stand near the driver's seat, the layout is spacious. But it's the whitewashed barnwood, industrial piping and adorable outside logo that really brought the truck to life. "There were a lot of sweat and tears, but there's a lot of joy in there, too," Brianna says.

In May of last year, Tina left her job as a school librarian to partner with her daughter as co-owner. Tina handles accounting tasks while Brianna takes care of creative details, but they source all merchandise together to make sure women of all ages can find cute, comfortable, casual clothes. This winter, expect oversized knit sweaters, Judy Blue denim, graphic tees and traditional flannels. The boutique also has accessories and knickknacks from local artists and crafters, all for under $50.

Customers have taken to the unconventional shopping experience, as the popularity of Bree's Little Closet spreads. Now, as a licensed business owner, every time Brianna opens her wallet and sees a corner of that old napkin poking out, she's reminded of the success that comes when you embrace your interests and take risks to build a business around them. Connect with Bree Barnett (417-860-4503, breeslittlecloset.com) to see how you can book the truck for your next event.