Spaces
Adding Curb Appeal
Want to bump up your home's value a bit? Let local experts teach you how to add a little curb appeal to your home.
Julie Sedenko Davis | Photos by Kevin O'Riley, courtesy Dixie Decker
Jul 2014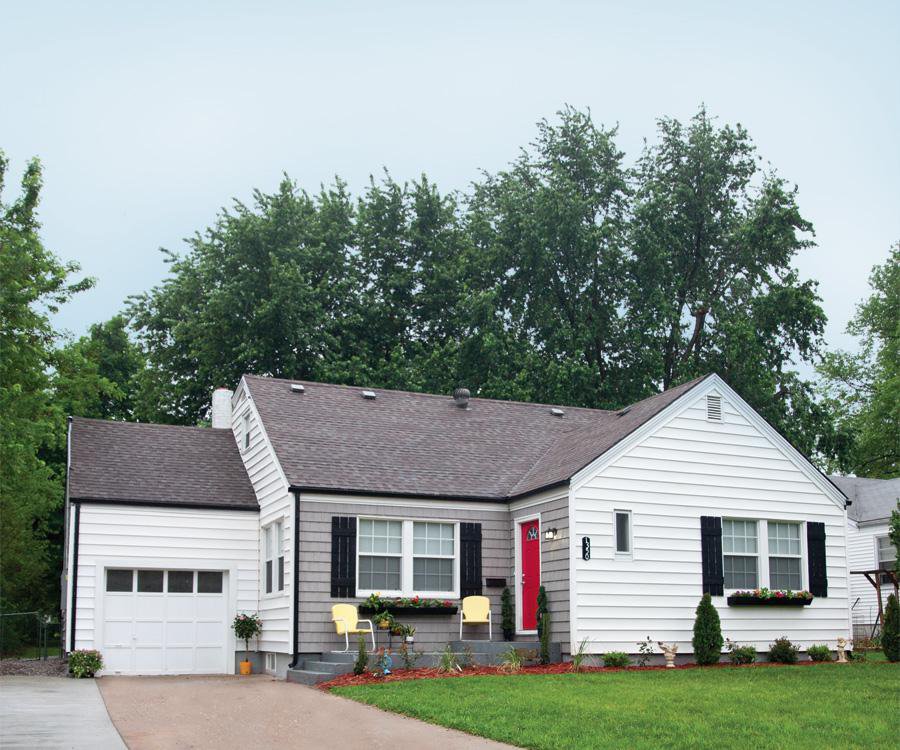 W
hether you're looking to sell your home or are just trying to spruce it up, a little effort can go a long way in the curb appeal department. We talked to three locals about jazzing up a home's exterior. Read on to find out how a few small things can have a big impact on the look of your home.
Dixie Decker works with Brandon Dickman's company, Roza Homes, to renovate homes. 
Deck Out Your Door
When you think curb appeal, the front door comes first. "That is your statement piece when people drive by your home," says Southern Supply Manager Jill Vincel. If you're not ready to tackle a new color, Meek's Interior Design Specialist Sherri Simpson says to use seasonal wreaths.
Add Landscaping
Landscaping is crucial when it comes to curb appeal, according to Dixie Decker, a realtor with Home Team Property representing Roza Homes. Begin with adding grass seed to bare spots. Decker's go-to greenery is stencil holly boxwoods and photina Frasier plants because both hold up to Springfield's ever-changing weather. She also uses red mulch. Monkey grass serves as a filler where needed. Finally, solar accent lighting near plants or statuaries puts the finishing touch on an outdoor transformation.
Perfect the Porch
The porch is an important focal point when thinking about increasing curb appeal. Decker recently updated the exterior of a home on Springfield's Portland Street that had sat empty for five years. She painted the property's porch and foundation a dark gray. Wonder what type of paint to use? Don't worry; Decker says products are available for painting every type of material.
You can also add pots with flowers that accent your house colors. Place a bench or chair nearby, and add a colorful pillow or statuary. "Take into account your house style and be true to its classic nature when deciding your accents," Simpson says.
Add a Little Character
Decker added new siding to a small portion of the Portland home. "I don't think you have to do the whole house," she says. "Just do the entryway at least." Of course, not all homes would benefit from siding. Just be sure to think about the space and the neighborhood, and make small additions to jazz the space up. On this property, Decker also added black gutters and downspouts for character. 
Light Things Up
Simpson says front door lighting makes a big statement. If a new light fixture is out of the question, try painting what you have or changing the glass.
Don't Forget the Details
Little things can make a big difference. Get to work fixing chips in the sidewalk, painting where needed, adding a new name plaque or replacing house numbers. Simpson says even the slightest landscaping is an upgrade. Remove dead leaves and weeds. "A little goes a long way and shows you care," she says.