Fourth of July Fireworks 2014
Grab some lawn chairs and get ready to enjoy some Fourth of July fireworks in 417-land. Read on to learn where you need to be to see the sky lit up for our favorite summertime holiday.
Erin Gregory | Photos courtesy Big Cedar Lodge
Jul 2014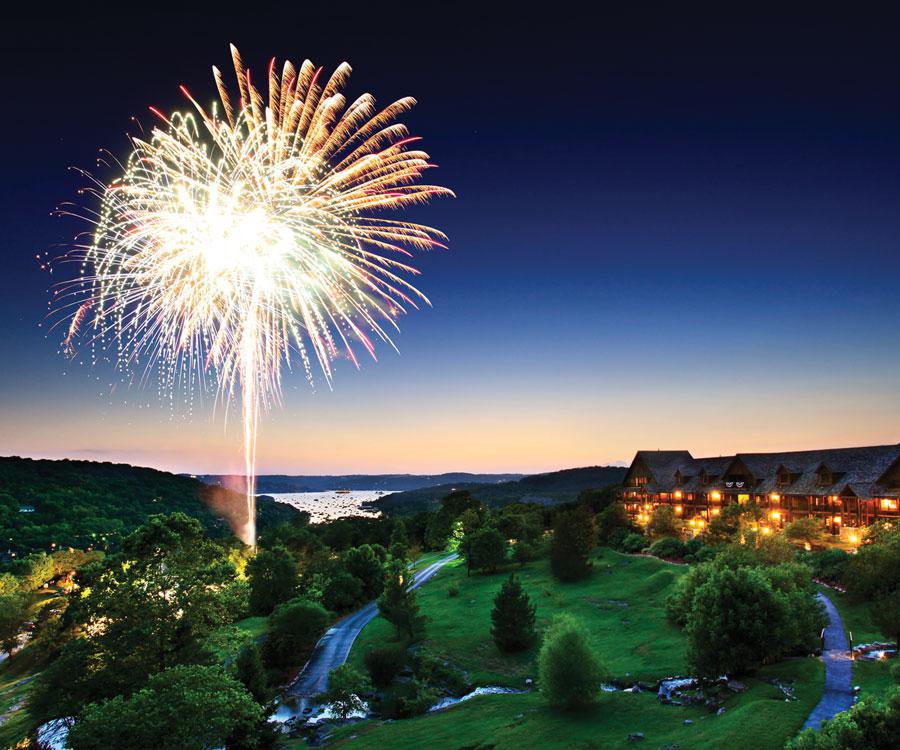 4th of July Celebration
Summer is in full swing at Chateau on the Lake. The resort is hosting a day filled with family fun including water balloons, crafts and an outdoor barbecue event complete with live music. Following the barbecue, Chateau on the Lake lights up the sky to celebrate Independence Day, and a dive-in movie is featured at the pool after fireworks are complete. Make a reservation at the resort, or view the fireworks from the lake for a beautiful display of light and color. Find more information at
chateauonthelake.com. 
$29 adults, $14 children, free to resort guests; July 4, 8 a.m.–8 p.m.; Chateau on the Lake, 415 N. State Hwy 76, Branson
Cape Fair Marina Fireworks 
Boaters have the chance to see fireworks in the night sky this year on July 4 while sailing across beautiful Table Rock Lake. Cape Fair Marina is a full-service marina located near the popular James River Arm of the lake in Cape Fair. There is no access via car unless visitors are camping at the Army Corps of Engineers camp.
Free; July 4, dusk; Cape Fair Marina, 142 Sturgis Lane, Reeds Spring
Fire & Thunder 
For its 38th year of fireworks displays, Shell Knob is sure to impress. A decorated boats parade kicks off the evening of July 4 at 6:30 p.m., sailing from Lost Hill Island at Table Rock Lake. Fireworks, rumored to be bigger and better than any year before, follow the parade and can be viewed by boat on Table Rock Lake or at the CCC Park on Highway YY about one mile east of Highway 39. For more information, call the Shell Knob Chamber of Commerce at 417-858-3300 or visit shellknob.com.
Free; July 4, 9:30 p.m.; one mile east of the Shell Knob Bridge, Table Rock Lake
Fireburst 
If you have to miss out on the fireworks this July 4, don't fret. Kimberling City is hosting the annual Fireburst celebration near the Kimberling City Bridge on July 5. More than 1,000 boats gather for this exuberant display of light and sound over beautiful Table Rock Lake. Boat rentals are available, but they go fast. Seating is available in the Kimberling City bridge area. The Table Rock Lake Chamber and its marketing partners have sponsored this event for more than 25 years.
Free; July 5, 9:15 p.m.; Table Rock Lake at the Kimberling City Bridge on Hwy. 13; Kimberling City
Hollister 4th of July Celebration
Hollister hosts its 61st year of Independence Day celebrations this year, just across Lake Taneycomo from downtown Branson. The Hollister fireworks display begins at dusk and can be viewed from downtown Hollister and Branson areas around Lake Taneycomo, featuring more than 800 large displays. Bring your lawn chairs and blankets. No alcoholic beverages allowed. 
Free; July 4, dusk; Chad A. Fuqua Memorial Park, Hollister 
Independence Day Celebration 
Joplin's annual Independence Day celebration kicks off this July 4 with free live music featuring headliner Big Smitty. Food vendors are on display throughout Landreth Park with a variety of goodies including funnel cakes. The evening comes to a close after the biggest display of fireworks the city has ever seen lights off at 9:45 p.m. A trolley service is provided from Memorial Hall to Landreth Park.
Free; July 4, 5 p.m.; 602 S. Main St., Joplin
Independence Day Celebration and Rodeo 
Marshfield celebrates its 135th year of Independence Day parades this year beginning at 10 a.m. on the city square. With a variety of vendors, a car and tractor show and parade and live music, this is sure to be a celebration to remember. The traditional rodeo takes place at 8 p.m. with fireworks scheduled to light off at dusk.
Free; July 4, starts at 10 a.m., fireworks at dusk; 1469 Spur Dr., Marshfield
Liberty Light Up Concert and Fireworks
Branson Landing is lighting up the sky with live music and a fireworks extravaganza on July 3. Popular Journey cover band Journey Resurrection takes the stage to kick off the Seventh Annual Liberty Light Up Concert in front of the fountains. Following the concert are fireworks over Lake Taneycomo with an amazing choreographed display.
Free; July 3, 8 p.m.; Branson Landing, 100 Branson Landing Blvd., Branson
Patriotic Picnic and Fireworks 
Big Cedar Lodge hosts its annual Patriotic Picnic on the Swimmin' Hole Lawn featuring summer fun games, attractions, contests, crafts, entertainment, pony rides and more. Guests can enjoy a menu of mouthwatering foods prepared by Big Cedar's culinary team. Stay to see Clay Self Band perform, then to watch the fireworks at dusk. Don't forget to bring lawn chairs and blankets for the big show.
$30, July 4, 2–8 p.m., Big Cedar Lodge Swimmin' Hole Lawn, 612 Devil's Pool Rd., Ridgedale. Ticket price and time are subject to change.
Freedom Fest
 Life360 Church partnered with Convoy of Hope to bring Freedom Fest to The Ozark Empire Fairgrounds. There is food and fun for the whole family. Gates, concessions, and inflatables open at 6 p.m. and fireworks begin at dusk.  Don't forget to bring your lawn chairs!
Free, July 4, 6 p.m., Ozark Empire Fairgrounds, 3001 N Grant, Springfield