Springfield Lasers 2014
Andy Roddick in Springfield? Yep, and so much more. The Springfield Lasers are gearing up for a big season, and you're invited.
Katie Pollock Estes | Photos courtesy Springfield–Greene County Park Board, Fred and Susan Mullane, Camerawork USA
Jul 2014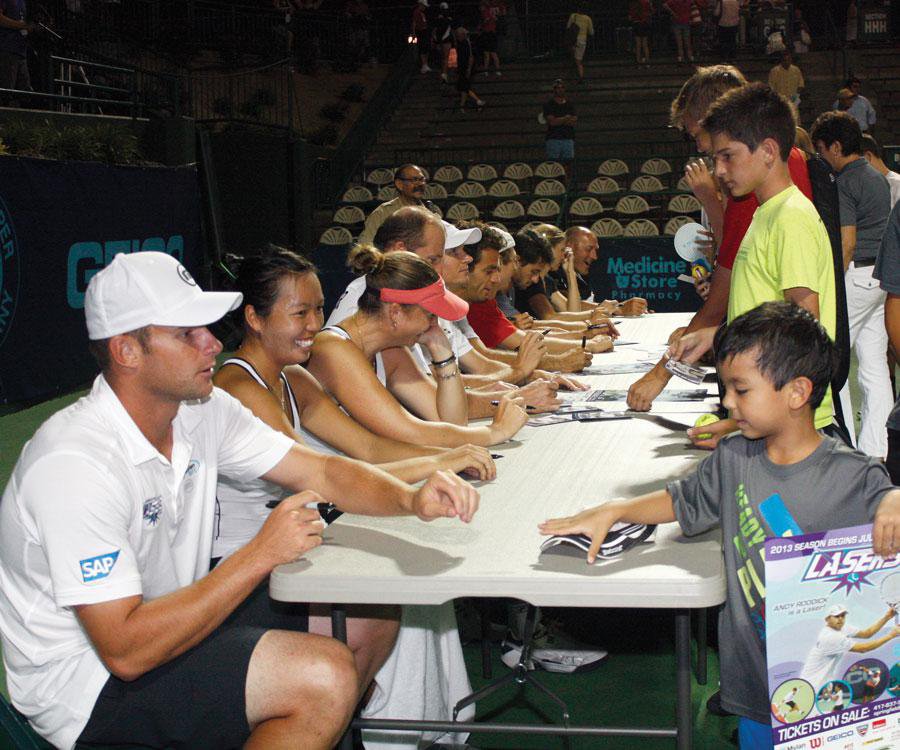 Whether you are there to see some of tennis's brightest stars go head-to-head or you just want a fun way to spend time with the family, the Springfield Lasers 2014 season is offering up lots of not-to-be-missed tennis matches. The team is coming off a No. 2 final position in the World Team Tennis league last year, and it is bringing some big names to the table this season—including Andy Roddick.
General Manager Paul Nahon Jr. says that although tennis starts at 7 p.m., there are live bands and food available for purchase starting at 5:30 for each match. On top of that, there are on-the-court activities, and kids even get the chance to get out there and hit some balls. 
We have a pretty robust kids club that we've had for a number of years," says Jenny Edwards with the Springfield–Greene County Park Board. "World Team Tennis is very family-friendly and kid-friendly. I think a lot of people think of tennis as what you see on TV with the US Open and Wimbledon. It's very serious on TV. With World Team Tennis, it's more fun. There's music between sets, and a lot of crowd cheering." Nahon echoes that sentiment and adds that although the players are serious about winning, they are also entertaining. Because World Team Tennis is a team sport—which is not normal for tennis—it's an entirely different experience, and one that 417-landers are lucky to have right in their backyard. 
In addition to a super-fun atmosphere, this season is packed with big names. James Blake is the team's marquee player this year, and his successful career was highlighted by a run among the top 10 men's singles players. He plays on July 12 against the Texas Wild, and again on July 13 when he faces Andy Roddick as the Springfield Lasers play the Austin Aces. It's Blake's speed against Roddick's strong serve, and it's a match you don't want to miss.
Another player to watch closely this season is Alisa Kleybanova, a Russian player who was diagnosed with and battled non-Hodgkins lymphoma but is now back with a bang after her recovery. She was also World Team Tennis's Rookie of the Year last year.
With an atmosphere that's fun for the whole family and some amazing players who you don't get to see play every day, this season's matches are the perfect way to spend your hot summer evenings outdoors.
James Blake is  the Springfield Lasers marquee player in 2014. See him play on July 12 and 13.