Reviews
B+B Boulangerie & Fair Weather Cafe
The delightful baked wonders of KatieMade combine with craft butcher Aden Watson's quality meats to form B+B Boulangerie & Fair Weather Cafe, Springfield's newest eatery.
Written by Savannah Waszczuk | Photos by Brandon Alms
Jul 2016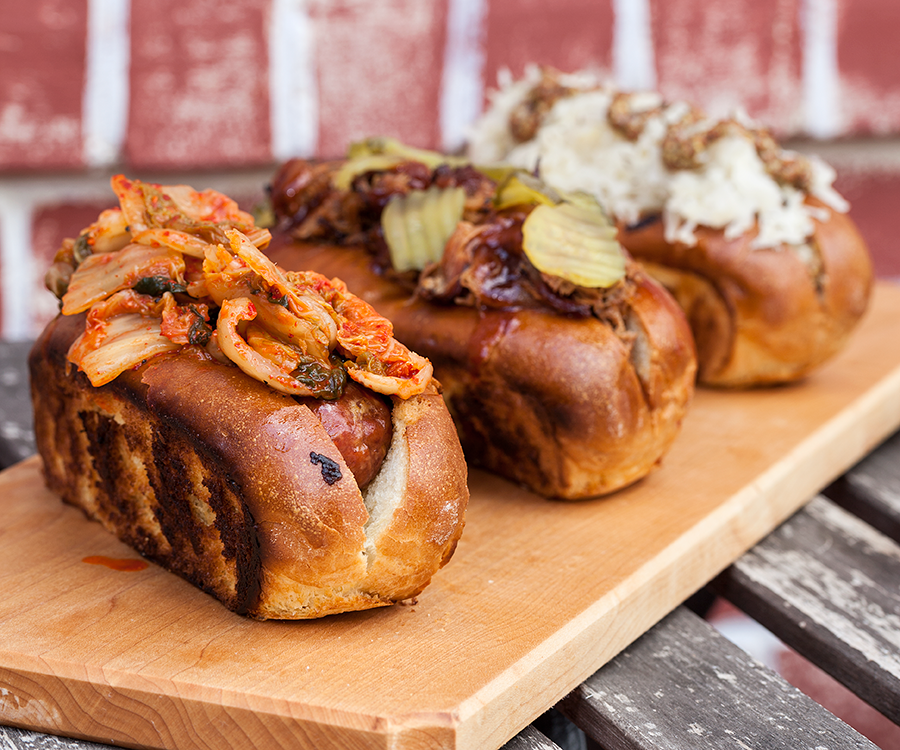 B+B Boulangerie & Fair Weather Cafe

607 S. Pickwick, Rear Door, Springfield, 417-315-8602, bbboulangerie.com


I know it's weird to have a crush on something edible, but I'm ready to proclaim my undying love to any sweet or baked good made by Katie Kring of KatieMade. I first tasted Kring's homemade sugar cookies years ago, and later I joined her in making scrumptious breads at one of her cooking classes (which she still hosts). But what really sent me over the moon were Kring's oversized chocolate chip cookies. Crispy on the edge, chewy in the middle and the size of a Frisbee, they stole my sweets-loving heart at first bite. If you asked me about my food crush a year ago, I'd probably tell you that I could live on KatieMade products alone, if only there were a little meat involved. This girl's gotta have her protein. 
Fast forward to February 2016, and all of my food-loving dreams were brought to life when Kring partnered with Aden Watson, a craft butcher with A.J. Watson & Sons Quality Hand-Cut Meats, to open B+B Boulangerie & Fair Weather Cafe. Located in the rear of the former Homegrown Foods location on South Pickwick Avenue, Butcher + Baker provides customers with many little bits of foodie goodness. Kring has sweets and breads up for grabs, and Watson fills a meat case with local bacon, sausages and thick-cut steaks. And although all of these things are great to take home and make into a meal, the two also have items you can order and enjoy there. There are flavored sausages with toppings inspired by various countries around the globe, and you can order meat pastries like sausage rolls, pulled pork buns and the spot's famous reuben puffs, to name a few.



Eat dessert first if you'd like. B+B Boulangerie & Fair Weather Cafe has plenty of KatieMade signature sweets to accompany homemade sausages and meat pastries.
Eager to get a taste of these creations, I grabbed co-editors Rose Marthis and Claire Porter and headed over for lunch. After we placed a hefty order of appetizers, sausages and desserts, we headed to Pickwick Park, the outdoor eating area by Pickwick Avenue. This is the only spot to sit and eat here because B+B Boulangerie & Fair Weather Cafe is an order-and-go kind of place, so be sure to go on a nice day if you want to eat "in."
I ordered a sausage roll and a Reuben puff to share. Although I liked the flavor of the homemade sausage in the roll, it was the Reuben puff that stole the appetizer game with its large, flavorful hunks of corned beef swimming in a warm gooey, slightly cheesy interior. The sauerkraut adds a bit of kick and plenty of texture, and the flaky puff pastry finishes it all off with a bang. I love the idea of it being hand-held and portable (when you're not cutting it up to share with two other hungry editors, of course). 
We all tried a sausage for our main course: Claire had the Hans, a German brat topped with sauerkraut and mustard; Rose had the Edo Torpedo, an Asian-inspired pork sausage topped with kimchi and tofu; and I had the Big Tex, a spicy smoked Texas County hot link topped with pulled pork, spicy barbecue sauce and little bits of crunchy pickles. We all agreed that mine was the best—the homemade sausage packed quite a bit of heat that was subdued with the salty, crunchy bits of pickle, and that pulled pork was basically just a meaty bonus. Each sausage was served on a challah bun which, though tasty, was a bit too much bread for us.
Next came dessert. We shared the cream puff of the day, which was a chocolate and espresso wonder. The cream puff was light and airy and loaded with a truckful of chocolate-y, espresso-y filling that tasted like it may have been spiked with a touch of alcohol (but it could have just been the espresso poking through). We all love sweets, and we didn't have any trouble finishing it. I also tried the cookie sandwich, which is one of those Frisbee-sized treats I mentioned earlier cut in half and filled with homemade icing. I won't go on because I think simply knowing that it's an amazing cookie cut in half and stuck together with a thick smear of homemade icing should speak for itself. Trust me, you want one.
I ordered some homemade sausage, peppered bacon and a loaf of cherry Gorgonzola cheese bread to try for dinner. The sausage was on point—you can actually taste the homemade-ness—and the bacon was fab. It was leaner than most cuts of bacon I've had, but the flavor was powerful with a bit of sweetness to the meat and big hunks of black pepper. It was worth making my house smell like bacon for 24 hours. The bread was puffy and pillowy with a touch of sweetness from the cherries and a tanginess from the Gorgonzola, but it could have benefited from a little more cheese.
After a day's worth of B+B Boulangerie & Fair Weather Cafe food, I went to bed with a full belly and a happy heart thinking about the next time I could head back to the little Pickwick shop and try out more creations. Now that the butcher is in, I'm ready to take this food crush to the next level.  
Q&A With B+B Boulangerie & Fair Weather Cafe Co-Owner Aden Watson
417 Magazine: What's your favorite thing about B+B Boulangerie & Fair Weather Cafe?
Aden Watson: I like the freedom we have to try new things and come up with flavor combinations that no one else is doing.


417: Do you think you'll ever move into a larger space?
A.W.: Our original goal was just to do our thing in this space, but one thing I think people miss is having a place to sit. If we were ever able to move into a larger space but keep up the same philosophy of food that we're doing now, I think we'd do that.


417: We know you're a pro with the meats here, but what's your favorite sweet?
A.W.: I really like our chocolate-dipped graham crackers a lot. Really, I like pretty much everything.