Reviews
Touch's New Menu
When Touch revamped its menu to include an oyster bar and more seafood options, we jumped at the chance to give it a taste.
Written by Dylan Whitaker | Photos by Kevin O'Riley
Jul 2016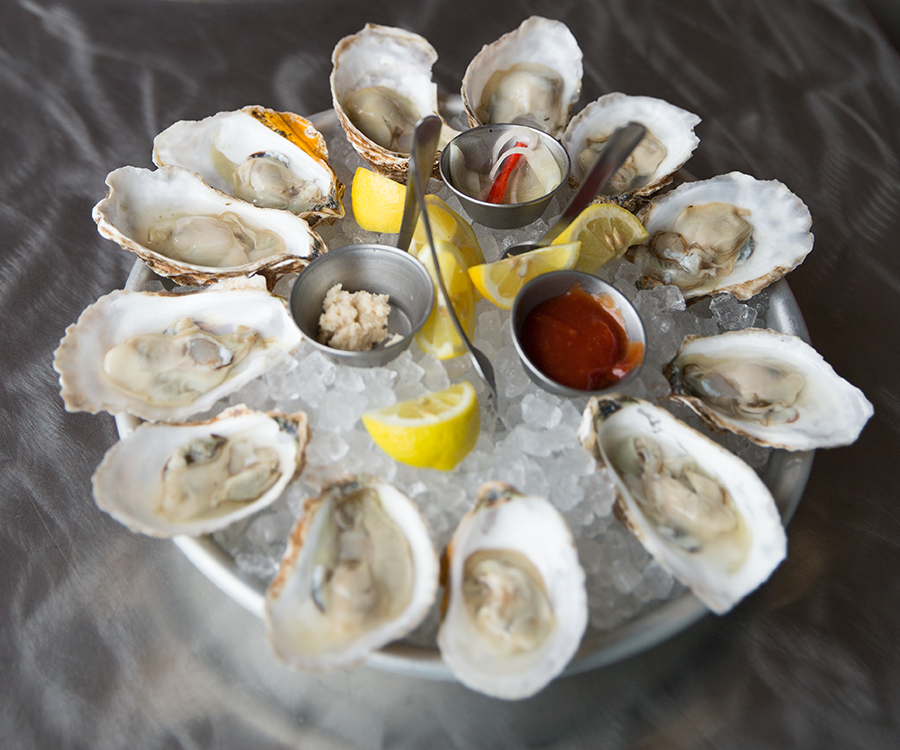 Touch
1620 E. Republic Rd., Springfield, 417-823-8383, touch-restaurant.com
Open Monday–Saturday, 4 p.m.–close
A salt nugget may not sound like something you typically want to eat, but at Touch's new oyster bar, salt nuggets are the way to go. 
Rarely do my wife, Anna, and I get a midweek date night, so when the editor asks you to do a review, you jump at the chance. After more than 10 years, owner Mike Jalili decided to scrap a lot of his favorite dishes and try something new, including those salt nuggets. Let's eat.


Mike Jalili, owner of Touch, is shaking things up by adding more tasty seafood options to the menu. 
Anna is a big fan of oysters. Good for me, right? She handled the ordering for this round. And a couple of minutes later a platter of freshly shucked oysters was presented to us. She has a routine for eating oysters like most people do. It goes like this: First it's fresh squeezed lemon on all the oysters. Then she slides a briny little nugget onto a saltine, adds a light schmear of cocktail sauce and tops it off with pinch of fresh horseradish. I do the same, except I add a little hot sauce—but not Tabasco. Don't like it. At Touch they give you both a tall squirt bottle of Frank's Red Hot (my preference) and Tabasco. Then it's down the hatch. Spicy, salty, a little cold and a smidge sweet. Perfect way to start the meal.
For the next round we split the decadent smoked Gouda and Hörrmann Meats andouille mac and cheese that is served in an adorable little cast iron pan. It's the type of dish with sauce so thick and melty you have to use your fork (or finger, guilty) to break the long strands of stringy cheese when you scoop out a portion. You can definitely taste the smoky flavor from the Gouda, and the little morsels of andouille hidden in the shells are a nice touch, no pun intended. It's a comfort dish for sure. Here's a tip, though. Remember that Frank's Red Hot? Add a little of that to this mac and cheese. The heat and vinegar from the hot sauce accentuate the flavors of the dish.
At this point in the meal, Anna opts for the kale Caesar salad, and I go for the Massachusetts scallops pasta. The kale Caesar is huge and could be split by two people. Anna liked it but couldn't finish it all. But what she did finish were those house-made cornbread croutons. She hesitantly let me steal a bite of her salad, and she was right to be hesitant. I would have eaten all of those croutons. They were crunchy and sweet, which balanced well with the earthy and bitter flavor that kale is known for. 
My dish came to the table with three perfectly seared scallops, which were triangularly placed around the small mound of handmade linguine. The sauce—lemony, luscious, light and buttery—was fantastic. The fresh lemon in the sauce really brightened up the flavor of the entire dish, and the linguine was delicate without being heavy or gummy at all. 
Some people don't like change and like to eat the same dish over and over, but just trust us, this new menu is worth a try.


Touch has a spacious outdoor patio that's perfect for a dinner date or happy hour drinks with friends.