Reviews
Vince's Caponata
Family traditions can be delicious. Dan and Sharon Bulone have created a small empire selling products inspired by Dan's Sicilian grandmother and the flavors she brought from Italy.
Written by Lillian Stone | Photo by Vivian Wheeler
Jul 2016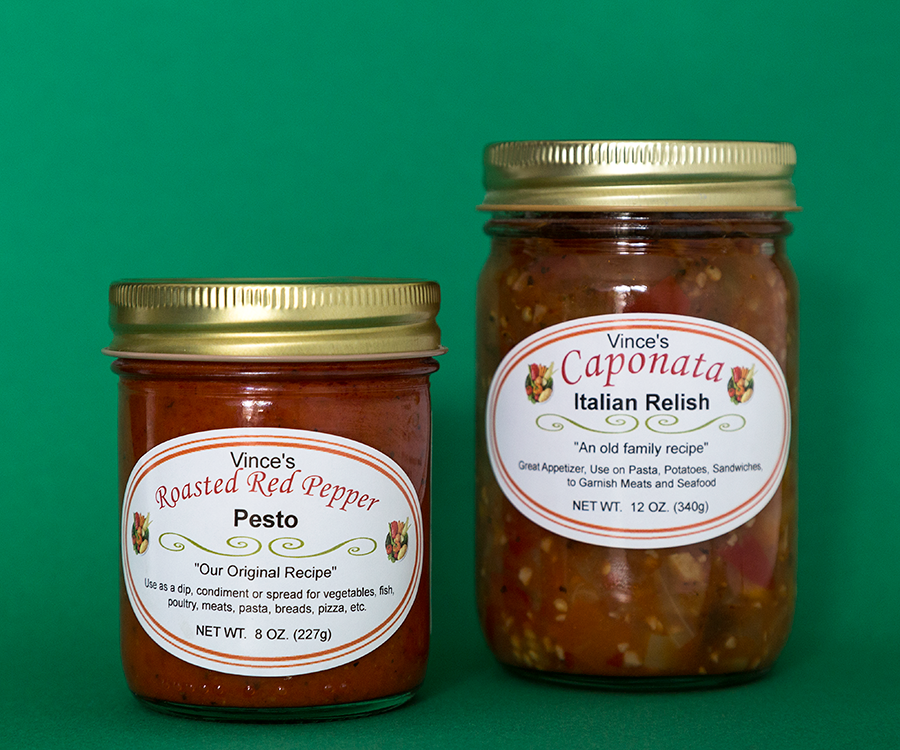 It can be hard to find quality in a jar. Dan and Sharon Bulone, however, are changing the game—they created a line of tasty products based on a rich family tradition.
The Lampe couple works together to produce two products inspired by Dan's Italian heritage: their signature Vince's Caponata, an eggplant-based Italian relish with a sweet and sour tang, and Vince's Roasted Red Pepper Pesto. The Bulones are also in the process of putting out a third product—an Italian giardiniera that will add a spicy element to their line.
The Bulone family's Italian heritage inspired the products. Dan's grandmother, a Sicilian immigrant, sent her homemade caponata to the family every Christmas. Years later, Dan's brother Vince became a chef, developing a caponata recipe based on his grandmother's tradition. In 2012, Vince made a batch of his caponata at a family gathering, and an idea was born. Someone needed to put the recipe on store shelves. 
Dan and Sharon spent a year preparing the caponata for public consumption. In 2013, Vince's Caponata was ready to be sold, and Bulone Enterprises was born.
Today, Vince's products are sold in more than 50 retail locations in six states, including multiple Whole Foods locations.
Despite the demand, Dan and Sharon produce all of the caponata themselves out of a rented commercial kitchen in Lampe, and the couple manages the product production, packaging, marketing and delivery themselves.
"Our goal is to provide unique, gourmet specialty food products," Dan says. The products are hand-processed and hand-packaged in small batches without the help of a co-packer.
Dan and Sharon feel their commitment to individuality and freshness will help Vince's become a national brand. This will hopefully contribute to the long-term goal: The Bulones would like to own a production facility, which would allow them to employ and support members of the Lampe community.