Dishes
Mini Crème Brûlée Trio at the Southside Houlihan's
Plus six other things that passed the test of our taste buds.
By The Editors
Jul 2017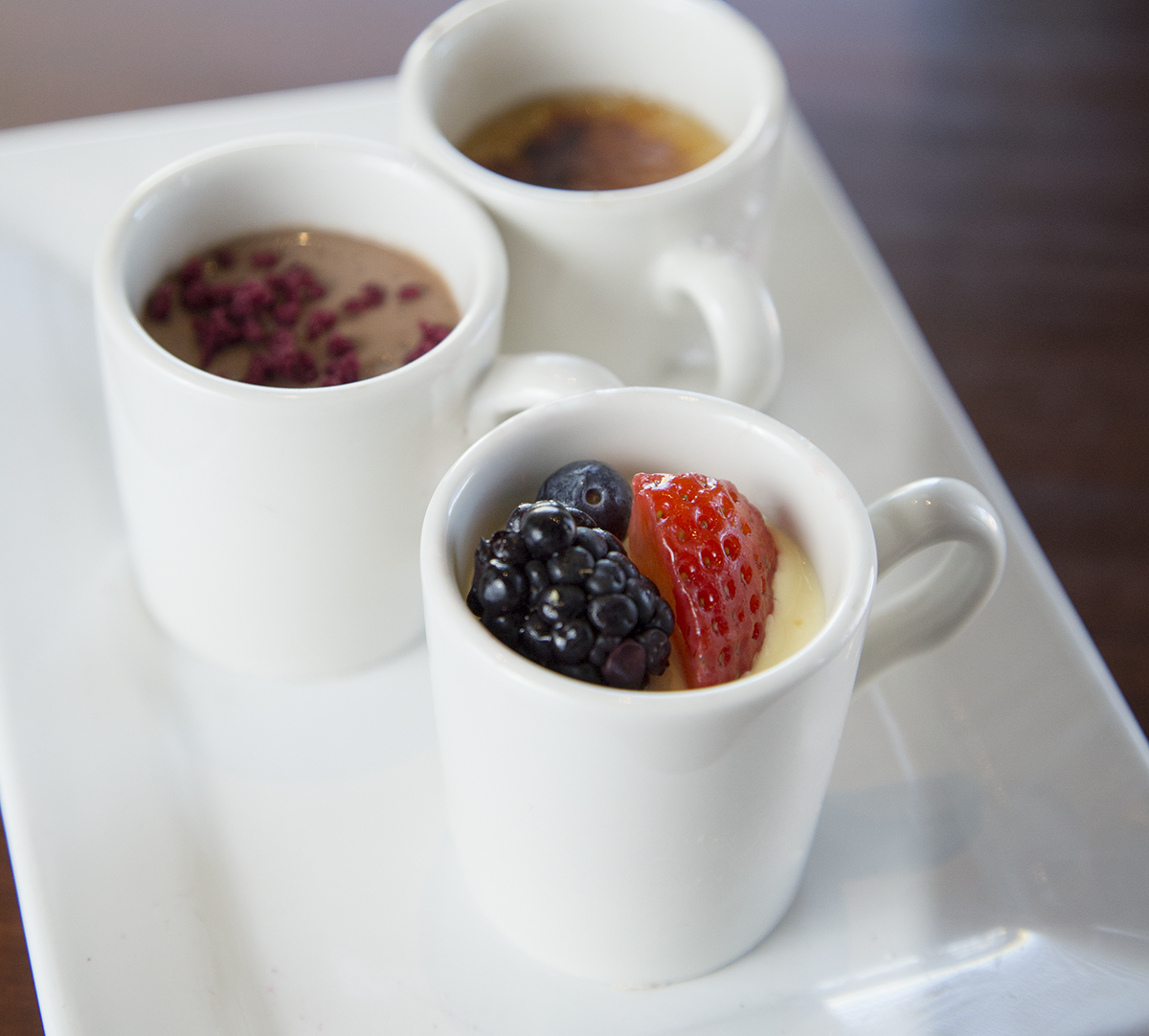 1. For a low-guilt dessert, indulge in the mini crème brûlée trio at the Southside Houlihan's (2110 E. Republic Road, Springfield, 417-883-3434, houlihans.com). It's just $4 for three of the creamy bite-sized treats, which come in flavors such as vanilla ginger, chocolate rhubarb and bourbon butterscotch. 
2. One staff member is admittedly not a fan of chicken salad, but that's a different story when it comes to the tarragon chicken salad from Derby Deli (2023 S. Glenstone Ave., Springfield, 417-883-4066, brownderby.com), her recent go-to for a lunch that's filling, but not too heavy. 
3. Sometimes creamy soups are goopy and flavorless. Not so with the soul-warming cream of artichoke soup available in the soup of the day rotation at J. Parrino's Queen City Deli (1647 E. Sunshine St., Springfield, 417-887-1778). It's light, lemony and full of chunks of fresh artichoke. Yum! 
4. Had a rough night? Revive yourself post-party with the Hangover sandwich from Mo' Beef (405 W. Walnut St., Springfield, 417-771-5111). Featuring shaved ham, slices of provolone and a fried egg all served up on a croissant, the hearty sammie is a surefire hangover-buster.  
5. Known for margaritas, Iguana Roja Restaurante (107 W. Church St., Ozark, 417-485-8585, iguanaroja.net) concocts several versions of the classic drink. Try the eponymous Iguana Roja, a punchy combo of ingredients like pineapple- and vanilla-infused tequila, house sour mix and muddled jalapeño.
6. For a tasty, whimsical appetizer, try the deconstructed crab rangoon—a luscious bowl of crab-filled cream cheese topped with chili sauce and green onion and served with wonton dippers—at Andy B's Restaurant & Entertainment (1127 E. Battlefield Road, Springfield, 417-883-1234, andybspringfield.com).
7. When a sushi craving strikes, one staff member makes for Mijuri Sushi & Bar (2710 S. Campbell Ave., Springfield, 417-889-9593) and orders its massive Valentine Roll, a fresh, filling combination of shrimp, cucumber, crab, avocado, tuna, Japanese snapper, masago and ponzu sauce.