Life
Cardinals Assistants Jimenez and Marrero Bond Over Common Experiences
Springfield Cardinals Assistants Jobel Jimenez and Darwin Marrero both have Latin American roots, making them uniquely equipped to help lead the diverse Springfield Cardinals roster.
By Evan Greenberg
Jul 2018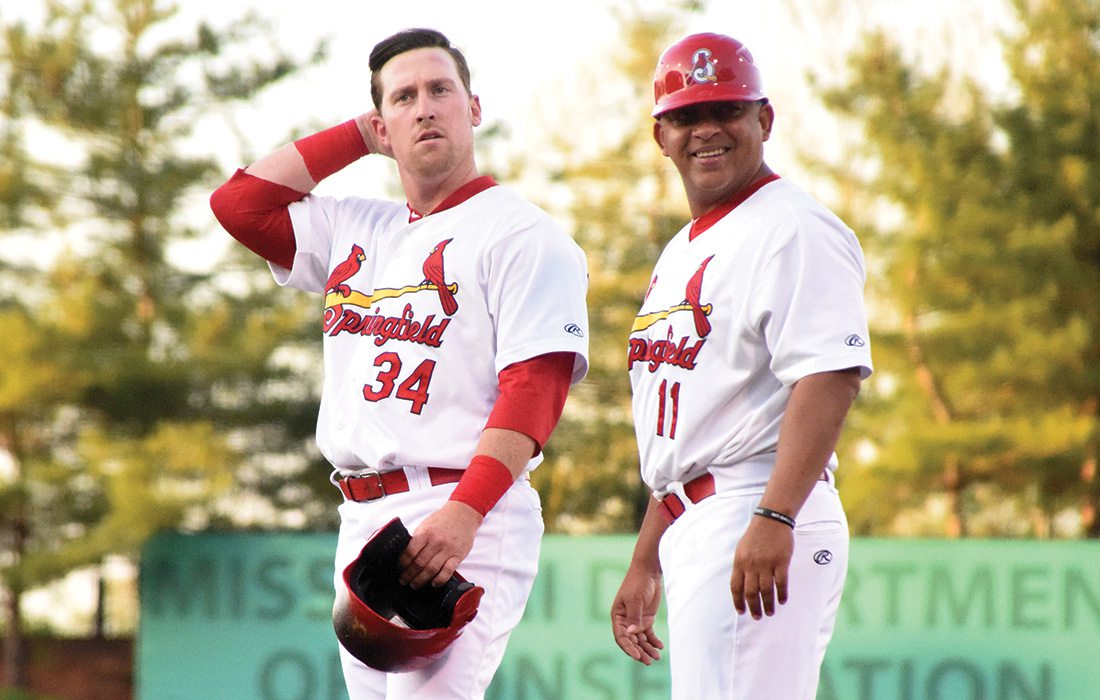 It'd be easier to chart the time Springfield Cardinals assistant coaches Jobel Jimenez and Darwin Marrero spend apart than the time they spend together. Jimenez, in his second year in Springfield as hitting coach, and Marrero, in his first year handling pitchers, share an apartment at The Abbey. Apartment walls are thin enough for strategy and scouting reports to travel through—the dugout is wherever they are.  

Jimenez, 43, and Marrero, 37, have a prior history, too—Jimenez coached Marrero in Venezuela back when Marrero was a player 17 years ago, and several years later, they coached together in the Gulf Coast League in 2013 for a Cardinals rookie league team. That was Jimenez's first extended stay in the United States. He spoke little English, and Marrero took him under his wing, helping him learn the language and get acclimated. He even loaned Jimenez his car so that he could take his driver's license test.


Pushing the Next Big Hitters Towards Success
The two draw upon their experiences when interacting with the Cardinals' Latin American players—the organization, as many across baseball, places an emphasis on foreign players. It's obvious, too, the genuine affinity the two have for their situation. In a time when it's all too easy to become jaded, Jimenez and Marrero are embodiments of the part of America that sometimes gets lost in the shuffle, using their perspective and life experience usually reserved for those twice their age to help groom the next generation of baseball players.  
To be a minor leaguer is to live for an interminable amount of time in the state the Road Runner finds itself in just before it accelerates: feet winding but stuck in place. For the players that suit up every day, the expressed goal is to do enough to one day leave the same field that houses them. It's a warped mindset, and it's because of this that those involved come together—only they understand what it means to go about your day with one foot tap dancing toward the door.
For some of these players, it's their first time in the United States, too, hailing from places like the Dominican Republic or Curacao. It's been like this for a while, but now, some of the game's brightest stars come from Latin American countries, as scouts are eager to tap into world markets for talent. It can be hard to adjust when you have to adhere to a new language and manners and customs, all while working toward a life goal.

"They come [to] Florida, for example," Jimenez says. "They can find people who speak the same language, but when they come [to Springfield] for the first time, it's a little bit tough for them. Moving around in Springfield, you don't see people speaking Spanish, which is tough for them. But at the same time, it's good. Because it forces them how to work a little bit more and develop the language."
"But when they come [to Springfield] for the first time, it's a little bit tough for them. Moving around in Springfield, you don't see people speaking Spanish, which is tough for them."
— Jobel Jimenez
Distance Makes the Bonds Grow Stronger
For these players, there are perhaps no better teachers than Jimenez and Marrero, coaches with deep roots in Latin America who know what it's like to be a stranger in a strange land. 
"It's very easy for us to work with those guys who come from Latin America because you know the system," Jimenez says. "The way they work and develop is a little bit slow. If you compare Latin American players to the American players, it's a bit different."
Whenever the Cardinals have a home series, their Latin American players take English classes. It's a far cry from the welcome Marrero received when he signed and trod off to the minor leagues as a 17-year-old. "I don't even know how to say hello," Marrero says. "For the English class you get that only at that level, rookie league."


It's these shared experiences—learning a new language, registering to drive—that bring the two coaches together. When Jimenez first heard of Marrero's hire, he lit up. Now, there isn't much they don't share or time they don't spend together. As Jimenez says, they are more or less family. "For me, he's not just a co-worker, he's my brother," Jimenez says.
This month the Springfield Cardinals play the Frisco RoughRiders, the Midland RockHounds, the Northwest Arkansas Naturals and the Tulsa Drillers at home. Visit
milb.com/springfield
for game times and ticket information.