Homemade Ice Cream
Whip out the ice cream machine and your freshest summer berries to freeze a batch of this sweet-and-savory blackberry sage ice cream.
By Katie Pollock Estes | Photo courtesy The Food Channel, thefoodchannel.com
Jun 2014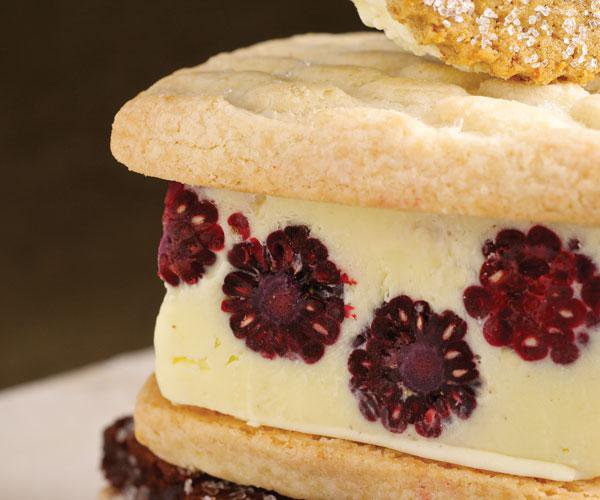 FRESHLY PICKED
A handful of businesses in southwest Missouri offer blackberries fresh from the farm, and at some you can even pick your own. Blackberries are usually in season starting late June.
Berry King Farm
6832 Eland Rd., Joplin, 417-624-1539
The Berry Patch
1014 E. 394th Rd., Bolivar, 417-777-4586
G's Orchard
Farm Road 1130, Verona, 417-669-4583
Persimmon Hill Farm
367 Persimmon Hill Lane, Lampe, 417-779-5443, persimmonhill.com
Poppy's Blueberry Farm
1332 E. Farm Rd. 80, Springfield, 417-883-8771
Sunshine Valley Farm
8125 E. AD Highway, Rogersville, 417-753-2698, sunshinevalleyfarm.com
Summer means hot nights and hotter days, and one of the best ways to cool down is with a bowl of everyone's favorite frozen treat: ice cream. Take advantage of one of summer's sweetest crops—blackberries—for this particular recipe. It comes to us courtesy of The Food Channel (thefoodchannel.com), and it blends that tasty little berry with an herb that you don't always see on the dessert menu. 
Blackberry Sage Ice Cream
Serves 8
Ingredients
3 sprigs fresh sage
2 cups heavy cream
½ cup milk
4 egg yolks
Directions
In a saucepan, over medium-high heat, bring the sage, cream and milk to a boil. Remove from heat, and steep for 20 minutes. Discard the sage. Prepare an ice water bath. In a small mixing bowl, whisk the egg yolks and sugar. Slowly pour in some of the hot cream to temper the eggs. Pour the eggs into the cream, and continue to cook for 2 to 3 minutes, or until the mixture coats the back of a spoon and steam rises from the top. In a separate bowl, whisk the corn syrup and cream cheese, and then whisk into the cream mixture until smooth. Strain through a fine-mesh sieve into a large Ziploc bag, and chill over an ice bath. Freeze in an ice cream machine for 30 minutes or according to the machine's directions. Scoop ice cream out of the machine, and fold in the blackberries. Spoon into a freezer-proof container, and keep frozen until ready to use.