Spaces
GigSalad Office
Housed in an old brick building in downtown Springfield, bold colors, modern furnishings and a touch of whimsical artwork give life and personality to the GigSalad office.
Written by Savannah Waszczuk | Photos by Jeremy Mason McGraw
Jun 2016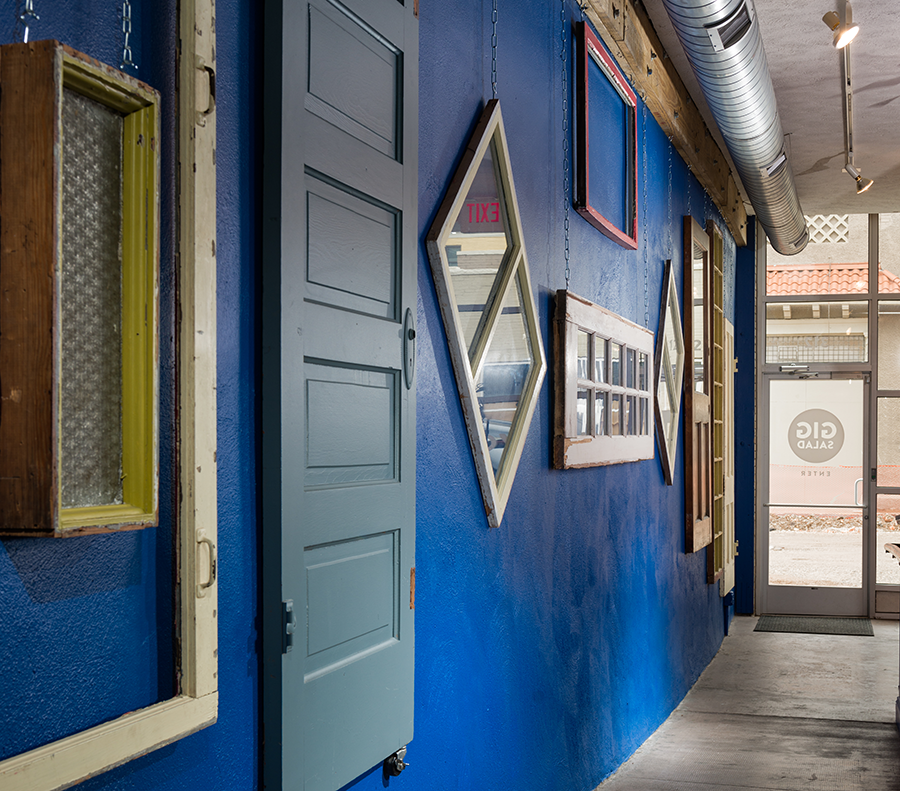 The Lobby
What started out as a problem wall in the GigSalad lobby ended up being one of the space's most one-of-a-kind characteristics after the remodel. "It was a long, plastered wall that was distorted and needed help, " Wright says. "Mark had a collection of antique doors and windows, and we decided to hang them along that wall." The pieces were hung with chain from an existing beam at various lengths and directions to create interest and break up the long wall. The hall leads to a lobby area painted the same vibrant blue shade and filled with custom artwork, chairs and sofas.
A lot of businesses have lived inside the old brick building at Springfield's 312 East Olive Street. Originally built in the 1920s, the space has housed everything from a car dealership to an auto repair shop to a storage space for Montgomery Ward department store. But since April 2015, the space has been given a facelift and taken on its latest identity: the home office for GigSalad.
GigSalad is a booking platform for entertainers, performers, speakers and other event service providers, and it's also an event marketplace used by people who are planning everything from weddings to kids' birthday parties. "We book all types of things all across the U.S. and Canada," says Mark Steiner, GigSalad's co-founder and CEO. "We have 580 categories of things we offer. We just crossed the 80,000 threshold of members, and we recently got our millionth event planner on the site." 
While a large part of this growing company's business takes place in cyberspace, it still needs a place for its 25 team members—13 of them who are located in Springfield—to call home. "I started in 2007 working from my home," Steiner says. Next came a building on the corner of Boonville and Chestnut. But then it was time for their latest adventure, which was finding this space and remodeling it to fit the business. "First, of course, I wanted a great space for my team," Steiner says. But the spacious brick building was plenty big enough for much more than cubicles. Steiner wanted to incorporate common areas as well, both for his team to stretch their legs and to host various guests and entertainers who GigSalad sometimes hosts. "We wanted to be able to invite people in to talk to us," Steiner says. "We want them to come in and sit down with us. Have a drink. And then we'll send them away with a T-shirt."
Steiner wanted this relaxed vibe, but he also wanted the space to be well designed and professional, a balance Denise Wright of DKW Designs (417-350-4520, dkw.design) helped achieve. "We wanted it to be a space where our guests could relax, but with great ambience," Steiner says.  
 These guests enter through GigSalad's lobby—a welcoming space with vibrant blue walls, modern furnishings and some antique touches—and they'll often end up chatting in the green room or having a drink in the music room. The extra areas, all on the opposite side of the team's workspaces, are all designed in bold, vibrant colors from the GigSalad logo, and they all work together in an odd, quirky way to help make everyone feel at home. "We tried to design a space that's just welcoming in general, where you could come in off the street and feel welcome and warm," Steiner says. "But we also wanted it to be on caliber with artists who may stumble in. We tried to create a space where we thought, 'Yeah, if I were a rockstar, I'd feel comfortable here.'" 
The Green Room
One of Steiner's main goals for the green room was to use it as a place for guests to unwind. Sometimes they invite entertainers from the nearby Gillioz Theatre to the space, and Steiner also interviews members for the company's podcast there. "We wanted it to have a literal green room feel, almost like something you would have in Hollywood or New York, with the flexibility of arranging it according to the number of guests," Wright says. Various sofas, loveseats and chairs occupy the space, and they're easily moved depending on company. Apple green walls match the company's logo, and velvet floor-to-ceiling draperies cover the walls and windows to create the feeling of a theater. The original wood planked ceiling was left alone to add character to the space, and a vintage crystal chandelier and spotlight floor lamp were added to further enhance the space. 

The green room's cozy seating and relaxed vibe provide the perfect ambience for guests.
Office Space
"I asked Mark what his favorite color was, and I found out that he loves purple," says Denise Wright of DKW Designs. "We saved the purple for his office." Perfect for hosting meetings, the office is also outfitted with a new leather Chesterfield sofa and two wing chairs that were reupholstered in a rich purple velvet. "I had the upholsterer add a wide blue stripe down the middle to make the pieces feel updated and modern," Wright says. A new rug, which appears distressed and antique, brings warmth to the cement floors, and the painting behind the wall helps meld the colors of the purple office with the neighboring green room.
The Music Room
The music room is another place for entertainers to come and relax. Steiner visited and fell in love with the bar at the Bowery Hotel in New York City, and it served as an inspiration for the space. An antique wood bar and adjustable iron barstools with reclaimed wood seats (below) add a wow factor to the room, and a tete-a-tete chair and antique settee provide seating. Mark's piano and a drum set from when he was a kid also occupy the space, as well as a variety of other instruments, vintage albums and signed photographs. The room's colorful area rug provides an artistic finishing touch.