Spaces
Grilling and Fire Pit Mistakes to Avoid
Summertime in the Ozarks means grills are lit and outdoor fire pits are in full use. That also means there's a risk of injury or damage to property. We turned to the experts for tips on balancing design and safety.
Written by Ettie Berneking
Jun 2017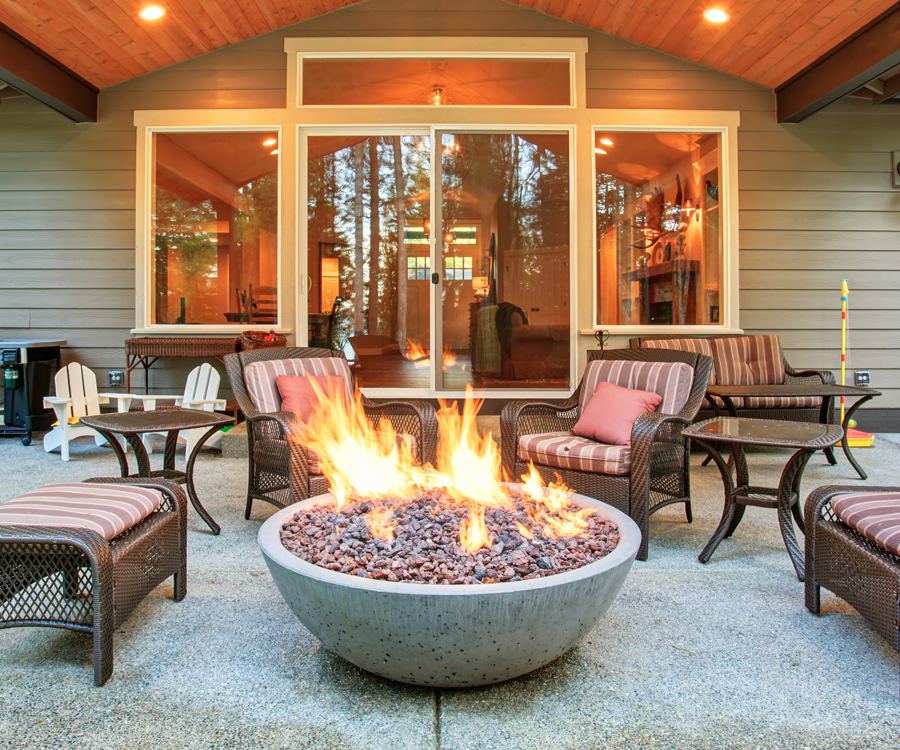 Outdoor Kitchens
Don't Put a Roof Over Your Outdoor Grill
Manufacturers don't want grills underneath a roof because it can be a fire hazard. If you're building a covered grill, install a hood. Without a hood, all that grime produced from grilling can build up along the wall, which is a fire hazard, and the constant heat can damage or ruin the siding of your home or patio.
Make Sure Ashes Are Extinguished
Charcoal grill ashes remain hot for a long time, and the embers can touch the deck or ignite trash.
Consider Details When Installing a Grill Island
One of the most overlooked details when installing an outdoor kitchen is where you put your trash can. The last thing you want is for your dogs or critters to get in the trash. This can be hazardous for the animals and can possibly damage your outdoor kitchen.
Keep Space Between the Outdoor Grill and Walls
Never push your grill up against the side of the house. Most often, with a non-combustible exterior wall, a distance of 4 or 5 inches is adequate, but if you have vinyl or wood siding, err on the safe side and keep your grill no less than a foot away.
Do Not Use Wood on a Grill Island
To make sure your grill island will last, invest in stainless steel 304 doors. Any number higher than that has other metals in it and will rust. A common practice is to line the inside of the cabinets with cedar and add wood doors. Unfortunately, wood attracts moisture, and moisture attracts bugs, especially in dark places. 
Build on Concrete
Grill islands need to be installed on a concrete slab or wood deck (if adequate bracing was used in the construction of the deck). Over time, pavers settle in the ground and cause an island to shift or warp. 


Fire Pits
Plan for Ventilation
If you build your own gas fire pit, make sure there are vents in the bottom. Accumulation of gas inside your built-in fire pit base can cause a fire hazard. Purchasing vent kits to provide cross-ventilation alleviates gas buildup.
Safety First
Recreational fires don't have to be contained within a fire pit. They can be a campfire on the ground, but there are a few fire code requirements. The fire has to be attended at all times and you must keep extinguishers like a shovel and dirt or a hose nearby. Don't start a fire if winds are greater than 15 miles per hour, and any fire must be 25 feet away from any combustible structure. 
Know What You Can and Cannot Burn
Keeping with city fire codes, don't burn trash, sticks or leaves. These produce heavy smoke and will likely annoy your neighbors and attract attention. 
Keep It Small
Fire code dictates that recreational fires can't be larger than 3 feet by 3 feet and no more than 2 feet tall. Basically, no large bonfires in the backyard.