Things to Do
Hidden Gems
This list of hikes, bike rides, campgrounds and rock climbing spots showcases the oh-so-amazing hidden gems of the Ozarks, and they're all sure to provide you with that completely new experience.
By Savannah Waszczuk | Photos by Jeff Rose
Mar 2016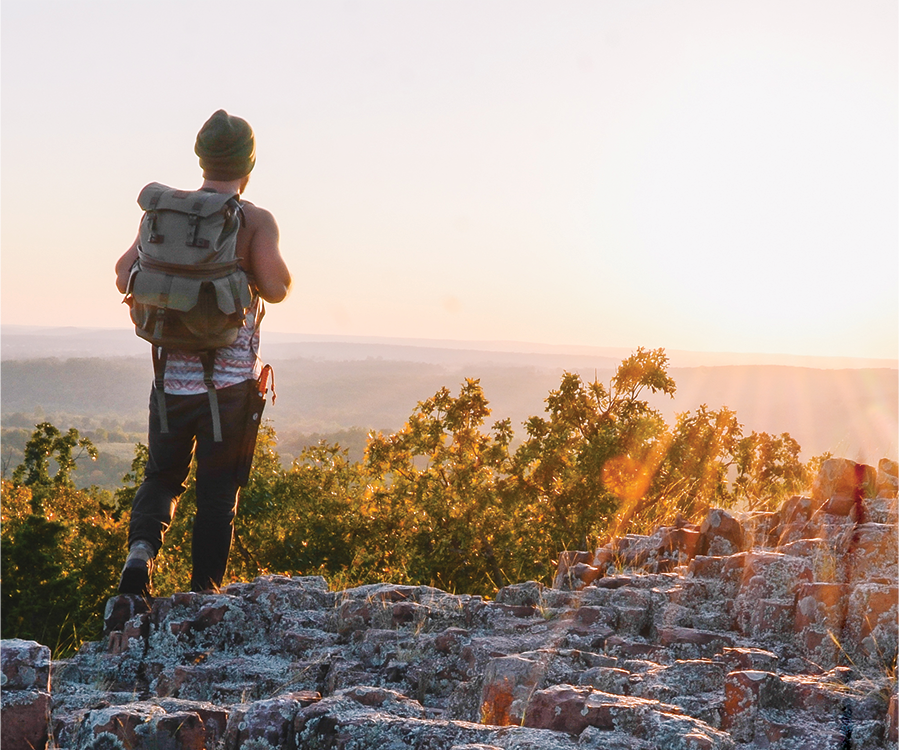 There's something particularly alluring about a trip to an unknown place. 
The thrill starts in the car, as you wind your way down an unfamiliar Ozarks road that squiggles its way through lush green forest. When you reach the parking lot, you step out of the car and are surrounded by hundreds of towering trees that cast a mysterious shadow on the ground beneath your feet. You know that for the next few hours and for this one time only, everything you do and all the things you see will be a completely new experience. You can't wait to start your adventure, which will never again be quite as exciting as this very first time. You know that the next few hours, or even days, will be something extra special. 
The Ozarks is loaded with dozens of gorgeous spots for hiking, biking, camping and rock climbing, but  a handful of popular spots seem to snag all the attention. Well, this story was written about the other guys. The not-so-popular crowd. The unknowns. The spots that are every bit as beautiful, but aren't always crowded with a dozen other hikers or noisy camp neighbors. The spots where you don't have to squish on the trail with quite so many bikers, or share that breathtaking view with a bus full of tourists. This list of hikes, bike rides, campgrounds and rock climbing spots showcases the oh-so-amazing hidden gems of the Ozarks, and they're all sure to provide you with that completely new experience. That once-in-a-lifetime adventure. That long-sought allure of an unknown place. 
---
Devil's Honeycomb
Why it's Great: Just as Arizona has the Grand Canyon and Utah has Arches National Park, Missouri is home to a few of its very own geological wonders. And while we marvel over the massive rocks at Elephant Rocks and the rushing waters at Johnson's Shut-Ins along with everyone else around here, our absolute favorite is the lesser-known Devil's Honeycomb, an outcrop of polygonal columns of rhyolite (really awesome looking rocks) located at Hughes Mountain. Located on the mountain's high point, these rocks were once liquefied by ancient volcanoes associated with the St. Francois Mountains. Some of the molten rock contracted and cracked, and as it cooled, it created this breathtaking geological masterpiece unlike anything you've ever seen. A quick 1.5-mile out-and-back hiking trail leads hikers up to the area, and there are glades, wooded forest and a variety of wild flowers to enjoy along the way. When you do make it to the top, take a second to look up and around, too–Hughes Mountain also offers a pretty magnificent view.




Irish Wilderness
Why it's Great: Missouri's Irish Wilderness was settled by a Catholic priest and some 40 Irish families in 1858, but it was wiped out during the Civil War and has remained a secluded wilderness area ever since. Today its some 16,000 acres are particularly alluring to hikers, with the 18.6-mile White's Creek Trail being the main form of travel across the lands. You'll traverse through a variety of Missouri landscapes in this area of the Mark Twain National Forest, including dried creek beds, grasslands, glades and bluffs, and they'll take in many jaw-dropping views of the rushing Eleven Point River. They'll also find water at Whites Creek, the principal stream in the Irish Wilderness, and numerous other small streams that flow along the surface and then disappear underground. (Don't forget your waterproof boots!) Camping and a two-day hike is recommended to see all of the sights here, which include Fiddler Springs, Bliss Springs, Whites Creek Cave  and other caves along the trail near Whites Creek. There are a few good spots for backcountry camping, including spots near each of the springs and even an old homestead near Bliss Spring. 
Twin Falls at Richland Creek Wilderness
Why it's Great: Located deep in the Ozark National Forest and miles from any form of civilization, the Richland Creek Wilderness Area is often referred to as one of the most scenic areas in all of the Ozarks. The nearly 12,000-acre spot among the Boston Mountains is brought to life with swimming holes, cascades, bluffs, wildflowers, rock formations and much more, providing adventure seekers plenty to see and do on a two-day trip. And while there are no designated trails mapping their way through the entire wilderness, there is a system of old logging roads that runs throughout and provides an informal network of trails for hiking. There's also an out-and-back Twin Falls "trail" that takes hikers from the Richland Creek Wilderness Campground to Twin Falls, and it's one of our favorites. But be warned: This trail requires a bit of bushwhacking and includes two river crossings and a bit of traversing on bluffs, so it's not for the novice hiker. Once you arrive at the falls, your hard work will be rewarded with views of the gorgeous 17- and 19-foot waterfalls where Long Devils Creek and Big Devils Forks Creek merge into one. Since the falls are fed by wet weather creeks, they're best seen during the rainy spring season.
Devil's Backbone Wilderness
Why it's Great: Towering oaks, hickories and shortleaf pine trees shadow over the dusty trails that cut their way through Devils Backbone Wilderness. Part of the Mark Twain National Forest, this  remote area is located roughly 20 minutes west of West Plains and takes its name from a centrally located long, narrow ridge known as Devil's Backbone. Thirteen miles of trails wind their way across the backbone and four other ridges, then drop off into neighboring hollows and a dense forest that welcomes adventurous hikers with a blend of Missouri Ozarks flora and fauna. The woodlands come to life during the spring when the dogwoods, redbuds and wild azaleas are in full bloom, and fall is alive and thriving when the oaks, sweet gums and sugar maples transform the rugged topography into vibrant shades of gold, orange and red.  In addition to the all-natural, growing landscape, hikers enjoy views of scattered limestone glades, three springs and the North Fork of the White River. Four trailheads provide entry to the Wilderness: Blue Spring Trailhead, Raccoon Hollow Trailhead, McGarr Ridge Trailhead and Collin's Ridge Trailhead. 
Bonus Short Cut: If you're not up for the multi-mile trek and a possible overnight camp to explore it all, we suggest you park at the North Fork Campground and check out the Blue Spring Trail—a quick, .6-mile jaunt lined with lush vegetation and unique rock formations that parallels the North Fork of the White River and leads to scenic Blue Spring.


The Narrows 
Why it's Great: While this story is chock full of Ozarks hidden gems, The Narrows in Arkansas is perhaps the most hidden on the list. This almost island-like rock outcrop is located on the Buffalo River and overlooks the river as well as a small portion of the Ozarks Highlands Trail and Richland Creek. But if you want to see it, you're going to have to work for it. No trails lead you to the majestic spot. Instead, most thrill seekers find their way here by starting at the Woolum Ford campground, crossing the river, hopping on the Ozark Highlands Trail for 1.25 miles and then, if they dare, slowly climbing their way up the rocky crop. If you want to give it a shot, be careful—
every step matters while you're working your way up and down. But it's definitely worth it. While you're in the area, keep your eyes peeled: Fellow hikers have spotted herds of elk in the nearby field.
Caney Mountain Conservation Area
Trip Length: Overnight
Difficulty: Moderate
Kid-Friendly: Yes
Trail Length: 8.5 miles total (including both hiking trails and gravel roads)
Payoff: View from the top of High Rock Mountain
Location: Roughly two hours southeast of Springfield, near Gainesville
Why it's Great: A day of exploring at the Caney Mountain Conservation Area leads adventurous hikers up steep ridges, down deep valleys and across nearly 8,000 acres abundant with gnarled old oaks, expansive glades and a plethora of wildlife. And we're not just talking turkey and deer—this spot is home to collared lizards, roadrunners and even wild pigs. There are plenty of caves and springs to explore here, including the popular Spout Spring. In addition to a couple of trails throughout the area, the nearby roads are often frequently used for hiking excursions and offer views of numerous prominent peaks including Bear Cave Mountain, High Rock Mountain, Morrison Knob, Long Bald and Tater Cave Mountain. If you have some extra pep in your step, consider hiking to the top of High Rock mountain, where you can look across the scenic, rugged landscape of Caney Creek valley and see other surrounding mountainous knobs. On the south- and west-facing slopes of the mountain, you'll find large open dolomite glades (known locally as balds) that fill with stunning wildflowers in the spring. For a quick hike, simply check out the cabin that sits close to the nearby area road. 
Cedar Gap Conservation Area
Trip Length: Day trip
Difficulty: Moderate
Kid-Friendly: Yes
Trail Length: 1.6 miles total
Payoff: Valley overlook
Location: Roughly one hour east of Springfield, between
Seymour and Mansfield
Why it's Great: When you're in the mood for a quick day hike but you've grown tired of nearby trails at Busiek and the Springfield Nature Center, hop in the car, crank up the tunes, roll down the windows and head east. Located less than an hour from Springfield on Highway 60, the Cedar Gap Conservation Area is home to the Cedar Gap Plateau and recognized as the second highest point in Missouri. From the parking lot, day trekkers follow a gravel-surfaced trail lined with towering trees down to a gorgeous, secluded valley overlook that feels a million miles from civilization. Sit here a second, and take it all in. Then, if it was just a quick trip you were after, you can turn around and head back home. But we advise a little more exploring on the 1.6-mile loop trail that explores the remnants of an old limestone quarry, limestone glades and the bubbling Bryant Creek. You can find the headwaters here. There's also a cabin on the property, which provides a fun resting point and fabulous photo op. We bet you had no idea that you could enjoy such a secluded hike after this simple drive.  

While hiking on the Centerpoint Trail in northwest Arkansas, you can pick up a spur that leads you to the Goat Trail and Big Bluff, the tallest sheer bluff face between the Rocky and Appalachian Mountains.


Big Bluff
Why it's Great: Did you know that the tallest sheer bluff face between the Rocky and Appalachian Mountains is just a couple of hours away? Hikers hit up the Centerpoint Trail to enjoy a variety of natural landscapes, starting with a long stretch of dusty trail that weaves its way down a large hill through wooded Arkansas forest. After roughly an hour of hiking, you'll pick up the spur that leads you to the Goat Trail, a narrow, rocky ledge that twists its way onto Big Bluff. Once you walk your way around this beautiful stretch of natural wonder, you'll want to take a few minutes to rest and take in even more of the sights. When you're standing on Big Bluff, you'll look out to surrounding bluffs, dense forest and a couple of gorgeous stretches of the Buffalo River. It's particularly fun in the late spring and summer when you can see and hear the kayakers and canoers below, and of course, it's breathtaking during the fall with changing leaves and golden sunsets. Eat a snack before you head back to the car—like many hikes in the mountainous Buffalo River country, the trip out is basically uphill.
Pilots at Hercules Glades
Why it's Great: The scenic Hercules Glades Wilderness features more than 12,000 gorgeous and mostly secluded rolling acres of the Mark Twain National Forest. The area is best known for "The Falls," which you can reach by both the Coy Bald and Blair Ridge trailheads. But lots of people know about these falls, and lots of people hike to these falls. Don't just be like all of these people. Instead, we recommend taking the road less traveled and starting at the Hercules Tower Trailhead (also known as the Pilot trailhead) on the wilderness's east side. This will take you to the pilots—twin mountains that offer you breathtaking views to both the north and south. After taking the trail north from the parking lot, weave your way through the rugged landscape for a couple of miles. At roughly 2.25 miles you'll see the upper pilot to your left. Go off trail, and make your way to the summit on the upper mountain. When you make it up you'll find stone chairs to sit in and enjoy the views—which you'll find in all directions—and even a few great spots to set up camp. If you do stay overnight, consider checking out those falls on day No. 2 if you haven't seen them. 


---

Find a Hiking Buddy
Looking to find a few pals to join you on the trails? These 417-land clubs and organizations are the perfect spot for making new forest-loving friends. 
Ozark Mountain Trailblazers
Providing everything from outdoor education and training classes to guided trips, Hiking the Ozarks is a must-know group for all of those who love hitting the trails in southern Missouri and northern Arkansas. The group also organizes the Ozark Mountain Trailblazers Club, which was created to bring local outdoor enthusiasts together. It's great for both newbs and experienced hikers. Learn more online by visiting hikingtheozarks.com or searching "Hiking the Ozarks" or "Ozark Mountain Trailblazers" on Facebook.
Springfield Conservation Nature Center Hiking Club
Volunteer naturalists of the Springfield Conservation Nature Center offer monthly organized hikes at local conservation areas, state parks and other hot hiking spots. You simply bring a lunch and your hiking gear, and you make friends as you cover the miles. Learn of upcoming hikes at mdc.mo.gov, and when reservations open each month, quickly call 417-888-4237 to snag a spot.
The Wilderness Adventure Group
On the second weekend of every month, The Wilderness Adventure Group gets together and travels to some of the most beautiful spots in the Ozarks to enjoy hiking and other outdoor fun. It's simply a group of friends—old and new—having fun outdoors. If you're eager to explore the Buffalo River area, Hercules Glades Wilderness, the Ozark Highlands Trail and much more, call Stephen Hurd at 417-693-6373 and tell him you're up for an adventure. 


---

Hike Your Best Hike
Tips provided by writer, editor and avid hiker Savannah Waszczuk


1. Stay Hydrated
While water is one of the heaviest things to pack, it's also the most important. Be sure to plan plenty of water for your hike (roughly half a liter per mile, with more for strenuous hikes or in hot weather). To be safe, also pack a portable filter or purifying tablets just in case.
2. Plan Your Footwear
While sneakers can work for a variety of easy, flat trails, a hiking shoe or hiking boot is recommended, especially for longer hikes or when you're packing weight. Pack extra socks in case your feet get wet (nothing is worse than hiking in wet socks), and also pack a pair of lightweight flip flops or sandals to change into when you set up camp. Your feet will thank you. 
3. Stay Cool
If you're hiking in the summer, you'll definitely want a pack towel or other lightweight fabric to wipe your sweat. Also consider a hat to shade your face and a headband to keep your hair off of your neck.
4. Stay Warm
Cold weather hiking is all about layers. Merino wool pieces are a good investment and make great, lightweight base layers. After that, think about things that are less bulky and pack well, like vests, lightweight jackets and convertible pants. 
5. Tell a Friend
Always let someone know where you're going hiking, when you're leaving and when you plan to return. This safety tip isn't just for solo hikers–group hikers should also tell someone who isn't joining them on their adventure. Be sure to provide as much information as possible, including specific starting and stopping trailheads and possible campsites.


---

Sam's Throne
Beginner-friendly?: Yes, with a guide 
Climbing type: Primarily traditional with some sport
Location: Roughly two hours south of Springfield in northwest Arkansas near Big Creek Township
Why it's Great: Sam's Throne is home to numerous features that can feed your rock-climbing fancy. Thanks to the ranging terrain, it's a good spot to go when you're a beginner, as long as you have a guide to help you out along the way. But it's also great for more experienced climbers, with numerous routes along the bluff offering challenges for a range of climbers. The
Atoka sandstone here has numerous solution pockets, knobs and crack systems. Once you're done climbing, check out the loop hiking trail that follows along the bluff line and boasts gorgeous vistas. There is camping here, too,  so you can pack a tent and make a weekend of your great climbing adventure.
Rock Creek
Beginner-friendly?: No
Climbing type: Sport climbing
Location: Roughly two hours from Springfield in northwest Arkansas, 12.5 miles south of Jasper
Why it's Great: One of the more secluded climbing destinations on our list, Rock Creek offers climbs that are well worth the trip to the backwoods of Arkansas. The rock here is tall, overhung, and hard for the grade, so it's not a good spot for beginners. But, if you're experienced, you'll love the range of features, from techy slab climbs to huge roofs. Regular climbers say this spot is the best crag in the state for experienced climbers, and note that there are new lines going up nearly every weekend here, so be sure to ask other climbers what's around. If you happen to climb in warm weather, bring a suit—there are several swimming holes nearby.
Fountain Red
Beginner friendly?: Yes
Climbing type: Bouldering, with some sport climbing nearby
Location: Approximately two hours south of Springfield in northwest Arkansas near Cowell
Why it's Great: Tucked away in the rolling hills of northwest Arkansas, Fountain Red is primarily known as a bouldering area, although there are a few sport routes nearby.  The spot is home to southern sandstone boulders and has a drive-up approach, meaning you don't have to hike to get to the rocks. Yay! While you're here, you must try a classic problem—Le Beak, a v4 that's widely regarded as the best v4 in the region, and possibly beyond. (The V-Scale, or Hueco Scale, is the most widely used system for rating boulder problems in the U.S. and ranges from v0 to v16, with the upper boundary always being pushed). There are other top-notch problems to test your skills on here, too, and there's even free camping!


Peter's Branch
Beginner friendly?: Yes
Climbing type: Bouldering
Location: Within 45 minutes of Springfield, near Sparta
Why it's Great: Perfect for those looking to climb outdoors but not in the mood for a long drive, Peter's Branch is located in the Mark Twain National Forest near Sparta. The climbing here is weather-dependent so plan accordingly—much of it can be wet during a rainy springtime. The most notable area here is the cave, a 40-foot overhung roof that offers a huge range of problems. Dark boulders, J's spliff cliff, mind games, the flutes, turtle head and warm-up alley are other tempting sections up for tackling.



More experienced rock climbers love the challenges and gorgeous views at Stack Rock in Arkansas's Richland Creek region.


Stack Rock
Beginner-friendly?: No
Climbing type: Traditional, mixed and some sport climbing and highline
Location: Nearly three hours south of Springfield near Snowball, Arkansas
Why it's Great: Arkansas's Richland Creek Region is home to the state's largest continuous crag—a 360-degree rock with routes on every face that's argued by some as Arkansas' most scenic rock-climbing setting thanks to an expansive view of the valley below. Most of the climbing here is advanced traditional, meaning you are placing protection as you go up. If you're not quite as experienced, Stack Rock also offers some moderate sport and trad pitches to hone your skills.


---

Climbing Tips
Tips provided by Jamie Strong, avid climber and co-owner at Zenith Climbing Center
1.  Book it
The best local guidebook for nearby routes is Rock Climbing Arkansas 2nd Edition by Cole Fennel. Available at Dynamic Earth, this book features every major sport crag in the state along with maps, directions and tips for each location as well as descriptions of every route, and it's basically a must-have if you're ready to tackle climbing.

2. Invest in and inspect your gear
Climbing is dangerous. You are trusting your life to your skill and discretion, but also your gear. Invest in good gear, and inspect it every single time you go out to climb. 
 3. Pack it in, pack it out
Just like hiking, pack in all you need for a day's climbing (including food, water, gear and toiletries), then pack out your trash. This tip is especially important with climbing since crags (steep cliffs or rock faces) are sometimes on private land and are accessible only by the owner's discretion.
4. Know your access
Like many spots in this story, reaching certain crags or climbs can be tricky. Be sure to pay attention to access areas during your research, and drive the right vehicle there (you will need a four-wheel drive at times). Also be sure to park in designated parking areas. 
5. Talk the talk
If you want to climb the way climbers climb, you'll have to talk their talk! Study up on common climber words with the fun climbing dictionary online at climbing.com/news/climbing-dictionary. Shiba-dang!
---

Learn to Climb
If you've never climbed before but you're ready to learn, these local pros can help you out. 


Zenith Climbing Center
At press time, Springfield's new Zenith Climbing Center (3534 E. Sunshine St., Suite 3, Springfield, zenithclimbing.com) was scheduled to open in early March. The center plans to offer a variety of classes, including a basic Climbing 101 class, a lead climbing class, a bouldering class and classes on technique and outdoor sport climbing. In addition to these climbing classes that will teach you everything you need to know before tying in on a rope and heading up, Zenith plans to offer guiding services with AMGA-certified guides to local and regional crags. Trips can be customized depending on the client's interests or specific climbing goals.
Certified Guide Connor Dykes
Certified by the American Mountain Guiding Association (AMGA), Dynamic Earth employee Connor Dykes offers both rock climbing instruction and guided rock climbing. Contact Dykes at 417-861-1985 or connordykes@icloud.com to set up a class or trip.
Horseshoe Canyon Ranch
Located in a gorgeous area of northwest Arkansas, Horseshoe Canyon Ranch (located off Highway 74 west of Jasper, Arkansas, 800-480-9635, horseshoecanyonduderanch.com) is a Mecca for rock climbers and known around the world for its top-notch climbing. Certified, experienced guides here will teach you how to climb, and you'll get a 360-degree view of the gorgeous property while you're at it. 


---


If you enjoy backcountry camping, Arkansas's Pedestal Rocks offers plenty of scenic spots to set up camp. For campground camping, settle in for the night at the nearby Fairview Recreation Area.


Fairview Recreation Area
Trip Length: Overnight
Kid-Friendly: Yes
Payoff: Views at Pedestal Rocks and Kings Bluff Loop
Location: Roughly two hours and 20 minutes south of Springfield in Dover, Arkansas
Why it's Great: Not even two hours from Springfield, Arkansas State Scenic Highway 7 offers magically breathtaking views that almost make you feel like you're in another world. Lucky for you, you follow this beautiful stretch of road to reach the Fairview Recreation Area, a campground plopped in the middle of the Ozark National Forest. The campground offers 10 primitive campsites, five of which are available on a first-come, first-served basis. (So get started early!) In addition to a nice, flat plot to set up your tent, each site has a table and a fire ring that will make sure you enjoy conversations well into the darkness of the night. To fit in some exercise, lace up your hiking boots and weave your way through a land of soaring trees and rolling hills on the Ozark Highlands Trail, located right by the campground. Or, for even more views, head roughly 10 minutes east to the nearby Pedestal Rocks and Kings Bluff Loop trails to take in panoramic vistas of Ozarks forest and the most unique, beautiful rock formations in the state. If you're okay with backcountry camping, you can even head here first, pack in your gear and find a cozy spot with a view to set up for the night—just don't camp below the bluff due to falling rock.

A trip to Prairie State Park is something that the entire family can enjoy. The kiddos will love watching the resident bison herd graze.


Prairie State Park
Trip Length: Overnight
Kid-Friendly: Yes
Payoff: Spotting the bison herd
Location: An hour and 45 minutes northwest of Springfield, in Mindenmines
Why it's Great: Much of the Ozarks is covered with rolling hills and towering trees. Prairie State Park is different, with panoramic views of grass-covered fields brought to life with ever-changing wildflowers. But it's every bit as beautiful. One of the highlights of visiting this scenic park is spotting its resident bison herd grazing in the open fields. But don't just come for a quick afternoon. There's plenty to explore here during a couple of days, and the park offers a small number of basic campsites for just this reason. There is a picnic area and a vault toilet at the site, plus access to potable water. What more do you need? If you want to hike on your visit, consider packing light and hitting up the Coyote Trail: a 3.2-mile jaunt complete with a backpack camp (you may even hear the howl of a coyote or bugle of an elk at twilight!). Either way, we suggest setting up camp early, then heading over to watch the sun set over the sea of swaying grass. 
Whites Creek Float Camp
Trip Length: Overnight
Kid-Friendly: Yes
Payoff: A nighttime lullaby of the rushing Eleven Point River
Location: Two hours and 20 minutes southeast of Springfield on the Eleven Point River
Why it's Great: Being outdoors is all about adventure, right? Well, what's more adventurous than a campsite that can only be accessed by water? Plan the ultimate secluded overnight camp at Whites Creek Float Camp, a campground located on the Eleven Point River at 28.3 miles. This campsite is one for those who truly want a primitive experience and aren't afraid to pack all their camping gear in a canoe to get there. (Just be sure to keep it steady!) You can get to camp quickly by putting in at the Whitten Access, which is roughly half a mile away. Easy breezy. But really, why load all your stuff up for a quick half-mile float? For the ultimate outdoorsy adventure, we suggest you put in at Greer Spring and float 11 miles before reaching camp. A day of flowing followed by a night of camping—it doesn't get any better, right? You'll love falling asleep surrounded by a sea of Ozarks forest to the sound of the rushing river just feet from your tent. Bring your fishing rod, and enjoy some early-morning casts before heading back home.


---

Camp Like a Champ
Tips provided by writer, editor and avid camper Savannah Waszczuk
Fuel the Fire
If you're car camping, consider taking a firestarter log, such as a Duraflame firestarter. Available for around $4 at most outdoor retailers, the logs will help save time gathering firewood and will make it much easier to get the flames going. 


Stay Dry
Most tents provide rain flies to help prevent getting wet in a storm. But you don't want the ground beneath you to get wet, either. Pack a tarp to lay  under your tent before setting it up. If your tent has a footprint, a tarp will help the footprint last longer, too.
Invest in a Sleeping Pad
If you plan to make a regular hobby of camping, consider investing in a sleeping pad. Available at a wide range of price points, pads can make a huge difference in comfort and a good night's rest. Look for pads with high R values to  ensure warmth.
Know Your Location
When selecting your site, think about where the sun will rise and set. Consider a site with a tree if you want to block early morning sun, or plan accordingly for a nice sunset view.
Be Not Afraid
Once you get a camp or two under your belt, consider
camping in the national forest or wilderness. You'll get privacy and peace and quiet, and it's usually free.


---

Slick80
Total Miles of Trails: Five (and growing!)
Kid-Friendly: Yes
Must See: Recycled signage and decor along the trails
Location: Roughly two hours southeast of Springfield, an hour east of Branson
Type of Biking: Mountain Biking
Difficulty: Ranges from easy to difficult
Why it's Great: Originally from the Kansas City area, Jessica Didion and Tylor Brackett decided to leave their busy lives, move to a 160-acre family property near Longrun, Missouri, and make it their homestead. The two knew that this plot of land, formerly a scrapyard, would be perfect for a collection of mountain biking trails, so they got busy building, both with their very own hands and with help from volunteers from Midwest Off-Road Cyclists. They opened Slick80 to riders in November 2015, when it had five miles of hand-built trails up and open, and many more in progress and planned for the future. Much of the current trails are built along a hillside and ridgeline, providing plenty of elevation changes for those riders looking for a challenge. There are also water crossings here, and trails that weave their ways through dense forest. Be sure to look for fun trinkets and signage along the trails—the couple recycled much of the scrapyard material to decorate the property. Before you head out, consider bringing a tent along: Slick80 also has a campsite. 
SAC River Trail
Total Miles of Trails: 8+
Kid-Friendly: Yes
Must See: The Little Sac River
Location: North Springfield
Type of Biking: Mountain Biking
Difficulty: Moderate
Why it's Great: All mountain bikers know that nothing beats pedaling your way down a dusty path into dense forest that makes you feel a million miles from anywhere. But if you're new to the sport, you may not know that there is such a place in north Springfield. Located on a 300-acre plot near Ritter Springs Park, the SAC River Trail features more than eight miles of interconnecting single-track trail that weaves its way through super-dense forest. Changing terrain and tree roots provide a bumpy ride, and lots of twists and turns make the spot a bit difficult to navigate—visitors need good directional skills to prevent getting lost. Get ready for the rolling hills with a warm up at the pump track near the trailhead. If you'd rather hike than pedal, that's fine, too—just look out for bikers on the way.
  
White River Valley Trail System
Total Miles of Trails: 11.75
Kid-Friendly: Yes
Must See: Lake views
Location: Branson
Type of Biking: Mountain Biking
Difficulty: Moderate
Why it's Great: Constructed on Table Rock State Park and U.S. Army Corps of Engineers land, the White River Valley Trail System consists of four loops of varying lengths and difficulty. Some stretches of trail are built on wide, open roads that were used for the dam's construction, and other scenic areas include views of waterfalls, Table Rock Lake, Lake Taneycomo and an abandoned farmstead. Bikers are challenged with varying elevations that reach as high as 1,200 feet above sea level, and they take the red loop for the most technically challenging route with a number of obstacles that include pedaling up large hills and through creek bottom areas with a relief of about 120 feet. The Blue Loop is the longest loop and offers the most diverse views of nature, with portions of it running along Lake Taneycomo. 
Slaughter Pen
Total Miles of Trails: 20+
Kid-Friendly: Yes
Must See: Ladder bridges
Location: Bentonville, Arkansas
Type of Biking: Mountain Biking
Difficulty: Easy to Moderate
Why it's Great: Any 417-lander into mountain biking absolutely must road trip to Bentonville, Arkansas, to explore Slaughter Pen. Featuring more than 20 miles of singletrack trail designed by IMBA and Progressive Trail Design—two of the premier trail builders in the country—Slaughter Pen was designed to both challenge riders and provide opportunities for bikers to master their skills, all from the handy starting spot of downtown Bentonville. The All-American trail is a soft-surface trail perfect for beginners and families and parallels the paved Crystal Bridges trail, which makes a nice side trip, and the Slaughter Pen Hollow mountain bike trail is the spot for serious riders to have their fun. Much of the trail cuts its way through a foresty hillside and presents drops, technical sections and other challenges. 
Two Rivers Mountain Bike Park
Total Miles of Trails: 14.5 (and growing!) 
Kid-Friendly: Yes
Must See: River views
Type of Biking: Mountain Biking
Difficulty: Moderate to challenging
Why it's Great: Located on the outskirts of Nixa, Two Rivers Bike Park is home to a sprawling hillside stitched with trails that twist and turn through mysterious and inviting tree-lined paths. The location of the park is great, giving residents of Nixa and nearby cities the chance to get away from it all after a super-quick drive. But the trails here are also just as good as those that 417-landers often spend hours in the car to reach. They're all purpose-built, which means they were constructed with mountain bikes in mind. With that comes all of the terrain that mountain bikers love: cross country hauls, steep downhill runs with jumps and even a skill course. If you're new to the sport, check out the 1.2-mile beginner trail.