Reviews
Small Plates, Big Flavor and Great Service Define Queen City Wine Dive
After almost two decades in the restaurant industry, Micah Pope is striking out on his own with the Queen City Wine Dive, a restaurant and bar not to be ignored.
By Vivian Wheeler
Mar 2018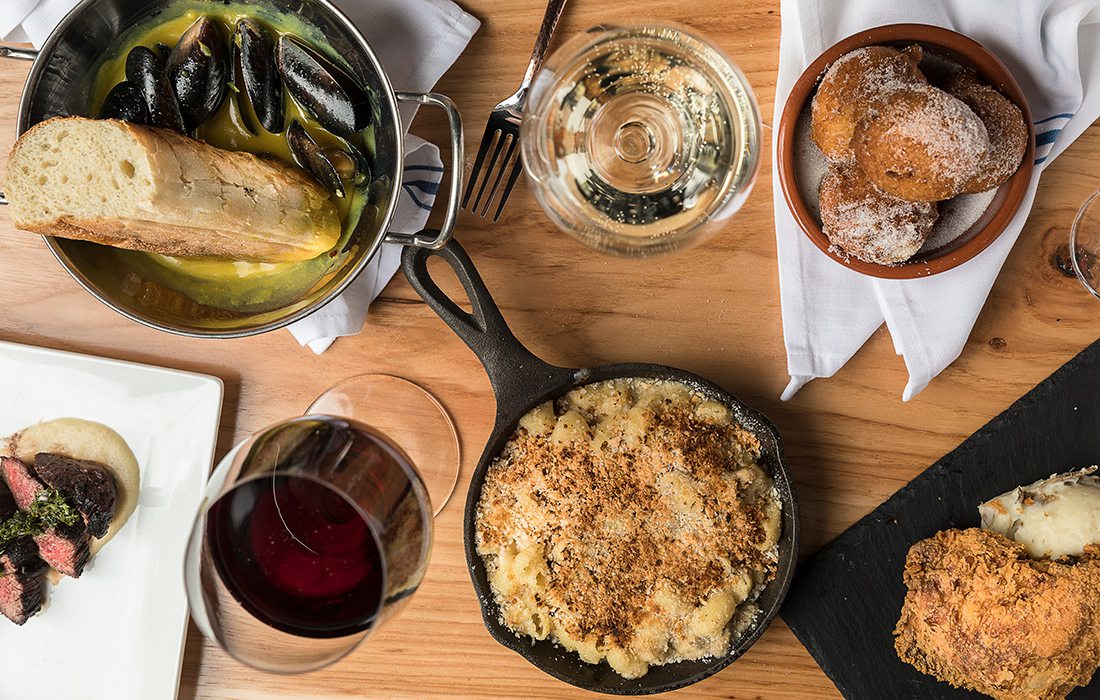 It is rare that I enjoy a dining experience as much as I enjoyed dinner at Queen City Wine Dive. Located off of the square in downtown Springfield, the Wine Dive embodies all the features that, in my opinion, elevate a restaurant above a run-of-the-mill establishment. Stylish but comfortable ambiance? Check. Relaxed but knowledgeable service? Check. A curated but unpretentious booze selection? Check. And then let's talk about the food. Although I didn't get to try everything, what I tried was delicious, a feat that is accomplished by far too few restaurants. The bulk of the menu is composed of small plates and sides, which is by far my favorite way to dine. It's also Owner Micah Pope's favorite way to dine. 
Pope has spent almost two decades in the local restaurant industry. He cut his teeth at Riverside Inn, a now-shuttered but past local favorite fine dining restaurant in Ozark. He then spent almost a decade at Flame, eventually becoming the restaurant's wine director and bar manager. Most recently he spent a few years slinging cocktails at Scotch & Soda, and it was while working there that Pope started writing the business plan for Wine Dive. He knew from the beginning he wanted the concept of the restaurant to be centered on wine, and he knew he wanted the menu to reflect the way he enjoyed eating, which is why he decided to craft a menu of small plates and shareables. He likes being able to try a lot of different things when he dines out. "You can have multiple plates without ordering $1,000 worth of food," he says.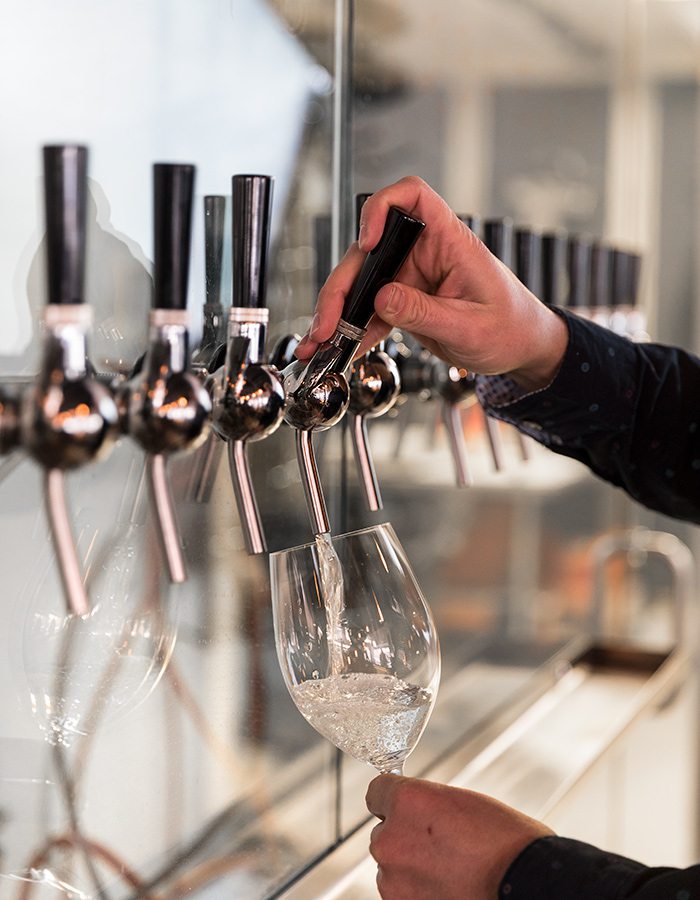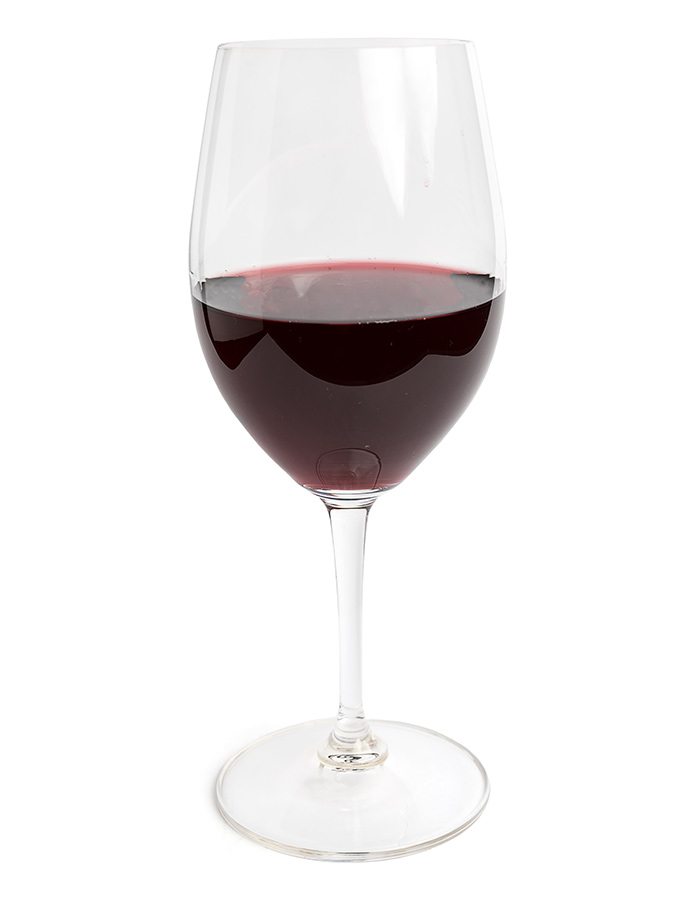 Photos by Brandon Alms (Left) Jump into the world of wine on tap at Park Central Square's latest addition, Queen City Wine Dive. (Right) The Boedecker pinot noir is one of 18 wines currently on tap at Queen City Wine Dive.
A couple of weeks ago, 417 Magazine's Creative Director Heather Kane and I stopped by for a late dinner on a Wednesday night. I arrived first and was immediately charmed by the decor and atmosphere. The decor is industrial without feeling cold, and the low lighting and candles create a warm and inviting ambience—the Wine Dive would make a great date spot, FYI. Heather arrived a few minutes later, and once we were settled in at our table, we turned our attention to the wine menu. The Wine Dive operates a draft wine system with 18 taps, so there are plenty of wine-by-the-glass options. Heather opted for the Boedecker pinot noir, and I chose the Wither Hills sauvignon blanc. Both were excellent. Glasses of wine on the menu run from $5 to $12. There are also two taps of rotating featured wine that are reserved for specialty wines. While we were enjoying our wine and perusing the menu, a small bowl of complimentary corn fritters appeared at our table. 
Crispy on the outside, warm and salty-sweet on the inside, they were delicious. They would also set the tone for the rest of the evening. One thing I came to appreciate throughout our meal was that none of the food felt like a throw-away dish. Everything, including the sides and sauces, was good. The food wasn't fancy, but it was all delicious. For our entrees, we decided to order four small plates and split them. The menu is a delightful mix of healthyish food and comfort food, and we ordered a little bit of both.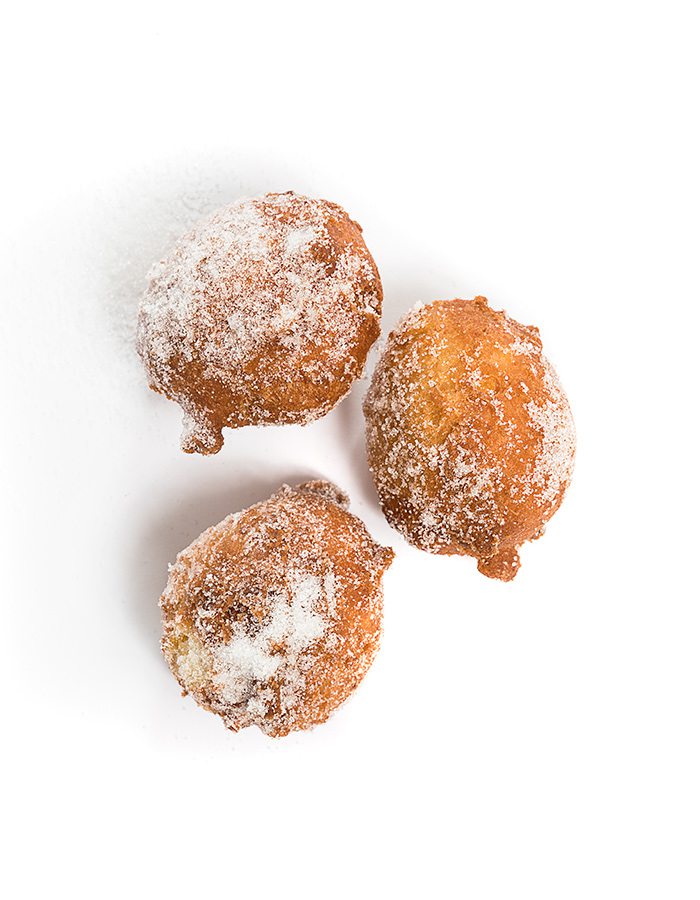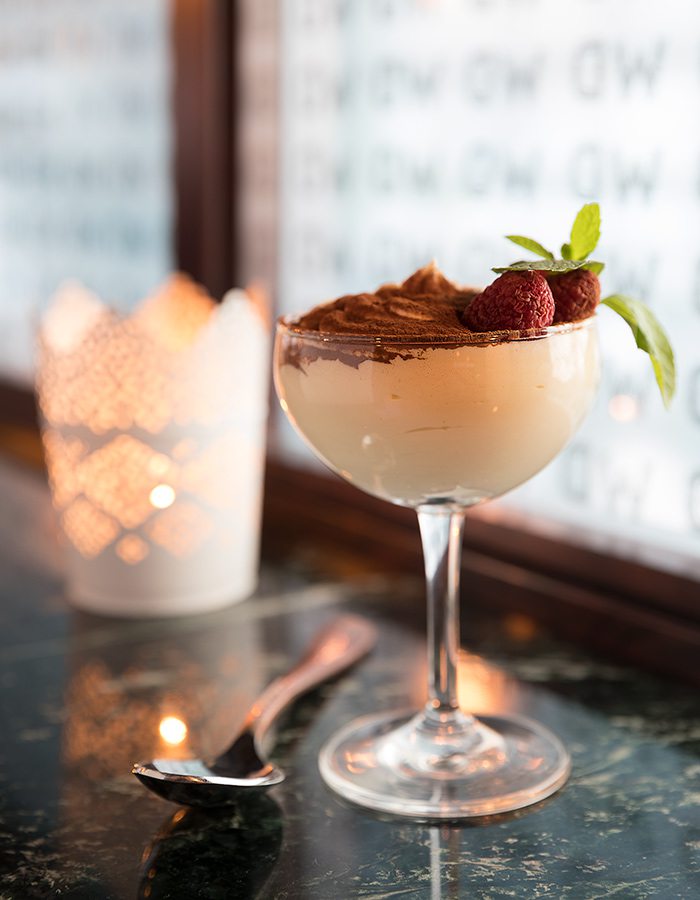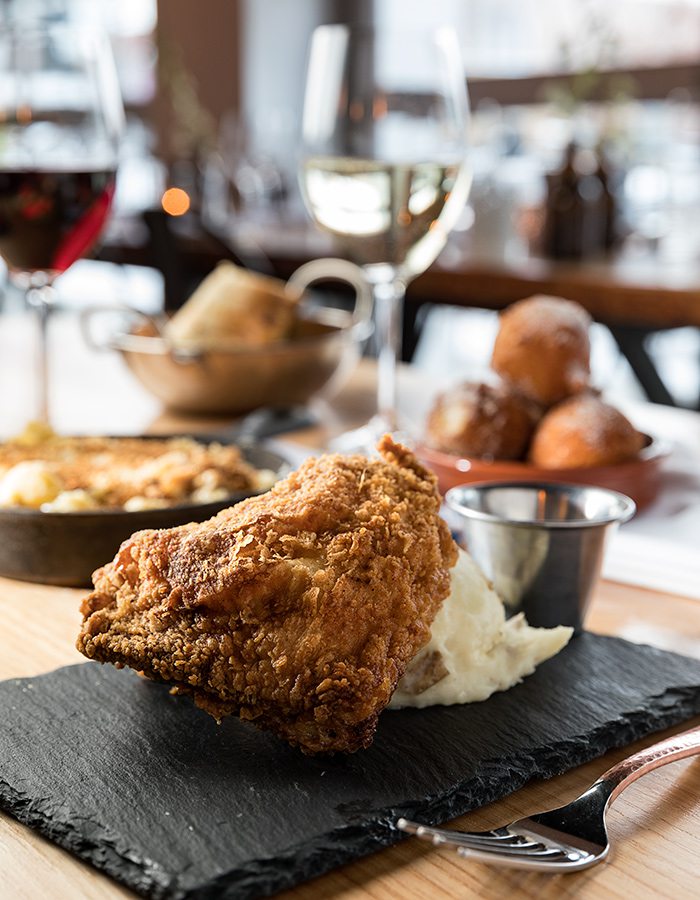 Photos by Brandon Alms (Left) Complimentary deep-fried corn fritters were a great start to our reviewer's meal. (Middle) Satisfy your sweet tooth with Wine Dive's white chocolate mousse, a frequent special on the menu. (Right) Much to longtime 417-landers' delight, Wine Dive brought back Riverside Inn's fried chicken.
When it came to comfort food, we opted for the Duck Confit Mac-n-Cheese and Riverside Inn Fried Chicken. There has been a lot of buzz about the fried chicken, and it did not disappoint. Named in memoriam of Riverside Inn, the fried chicken at the Wine Dive is brined and coated in a house blend of flour and spices. It's deep-fried for just a couple of minutes and then brought up to temperature in the oven to keep the batter from burning. You can order a large plate version of this dish, but the small plate came with one piece of chicken, mashed potatoes and chipotle honey. The mac and cheese is made with a three-cheese blend of Gouda, white cheddar and Parmesan. To prepare it, the Wine Dive crisps the duck before plating and then sprinkles the top of the dish with panko breadcrumbs for texture. It was creamy, cheesy and satisfying. 
For our lighter options, we chose the coconut curry steamed mussels and the grilled hanger steak. The coconut curry sauce was bright and not-too-sweet and paired well with mussels without completely overpowering them. The hanger steak came out perfectly medium rare, just like we ordered, and was topped with chimichurri, but what really set this dish apart was the white bean spread. To make the spread, which had more of a consistency of a sauce, the chefs ferment and then boil white beans. The fermentation adds an unexpected level of flavor. For dessert, we settled on dark chocolate mousse, which was just as tasty as it was pretty. 
It's clear that Pope's years in the restaurant industry have ultimately shaped his vision for the Wine Dive. In fact, it was at Flame that he fell in love with wine. When Pope was still a server there, the wine director would hold informal wine club meetings, and it was through those meetings Pope gained much of his vino knowledge. As someone who enjoys wine but lacks much wine knowledge, I'm just going to throw it out there that if Pope decided to start hosting his own club, I'd be the first in line.

On Tap
The Queen City Wine Dive is currently the only place in 417-land where you can find The Counselor, and better yet, it's on draft. This cabernet hails from Alexander Valley, California, and, according to owner Micah Pope, the wine has velvety tannins and hints of eucalyptus, dark berries and chocolate. Pope recommends pairing a glass with the grilled lamb, a regular special on the menu. 
Did You Say Brunch? 
Maybe. Pope is hoping to add a Sunday brunch to the Wine Dive's culinary offerings. Be on the lookout for a menu in the next couple of months. 
Board Games
Not sure what you're in the mood for? Let the chefs take the wheel. For $10, the chefs will build you a custom board filled with their choice of meats, cheeses and veggies. It's a great way to try some items that might not be on the menu. 
Patio Party
When you have one of the biggest patios on the Springfield square, you put it to good use. Once the warmer months hit, expect to see the Dive's outdoor space get a makeover.
Room Service
If you have a large group that is planning on spending at least $300, consider taking advantage of the Wine Dive's side room. It's a great spot to host a small party or a birthday dinner.
105 Park Central Square, Springfield, 417-429-9020

Kitchen hours: Tues.–Wed. 4–10 p.m., Thurs.–Sat. 4–11 p.m., bar open later
$–$$