Travel
Exploring Amish Town
Take a mini road trip to Lead Mine, a quaint Amish community packed with lovely scenery, fresh produce for sale, homemade wood furniture and a darling bakery for nabbing a few sweets.
By Jessica Nunly | Photos by Brandon Alms, Shutterstock
May 2014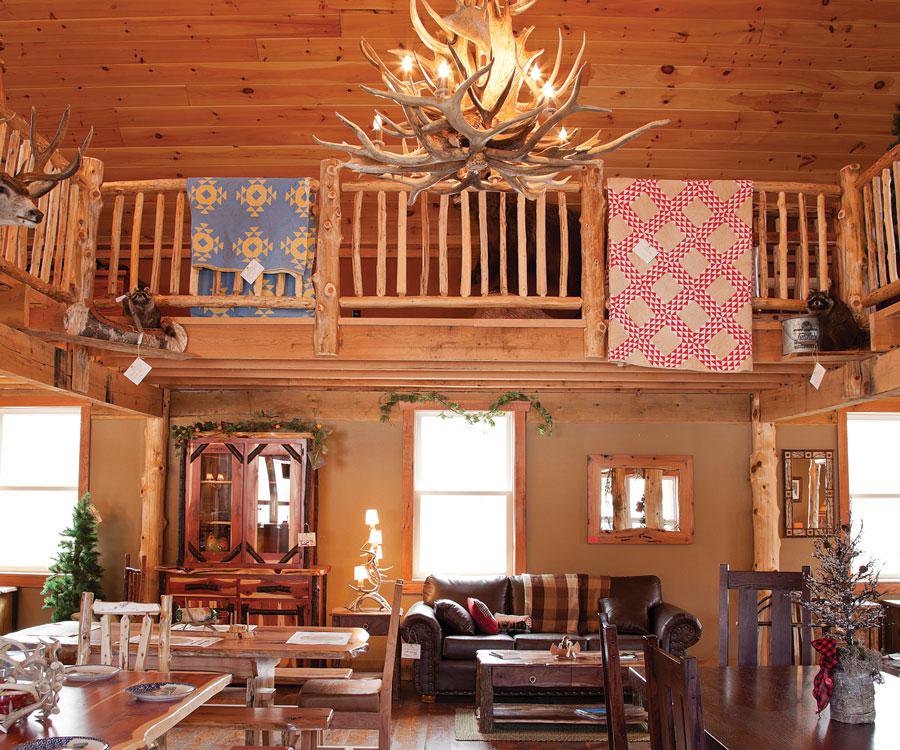 Did you know there is a thriving Amish community about an hour northeast of Springfield, just waiting for curious travelers to sample its homemade fare? On your way there, stop for a bite in Buffalo, Missouri, about 45 minutes from Springfield, then drive another 20 minutes to discover the little town of Lead Mine and its handmade treats and home goods. Buy fresh produce and trinkets at roadside stands along the way to complete the homegrown experience.

Start Your Trip
Say goodbye to city life and head out to Amish country. We recommend taking Highway 65 north to MO-32 east/MO-73 north, then go left on South Maple Street toward the town center of Buffalo.

Stop for a tasty lunch of quiche and salad at Made From Scratch tearoom and bakery.


Stop to Eat
Take a break from driving with an early lunch at Made From Scratch tearoom and bakery (Editor's note: This restaurant has closed since the time of publication), just south of the town square (210 S. Maple St., Buffalo, 417-733-0920). Savor a slice of fresh quiche with a crisp salad or a steaming bowl of soup in this little restaurant reminiscent of an old-fashioned home kitchen. Finish with a cupcake or tempting piece of pie from the bakery, open from 7 a.m. to 3 p.m. Monday through Friday, and 8 a.m. to 2 p.m. on Saturday.

The Ozark Winds Bake Shop is a popular roadside bakery that whips up all sorts of sweets.


Savor Some Sweets
Finish the drive to Lead Mine by taking South Maple Street/MO-73 north for another 20 minutes. Get ready to hang out on State Road E for the afternoon. Make your first stop at Ozark Winds Bake Shop (North on State Road E, Tunas, at the east end of Coatney Rd.). Join the line of hungry locals and tourists for a chance to nab the deliciously famous breads, cookies, donuts and more that are whipped up at this petite roadside bakery. The earlier you arrive the better; these treats sell out quickly.



The Niangua Furniture Store is stocked with all sorts of home furnishings.


Admire the Craftsmanship
Just down the road, check out the rustic home furnishings at Niangua Furniture (344 State Road E, Tunas, 877-347-1718, nianguafurniture.com). Inspired by nature, all Niangua Furniture items are handmade and created in contemporary and rustic styles. Explore the selection of custom dressers, bedroom sets, chairs and tables. Items purchased from the website are shipped for free, and pieces purchased from the store's showroom are significantly marked down.



The Lead Mine Country Store sells all sorts of goods including soaps, candles and canned goods. There's even a restaurant on the back that serves up home-cooked favorites.


Stock Your Pantry
While you're exploring Lead Mine, take time to enjoy the beautiful countryside between stops, and look for roadside stands selling seasonal fruits and veggies. 
Head southeast to State Road YY to visit The Lead Mine Country Store and pick up dry goods such as candles and soaps, books, trinkets and canned preserves. If you're feeling peckish, the restaurant behind the store serves home-cooked favorites including chicken potpie, meatloaf and plenty of sweet desserts. (Drive east on State Road E, turn right on Hwy. T, then left onto YY. Follow signs to The Lead Mine Country Store.)



 The Lead Mine Conservation Area features walking trails and several fishing ponds.


Stretch Your Legs
If you're ready to burn off some of those delicious calories, head to the Lead Mine Conservation Area (417-532-7612), just 5 miles east of Tunas. Grab a camera, and explore the multi-use trails winding through the park.
This conservation area even has camping sites for overnight adventures, boat ramps for floating down the Niangua River or James Creek, several ponds for fishing and 12 miles of special trails for horseback riding.
Pick Out Some Produce
Before turning back for the day, stop by Meadowview Dutch Market and Deli (324 State Road E, Tunas, 417-993-3017) to buy fresh produce and groceries for delicious meals back home. Open Monday through Saturday, 8 a.m. to 5 p.m., and Friday until 6 p.m., this market sells produce, bulk foods and candies, as well as frozen items and fresh meat.
Grab Some Dinner
On the way home, stop in Buffalo again for dinner at the Maple Street Grill (105 N. Maple St., Buffalo, 417-345-5045, maplestreetgrill.net). This grill whips up Tex-Mex and barbecue classics, as well as seafood, sandwiches and more. Or drop by Brick House Smoked Meats (260 State Road K, Long Lane, 417-733-4944) to enjoy barbecue favorites such as ribs, brisket and smoked chicken. The Brick House is cash-only dining and closes at 6 p.m.