Spaces
Lovely Living
Looking to downsize, Interior Designer Cindy Love transformed a dated home in east Springfield into a mid-century modern masterpiece.
BY SAVANNAH WASZCZUK PHOTOS BY JEREMY MASON MCGRAW
May 2014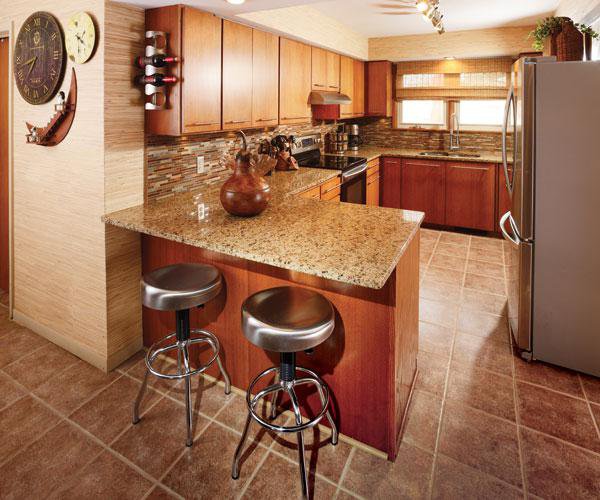 Interior Designer Cindy Love had done the whole "big house" thing before. "My last home was a 3,000-square-foot English country style home in Emerald Park," Love says. "It had a very traditional English country look with tall vaulted ceilings, heavy beams and lots of dark, rich colors and Ralph Lauren fabrics." Although the home was gorgeous, Love, owner of Cindy Love Interiors, was ready for a change. "When my kids were moving out for college, it was more house than I wanted," Love says. "I had a realtor watching for a mid-century modern home, and when this came available, I snagged it up." 
Love was first attracted to her new home for its linear architecture and large front windows. "I was craving natural light," she says. But the house was originally built in 1958, and it was in major need of renovation when she purchased it in October 2012.
After buying the home, Love immediately got to work. The majority of the renovation budget was spent in the kitchen. "Every surface in the kitchen was redone," Love says. She also made significant changes to the hall bathroom, which she says was dated. But luckily, there were many great things about the home as well. "It still has all of its original floors throughout," Love says. To furnish the space, she found vintage 1950s pieces at flea markets, and she used a few pieces of furniture from her old home, styling it to enhance this house's mid-century architecture. She also added industrial touches, such as work stools in the kitchen, that add a bit of an edge to the space. 
 Sunroom
"I'm a big fan of the outdoors, so this room was a definite bonus in buying the house," Love says. The room features all vintage pieces, including a Danish modern table lamp, Rattan loungers and tables made by Bissman, a Springfield furniture store that existed in the 1950s. Love bought many of the furnishings at garage sales and Funtiques, which she says is one of her favorite resale stores. "The bright colors and natural light make this my favorite room," Love says. 
Dining Room
Rather than fully outfitting the home with vintage furnishings, Love carefully blended pieces in, such as the vintage office reception-style chairs she placed around the very traditional round dining table. She also added industrial-style elements, including the Restoration Hardware Sputnick fixture that hangs above the dining table. One of her favorite elements in the home is the mirror that hangs in the dining room, which was made from a galvanized grain cover. The room also features an original wood-burning fireplace, which is much appreciated during wintertime gatherings. 
Kitchen
To transform her mid-century modern home, Interior Designer Cindy Love updated the kitchen with granite countertops and a new backsplash, and she hung cabinet hardware horizontally to repeat with the home's linear lines. Learn more on p. 164.
 Hall Bath
The hall bathroom is the main bathroom in the house, and it was in major need of an upgrade. Love added warm tones with crisp white accents to give the room a warm spa-like feeling, and she added a modern vessel sink and hardware to give the space a little edge. "The Restoration Hardware bath sconces bring in a bit of an industrial design," Love says. The blonde mahogany vanity is original to the home and features stacked doors, a style that was popular in the 1950s.