Reviews
Circle B Ranch Meatballs
You don't need noodles to enjoy the delicious meatballs from Circle B Ranch. This local farm is making food the right way and leaving you with high-quality products that are sure to be a hit with your busy family.
By Kaleigh Jurgensmeyer | Photo by Brandon Alms
May 2015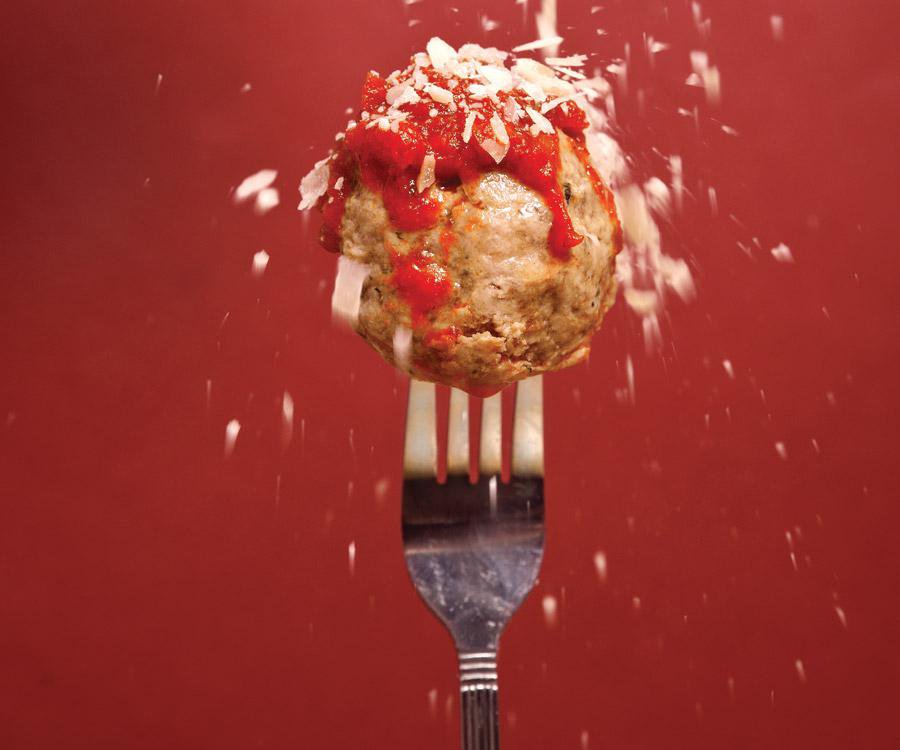 There is nothing better than a plump, juicy Italian meatball… or three. Just ask Marina Backes, the mastermind behind Circle B Ranch's meatballs. Marina developed her recipe like any home-style dish: she tweaked Grandma's recipe and used her family as her food critics.
But unlike many commercially sold products, Marina didn't sacrifice quality for flavor. She managed to keep the homey, flavor-packed goodness of her grandmother's original recipe while still maintaining the quality of meat Circle B Ranch is known for.
Circle B Ranch was founded in 2009 after Marina and her husband moved from New Jersey. Marina owned and operated an upscale catering company in Somerville, New Jersey, for 11 years where she developed her delicious sauces, which are also available. 
"It's simple, easy and clean. We don't use any ingredients you can't pronounce." —Marina Backes
When the family moved to Missouri, they bought 90 acres of land in Seymour, and it wasn't long before the Backes began raising Berkshire Hogs. 
Their hogs are raised in the most natural and humane way, with no added hormones or additional antibiotics. The hogs also roam freely throughout the lush Ozarks pastures.
This is not only good for the hogs, it also affects the taste and quality of the meats.
"We never thought of doing it another way," Marina says. "It gives a richer taste and great flavor."
Circle B Ranch has many pork products and sauces that are sold throughout Missouri grocery stores and restaurants. They sell bacon, fresh cuts, sausages and, of course, Marina's Italian-Style meatballs.
Marina already had perfected her cranberry chutney, tomato, and barbecue sauces, so she thought meatballs seemed like a great addition to her lineup of culinary delights. 
The meatballs are about 2 to 3 ounces each and are purchased fully cooked and frozen. All you need to do is defrost them, and they are ready to be heated with your favorite meal. The convenience and simplicity of this meal makes them perfect for any busy family.
"My biggest fans are the kids," Marina notes with enthusiasm. "And the parents love them because the kids love them!"
Served over pasta, on a sandwich or even eaten plain, these meatballs leave your mouth watering for more. This simple but oh-so-yummy recipe includes Circle B Ranch pork, Missouri beef, bread from Breadsmith, Wisconsin Romano cheese, eggs, garlic powder, parsley, salt and pepper.
"It's simple, easy and clean," Marina says. "We don't use any ingredients you can't pronounce."
For more information on all of Circle B Ranch's products, visit circlebranchpork.com.
Marina's Meatball Parmigiana Pizza
Pizza Dough (from Joy of Cooking):
1 package active dry yeast
1 1/3 cups warm (105 to 115 degree) water
3 1/2 to 3 3/4 cups of all-purpose flour
2 tablespoons olive oil
1 tablespoon salt
Combine yeast and warm water in a large mixing bowl or the bowl of a heavy-duty mixer, and let stand until the yeast is dissolved (about 5 minutes). Add flour, olive oil and salt. Mix by hand or on low speed for about 1 minute to blend all ingredients. Knead for about 10 minutes by hand or with the dough hook on low to medium speed until the dough is smooth and elastic. Transfer the dough to a bowl lightly coated with olive oil, and turn it over once to coat with oil. Cover with plastic wrap and let rise in a warm place (75 to 80 degree F) until doubled in volume.
For the Pizza:
Preheat the oven to 500 degrees. Put your stone in the oven and heat it for 45 minutes. 
Punch the dough down and divide in half. Roll each piece into a ball and let it rest for about 15 minutes. 
Get your toppings ready. Slice the meatballs, slice your mozzarella, clean the basil and heat up your Marina's Italian Tomato Sauce.  
Flatten each ball of dough one at a time on a lightly floured work surface (I use semolina flour) until you have a 12 inch round, rolling and stretching the dough. Place each dough circle on a baker's peel lightly dusted with semolina flour. Lift the edge and pinch it to form a lip. Brush the top with olive oil. Top the pizza with the tomato sauce first, then the meatballs and then the mozzarella and the basil.
Cook until done for about 20 minutes. Enjoy!