Health
The 417 Mile Challenge
Explore Springfield—and a little beyond—in four months with 417 miles of races to get your blood pumping. Get ready, get set and go!
Written by Claire Porter | Illustration by Liz Leonard, courtesy Shutterstock
May 2017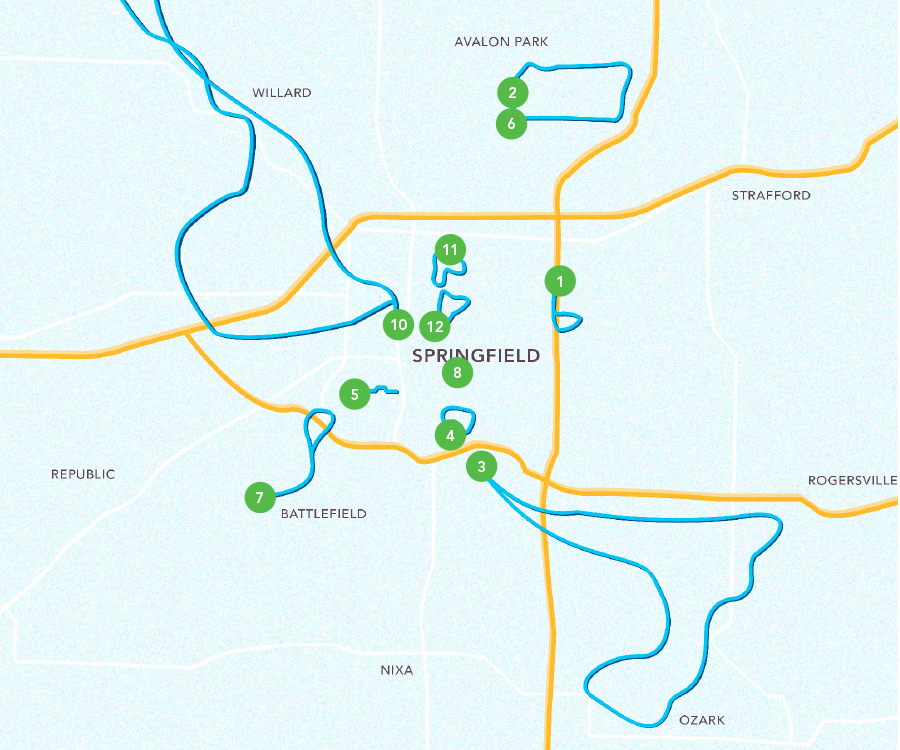 1. One Sole Purpose
5K
Lace up your shoes for those who have none. One Sole Purpose provides students with new shoes. This race has 5K, 10K and 1-mile fun run options.
$21–26; 8 a.m., May 6. Register here.
2. Ozarks Multisport Club Duathlon Series
1- to 2-mile runs, 11-mile bike rides (You will cover a total of 56 miles during this series.)
Try your hand—er, feet—at multi-sport racing. This four-week series circles Fellows Lake. Running distances vary weekly, but bike rides are all 11 miles.
$20 per race, $70 for the series; 6 p.m., Tuesdays, May 16–June 6. For more information, visit here.
3. Red Ribbon Ride
30 miles
The annual Red Ribbon Ride with AIDS Project of the Ozarks promotes AIDS education and related services. This race has 7-, 30- and 50-mile options.
$25 early registration, $30 after 3 p.m. on May 13; 8:30 a.m., May 20. Register here.
4. CoxHealth Medical Mile and 5K
5K
With a 1-mile option, this race is great for families and kiddos alike. Proceeds benefit Children's Miracle Network Hospitals.
$15–35; 7:15 a.m. mile run, 7:45 a.m. 5K, June 3. Register here.
5. The Big Run
5K
Celebrate Global Running Day by running, of course! Fleet Feet Springfield is celebrating the occasion with a free fun-run open to runners of all levels.
Free; 6:30 p.m., June 7. For details and registration, visit here.
6. Toasty Waffles Training Road Race Series
33 miles (You cover 198 miles in the series)
Loop around Fellows Lake in this training series, which is a great introduction to road racing. Each week there is also a 22-mile option.
$15–20; 6:10 p.m., Tuesdays, June 13–27 and July 11–25. Contact springfieldcycling@gmail.com with questions and more info.
7. All Star Park-to-Park Relay
The race is 144 miles, but if you tackle only the last three legs you'll run 13.58 miles.
This two-day team race takes you from Arvest Ballpark in Springdale, Arkansas, to Hammons Field. Team members each tackle three legs of the race, ending in a Springfield Cardinals game.
$800 per team; staggered start times, June 15–June 16. Registration here.
8. Recycle Run
10K
This untimed free-form run is part of the Bass Pro Shops Fitness Series. Participants can snag medals, T-shirts and race swag recycled from previous events.
Free, donations accepted; 6:30 a.m., June 17. For details, contact Melissa Bondy at fitness@basspro.com.
9. Sertoma Duck Waddle 5K
5K
The Sertoma Duck Race weekend bash includes a hot air balloon glow, a car show, the 5K and an additional 1-mile fun-run option.
$20, $25 after June 9; 8 a.m., June 24. To register, visit here.
10. Ride to Remember
49 miles
The Ride to Remember benefits the Alzheimer's Association—Greater Missouri Chapter. There is a 29-mile option starting at 9 a.m. and an after-party.
$35; 7:30 a.m., July 8. For details and .to register, visit here. 
11. Girls Just Wanna Run/Walk
5K
This women's-only run by CoxHealth benefits the FitLife Program, which assists community members with rehabilitation and wellness. This event also has a 10K option.
$25–35; 7:30 a.m., July 15. Register here. 
12. Access to Health 5K Run/Walk
5K
Warm up with Zumba then breeze along this downtown course. The event, hosted by Jordan Valley Community Health Center, aims to increase physical activity for community members of all ages.
$25; 7:30 a.m., July 22. To register, visit here.
13. Stockton Lake Tri Wild-Life Challenge
The Olympic course includes a 1,000-meter swim, 20.8-mile bike ride and a 10K run
Splash, sprint and spin around Stockton Lake in the Olympic course at this race. A sprint course is also available.
$70–90, USAT membership or pass required; 7 a.m., August 6. Register here.
14. Haley's Hope Hot N Hilly 5K & 10K
10K
Take part in a 5K or 10K filled with ups and downs, literally, to benefit Haley's Hope and ALS awareness.
$25 in advance, $30 day-of; 7 a.m., August 19. Register here.
15. Haley's Hope Harder Than Hell Half-Marathon
Half-marathon
The final race of the Haley's Hope series is a challenging, hilly evening half-marathon through Nixa. 
$65 in advance, $75 day-of, $55 if running both the half-marathon and the Hot N Hilly race; 7 p.m., August 19. Register here.