Profiles
Wine Down with Sommelier Michael Cho
Michael Cho, director of hospitality at Hickory Hills Country Club, recently became a certified Level 2 sommelier. We sat down with him to learn how he's putting that hard-earned wine knowledge to work locally.
By Beth Campbell
May 2018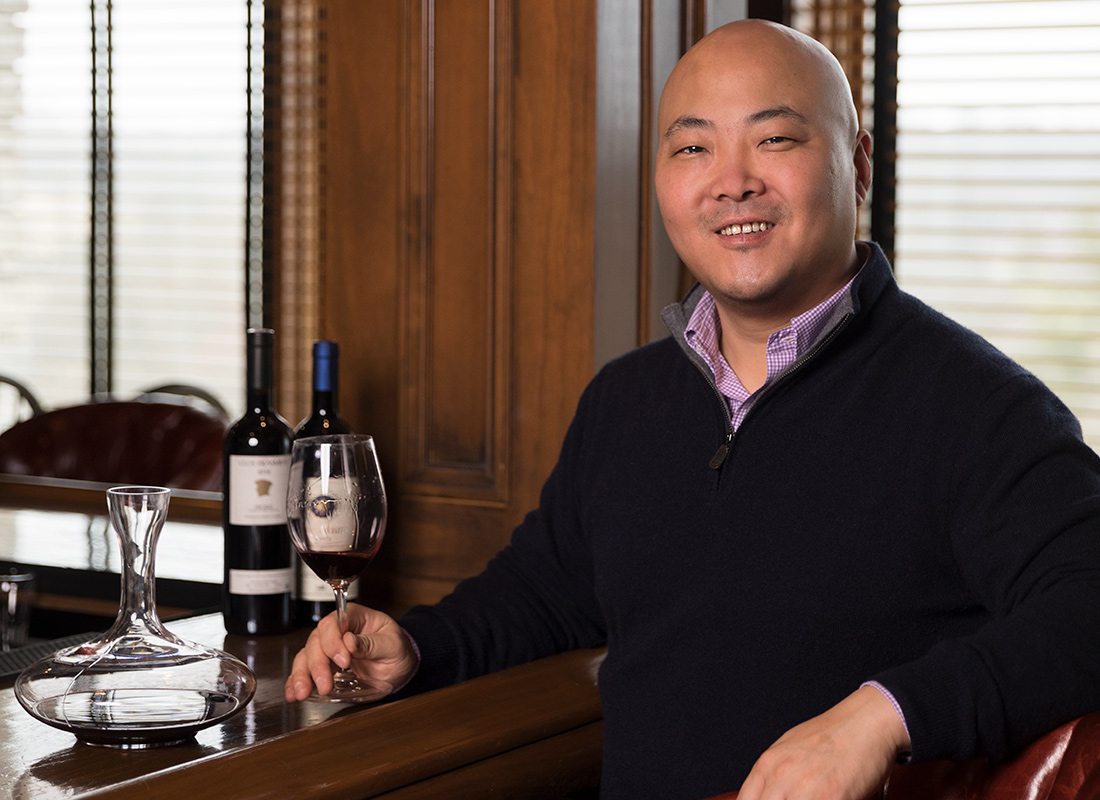 Michael Cho recognized his passion for hospitality at an early age and has worked in the food and beverage industry most of his career. Originally from Seoul, South Korea, Cho's family moved to New Jersey when he was 4. He graduated from Rutgers University with a management degree and was working in Manhattan when he had an opportunity to join some relatives who were opening the Argentina Steakhouse in Springfield. Cho has been a fixture on the local food scene ever since, and last year he decided to pursue certification as a sommelier. Now he's applying that knowledge every day, serving members and guests at Hickory Hills Country Club and paying it forward, so to speak, by sharing his expertise with his staff.


417 Magazine: When did you develop an interest in wine?
Michael Cho: I fell in love with wine early on at Argentina Steakhouse, but I was only 24 years old when I came to Springfield, so I was still very much a novice. Every vendor representative in town was throwing bottles my way and asking to sit down and taste wine. It was quite intimidating at first. They were throwing terms at me like, "pencil shavings," and I was like, "I get none of that. I get a little bit of grape!" It came hard and fast, but I knew that I enjoyed it, and, over time, I developed a little bit of a palate, learned what I liked and didn't like and knew that I wanted to get better.


417: At what point in your career did you decide to become a sommelier, and what was that process like?
M.C.: I became fast friends with a wine rep, and he sparked that interest in getting to know wines. I began to understand that wine is a lens through which you can see the world. I knew early on that I wanted to pursue getting certified, but it took until last year for it to all come together. I buckled down and said, "Alright, I'm going to take my Level 1 sommelier course." I went to Cleveland for a whirlwind weekend with four master sommeliers, tasting about 40 wines and doing deductive tastings, learning the benchmark tastes and smells of wines from around the world. Then in October, I went to Portland, Maine, and completed my Level 2 testing. It was a comprehensive written test with wine tasting, theory and service. The theory study took a lot of work. After dropping the kids off at school, I'd get to work around 7:30 a.m. and put in two to two and a half hours of study, five days a week. I also studied in the evening. I did this for four solid months, a minimum of 25 hours per week. 


417: How has wine certification enhanced your work?
M.C.: The main impact is that it not only benefited me but also helped improve my team. I've really become more focused on improving the wine list, which was very California-centric—not necessarily a bad thing—but I felt that it needed to expand a little. I've taken care to represent the different great wine growing regions. I feel that if we can give members exposure to different types of wine that they may not have been exposed to in the past, what better place than in the comfort of their own club to try something new? My renewed focus is for me and my staff to educate and expose our membership to as many types of wine as possible.


417: How have members responded?
M.C.: They have been very receptive. We just rolled out our new wine list at the beginning of the year, and it's been met with great enthusiasm. We also started a wine club this past year, and from what all the wine vendors tell me, in terms of participation and volume of wine sold, we are the biggest club in Missouri. The membership has really responded to me, and I'm very thankful for that. It gives our members a club within the club, and they love it because it's casual, they receive steep discounts on purchases of the wines they like, and they have fun while they learn.


417: What's in your cellar? What do you like to drink?
M.C.: I don't have a cellar so much as a small collection. Right now, I'm really in love with Spanish Riojas. I first discovered Spanish wine years ago, and I've kind of come back to them. I'll always be a fan of California reds and Argentine malbecs.


417: Is there a particular wine you don't care for?
M.C.: No, I think there is charm in every bottle. You love the novelty of each unique wine. That's how I came back to rieslings. At first, all you taste is sweetness. As a varietal, rieslings probably express terroir better than any other varietal. They have that minerality, nuanced flavors that once you're able to start doing focused tastings and develop your palate a little, you can move beyond the initial sweetness. What you find underneath, when you peel back those layers and get to those secondary and tertiary flavors, you see that rieslings are actually very complex.


417: What advice do you have for readers who might want to grow their wine knowledge?
M.C.: People ask, "How do you become a good taster?," and it sounds like a cop-out, but the answer is: You need to taste as much wine as possible. It just takes time to train your palate and learn to appreciate wine. The more you taste, the more unique characteristics you are going to pick up on.