Fall Farmers Cooking Class
The third Farmers Cooking Class features a delicious three-course meal with wine pairings, prepared live by Metropolitan Farmer chef Wesley Johnson.
By Katie Pollock Estes | Photo by Brandon Alms
Nov 2014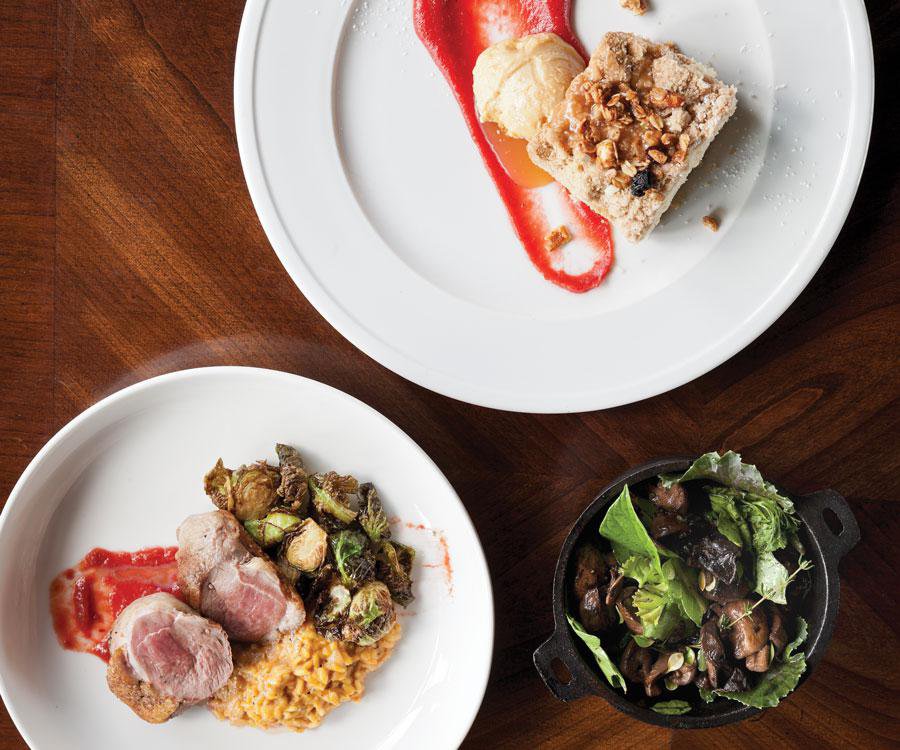 What
Farmers Cooking Class
When
11 a.m.–1 p.m., Tuesday, November 11
Where
417 Magazine, 2111 S. Eastgate Ave., Springfield
Tickets
$25, available via  417-883-7417
Fall is well underway, which means our produce selection in 417-land has shifted from ripe summer tomatoes and juicy peaches to sweet apples and hearty winter squash. And that means the farmers' market is still going strong during the chilly months. 
If you're not sure just how to cook with these fall treats, we're here to help with Farmers Cooking Class. To celebrate the flavors of the season and show readers how to use fresh, local ingredients all year round, Chef Wesley Johnson of Metropolitan Farmer is preparing and serving a gourmet three-course meal featuring locally grown goodies from the autumn harvest. 
Farmers Cooking class is a partnership between 417 Magazine and Farmers Market of the Ozarks. The November 11 class starts with a fresh salad that highlights the tasty mushrooms from 417-land's Willow Mountain. After that, seared duck takes center stage on the entree, along with a preserve made from an oh-so-sweet Missouri fruit: persimmon. Nestled next to the duck is warm butternut squash risotto and savory Brussels sprouts. The meal ends with caramel apple crumble cake paired with the flavors of fall. If you can't make it to the class to taste Johnson's creations in person, you can create them at home with the recipes below.
Salad Course
Roasted Willow Mountain mushroom salad
Ingredients:
1/4 cup white balsamic vinegar
1/4 cup low-sodium soy sauce
2 tablespoons olive oil
4 cups mushrooms, cleaned and quartered
1 red onion, diced
1 tablespoon fresh herbs
Instructions:
Heat balsamic and soy in a skillet, and allow mushrooms to poach while the sauce reduces. Remove from heat and let cool. In a mixing bowl, toss with onion, and serve. Garnish with fresh herbs 
Entree Course
Seared duck with persimmon preserves, crispy Brussels sprouts and butternut squash risotto
Risotto Ingredients:
5 cups vegetable stock
2 tablespoons duck fat
1 small onion, chopped
2 cloves garlic, minced
2 cups Arborio rice
2 cups butternut squash meat, roasted and diced
2 tablespoons butter
1 cup grated Parmigiano Reggiano
Risotto Instructions:
Bring 5 cups stock to a simmer in a sauce pot, then reduce heat to low. Heat duck fat in a medium skillet over medium to medium-high heat. Add the onions and garlic, and cook until softened. Add the Arborio rice, and toast 2 to 3 minutes. Ladle in the stock a couple of ladles at a time. Allow liquids to evaporate each time. Risotto will cook for about 20 minutes total from the first addition of liquid. Stir in the butter and squash, and let set to warm the squash before serving
Persimmon Preserves Ingredients:
3 cups persimmon puree
2 cups white sugar
¼ cup fresh orange juice
½ teaspoon grated orange zest
1 pinch nutmeg
Persimmon Preserves Instructions:
In a medium pan over medium heat, combine all ingredients. Simmer for 30 minutes, or until slightly thickened.
Brussels Sprouts Ingredients:
1 pound Brussels sprouts
2 tablespoons olive oil
3/4 teaspoon kosher salt
1/2 teaspoon freshly ground black pepper
Brussels Sprouts Instructions:
Preheat oven to 375°F. Split the Brussels sprouts in half. Mix them in a bowl with the olive oil, salt and pepper. Pour them on a sheet pan and roast for 30 minutes. serve immediately.
Seared Duck Breast Ingredients:
4 duck breasts
salt and pepper to taste
Seared Duck Breast Instructions:
Pat the duck breast dry with paper towels. Score the skin 1/6-inch deep without cutting into the meat. Put the scored duck breast skin side down in a cold, dry sauté pan. Place the sauté pan over medium-high heat. Cook for about 8 minutes or until the fat has mostly rendered out. Turn and sear the second side for about 3 minutes. Remove the duck from the pan and let it rest uncovered for 5 minutes. Thinly slice the meat across the grain.
Dessert Course
Caramel apple Granolove crumble cake and cinnamon semi-fredo
​
​
Crumb Cake Ingredients:
2¼ cups all-purpose flour
½ teaspoon baking powder
½ teaspoon baking soda
¼ teaspoon salt
3/4 cup sugar
1 cup brown sugar
2 sticks butter
4 eggs
1 cup plain yogurt
1 cup plain Granolove granola
Crumb Cake Instructions:
Preheat oven to 325°F. Grease a medium cake pan or 8 large ramekins with butter. Place on a baking sheet. Mix together the flour, baking soda, baking powder, and salt. Cream the butter and sugar together until light and fluffy. Add the eggs to the sugar mixture one at a time. Beat in the flour mixture and yogurt until just blended. Pour the batter into the prepared pan or ramekins, and top with the granola. Bake for 30 minutes then cover with foil to prevent over-browning and cook for an additional 15 to 20 minutes. Use a toothpick to test for doneness. Allow to cool to room temp before serving
Semi Freddo Ingredients:
5 cups cream
1 cup powdered sugar
12 egg yolks
1 teaspoon vanilla extract
1 teaspoon ground cinnamon
Semi Freddo Instructions:
With the whisk attachment on your mixer, whisk the cream into medium peaks. Add ½ the powdered sugar to the cream and continue to whip until stiff peaks form. Move the whipped cream to another bowl and clean the mixer bowl and whisk. Add the egg yolks and the remaining powdered sugar. Whisk until tripled in volume. Fold the yolks, vanilla, and cinnamon to the whipped cream. Freeze overnight.