Style
Miniskirt style
The always-stylish miniskirt is back on racks at 417-land boutiques. To get the scoop on how to make this fashion must-have work-appropriate, we turn to three local style mavens who share their favorite miniskirt ensembles as well as some much appreciated
By Ettie Berneking | Photos by Kevin O'Riley
Nov 2015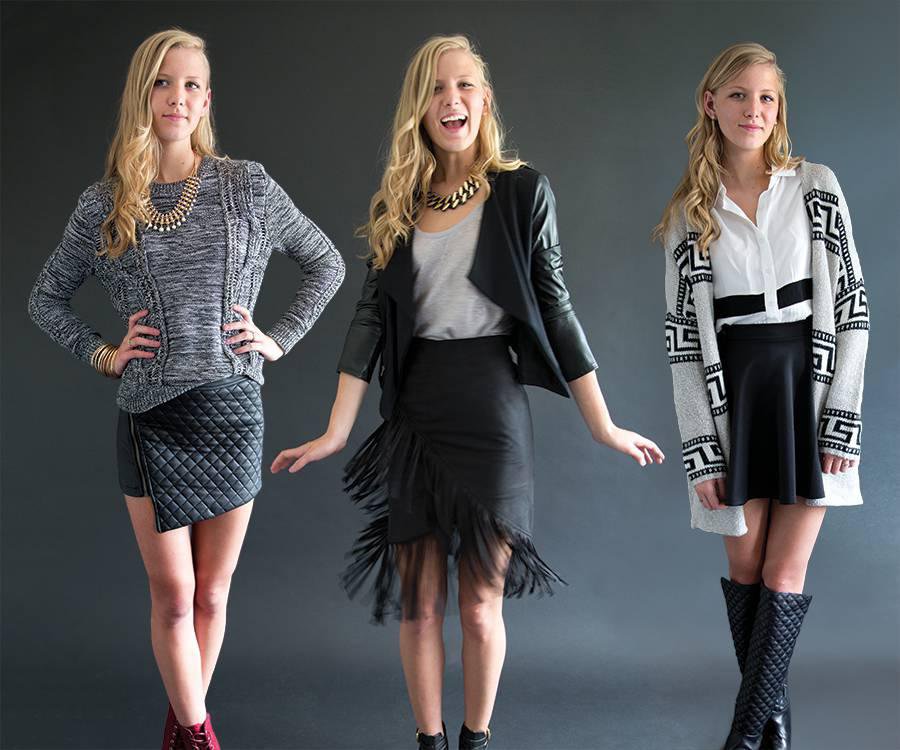 Do: Consider your place of employment
"Not all places of employment will accept a mini. To keep it appropriate, first look at the fabric. Dark denim is terrific, or tweed or gabardine. If you work in a creative environment you can do a leather mini, but keep it simple. Leather gives it more of an edge."—Tammy Kirks, with
Harem & Company
Do: Go for structure
"Making the miniskirt office appropriate isn't always easy to do. The key is to keep it simple. Pair your mini with an opaque tight, a bootie, and I would go for a more structured blouse tucked in and a blazer over that. That gives you a complete outfit that looks professional and still stylish."—Andrea Peña, owner of Modern Society
Do: Bundle up with a cardigan
"I like a cardigan over a miniskirt. Throw on a buttoned up shirt and a good cardigan that's as long as the skirt. I love this look!"—Ashley Holt, owner of Shaila's Boutique
Don't: Fear the suede
"I'm seeing lots of suede miniskirts this winter. I love the idea of pairing those with big chunky knits. You can go two directions here: You can tuck something in and layer a chunky sweater over that, or you can take a chunky sweater and have the skirt peeking out at the bottom with dark tights and booties. Loose styles are big in general."—A.P.
Do: Balance your top
"You don't want to wear anything tight or cropped to work with a mini. A slightly oversized sweater is perfect. You've got to think about balance, and if you have a short skirt that will be a little tighter, you want your top to be a little looser. One of my perfect outfits would be a tweed or wool suiting skirt and a chunky turtleneck sweater."—T.K.
Do: Consider material
"You don't want to wear a slinky fabric miniskirt to work. That should be saved for going out."—T.K.
Do: Mix textures
"Mixing textures is big for fall. Play with suede and leather, sequin and lace, or leather and a chunky knit."—A.P.
Don't: Wear your sexy accessories
"Don't wear any strappy or metallic shoes, and for God's sake please don't wear it with fishnets. I see what people wear out there in public, and they're not getting the message."—T.K.
Don't: Worry about age
"I've seen women of all ages with absolutely phenomenal legs, and they can pull it off."—T.K.
Don't: Go too heavy on the tights
"It depends on what the material is, but I'm not a big fan of leggings with a miniskirt. Go with tights or something a little more see-through. If you are wearing a wool skirt, I'm pretty sure you don't need fleece-lined leggings. The miniskirt is a great time to show off your legs, so you want your tights to be simple."—A.H.
Do: Opt for flats
"If you're wearing the mini to work, go with a flatter shoe like a flat boot. A [smaller] wedge or chunky heel is also great."—T.K.
Don't: Go too short.
"Length is hard. I own several businesses, and it's hard to make a miniskirt appropriate, but if you have a high-waisted mini that comes right to your knee and has some flare to it, it can look great. I think the key to making a mini work-appropriate is making sure it's not skin tight."—A.H.