Reviews
Rama Thai
Rama Thai packs lots of flavor into a charming and cozy home-like atmosphere.
By Katie Pollock Estes | Photos by Kevin O'Riley
Nov 2015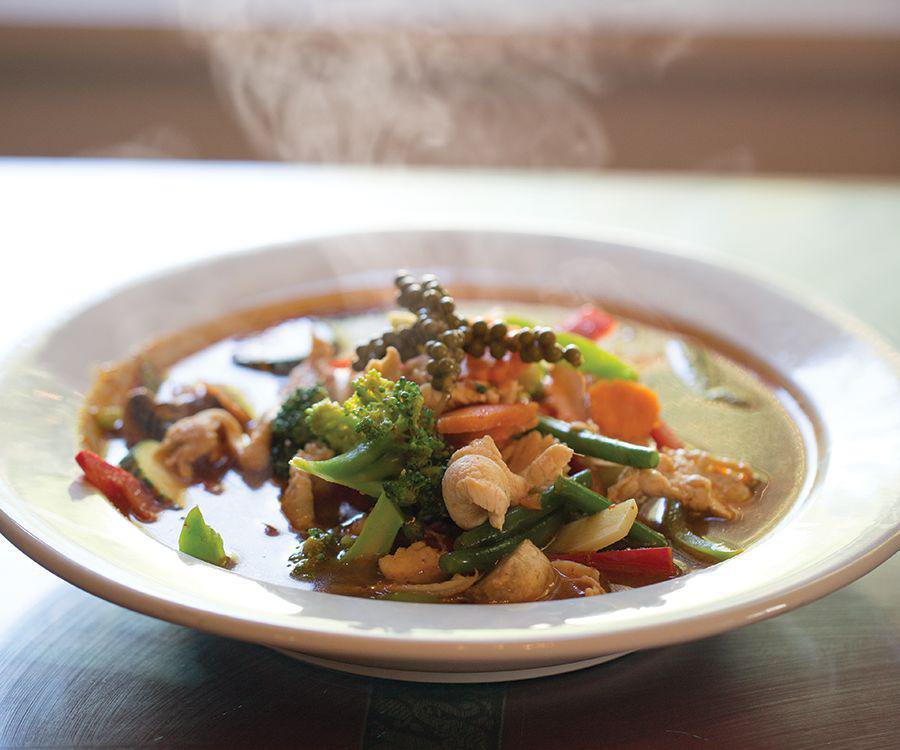 When one door closes, another opens. At least that was the case with Thai restaurants on Historic Walnut Street. For years, Springfieldians had loved dining in the old house-turned-restaurant that contained Bangkok City, with its spacious and shady patio and its cozy atmosphere. But the restaurant shut down last summer and left a bit of a void on the street
Enter Rama Thai. It opened up in the building that once housed Bangkok City, and we couldn't wait to give it a try. We'd heard rumblings of delicious prigking chicken, interesting appetizers and killer massaman curry. We just had to visit, so we picked a temperate weekday evening (in hopes of a patio seat) and gave it a shot. 
My husband, Eli, and I arrived on a Monday at about 6 p.m. The dining room on the first floor was full, and so was the patio. It seemed a pretty heavy crowd for a Monday, although we didn't get a chance to peek upstairs. Because the patio was packed, we grabbed a cozy table inside next to one of the big windows and settled in. We ordered some chicken strips and fries for our son and some Golden Bags appetizers for the table and then set about poring over the rest of the extensive menu before ordering.
The Golden Bags might not have the most appetizing name, but they are adorable and delish. Crispy wonton skins are wrapped around curry-seasoned vegetables (mostly potato) and tied shut before frying, so they resemble little pouches. The oh-so-crunchy little packets of flavor were blazing  hot when they arrived freshly fried, and the soft filling had just enough flavor to whet our appetites. They came with plum sauce for dipping, but I didn't even use it.
We also started our meal with a bowl of tom yum soup with shrimp, and it was probably my favorite part of our dinner. The intensely flavorful and aromatic broth was bursting with hints of ginger, galangal and lemongrass, and the mushrooms and onions were cooked to perfection leaving just the right about of crispness. Tender shrimp, fresh tomato and fresh herbs completed the soup. I could have eaten two bowls of it. 
We were already feeling satisfied when our main courses came out to the table: jungle curry with chicken and drunken noodle with shrimp. We forgot to specify a heat level when we ordered our food, so they both came out very, very mild. The drunken noodle didn't have any heat at all, and the jungle curry had just a touch. We made a mental note to request that they bring the heat next time, and then we dug in.
Everything about the drunken noodle was delicious. Wide, tender noodles wound around onions, carrots, bell peppers, fresh basil and the tiniest little green beans we'd ever seen. There was more shrimp than I expected, and I enjoyed every bite.
I'd been excited about the jungle curry because it's something I hadn't tried before (and I eat a lot of Thai food). The menu describes it as a country-style curry, and it came to the table looking a lot like a soup—ingredients tucked into what was more like a broth than a sauce. Inside was tender chicken, broccoli and other vegetables and a fun little surprise: little clusters of young peppercorns! They looked like a bunch of capers all on a long stem, but they were firmer and tasted like—you guessed it—pepper. They packed a smidgeon of spicy heat, but not much. Even my toddler was enjoying popping the little green treats as we ate our dinner. Although it lacked coconut like most curries my family loves, we still enjoyed this as a nice change of pace from our usual fare. It felt a little healthier, too.
With barely any room to spare in our bellies, we couldn't resist a sweet treat. So we ordered some fried bananas with ice cream for dessert. Banana slices were tightly wrapped in wonton skins, fried until ultra-crispy and then served with a drizzle of honey and sesame seeds alongside a giant scoop of creamy ice cream. It was a satisfying combination of warm and cold, creamy and crunchy. And it was a luscious ending to our very tasty meal.

The fried bananas feature hot, crunchy wonton shells and a smooshy, fruity center. Their heat melts the ice cream (taro flavored in this case) just enough to create some luscious gooeyness.

The cozy restaurant on Walnut Street is located inside an old house, giving it a comfortable feel, like eating in a friend's dining room.