Reviews
Redneck Nutz
Mary San Paolo started making flavored nuts as a healthy snack for her family. Now, Redneck Nutz has turned into a whole line of peanuts, cashews, pecans and walnuts that bring tons of flavor and a little character to the table.
By Rose Marthis
Nov 2015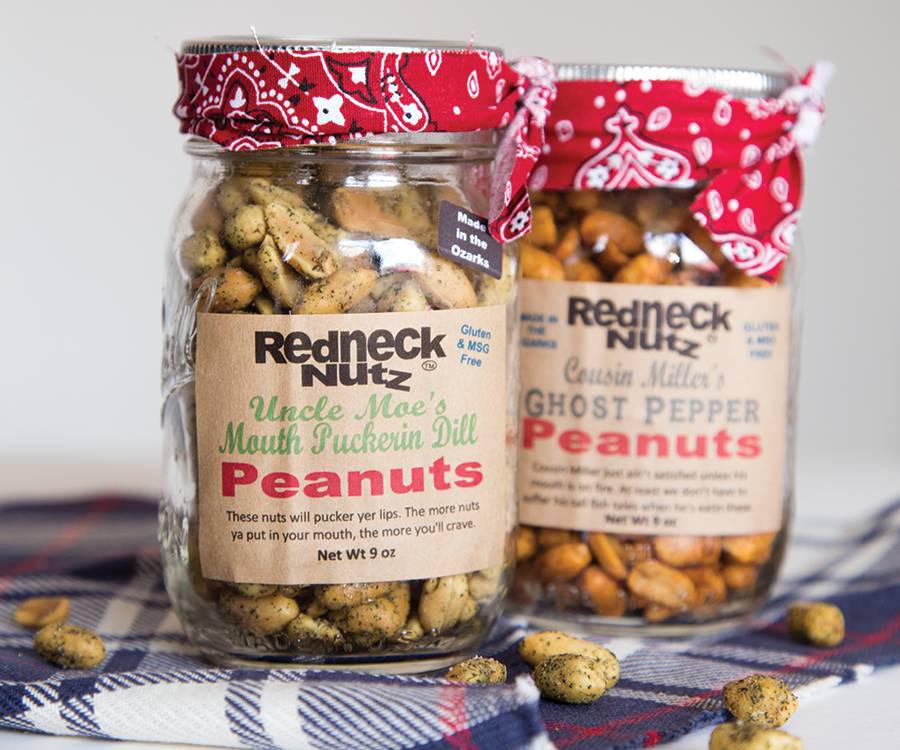 Mary and David San Paolo of Springfield were talking to their family about snacks, and how difficult it was to find gluten-free fare for a family member with Celiac disease. Mary knew mixed nuts were a great place to start making her own healthy snacks, and she started experimenting with making flavored seasonings to cover peanuts, cashews, pecans and walnuts. After using family members and coworkers as taste testers, Mary and David knew they were onto something good. Out came Redneck Nutz, the local line of snacks that pack a lot of flavor without any additives. 
In September 2013, David and Mary dove into owning their own business while both working full-time jobs. David has years of experience in business and manufacturing and brought his financial knowledge to the table. Mary helps with financials and is the expert flavor-maker. She creates the perfect seasoning blend for each of her 17 flavors of nuts. David and Mary knew it would be difficult to run a successful business on their own, but Mary says they were forced to figure it out. "We just rednecked it," she says.
Mary and David's children helped along the way by serving as trusty taste testers and helping build the company's website. It truly is a family business: each flavor has a character based off of one of Mary's real family members. The line has a wide range of seasonings, everything from sweet and savory (Sissy's Cin'mon Sugar Cashews and Charlie Bob's Cheddar Bacon) to just-a-little-spicy (Uncle Homer's Hot Wing) and super-hot (Cousin Miller's Ghost Pepper) that cover both peanuts and cashews. 
When the couple realized they needed more kitchen space, they teamed up with Sisters in Thyme on Commercial Street. Mary uses the kitchen to mix up the nuts, and David has built a wooden shelf that displays the mason jars and resealable pouches in the front of the deli. Mary says she enjoys embracing the redneck persona in the line's marketing. Strips of red bandanas decorate each mason jar, and if you read the labels closely, you can find hilarious anecdotes about the family member behind the flavor. Mary says she uses the redneck inspiration not as insult to country folk, but as a tribute to the people she grew up around who showed how to get by with what you had.
5 Ways to Use Redneck Nutz
1.   Top salads with Granny's Fancy Maple Pecans for a deliciously sweet crunch. 
2.  Chop your favorite flavor and mix into cream cheese for a new twist on the usual bagel schmear. Try Sissy's Cin'mon Sugar Cashews for a sweet spread or Uncle Moe's Mouth Puckerin Dill Peanuts for a tangy savory spread. 
3.  Add Wilma's Maple Black Walnuts to your next batch of cookies or muffins for a nutty, maple syrup flavor in every bite. 
4.  Crush Uncle Moe's Mouth Puckerin Dill Peanuts to use as a crunchy topping on grilled fish. 
5.  Next time you make pad Thai, skip the regular salted peanuts and use Harley's Habanero Lime as your garnish to bring out even more spicy lime flavor.