Things to Do
The Hunting Life
For the families who do it, hunting isn't just a hobby, it's a way of life. Read on for a deeper look into the rich hunting culture that ranks as one of 417-land's most popular pastimes.
By Savannah Waszczuk and Lillian Stone | Photography by Starboard & Port Creative
Nov 2016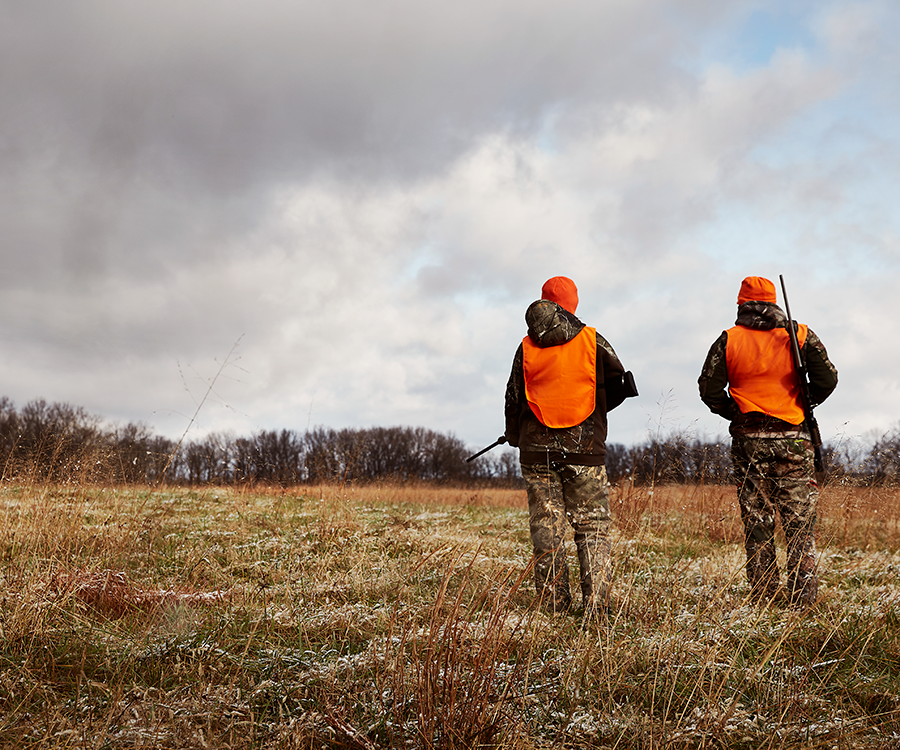 Nestled right in the heart of the Ozarks, 417-land is well-known for all things outdoors. There are trails for hiking and rivers for floating, and there are plenty of lakes offering endless summer fun. But miles away from these traffic-filled trailheads and noisy riverbanks, there are countless properties where thousands upon thousands of acres sit untouched and hidden away from the rest of the world. And these are the places that hunters call home. 
Southwest Missouri is filled with all sorts of families who know that hunting is much more than just a pastime. Year after year, it's a treasured time that's spent outside enjoying nature. It's quality days spent with loved ones or a guaranteed good weekend with old friends. It's a time to connect with your parents or a time to teach your little ones something new. And even if you don't snag a trophy, it's a time that's sure to be filled with good food and even better stories. For the families who do it, hunting isn't just a hobby, it's a way of life. Read on for a deeper look into the rich hunting culture that ranks as one of 417-land's most popular pastimes. 

Members of the Henderson family enjoy food, family time and plenty of hours in the woods with an annual tradition that's 40 years strong. Several generations of Hendersons gather for deer season at the farmhouse in Grovespring. 


Meet the Hendersons
Brothers Bill and Tom are the fourth generation of their family to own a storybook-worthy farmhouse that sits on 260 beautifully rolling acres in Grovespring. The property was bought by their father in 1966, and they've gathered there for countless hunting adventures ever since. They always bring along their wives—Bill brings Nancy and Tom brings Deanna—and they've always brought along their children, too; Bill and Nancy have Scott and Brian, and Tom and Deanna have Eric and Aaron. 
But it doesn't stop there. As years passed, these four cousins all got married, and three of them now have kids of their own. This added four daughters-in-law and five grandchildren to the mix. And although there are a few more chairs around the table now, the tradition has lived on. No one in this family misses the opening weekend of deer season. No one. It 
doesn't matter if you hunt. It doesn't matter if you can't even talk yet. If you're a part of the Henderson clan, you're going to try your very best to be in Grovespring that second weekend of November.

Aaron Henderson, Brian Henderson, Eric Henderson, James Bax (standing in rear) and Blake Press are decked out and ready for the annual morning deer hunt. 


A Day in the Life
The Henderson's two-story farmhouse is packed full of grandparents, kids, grandkids and friends on one special Friday each November. "We'll have a big shindig down here the night before opening day," says Aaron, the most recently married member of the Henderson cousins who grew up in Hartville. Sometimes they'll host a cookout, or they'll smoke a bunch of meats for the crowd of 20 to 30 to enjoy. 
All of the kids bring their families, and old friends are always invited to stop by and join in on the fun. Once they all arrive, the little ones are running around playing games as the guys are sharing their favorite hunting stories. As Nancy and Deanna are taking care of dinner, they're already discussing what's on the breakfast menu for tomorrow; there's always a big breakfast enjoyed after the guys get in from the woods. Something is happening everywhere you look, but it's a pleasant chaos to everyone in the family—a familiar, magical feeling that only happens when everyone's together at the farm.
After everyone is tucked away in bed, the house sees a few rare hours of silence until the early a.m. ticks around. It's still pitch black outside when the guys start rolling out of bed and wiping the sleep from their eyes. They'll mosey into the kitchen to brew up some coffee and make a few jokes about something that happened the night before. With the whole family together, there are always stories to tell. And then after everyone gets their camouflage on and finishes their ensemble with some neon orange, it's time to head out into the dark for a few of the most highly anticipated hours of the entire year. Sometimes it's a trip to the stand in a Mule ATV, and sometimes it's a journey by foot, slowly and quietly trudging through the frost-covered grass to get to the most perfect spot. Then they'll sit, and they'll hunt. 



Brian Henderson and his son Gage trek through the woods on the farm with a freshly shot turkey.  The Hendersons cook up what they hunt—and catch—and enjoy a big family meal.


A Time to Share
Decades of hunting have resulted in plenty of trophies for all of the hunters in the Henderson family. They always eat all of the meat, and they also display the taxidermy: every family member who hunts deer has a deer bust hanging in the living room of the farmhouse. But deer aren't all they're after: The Hendersons also gather at the farm for turkey hunting. "Turkey hunting is a little more action-packed," says Emmaly, who is Aaron's wife. "You're doing more than just sitting out there just waiting." The guys have a favorite field where they like to turkey hunt, and usually it includes a similar drill of waking up long before the sun, traveling to the hunting spot and then settling in. But this time it's making turkey calls and being on the lookout for birds making their way to the field. 
More often than not, the cousins are going out hunting together, just as they always have. "I'd say we're all more like brothers than cousins," Aaron says. It has been the norm for their entire lives, and they're familiar with every inch of those 260 acres. There are the prized hunting spots, and there are tracks where they ride their ATVs. There are also ponds, one that is particularly perfect for casting a line when it's not time to sit in a tree stand. "We'll come out here and fish with the kids sometimes," says Brian, Bill and Nancy's second oldest. They'll cook up what they catch with a fish fry later on.  
To the Hendersons, weekends spent at the farm are about much more than the fish they end up catching or the animals they hunt. It's about the time they spend together. "It's all about making memories and spending time with the family," Brian says.  "Now all of us are taking our kids out there and making memories with them. My brother and cousins all did the same thing growing up, so to do it with our kids now is a really fun experience."


The Henderson farm is located in Grovespring, Missouri and has been in the family for four generations. Here the family sits outside for a fish fry.  
---


Buddy and Amanda are avid hunters. The two love bow hunting so much that they guest-hosted an episode of Addicted to the Outdoors on the Outdoor Channel.


For Buddy and Amanda Hyde, being on camera comes naturally. "We video a lot of our hunts and have a lot of footage from them," says Amanda, who discovered her love of the sport when she was a young girl hunting with her father. "We're always out there together. One of us films, and the other one has the bow."  
The two say this factor might have given them a bit of an edge in their competition to star in the Outdoor Channel's Addicted to the Outdoors TV show. "We heard of the show because we're avid outdoor fans and watch the Outdoor Channel every day," says Buddy, who has also been hunting since childhood. "We don't have ESPN, but we do pay extra for the Outdoor Channel." This is why, when the couple learned that two to three episodes of Addicted to the Outdoors are guest hosted by couples every year, they knew they had to give it a shot. "We submitted a video application last year sharing why we thought we'd be good at it," Buddy says.
The Hydes were one of the three couples selected to host an episode, and they were chosen from a pool of nearly 4,000 entries. Filming happened in fall 2015, and the show aired in August 2016. "They sent a camera guy up to spend a week with us," Buddy says. "We both ended up harvesting a buck with our bows." But long before their new-found television fame, the two had spent countless hours in the woods together, bonding over a pastime they both adore.



Amanda climbs a deer stand in hopes of getting a good vantage point and a clear shot at a buck. 


A Shared Passion
Buddy and Amanda have been crazy about one another since their very first date at McAlister's. "I can remember we both ordered food, but we were so smitten we decided we had better leave," Buddy says. "Then we realized neither of us ate a bite." This outing led to many more, including dinners where they actually enjoyed the food they ordered and even some hunting dates where they spent time in the woods. "Our first hunting experience was a turkey hunt in Osceola," Buddy says. "We loved to share the time in the woods together."  
Fast forward a few years, and the couple just celebrated their second wedding anniversary in October. They still regularly hunt together on land in Strafford and Stockton—mostly for white-tailed deer and turkey with archery and rifles. But the hours they spend in the stand are only a snippet of the time that they dedicate to their favorite hobby. "I think what a lot of people don't understand is that it takes a lot of work," Amanda says. "I mean, I'm a mom. We both have jobs, and we're both very busy. But we have to make time for it. We can't just go out and set up in a tree stand, then sit there and kill a deer." 
Instead of avoiding the hobby they both love due to a lack of time, they work on it throughout the year and spend more time together. "We go out, and we plant and work on the food plots together," Amanda says. Her son, 5-year-old Easton, also gets in on the action as they regularly keep up with the hobby. "We take Easton out when we look at the trail cameras," Amanda says. And he loves it. "In fact, he gets mad if we leave him out," Buddy says. "It's something we'll do together." And the couple also gives up many weekends to hunt together when the different seasons roll around. "Bow season is a lot longer," Amanda says. "It's almost five months. Most of those weekends, we're out there hunting."  



Buddy says he's the better shot of the two, but Amanda tends to kill bigger deer. 


The Payoff
Although it takes a lot of time to keep up with the hobby, Amanda and Buddy both agree that it's more than worth it. "All of your work pays off," Buddy says. "Harvesting an animal over a food plot you planted—that's really exciting." He also loves the camaraderie aspect, as he spends time hunting with friends throughout the year, too. Amanda loves how the sport feeds her competitive spirit. "I'm a competitive person by nature," she says. "The whole part of practicing the skill, getting better with your bow, shooting and then hitting a target—I love that." 
She also loves the anticipation and anxiety that come with it. "There's a feeling you get when you're in the tree stand and a deer is coming in," she says. "My legs are shaking, and my heart is coming out of my chest."  After either of them makes a successful shot, there's a celebration. "I'm turning to Buddy and high-fiving him and hugging him," Amanda says. But when it comes to who's better at the sport, there's a bit of a compromise. "I'd say I'm the better shot, but she kills the bigger deer," Buddy says with a laugh. "It's a friendly competition."
---
Having hunted elk, wild boar, deer, turkey and a variety of birds, Greg Horton, the co-owner and CEO of Integrity Home Care & Hospice, has a love for the sport. Learn about his very favorite pas
time: hunting for quail. 
417 Magazine: How did you first become interested in hunting?
Greg Horton: I grew up on a farm around the Bolivar area. My dad taught my brother and me how to hunt. Gun safety and all of those things were always first. You know, you had to learn how to handle a BB gun before you could touch anything more dangerous. Well, one of the things we always used to do was go quail hunting. Quail were still plentiful in this part of the country when I was growing up. 


417: Who do you hunt with?
G.H.: I hunt with a lot of friends, but my favorite hunting partners are my sons. It's been a family event from my dad that I passed down to my boys. Bryan is 25, and David is 22. They've both been hunting with me since they were probably about 12 years old. They're both really competitive, which makes it fun, too. Even though you want everybody to do well, when they miss it can be as much fun as when they score because then you can ride them. You have to go with a thick skin, because when you miss—and you will—everybody is going to tease you. 
417: You hunt a variety of game. Why is quail hunting your favorite?
G.H.: It's really a time to socialize. The nice thing about bird hunting is that you don't have to be quiet. You can talk. Sometimes you have to yell to flush the birds and to get your dog into action. It's really a time to socialize when you're actually hunting, whereas with deer hunting you have to socialize when you're not hunting.
417: Did you train your two dogs yourself?
G.H.: Yes, I did basic training with them. I took them hunting with a guide who had a couple of well-trained pointers. My dogs knew basic commands but had never hunted other than out in the field at home. But because it's bred into them, that hunting and retrieving instinct, they were just able to watch the other dogs hunt, point, flush and receive and watch us shoot. Within an hour, they acted like they'd been doing it all of their lives.
417: How do dogs change the game?
G.H.: It's just amazing to watch good hunting dogs do what they were created to do. It's almost as fun as the hunting itself. You'll shoot one in heavy cover and you'll think, "Oh, I don't even know where that went." It may be in a cornfield, or in a thick wooded fence row or whatever. But then you'll have your dog go fetch it and return proudly two minutes later with the bird in its mouth. Without the dog, you would have never been able to find it. It's what they were born to do, and they love it.
---

Gun safety is a big part of the hunting lessons Matt Hoesch passes on to his sons Henry and Campbell. The family joins friends at a leased cabin (left) each season in hopes of nabbing a prized buck.


After leaving Camdenton and moving to Lamar when he was in eighth grade, a 13-year-old Matt Hoesch became fast friends with his neighbor, Brandon Ihm. As Hoesch thinks back on those days, he remembers how Brandon's dad, Larry, was always spending time with them. "Maybe the first thing we did with Larry was help him build his deer stands," Hoesch says. "Then later we would shoot Larry's gun." Hoesch had been deer hunting a bit before then, but he didn't really know much about it. But when Larry wanted to take the boys out, it changed things. "If adults want to drag kids around to do something, it makes you feel important," Hoesch says.  
The following years came with many hunting opportunities, and Hoesch was often found tagging along with Brandon and his father to take aim at whatever was in season. "On my first quail hunt, a quail came out running, and I shot it off the ground," Hoesch says. "Larry yelled, 'Matt, you need to let those birds get in the air before you shoot!' He taught me the ethics of hunting—the right and the wrong." 
Today Hoesch is doing the same with his own sons—9-year-old Henry and 5-year-old Campbell—as well as his daughter, 6-year-old Caroline. But since he's been a hunter all of the kids' lives, he was able to give them a bit of a head start. "I think I first took Henry out when he was maybe 4," Hoesch says. "We had just had Campbell seven days ago. I wanted to go hunting, and my wife said, 'You're not leaving this house unless you take Henry!'" Henry has been every year since.



The skulls of deer (left) shot over the years adorn the walls of the hunting cabin they share, where 9-year-old Henry goes to warm up from the cold. Hoesch's 5-year-old son Campbell holds tightly to a buck's horns (right). 


Bonding With the Kids
Hoesch's first experience of taking all three of his kids hunting was in Fall 2015.  "The kids just love it," Hoesch says. Since he shares a hunting property with friends and those friends also come and bring along their children, the little ones always have plenty of company on their excursions, which usually last all weekend. "Of course, you go out there and they're throwing footballs and roasting hot dogs over the fire," Hoesch says. "They get to stay in a cabin and sleep on a futon bed. They're all running around and playing outside. It's basically like a free recess."
When it's actually time to get down to business and go into the woods, the kids give that their best shot, too. Henry killed his first deer, a nine-point buck, last year. "We recently got it back from the taxidermist," Hoesch says. But the trips with the kids aren't always that successful, especially when the youngest one tags along. "Last year on the trip when I had all of my kids, we all loaded up and rode out to our blind in the golf cart," Hoesch says. "We got there, parked the cart and walked to the blind. We were in there for one minute, and Cam said, 'Alright, I'm ready to go!'" But Hoesch is a good sport, and he rolls with the punches. "We didn't stay out there very long that day, but sometimes that's part of it," he says. "We still went out there, and the kids walked around and found little treasures and trinkets. I think if you asked them their favorite part about turkey hunting, they'd say eating at the picnic table and chasing armadillos around." 
As fall arrives and the year's opening days are just around the corner, Hoesch and his kids are eagerly waiting for their weekend escapes. "On the Friday night before deer season, it does feel like Christmas morning is tomorrow," Hoesch says. "Deer season is king for getting me and my kids excited." And although the days in the woods fly by, the memories live on. "You don't need to be actually out hunting to enjoy it, because those stories are getting told all year long," Hoesch says. "Henry and I were just telling stories last night on the deck about the one that got away." 



Hoesch helps his son Campbell climb up their deer stand to get a better lay of the land.


Just the Guys
Hoesch also enjoys an annual adults-only hunting weekend with a few friends he used to pal around with at Lamar High School. "I lease 500 acres with five guys from school," Hoesch says. "Brandon still hunts in Sheldon, and we lease a different farm. It's about 12 miles away. We call theirs north deer camp and ours south deer camp." Preparing for this hunting trip is also something Hoesch looks forward to. "You're calling everybody and texting everybody all week the week before," he says. "We talk about who's bringing what, and Jeff Tucker sends out what everyone needs to bring and not bring. And he's specific. He tells you things like specific name-brand ketchup." 
After the guys gather, they sometimes go out for bow hunting on Friday evening, then they have a fish fry. They'll randomly get visits from the guys hunting at other camps. "Mainly they come by when they want to brag or show something off," Hoesch says. Of course, the time at deer camp also comes with plenty of bonding, which means plenty of shared stories. "Somehow, my friend Tucker's stories get better and better every year," Hoesch says. On Saturday the guys go out early and enjoy the big opening morning hunt, then they come back for more camaraderie and breakfast at Sharon's Truck Stop in Jasper. On Sunday, they all hunt again and grill up steaks for dinner. "By then you're ready to go home," Hoesch says. "But then after you're back, by Tuesday you're ready to get back out there again." 
---

Cheryl Briggs has hunted animals that most of us only see through thick glass. To Briggs, it's not the kill that matters—it's the joy of the hunt and the impact she can make after. Cheryl Briggs ventures outside 417-land—to Zimbabwe, specifically—to hunt exotic animals like this crocodile.


Cheryl Briggs comes home to two lions every night. They crouch around an unsuspecting goat and reign proudly over the other animals in the house. The lions, though lifelike, are two pieces of Briggs' extensive taxidermy collection, which also includes a full-size elephant skull and a fearsome alligator and crocodile duo. Remarkably, the animals were all hunted by Briggs or a member of her family.
Briggs is the owner of DermaHealth laser and skin care clinic. She's also a seasoned exotic hunter with 12 trips to Africa under her belt. Briggs stumbled upon exotic hunting in 2004 while volunteering for the Assemblies of God church and completing medical missions trips abroad with her husband, Thomas. At that point, hunting was a foreign concept to Briggs. "I had never hunted, never shot a gun," she says. The medical clinic where they were supposed to work fell through, leaving the Briggs family to stay with a group of safari contacts. They jumped at the opportunity to experience an exotic hunt. "I said, 'Listen. We don't have a gun,'" Briggs says. "'All I have is a stethoscope, so I'll be able to tell if it's dead, but that's about it.'" Briggs' attitude quickly changed after her first few shots. "We got out there and I missed the first shot," she recalls. "The next four shots, I got an animal. One shot each."
Today, Briggs is passionate about Africa and proud of her kills. She owns a house in Thabazimbi, South Africa, and has hunted in various parts of South Africa and Zimbabwe. Perhaps most importantly, she feels strongly about treating her exotic kills with respect. "Understanding animal conservation is so important," she says. "Do I get a thrill out of going out and killing something? No. But I do enjoy the hunt. And I also know that every animal that my husband and I hunted has fed the local people." According to Briggs, the majority of the meat from their kills was donated to nearby villages. She is insistent that nothing went to waste. She has barstools made of elephant legs and candy dishes crafted from hippo feet. "We've tried to be very creative in how we've utilized [the animal] out of respect for the animal," she says. Oddly enough, Briggs has only claimed one animal in the United States—the 13-foot alligator that now keeps watch over her basement.
Although she maintains her love for Africa and its wildlife, Briggs is unsure about her next step in the hunting realm. Her husband died in 2015. Her exotic hunting days may be over, but Briggs is open to exploring American hunting culture. "That doesn't mean that I wouldn't hunt a deer or a turkey here," she says. "I kind of started out backward."
---
FIRST-HAND ACCOUNT: 
A Tale of Brotherly Love
Springfield resident Rhett Roberson recently took his stepsister Krysten Gies on her first hunting trip. Read on for his firsthand recap of the weekend expedition, complete with a prize that can be acquired by anyone willing to spend a day in the woods.

Top: Krysten Gies (left) and Rhett Roberson (right) head out on a chilly November morning to hunt deer in Urbana, Missouri, in 32-degree weather. It was Krysten's first hunting trip. Bottom: After spending a frosty morning tracking deer (left), Rhett Roberson and Krysten Gies warm up with breakfast at one of Roberson's favorite places, the Coffee Cup Cafe.


I've been hunting during rifle and archery season in Missouri for a while now, but I wasn't quite as passionate as usual when last year's season approached. With life getting in the way—as it has a tendency to do—hunting became more of a back burner activity. Although I planned on getting out in the woods, I hadn't gone to the depths that I had the past few seasons. I hadn't taken the time to set out cameras or feed plots early in the summer, and I didn't have any days planned out to go to deer camp. But thanks to a text one evening from my stepsister, Krysten, things changed, and I quickly found myself transformed into my familiar pre-November pattern. 
Let me back up a bit. Our parents (my father and her mother) were married in 2006, so Krysten and I have spent plenty of time together with the family over the years, but we have not had very much one-on-one time. We have separate hobbies—I'm a few years older than she is, and we both enjoy our alone time. All of these things contribute to the fact that we just don't hang out enough. Because of that (and my general passion for sharing things I like with people I like), I was happy she asked if we could go hunting, and I was happy to make time to do it. 
Now, back to last year. First we had to get prepared for this adventure with a smaller adventure to Bass Pro Shops. We made sure that we had the necessary camouflage and safety orange, as well as enough Hot Hands to heat a small home. Earlier that weekend I went out into the woods and stalked around, looking for all the signs I could dig up, and I finally settled on setting up a spot not far from some decent rubs that appeared fresh. (For the non-hunting crowd, a "rub" is a spot on a branch or small tree where a buck has rubbed his head and antlers to remove the velvet layer.)  With dreams of big bucks in my head, I set up a hunting blind and covered it with branches and leaves to make it blend in as best I could. I texted Krysten a picture of my work, and although I don't remember the exact reply, I believe it was six or eight different emojis, which I took to mean I did well.
We had planned to go out the second weekend of deer season because she would have to finish a few tests at Missouri State that week. Thanks to the Missouri Department of Conservation's Apprentice Hunter Program, she was able to hunt as long as I stayed with her out in the woods. It meant we would be side by side the whole weekend, which makes for some great—although mostly silent—bonding time. 
Since we would be hunting about an hour from home in Urbana, Missouri, I told her I would try to find a hotel nearby—I am a fan of roughing it, but I didn't want the cold to ruin her first hunting experience. But then she told me she could make it through camping out, and despite being unsure I took her word for it. 
We loaded up the truck with the cooler and a ton of blankets in the back. I doubt she was expecting the first snow of the year on a night when we would be camping in the bed of my truck under the protection of just the camper shell. But the next morning we woke up in our sleeping bags at 5 a.m., in the dark, at 32 degrees, with the wind rocking the truck. With no complaints at all, she hiked a half-mile with snow blowing in our faces to the blind in the woods. I was pretty impressed. 
On the way to the blind we saw a few deer, or at least their white tails, bounding away from us, so we had hope that we were in the right spot. Unfortunately, we went on with our day and came out empty handed. We spent the whole morning watching the sun come up and melt away the fresh snow, and she had a good laugh at me trying to use bleat calls that weren't exactly bleating. After a few hours of not much movement, we gave in to the idea of a warm breakfast and coffee at The Coffee Cup Café in Urbana, where I have been eating deer season breakfasts for many years.
We ended up going out a few more times throughout that weekend and we saw a lot of deer, just none of them through the scope. But she got to learn what might be the most important thing about hunting—a lot of the time it's just sitting and waiting. And that's not that bad, either. There could have been more successful outcomes as far as trophies are concerned, but at the risk of sounding like the ending of a family sitcom, I'll go ahead and say the time spent hanging out in the woods was prize enough. Next year hopefully we have better luck… or maybe she just needs a better guide! —Rhett Roberson
---
All in the Family
As the owner and photographer of Great Outdoor Studios, Michael Engelmeyer spends much of his time outside shooting for Toyota, Remington, Mossy Oak, Carhart, Tracker Boats and Yamaha. When he's not working, he heads out with family to enjoy a hobby that's about much more than simply shooting an
animal.

Hunting runs in the Engelmeyer family. Here's Michael's great great-grandfather Josef Hahn with a turkey in the early 1900s. 


When mid-November rolls around, Michael Engelmeyer will wake up at the same place he's woken up on the opening morning of deer season for the past 40 years: in a historical home located on a 150-year-old family farm in Hermann, Missouri. "Gun season deer camp is always in Hermann," says Engelmeyer, who first started hunting with his father as a young boy and used to tag along long before he could even shoot a rifle. 
Today Michael still hunts with his dad, Ralph Engelmeyer, who is 84. He also takes his own children: 7-year-old Caroline, 11-year-old Zach and 14-year-old Sam. "I started getting my kids involved in the outdoors before they could even walk," Engelmeyer says. "Sam was out there with me when he was 2. I exposed them from the get-go." His purpose is simple: He wants to pass along the same things that he learned when his father took him out. Engelmeyer says he was blessed because his dad made a point to show him the benefits of how good the outdoors are for the body, mind and soul.



Michael Engelmeyer and his son Zach took home two turkeys after a day of hunting in Black Jack.


A Night at Deer Camp
Although the hunting isn't nearly as good as it is at a farm he owns in Stockton, Engelmeyer says deer camp will always be in Hermann. "I think I was probably 6 when I started showing up there, and I'm 47 right now," Engelmeyer says. It's been a family tradition all of his life, and it comes with lots of memories. "It's a time with uncles, cousins and lifelong friends," Engelmeyer says. "Our time in Hermann is very much about tradition." 
His family buddies up with another family that owns a farm down the road, and they have an annual Friday-before gathering. "Usually we'll meet at our place or their place," Engelmeyer says. "Sometimes we'll eat deer, but usually it's a wonderful blend of pheasant, turkey, fish or quail. Everybody just gets together, eats like champions, visits and tells old stories." 




At the fa

mily farm in Hermann, 

Ralph 

Engelmeyer, Michael's father, nabbed a bird of his own.


Teaching Life Lessons
Engelmeyer hunts at his property in Stockton at other times throughout the year, like the time he took his son Zach turkey hunting last year. "That was Dad and Zach time," Engelmeyer says. "When you're out there and you're sitting in that blind with your kid, you have 100 percent of the kid's attention. You're just sitting there with the two of you—no TV, no computer, no radio." 
After Zach finished school for the week, the two left Springfield and headed to the ranch-style home located on a 270-acre property in Stockton. They spent the evening looking at trail camera photos and planning the details of their big hunt that was only one short sleep away. "We got up at 4:40 a.m. the next day," Engelmeyer says. "We carried a blind, decoys, some stuff to keep him entertained and way too much candy. A lot of candy is a huge mistake for an 11-year-old in a turkey blind." A couple of hours and half a bag of Smarties later, the two called in a mature bird, and Zach aimed, fired and missed by a country mile. "Now Zach is a kid who's killed two deer and four turkeys now, and he had never missed before," Engelmeyer says. "I looked at him, and the tears just started flowing." 
The two went back to the farm house for lunch, and after learning the gun wasn't patterning properly (a mistake Engelmeyer takes blame for since they didn't have time for a test shot the night before), they decided to re-sight the scope and go back out. "I told him that patience and perseverance is what makes a good turkey hunter," Engelmeyer says. The two waited for a couple of hours, enjoying a little more one-on-one time and watching a couple of deer who appeared not far from where they were sitting. By around 6:30 p.m. (you can hunt turkey all day during youth season),  they looked out of the back of the blind and saw what appeared to be the same turkey Zach missed earlier. "Zach made a spectacular 30-yard shot then," Engelmeyer says. "He was pumped. He was so happy because he said he wanted to provide for his family. He wanted to call his mom. He told me that patience and perseverance were the life lesson of the day, and that he learned to never give up." 
---
All hunters in Missouri older than age 11 and born after 1966 are required to undergo hunter education to purchase a firearms hunting permit. Check out these education events or go online to hunter-ed.com to get started.


The Knowledge Portion: 
Hunter Education Classroom Session
You can fulfill the knowledge portion of the program three ways: online, with a self-paced manual or at a four-hour classroom session. Students who opt for the classroom session can sign up either on the MDC website or by calling the nearest MDC office. $15 fee for online class; call 417-895-6880 or visit mdc.mo.gov for more information.
The Skills Portion: 
Hunter Education Skills Sessions
After completing the knowledge portion, students must complete a hands-on skills session. Each four-hour session includes activities, video-based discussions and a mandatory 35-question multiple-choice final exam based heavily on knowledge gained from both sessions. Call 417-895-6880 or visit mdc.mo.gov for more information.
Get Out and Hunt: Managed Hunts
The MDC's managed hunts are events designed to reduce deer populations where their abundance is problematic. There are more than 100 managed deer hunts in Missouri each year from mid-September through mid-January, including hunts for youth and individuals with disabilities. The application period is July 1 through July 31, and all applications must be made online. Applicants are selected by a random drawing, but hunters who aren't selected earn preference points to increase their chances of being drawn in the future. 
Get Out and Hunt: Open Hunting Areas
MDC manages several open hunting areas for hunters in need of land. A few popular options include Busiek and Compton
Hollow conservation areas. Francis Skalicky of the Southwest Regional MDC office also recommends using land owned by friends, family or coworkers—as long as you hunt respectfully. According to Skalicky, there are a few key courtesies to remember when using "borrowed" land. For example, always pick up spent shells and use discretion when field-dressing.
---
We've asked hunters near and far where to go for the best taxidermists, and they recommended these pros. 


The Turkey Roost
14548 State Hwy. B, Greentop, 660-665-8109, theturkeyroost.com
SERVICES OFFERED: If you have a turkey you want to remember forever, The Turkey Roost is the place to go. Taxidermist Rick Morris is well-known and trusted for his skill of mounting turkey.
Rick Lowry Taxidermy
4035 S. 136th Rd., Bolivar, 417-326-6556
SERVICES OFFERED: Rick Lowry has been in the taxidermy business for 26 years. He offers both game heads and life size taxidermy services for a range of animals, including fish, deer, elk, bison and turkey.
Nature's Image Taxidermy
1433 E. Kearney St., Springfield, 417-840-2887, naturesimagetaxidermy.com
SERVICES OFFERED: Nature's Image Taxidermy has been in business since 1992. Owner and taxidermist Kevin Billen says he always aims for high quality and high detail in creating deer and fish mounts.