Reviews
Dine on Giant Steaks at Doe's Eat Place
At Doe's Eat Place, you can't miss the beef. It comes to the table big and grand and unpretentious despite its lofty price tag. We dug into the juicy goodness.
By Katie Pollock Estes
Nov 2017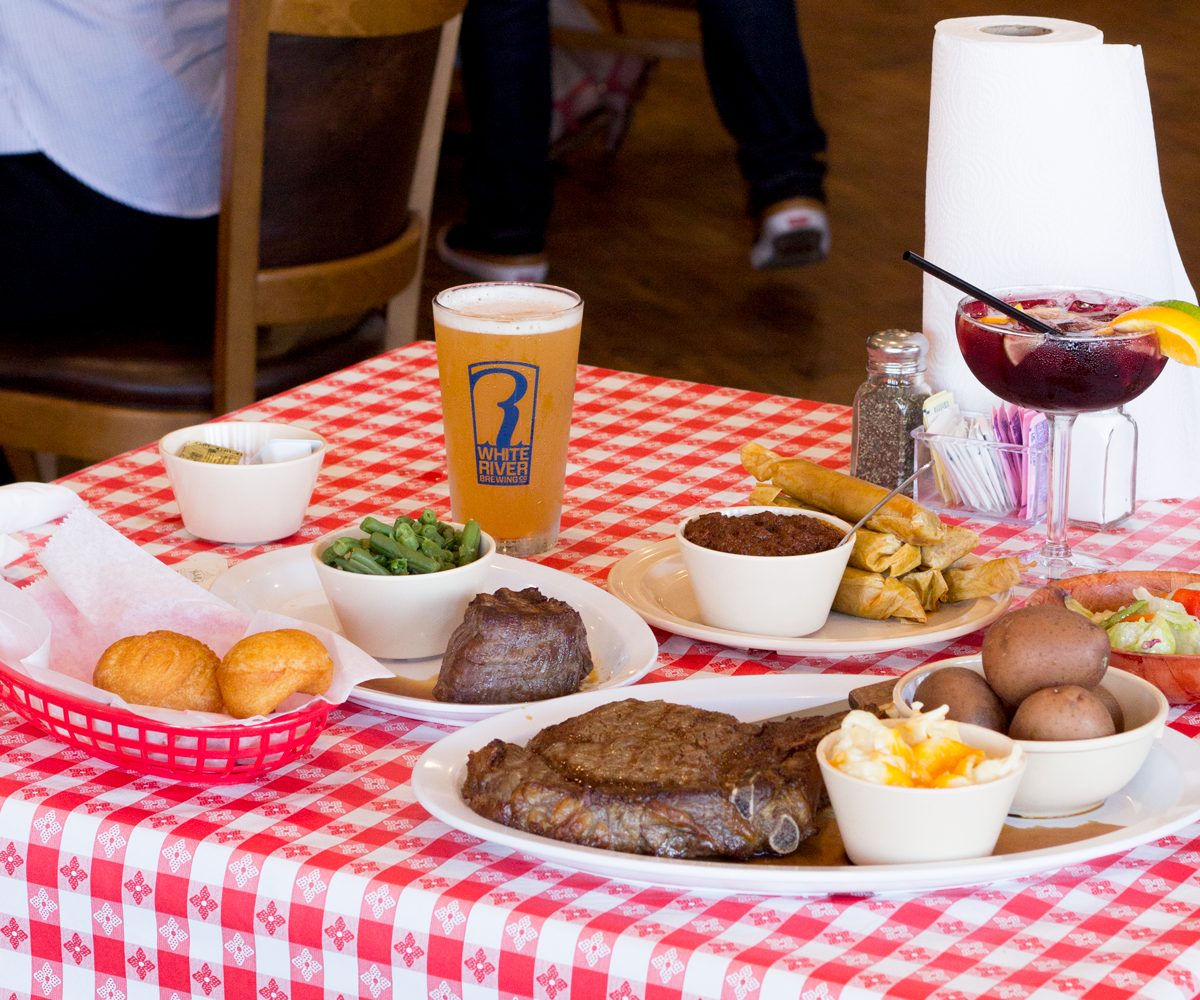 Doe's Eat Place (935 N. Glenstone Ave., Springfield, 417-833-7818), which reopened in Springfield last summer after a hiatus of a few years, is simplicity defined. The menu is anything but complex, with a strong focus on steak, steak and steak. The decor is simple, too; red-and-white plastic tablecloths add to a rustic atmosphere. If steak is not your thing, then Doe's might not be your place. But I think it's kind of nice every now and then to eat at a restaurant that picks one thing to do really, really well. These aren't cheap steaks, but they aren't small either. Some come in huge, intentionally shareable portions that can even be cooked to more than one temperature for dining buddies with differing tastes. Although you can find shrimp and tamales and a few other goodies besides massive steaks on the menu, most people go for the beef.
That's exactly what we did on our recent visit—once we got through the appetizer course, anyway. We started with some of Doe's famous Delta hot tamales. The skinny, meaty tamales are tender and flavorful, with masa that practically melts in your mouth. They come with a sloppy little bowl of chili on the side, perfect for dunking or for dumping right on top. You could make a meal out of them, but they were just the starter for us. 
Eli and I don't go out for steaks very often. He can grill a mean one himself. And even though I recognize all the things that make a great restaurant steak better than what we make at home, I can't stand it when my steak arrives cooked to the wrong temperature. What's worse than an overcooked steak? So rather than waste the money and risk it, we eat our steaks on our back porch. Doe's is known for its hand-cut steaks, though. They are big, and the restaurant is serious about cooking them correctly. I was ready to dig in.
I like my steaks tender and low on marbling, so I opted for the 7.9-ounce petite filet cooked to medium-rare. It was perfectly pink all the way through, and my knife slid through it like it was butter. The carnal experience of digging into a well prepared steak while the juice makes a big ol' mess on the plate is nothing short of satisfying, and my mouth is watering just remembering it. All of the meals come with a tangy marinated salad on the side. I was trying to be health-conscious, so I also ordered a side of green beans. Then I regretted my well-intended veggie choice and ordered a side of creamy, cheddar-laden broiled macaroni and cheese to indulge a little. I shared that with Eli.
Eli is more of a marbling traditionalist, so he went with the ribeye—cooked to medium-rare with a side of red potatoes. The ribeye is one of those monstrously huge steaks on the Doe's menu, clocking in at 2 pounds. You'll be happy to hear he did not eat the whole thing. I didn't eat all my steak, either. Our feast was way too massive for two people, and we took lots of leftovers home to reheat for our two steak-loving children. I just hope they don't get used to it—they'll be back to backyard steaks next time, as we are saving the full Doe's experience for Mom and Dad's biggest steak cravings.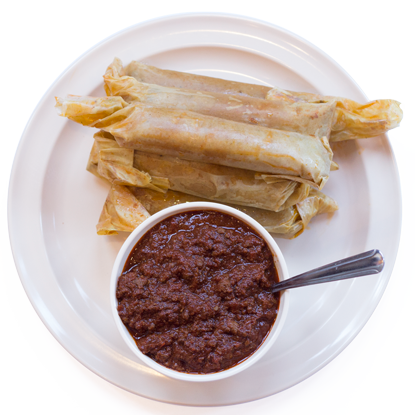 Four Ways to Make a Meal at Doe's if You Don't Eat Steak
1. Pick Your Chicken
At Doe's, it's served up broiled, fried or blackened.
 2. Opt for Shrimp
You can get shrimp served broiled and swimming in garlic butter or battered and fried to crispy perfection.
 3. Slurp Some Soup
There's an oh-so-Southern gumbo and a creamy crab-and-corn bisque on the menu.

 4. Fill Up on Tamales
You can order the Delta hot tamales in quantities of six or 12, and they come with a cup of chili.