Reviews
Carrie's Café at Missouri State University
Restaurant management students at Missouri State University are serving up some of the tastiest, freshest fare around—all on the college campus.
By Savannah Waszczuk | Photos by Kevin O'Riley
Oct 2014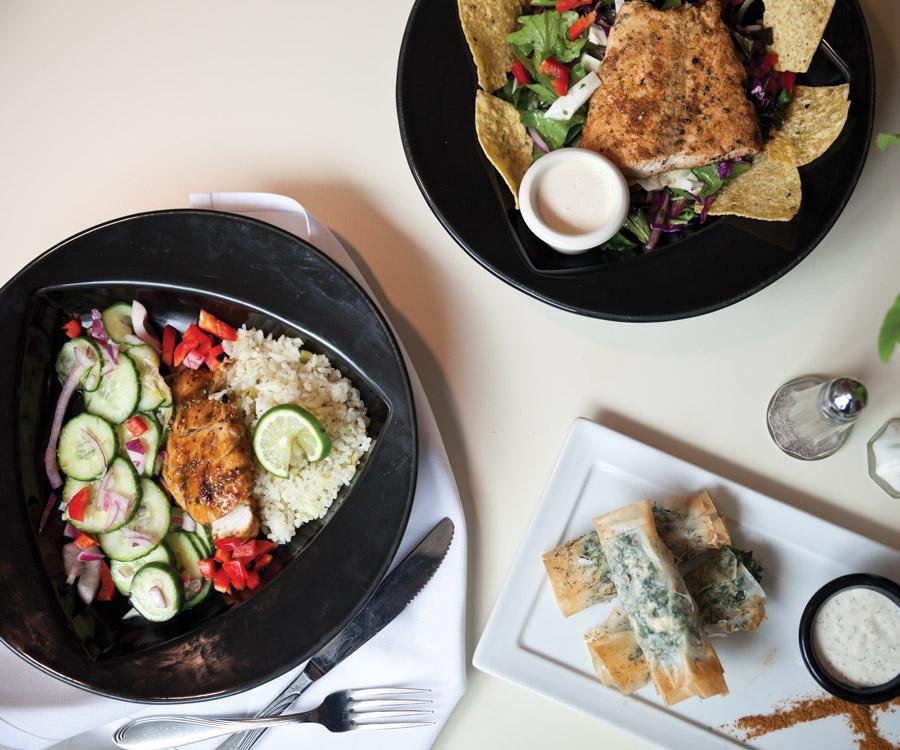 At Missouri State University, something magical happens a couple of months deep into each semester. Young, eager students who dream of opening their own restaurants one day get to operate Carrie's Café, a spot that's open for lunch on most Tuesdays and Thursdays from mid-October to the beginning of December and then again during the spring semester. Abbe Ehlers, who is a senior instructor in the hospitality department at Missouri University, is the instructor of the restaurant management class, which runs Carrie's Café. "We go through everything, from the process of developing and pricing a menu to testing and choosing dishes," Ehlers says. "The students actually manage and operate the front and back of the house." 
Students develop the menu from scratch every semester, but there's one menu item that never changes: the famed Moroccan Rolls appetizer. "These have been on the menu since we started Carrie's Café 15 years ago," Ehlers says. "They're the only constant."
The rolls are among the most popular menu items each semester, and I quickly learned why after I ordered them during a visit late last spring. The creamy, savory filling is made of spinach, feta, ricotta and Parmesan cheeses, egg and green onion. The exterior is phyllo dough, and the rolls are baked to a perfectly crisp finish. As crispy as these rolls were, I was surprised to learn that they were baked, but it made sense once I gave it a little thought. There was no heavy, oily presence there. There was just a nice crispy crunch, which allowed the flavors of that deliciously glorious filling to shine. 
I still think about that filling. It was a salty, creamy, cheesy delicacy that I could eat by the bucketful. The rolls are served with a side of creamy house-made dill sauce, which adds a fresh zip to each bite. 
Entrees change each semester, but Ehlers says the menu typically has three entrees and three sandwiches, plus a dessert. "We try to vary our proteins, but we always offer some sort of seafood or fish entree or sandwich and some sort of poultry," Ehlers says. "We also always incorporate a vegetarian option." Next for the café, Ehlers is working with students to introduce vegan options as well. 
When I visited last spring, I tried the hoisin chicken that came with citrus-lemon rice and a cucumber salad. The chicken breast was your ordinary piece of grilled poultry, but it was brought to life by the house-made hoisin sauce that had hints of fresh ginger and garlic. I found myself pairing a bite of the chicken with a bite of the citrus rice, and I scraped up every last bit of the sauce. My dining buddy, Assistant Editor Ettie Berneking, tried the Baja fish taco bowl. "That dish is another example of the way the students work together," Ehlers says. "Three or four brought in ideas for fish tacos, and we put them all together to create this." The dish included a bed of greens topped with a spice-rubbed, pan-seared salmon, and it was served with cilantro-lime dressing that added a fresh limey zip. Red and green cabbage added the perfect crunch. 
Since the café aims to use local produce, the menu differs each semester. But one thing is for sure: All dressings, sauces, soups and more are made from scratch daily, just as they have been for the last 15 years. I can't wait to give this semester's menu a try, and of course, eat some more of those Moroccan rolls.
3 questions with senior instructor Abbe Ehlers
417 Magazine: What's your role with Carrie's Café? 
Abbe Ehlers: I'm a senior instructor in the hospitality department at Missouri State University. I teach restaurant management, which is the class that runs Carrie's Café. 
417: How many students operate Carrie's Café each semester?
A.E.: Typically 15 students are in the class that runs that café, but I will often have one or two special study students who will do something specific, like take on marketing or ordering.
417: What kind of food does the café serve?
A.E.: It's definitely designed to be a lunch café. It's bistro-like, I would say. We typically try to stay with foods that are relatively healthful, but we always throw in a few decadent things as well.