Style
Megerian Rug Company
Megerian Rug Company offers a huge selection of imported, hand-made rugs that can suit nearly any style home.
By Savannah Waszczuk | Photos by Kevin O'Riley
Oct 2014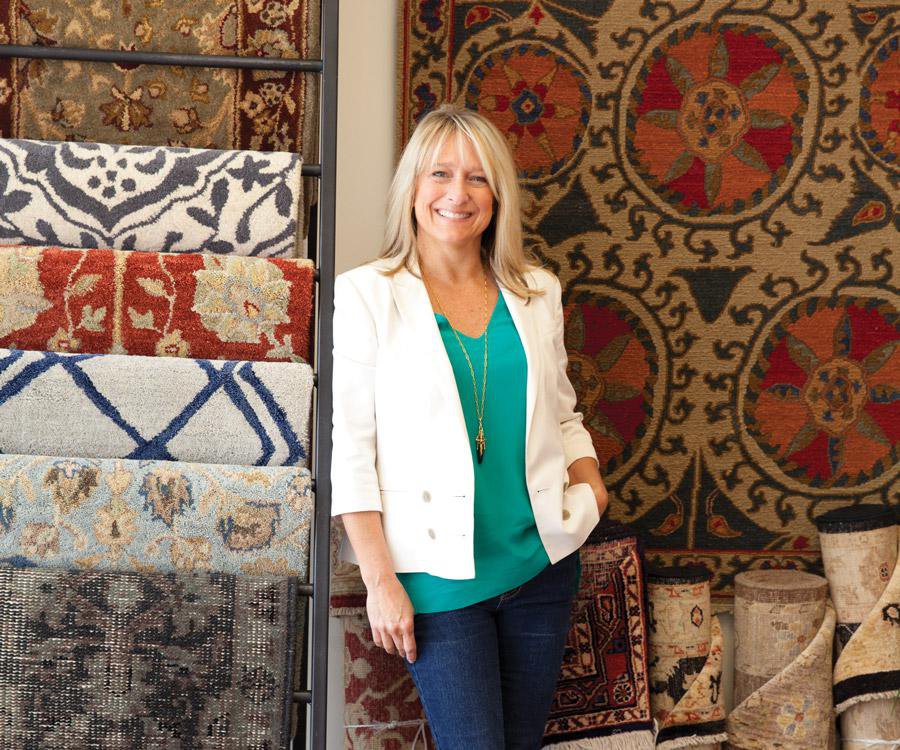 Megerian Rug Company
4121 S. Fremont Ave., Suite 116, Springfield; 417-881-8899, megerians.com; open 10 a.m.–4 p.m. Monday, 10 a.m.–5:30 p.m. Tues.–Fri., 10 a.m.–2 p.m. Saturday or by appointment.
When it comes to oriental rugs, not many people know more than Heather Reynolds. This is due to pure experience—Reynolds has been around oriental rugs her entire life. Her grandfather, Vahan Megerian, originally opened Megerian Rug Company in Springfield in 1934. The store was still operating in full-swing during her childhood, so she literally grew up learning about hand-knotted creations, machine-made pieces and everything between. She put her knowledge to good use when she began working at the store with her mom, Voncille Elmer, in 1992, and she stayed until the store shut its doors five years ago. But then, after a brief stint working to help open small businesses and a job in project management, Reynolds went back to her roots and reopened Megerian Rug Company in February 2014. 
As its name implies, the store sells rugs. But these aren't your ordinary rugs. Around 95 percent of the rugs are hand knotted or hand tufted, and they are all imported. The handcrafted creations come from India, China, Pakistan, Afghanistan, Armenia, Iran, Turkey and Nepal. With some 350 rugs in stock and access to literally thousands more, Reynolds says the store has rugs to fit all styles, color palettes and budgets. "Some of our indoor-outdoor rugs are $165, and a tufted 8-by-10 starts around $700," Reynolds says. And of course, there are many more high-end options available, including rugs that cost thousands of dollars. "Oriental rugs are different than typical rugs," Reynolds says. "Each one of them is a piece of art, and they really do last a lifetime or longer."  
As for the buying process, that's not so ordinary, either. "People typically come in with an idea of where they want a rug, and I'll show them what I have and guide them through the buying process," Reynolds says. If you like a rug, then the next step is taking it home and seeing it in your space. "I rarely sell anything without the person trying it out first," Reynolds says. And when it is time to buy, you're in luck—Megerian Rug Company offers home delivery and helps with placement. In addition to rugs, Megerian Rug Company sells a few small home furnishings and accessories, including throw pillows made from recycled rugs and a full line of candles. 
Q&A with Megerian Rug Company owner Heather Reynolds
417 Magazine: What do you look for when ordering rugs?
Heather Reynolds: First I look for quality. I also look for colors that will work with today's fabrics and trends. 
417: What are some upcoming rug trends? 
H.R.: Tufted rugs are becoming much more popular because of their price point. I'm also seeing rugs in a lot more lighter colors.
417: What is the most essential part of any home?
H.R.: A rug! A rug anchors a space and defines a style, and you can build from it.