Reviews
Killer Ramen at Skully's Food Truck
Skully's food truck offers fresh, Asian-fusion fare in an atmosphere that can't be beat.
By Vivian Wheeler
Oct 2017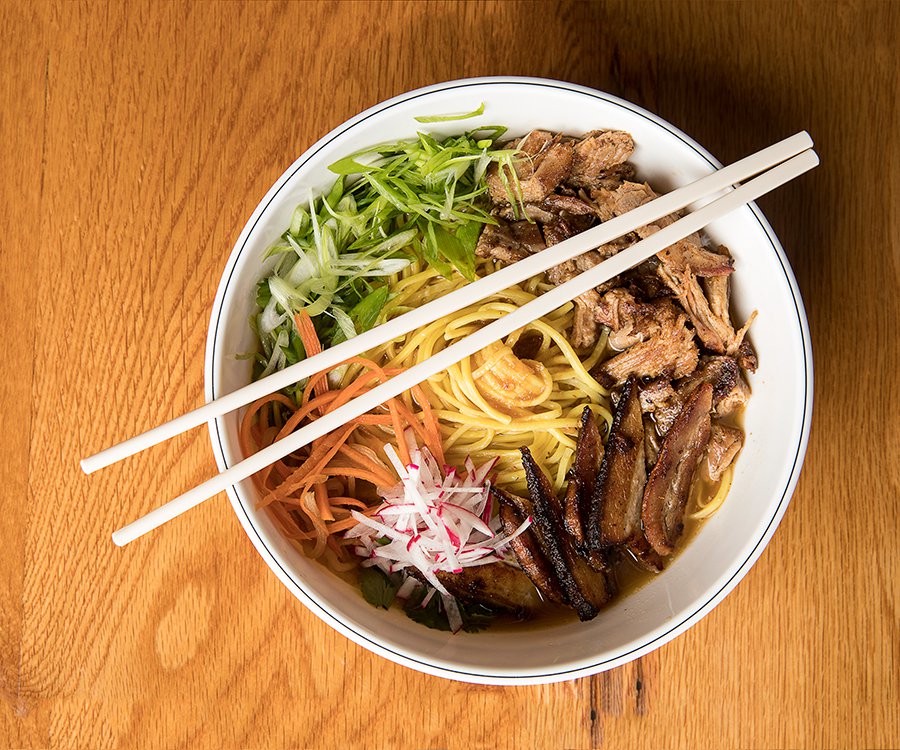 The great citizens of 417-land are lucky. Our little corner of the world is saturated with great places to eat, and we get to be picky when choosing where to spend our hard-earned cash. With new restaurants constantly popping up, it can be hard to decide which ones to try first. Personally, when I'm trying to figure out which new places top my must-try list, I look for eateries that offer an experience along with great food. That's why I was excited to check out Skully's (Skully's, 417-869-1366, skullyfoodtruck.com), a food truck that serves Asian-fusion cuisine. 
I had been hearing great things about Skully's for a while, but once it made the move from Tampa Street in Springfield to White River Brewery on Commercial Street, I knew it was time to check it out for myself. I loved the idea of being able to dine on food-truck cuisine while enjoying an adult beverage. When the weather was nice a couple of weeks ago, I called up some friends, hopped on my bike and headed to Skully's for dinner. 
As I pulled up I could hear music wafting through the air. An acoustic band was playing on the patio and the place was hopping. I met up with my friends, and we headed around back to where the food truck is parked. Skully's draws inspiration from a variety of Asian cuisines. It's the brainchild of Lora and Joe Still, who grew up working in the Springfield restaurant scene. When they branched out on their own, they decided to base the menu on the food they would cook at home for themselves. Influences from Thailand, Korea, Japan, India and Vietnam are sprinkled throughout the tiny menu. We ordered both flavors of Ramen—the pork and the mushroom—the kimchi fries, the curry fries and several orders of the crab beignets. We were also eying the wings, but they had run out for the evening.
Once we ordered, we made our way inside where there was a table big enough to accommodate our group. While waiting for our food, we availed ourselves of the bar and ordered a few pints of White River's beers. The food came out quickly, and we dove in.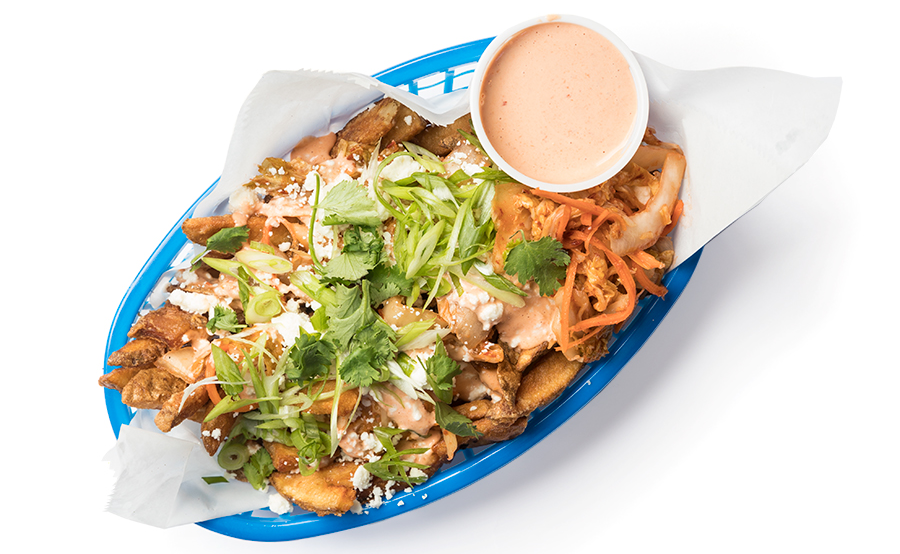 When I first looked at the menu, the crab beignets stuck out like a sore thumb, but I'm glad we took a chance and ordered them anyway. They were my favorite part of the meal. Shaped like little pyramids, these pockets of dough are stuffed with real crab and then fried. They're served with a garlic-scallion cream cheese, and the combination is killer. I would take these bad boys over Café du Monde's classic version any day. Both of the fries were tasty, but the kimchi variety stole my heart. Hand cut and triple-fried, the French fries alone are finger-licking good. Add house-made kimchi, queso fresco, cilantro, green onions and a side of kimchi aioli and the dish becomes downright addictive. 
The pork ramen had a lot of elements that worked. I loved the texture of the noodles, the pork was perfectly cooked and the toppings were fresh and bright. I did, however, find the broth to be lacking. I was hoping it would be a bit more flavorful. I added some salt, and that helped quite a bit. The mushroom broth was even blander. However, the ramen was good enough that I'm willing to give it a second try. I might just have to carry a bottle of fish sauce in my purse next time.
By partnering with White River Brewing Company, Skully's subverts many of the complaints I have with some other local food trucks. It has a great location free of speeding traffic and barbed-wire fences, there's plenty of seating, you can enjoy a beer while you dine, and it has a fun, comfortable atmosphere. It's a smart move for White River Brewing as well. They get to offer great food without having to build a kitchen and hire a chef. A bonus of Skully's parking at White River Brewing is you can take advantage of the indoor seating all winter long. But I wouldn't wait. Enjoy Skully's on the patio while you can.