Style
Pillow Talk
In need of a little seasonal décor or a one-of-a-kind gift? A couple of Ozark store owners are hand-crafting custom burlap pillows that have been getting a lot of attention.
By Savannah Waszczuk | Photos by Kevin O'Riley
Sep 2013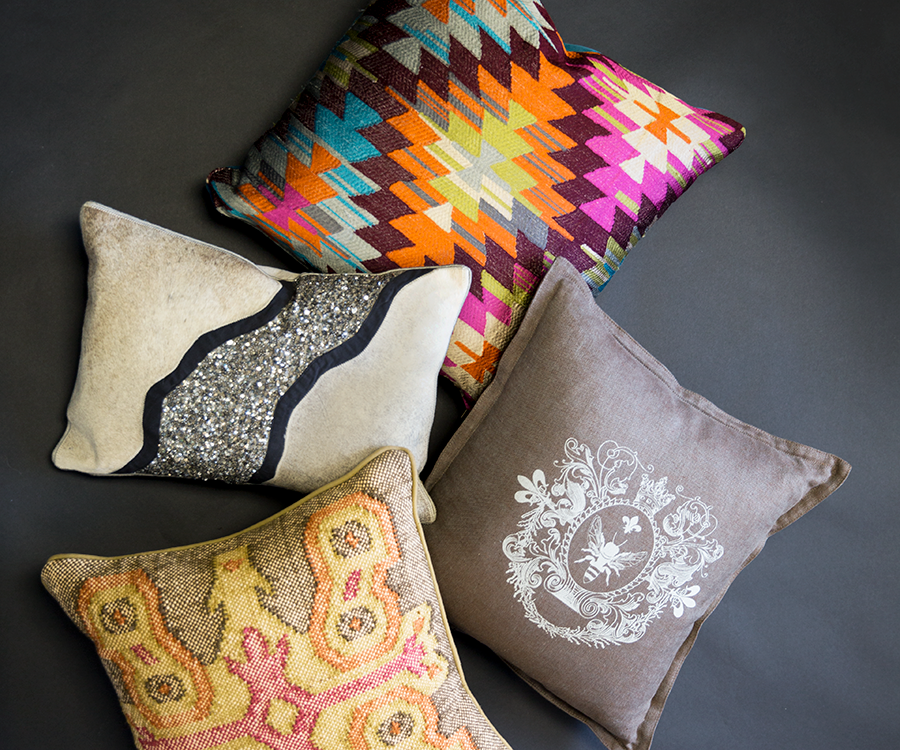 From tote bags to wedding invitations, it seems like burlap is everywhere you look these days—and not just in the crafts aisle. We've seen the woven, fibrous fabric stretched far beyond the realm of cutesy creations and used for table runners, lamp shades and in a variety of other home décor applications. But before it could be found in your craft room, your living room and every room in between, Scottie Snider and Randy Woods, co-owners of The Feathered Nest (1603 S. Third St., Ozark, 417-581-5090) spotted burlap as an upcoming trend, and they started handcrafting burlap pillows.
"First we just started making them plain, and then Randy started making them with different embellishments like old crowns, keys and lace," Snider says of their pillow making stint, which began two years ago. "Then, I just started drawing on one with a Sharpie one day, and it grew from there." Today, it's these Sharpie-drawn creations that are taking the markets by storm. By markets, we mean local and national. In addition to selling the pillows at their Ozark store and the Apple Tree Mall in Branson, the duo fills wholesale orders and has sold their pillows at three national markets.
In the beginning, Snider made a lot of custom pillows with last names and monograms. As they grew in popularity, he expanded his inventory, creating special pillows for seasons, holidays and even niche interests. "They've said everything," Snider says. "Country, Country Boy, Country Girl, Feather Your Nest, Herbs, Flowers, Garden—you name it." Despite the demand for certain phrases or words, no two pillows are ever alike. Some have a splash of color on them, and some have illustrations. Although each and every one is hand-written and drawn by Snider, he says even the same word will look different each time it's written. "The curly Q's and things are never the same," he says. "It just depends how it comes out at that very second."
Speaking of seconds, it takes Snider approximately 60 seconds to hand write and draw on each 13-by-27-inch pillow. From there, the pillow is stuffed and passed on to Woods, who hand-sews them closed with twine. From start to finish, the whole process takes about five minutes, and they can be made on the spot at the store. The two have made more than 2,000 of the pillows, which can be used for everything from your own décor to gifts. "We've done a lot of monograms, and bride and groom and Mr. and Mrs. pillows for weddings," Snider says. They're $19.99 each and are available until the next trend comes along. "I guess whenever the burlap fad is over, we'll move on to something else," Snider says. "But they're doing really well right now."
Get the Goods
Find these pillows, plus a variety of other handmade creations, at The Feathered Nest's monthly open-air market.
What: The Feathered Nest Vintage Finds & Americana Fare Open Air Market
When: The first Friday, Saturday and Sunday of each month; April through October.
Where: The Feathered Nest, 1603 S. Third St., Ozark
More Info: Call Scottie Snider or Randy Woods at 417-581-5030.