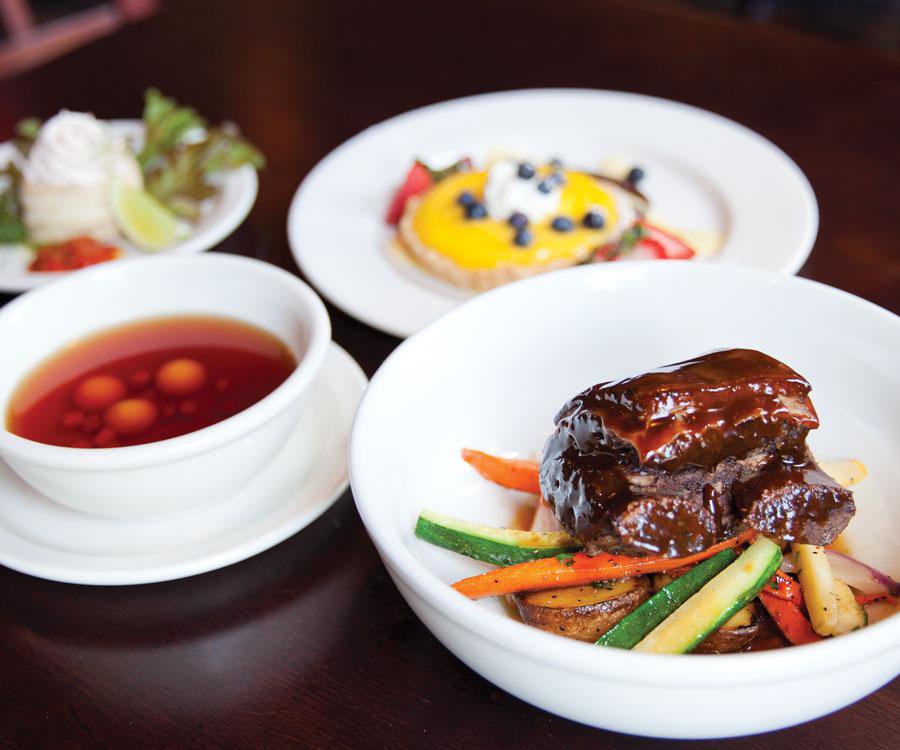 This month, we welcome chef Peter Tinson and Farmers Gastropub owner Bill Griffiths to the kitchen. These two culinary masterminds are whipping up some of their favorite filling dishes as they cook their way through four delectable courses. The meal starts with smoked trout en croute followed by a rich beef consommé, braised beef short ribs and a sweet citrus berry tart for dessert. Find the recipes for each course here, then see these chefs in action at the cooking class on September 16.
Instructors:
Chef Peter Tinson (pictured) and Bill Griffiths
Event Details:
$60 per person, September 16; 6 p.m. at Metro Appliances & More, 3252 N. Glenstone Ave., Springfield
Presented By:
Missouri Beef Council
Sponsors:
Metro Appliances & More Macadoodles 
Get  Your Tickets:
Tickets are sold on a first-come, first-served basis and go on sale September 2 at 8 a.m. Call Lauren Stalder at 417-883-7417 to reserve your tickets.
Click through to see 417 Magazine's Cooking Class courses and recipes
Smoked Trout en Croute
with herb oven-dried tomatoes
Serves 6
paired with Mumm Napa Brut Rose
For the filling
12 ounces sour cream
1 tablespoon chives, finely chopped
1 tablespoon fresh lemon juice
1 pound trout lightly smoked, skin removed and chilled
Salt and white pepper to taste
For the Vol au Vents
12 4-inch disks of puff pastry 
1 egg, well beaten
DIRECTIONS
Preheat oven to 300°F. Combine the sour cream, chives and lemon juice, and whisk lightly. Break up the chilled trout, and fold into the sour cream mixture. Season with salt and pepper. Cover, and refrigerate. Lay out six of the puff pastry disks on a baking sheet lined with parchment paper, and prick all over with a fork. With a 3-inch pastry cutter, create six rings out of the remaining puff pastry. Brush the pastry with the beaten egg, and place one of the pastry rings on top. Bake at 350°F until the pastries have risen and are golden in color. When cool, gently press down the interior of the "cup" to allow it to accept the filling. Place the cooled pastry shells on six plates, and fill the shells with the smoked trout filling. Top with the oven dried tomato, and serve. 
For the dried tomatoes
1 tablespoon sugar
2 tablespoons malt vinegar
1 teaspoon fresh herbs, finely chopped 
1 tablespoon extra-virgin olive oil
2 Roma tomatoes, quartered and seeded 
Pinch of salt and black pepper
DIRECTIONS
Whisk together the sugar, vinegar, fresh herbs and olive oil well with the salt and pepper. Add the tomatoes, and let stand at room temperature for 30 minutes. After 30 minutes, place the tomato quarters flesh side up on a baking sheet lined with parchment paper. Reserve the marinating liquid. Place the tomatoes in the oven for 1 and half hours, occasionally drizzling some of the reserved marinating liquid over the tomatoes. 
Beef Consommé
with garlic, leeks and thyme
Serves 6
paired with Row Eleven Viñas 3 Pinot noir
Ingredients
5 pounds lean beef, cut in pieces
3 pounds beef shin or shank
7 quarts cold water
Pinch of salt
3 large carrots, chopped
2 parsnips, chopped
12 ounces cleaned leek bottoms, chopped large 
2 celery stalks, sliced
1 medium onion, peeled, halved and with a clove in each half
1 garlic clove, smashed
1 sprig of fresh thyme
1 bay leaf
1½ pounds lean rough ground beef
4 ounces carrots, finely chopped
4 ounces leeks, finely chopped
2 egg whites
Directions
In a large pot, place the lean beef and the shin, and add the cold water. Bring to a boil, and remove the scum that forms. Reduce heat to a simmer, and add salt. Add the carrots, parsnips, leeks, celery and onion, garlic, thyme and bay leaf. Simmer for 4 hours. Strain the stock, remove all surface fat, and cool. In a separate stock pot, combine the ground beef, carrots, leeks and egg whites. Add the cold beef stock, and heat, gently stirring. When it's about to boil, reduce the heat. Simmer for 1 hour. Continue to remove any fat. Strain the stock through cheese cloth, season and set aside. Reserve six cups for braising the short ribs. Serve seasoned consommé with small balled potatoes and green peas.
Braised Beef Short Ribs
with roasted Ozark field potatoes and late harvest fresh vegetables
Serves 6
paired with Mulderbosch Faithful Hound
Ingredients
4 cups dry red wine
2 large carrots,  chopped
2 leek bottoms, chopped
1 small white onion, peeled and chopped
5 cloves of garlic, smashed
½ cup flat leaf parsley, chopped
2 large sprigs thyme
1 bay leaf
1 orange, cut into eighths
6 pounds beef short ribs 
6 cups beef stock reserved from consommé
Vegetable oil All-purpose flour 
Directions
Combine the first nine ingredients, and bring to a boil in a large pot. Cool the marinade completely, and add to the short ribs in Ziploc bags. Marinate for 8 hours. Allow the ribs to air-dry for a few minutes. Strain the marinade, and reserve the vegetables. Boil the marinade liquid, and skim the fat. In a large skillet, heat the vegetable oil, dust the ribs with flour and brown. Transfer ribs to a large braising dish. Caramelize the remaining marinade vegetables in the same skillet used to brown the ribs. Add the vegetables, skimmed marinade and the 6 cups of reserved beef stock. Ensure the ribs are fully covered with liquid, and braise on the stove top for 3½ hours. Remove ribs, strain juices, and place in a stock pot. Bring juices to a boil, reduce heat and skim the fat. Slowly reduce to sauce consistency and season with salt and pepper. Serve with roasted new potatoes and seasonal roasted root vegetables.
Citrus Berry Tart
with local berries and a decadent Askinosie chocolate sauce
Serves 6
paired with Stella Rosa Rosso
For the Citrus Curd 
½ cup fresh citrus 
juice with zest
½ cup sugar
3 eggs
6 ounces unsalted butter 
Directions
Whisk together juice, sugar and eggs in a stainless steel bowl over a water bath. When incorporated, add the butter and cook to a pudding-like consistency. Turn out and cool.  
For the Tartlets 
1 cup flour
1 teaspoon sugar
Pinch of salt
8 tablespoons butter, cubed and chilled
¼ cup ice water
Directions
In a food processor, blend the flour, sugar and salt. Add the chilled butter slowly and then the ice water. Turn dough out onto a floured surface, and knead gently. Flatten dough, wrap and chill for 30 minutes. Roll the dough on a floured surface to 1/8-inch thickness. Cut 5-inch disks for the tartlets. Form tartlets in small molds, and bake until brown. Remove and cool. To serve, pipe citrus curd into pastry shell. Garnish with whip cream, fresh seasonal berries and chocolate sauce.
For the Chocolate Sauce
1 cup water
½ cup sugar
½ cup agave nectar
¾ cup Askinosie cocoa powder
2 ounces Askinosie semi-sweet chocolate
DIRECTIONS
Heat the first four ingredients in a sauce pan. Add the chocolate, and whisk well until a sauce consistency is formed.