Reviews
Vasken's Deli
Vasken's Deli is known for its killer gyros, but it serves up another pita sandwich that has completely won us over.
by Katie Pollock Estes | Photos by Brandon Alms
Sep 2014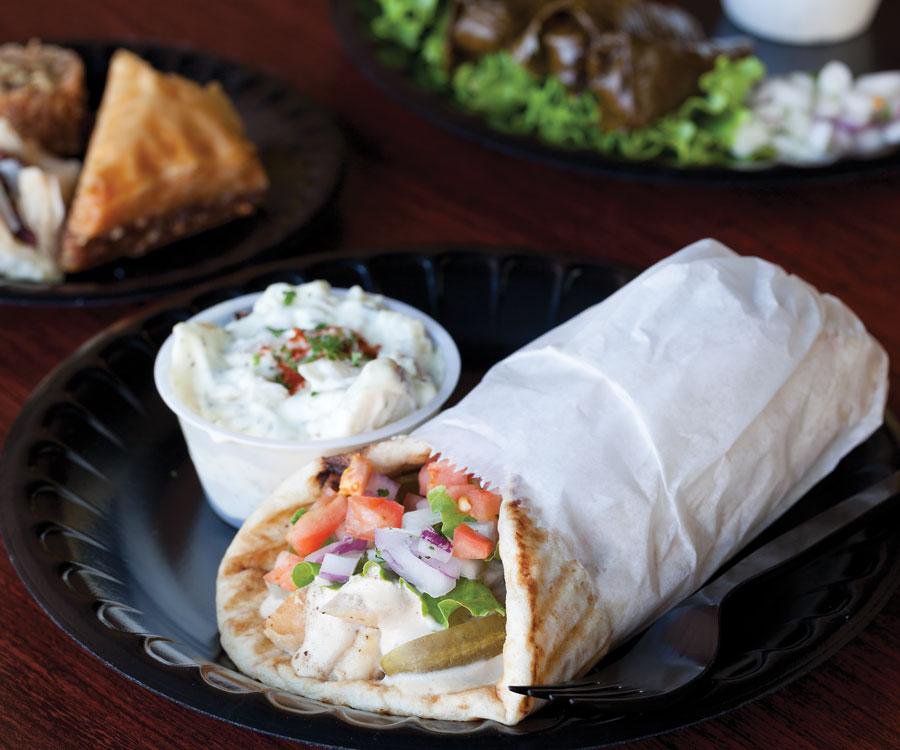 Vasken's Deli has long had a reputation at its Branson location for incredible gyros, and fans of the spot were thrilled when the restaurant opened up a second location in Springfield. (More gyros for everyone!) In the months since the newer restaurant has been operating in the Battlefield Marketplace, it has been serving up delicious Mediterranean flavors to a busy dining room full of hungry patrons.
On a recent visit, I strayed from the tried-and-true gyro and opted instead for a chicken shawerma sandwich. The seasoned chicken is packed into a warm, soft pita and topped with leaf lettuce, diced tomatoes, red onions, pickles and (my favorite part) lots of tahini sauce. It comes with your choice of a side (I had the potato salad), so this big sandwich is a steal at $6.99. I am one of those people who thinks pickles make everything better, so I loved that addition to the sandwich. Just a little bit of zip to liven the whole thing up. Every bite made my mouth water for more. The chicken was so tender and well-seasoned, and the tahini that dripped over all the fillings tied the whole thing together. Even though the sandwich had plenty of tahini sauce on it, I found myself wishing for even more, so I could dunk the more naked bits of sandwich into it. In all honesty, I would gladly have guzzled a little ramekin of the stuff. So delicious.
When I was ordering that wonderful shawerma sandwich, I couldn't help but eye the glass case filled with tiny baklava desserts, and on my way out I ordered five of them to bring back to the office and share with my co-workers: Greek baklava, pistachio baklava, bird's nest, mini rose and burma. All of these are pretty, little creations made in lots of different shapes using phyllo dough and various fillings, and each one is big enough for just a few bites. My favorite was the mini rose (which had only the tiniest hint of floral flavor but lots of honey sweetness inside crisp layers of phyllo), but I also could have eaten that Greek baklava all day long. And then again the next day. It's so delicious if you're the kind of person who can't get enough of the combo of nuts and honey.
On a later visit when I got take-out instead of dining in, I tried to branch out and try something new, but I was drawn into that shawerma sandwich again. It's the tahini—I just can't resist it! But I also ordered the stuffed grape leaves appetizer to share with my husband, and I was not disappointed. In fact, we'll just add that to the list of things I'm addicted to at this place. The tender grape leaves are filled with rice and lots of zippy lemon, so they are simultaneously savory and a little tangy. The perfect side dish to my new favorite sandwich.
The casual atmosphere at Vasken's Deli in Springfield is just one of the reasons why hungry patrons pack in here.