Profiles
Justin Britt
Seattle Seahawks' Justin Britt is a 417-land native who made it from playing under small-town Friday night lights to tackling opponents among cheers of the NFL's loudest fans. Read about his journey from high school to the pros, and how he gives back to t
by Rose Marthis | Photos courtesy Justin Britt
Sep 2015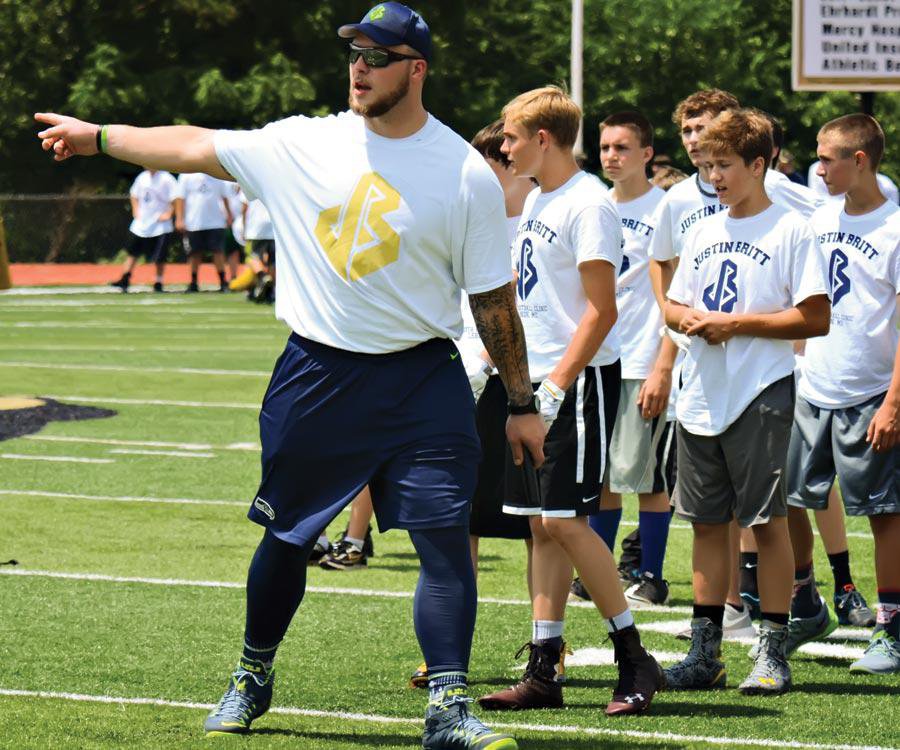 From Lebanon High School in 2009 to Super Bowl XLVIII in 2015, Justin Britt has had a memorable journey since leaving 417-land. The offensive lineman spent his first NFL season starting every game in front of quarterback Russell Wilson, blocking defenders all the way to the Seattle Seahawks' first Super Bowl victory. Before being drafted in the second round of the 2014 NFL Draft, he spent five years at the University of Missouri, working his way from a redshirt freshman to an experienced leader on the front line. 
After playing his entire career close to home, Britt says the move to Washington to play in the NFL was exciting but tough on his family. He still makes sure he's connected to home, though, and started summer youth football camps in Lebanon and Columbia. "I wanted to do something to give back to the community because they haven't had a lot to look up to," he says. "I wanted to be a positive role model." 
Britt got the idea to hold his own camp after attending one hosted by Seahawk quarterback Russell Wilson and seeing how much the kids loved it. Britt holds two camps for kids ages 7 to 18 and says he wants to start a spring offensive line camp and a wrestling camp in the near future. 
He still follows Mizzou football when he can, and when he gets some free time here at home, Britt says he loves to visit with his old football and wrestling coaching staffs. You can also catch him on the water fishing with coaches from his days in 417-land.
KNOW THE PRO
We talked all things football with Justin Britt. 
417 Magazine: What was your favorite football team growing up?
Justin Britt: I didn't have a favorite team. I had favorite players: Michael Vick, Jerry Rice and Dante Hall. 
417: What was it like playing at Mizzou during the move to the SEC? 
J.B.: It was awesome from a player standpoint. It was good for the players looking to go to the NFL. We had better exposure to the league, and the league had better exposure to us. 
417: Do you think the move (in 2012) helped you get drafted? 
J.B.: Yes. The competition level was raised, so the league got a better look at how I go against better players. 
417: What was your first thought when you stepped onto the field for the Super Bowl? 
J.B.: I was just ready to get the game going. I was more prepared for that game than I was for the first game of the year. 
417: What's it like playing in the loudest stadium in the NFL?
J.B.: We have the best fans. There's no place like it. The difference between Kansas City fans and Seattle fans is that Seattle fans don't pick and choose a play to get loud on and be loud once for a record we don't care about. 
417: Sounds like people have argued with you on that before.
J.B.: I have to protect my house. 
417: What's it like playing in the league when issues of concussions and injuries are becoming more prevalent?
J.B.: Playing offensive line, you're not really running full speed and hitting people. Some of it is taking football away from football. We're putting too much emphasis on injuries. You can't worry about getting hurt; you just have to play the game.