Style
Shaila's, Nixa MO
Shaila's, a women's boutique in Nixa, sells on-trend clothing and accessories all priced at $50 or less.
by Savannah Waszczuk | Photos by Kevin O'Riley
Sep 2015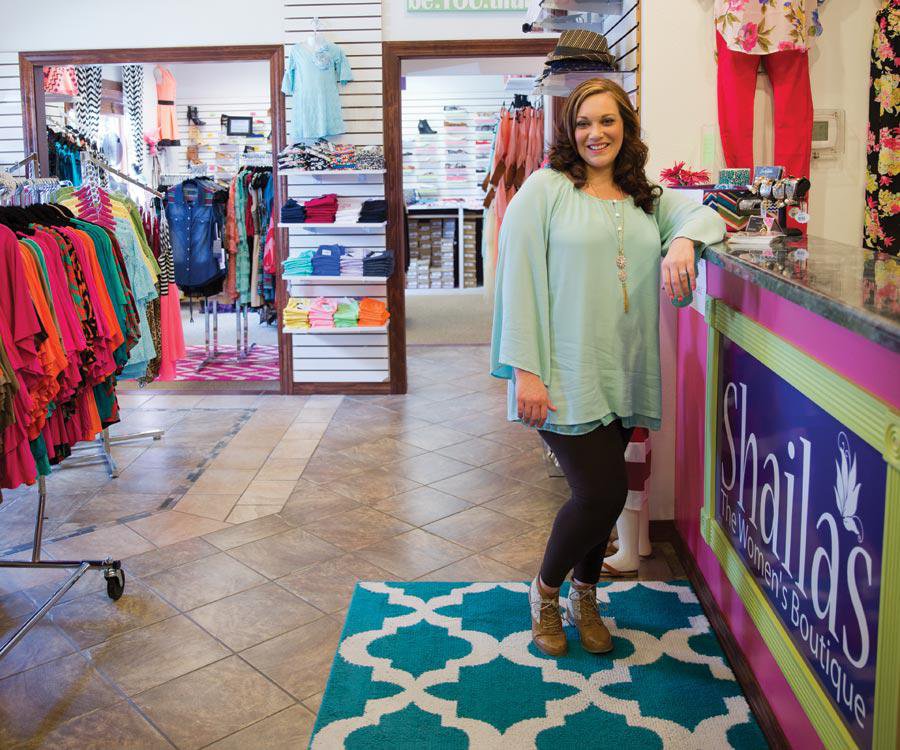 Editor's Note: Shaila's has closed since the initial publication of this article.


As Ashley Holt thinks back on her relationship with fashion, her senior year of high school is the first thing that comes to mind. "I remember one day, one of my friends said, 'Ashley, I bet you could go every day and not wear the same thing,'" she says. "I ended up winning Best Dressed in my senior class." 
After graduating, Holt (who's now the owner of Shaila's Boutique) packed up much of her wardrobe and left the small town of Salem, Missouri, to move to Springfield, where she studied at Ozarks Technical Community College and then Missouri State University. "I studied accounting, but after one tax season I realized that wasn't for me," she says. But Holt was good with numbers, and she decided to put those skills to use in another way: it wasn't long before she worked her way into opening her very own logistics company. 
Although the logistics business kept her plenty busy, Holt wasn't quite satisfied. "I've always really liked fashion, but I didn't like how I'd go shopping and pick up five things and it would end up being $500," she says. She wanted to open a store where women could buy new clothes and on-trend accessories every season without totally breaking their budgets. "My goal was to open a store where everything was $50 or less," she says.
Holt opened Shaila's, a women's boutique tucked away on a side street in Nixa, in November 2013. The store sells a variety of apparel and accessories for children and women from sizes newborn to 3X, and it's all priced at $50 or less. You'll find everything from casual tees, dresses and kimonos to slightly dressier pieces that would be appropriate for a special party or an evening out. Some items are $50, but many of the dresses and tees are priced around $20 to $30. There are also plenty of shoes up for grabs, and scarves and bags to complete your new outfit. And we can't forget to mention the tanks and leggings, which are both some of Shaila's biggest sellers. 
Whether you're a mom shopping for her little ones or a grandma shopping for yourself, you'll likely find clothes you'll want for your own closet. "I wear clothes from the store, and I dress my girls in clothes from the store, too," Holt says. 
While Holt still owns and operates her logistics company, she also spends plenty of time at Shaila's, which has a second location in Salem. "We started our Salem store on Facebook, but then it grew into another boutique location," she says. And it's her time at both of the boutiques, and working with clients, that she enjoys the most. "I've even set up appointments with shoppers to help them find clothing that's flattering for them," Holt says. "I like to think of myself as their personal designer."
Q&A with Shaila's owner Ashley Holt
417 Magazine: What is the most essential piece of a woman's wardrobe?
Ashley Holt: Everyone needs an undertank. We sell these one-size-fits-all undertanks, and I wear them under almost everything. They make your clothes lay better. Also, layering is very in right now.
417: When it comes to creating a feel for your shoppers, what is the most important thing?
A.H.: I would say that they feel comfortable and like they belong here. I try really hard to make it a place that is not age-specific. I shop here, and my mother-in-law shops here. I want people to come in with their daughters and shop. I don't want them to think anything feels "too young" for them. 
417: What's one thing that your store offers that is not available at any other store in 417-land?
A.H.: The budget thing is big for us. To shop at a store and know that anything you pick up won't be more than $50 is pretty rare. Also, I would say our range of sizes. 
417: If you had to describe your merchandise in two words, what would you say?
A.H.: Stylish and affordable.