Travel
Scotland's Can't-Miss Castles, Pubs, Adventures & Lodging
Prepare to have your breath taken away at least once on this trip with adventures through the great outdoors, historic sites, top-notch drinking spots and local ingenuity.
By Joan Whitaker
Sep 2017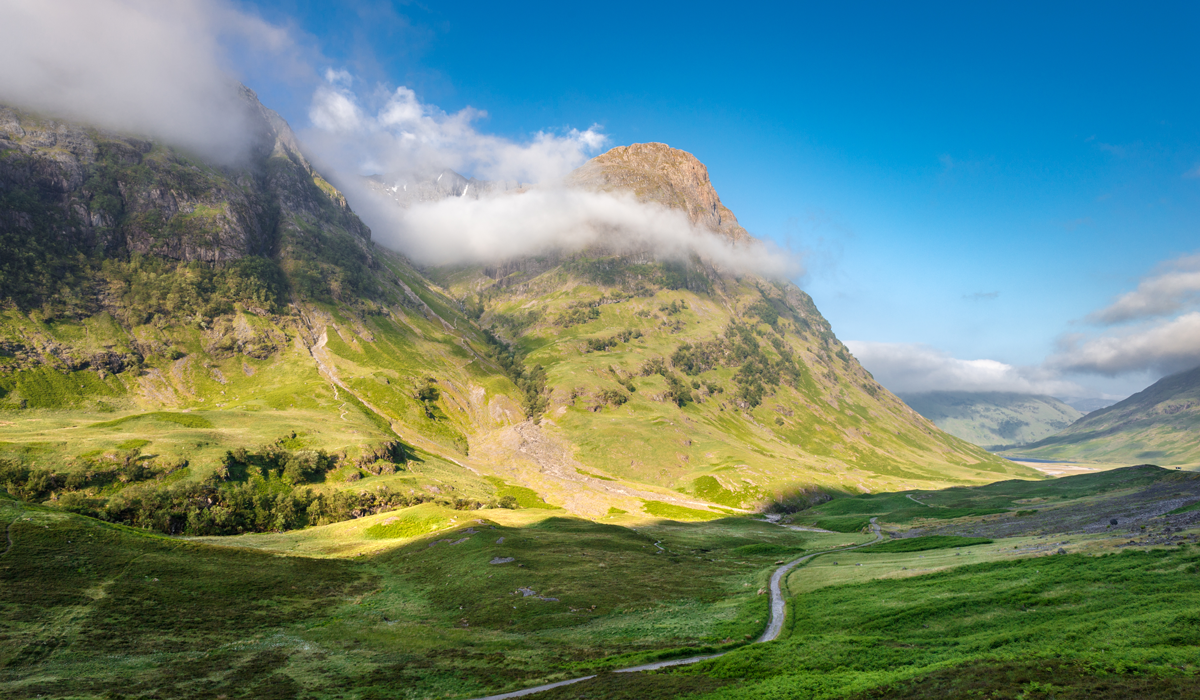 You take the high road, and I'll take the low road, and we'll meet on the bonnie, bonnie banks of Loch Lomand. Those words are paraphrased from the popular song "Loch Lomand." Its symbolism and association with Scotland is like baseball and apple pie to the USA. There is disagreement on the meaning of the melancholy tune. Depending who you ask, it's about the death of one's lover or fairies carrying the soul of a dead soldier to heaven. Regardless, everyone agrees it's about the turning point in Scotland's long and violent history: the Jacobite uprising, which ended at the Battle of Culloden in 1746.
You might have studied Scottish history as part of European history back in the day, and your eyes and brain more than likely glazed over at all the battles, exchanges of power, rulers named James, Charles or Henry. And don't forget Mary, Queen of Scots. Off with her head! And Mel Gibson—I mean William Wallace—who was drawn and quartered for his patriotism.
Then there are the warring clans, the most famous being the Campbells and MacDonalds. Think Hatfield and McCoys, only more brutal.
Despite its violent history, Scotland is one of the most interesting and beautiful countries you're likely to find. It's wild and untamed, rough and rugged and sparsely populated, allowing miles and miles of open range and harboring more sheep than people.
So why go to Scotland? We've rounded up a whole slew of reasons to move Scotland to the top of your bucket list.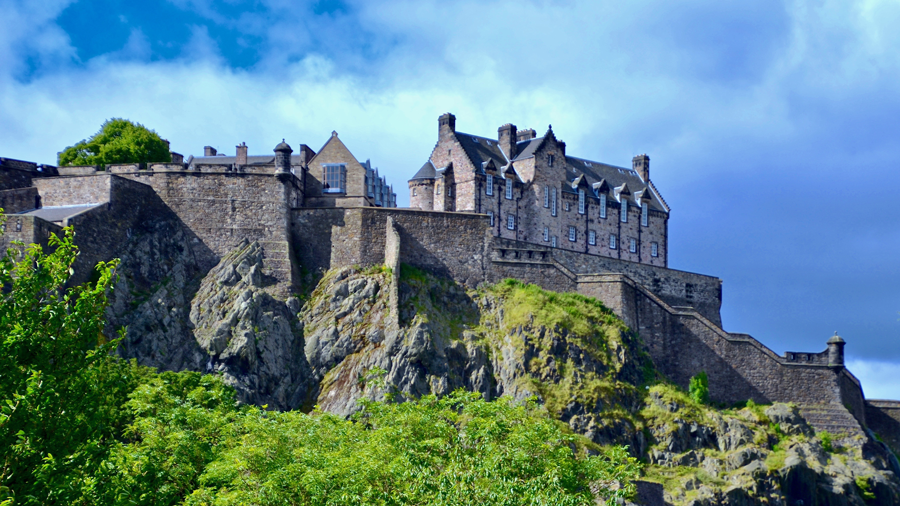 Castles and More Castles
Scotland is castle country. It's hard to drive very far without spotting one. Volumes have been written about the multitude of Scottish castles and several figure prominently in Shakespeare's works. This makes it difficult to narrow it down to just a few, but we found six particularly interesting ones you shouldn't miss.
Edinburgh Castle is the queen mother, so to speak. It is the No. 1 tourist attraction in all of Scotland. Dominating the Edinburgh skyline, it is perched on a volcanic rock seated at the top of the Royal Mile, the road between the castle and Holyrood Palace. Because Edinburgh Castle has been a royal palace as well as a military post, it is heavily fortified. It seems impossible that it could be penetrated by invaders, and yet it has been, over and over. Today, among other things, it houses the Crown Jewels of Scotland and the Stone of Destiny. Schedule to be there for the one o'clock gun firing.
Like Edinburgh Castle, Stirling Castle has been a royal palace and military post, so it, too, is perched high on a volcanic rock and heavily fortified. In past times of war, Stirling played a crucial role in defending the Highlands. Views from the castle have a straight shot to the bridge over the River Forth, which was the first over the Forth that invaders from the south could cross. Famous figures such as Mary, Queen of Scots, Robert the Bruce and William Wallace all passed through its gates.
Located in Perthshire, Blair Castle looks different from most castles in that it is whitewashed instead of walled in stone. It creates quite a beautiful scene as you approach on a lane lined with giant lime trees that look straight out of The Wizard of Oz. These are not fruit-bearing lime trees; they are linden trees. Blair Castle is the ancestral home of Clan Murray and is the seat of their chief, the Duke of Atholl. It also houses the only private army in Scotland. Inside is an impressive weapons collection, intricate plasterwork, magnificent furnishings and spectacular gardens. If for no other reason, go to see the mammoth ballroom.
Inveraray Castle is the ancestral seat of the Dukes of Argyll, chiefs of the Clan Campbell. The Armory Hall is a reminder of the often violent history of Clan Campbell. More than 1,300 weapons, including swords from the Battle of Culloden, are displayed. The exterior and interior of the castle are everything you imagine a castle being—soaring stone towers, perfectly landscaped gardens, exquisite period furniture, beautiful tapestries, ceilings with elaborate plaster moldings, elegance at every turn—but what impresses me most are the family photos carefully placed throughout the castle. The current chief of Clan Campbell and his family live there, and the photos are evidence that this is still a home.
Eilean Donan Castle is probably Scotland's most photographed Castle and its most iconic symbol. When the three sea lochs surrounding the castle are at high tide, the castle is completely encircled by water. A beautiful foot bridge leads from the shore to the castle. Eilean Donan is not an opulent castle like Blair or Inveraray Castle. It is far more medieval. Admission allows you to wander freely through narrow passages and up staircases, leading to various towers and rooms. For four generations, the MacRae family has been, and remains, the constables of Eilean Donan Castle. If you're lucky, you might visit in time to see a wedding.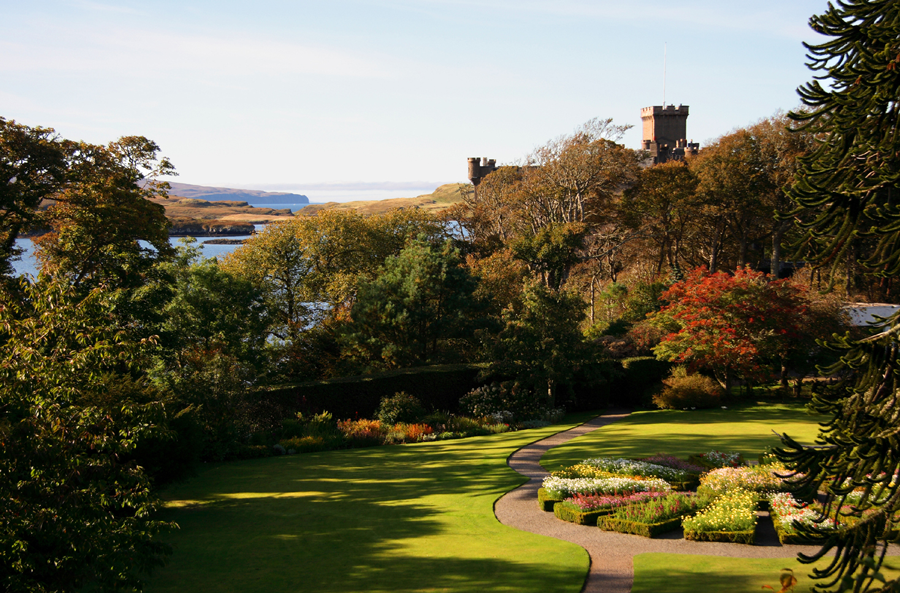 Dunvegan Castle is the imposing, medieval ancestral home of Clan MacLeod and is perched on a high rock (do you notice a pattern here?) overlooking an inlet of Loch Dunvegan on the Isle of Skye. Most of the rooms are open for tours, but because members of the MacLeod family still live there, the third floor is off-limits. Family portraits are everywhere. The most interesting is of Norman MacLeod, the 22nd Chief, who, in his life-size portrait, is dressed head to toe in red tartan. His nickname was "The Red Man," but he was later called "The Wicked Man." He earned that name, in part, for the treatment of his first wife. He so despised her he had her dropped in a pit in the dungeon and left her to starve to death.
The highlight of Dunvegan is the gardens. They cover more than 40 acres, encompassing woodland and water as well as informal, round and formal gardens. The unusual is mixed with the common to create interest at every turn. Although most castles have some gardens, these were the most interesting for their diversity.
As we prepared to leave, I noticed a couple of new cars and a child's bike in a driveway that was mostly hidden. It was a living reminder that this, like Inveraray, is also a home.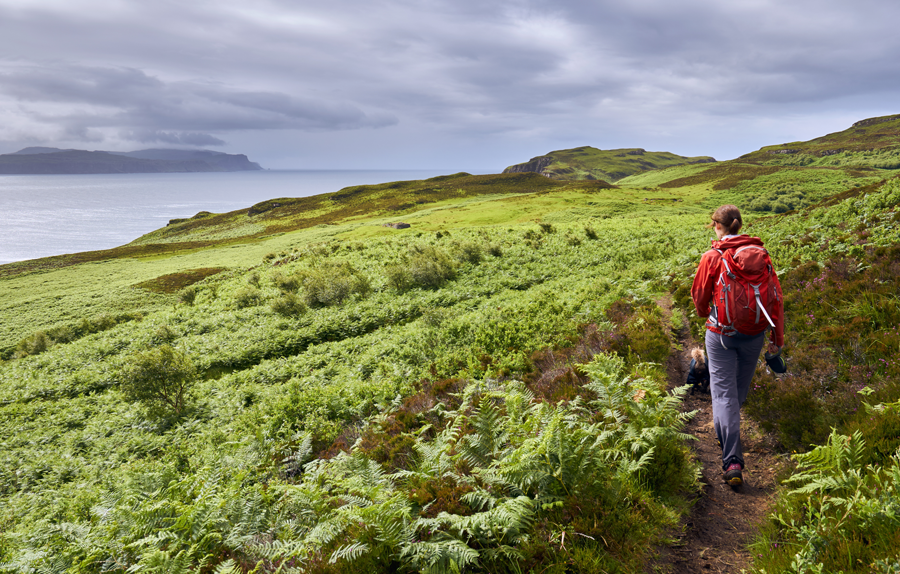 The Great Outdoors
Prepare to have your breath taken away at least once on this trip, and an easy way to accomplish that task is to head to the Isle of Skye. There, jagged mountains, soft sand beaches, crashing waves against high cliffs, and tiny villages (with no grocery store in sight) fill the landscape. It's said Skye is a place time forgot. Time may have forgotten, but the wind didn't. If you can find a tree, chances are it's leaning eastward. Skye is photo-op heaven, and one must-get photo is Kilt Rock Falls, a waterfall gushing over the edge of a cliff and tumbling into the sea. It's absolutely stunning.
Carve out some time to visit Loch Lomond and Loch Ness, just because. Fort Augustus sits on the southern edge of Loch Ness. Be there at lunchtime for the best steak pie in Scotland at Bothy. They pour a nice pint of Guinness, too.
Drive (or hire a driver to take you on) the A83 between Loch Lomond and Loch Fyne. Soldiers who built the road in 1753 inscribed "Rest and Be Thankful" to remind travelers to be thankful for having reached the top. The views are spectacular.
Everyone knows Scotland is the birthplace of the modern game of golf, and playing the Old Course at St. Andrews is an almost religious experience. According to golf.com, the top five courses are all in Scotland: The Old Course at St. Andrews, Fife; Muirfield, Gullane, East Lothian; Royal Dornoch, Dornoch, Sutherland; Turnberry, Turnberry; and Carnoustie, Angus, Carnoustie. But there are far more outdoor adventures in Scotland beyond the greens.
You'll find mountain biking as well as road biking with all levels of difficulty throughout the country. Go to visitscotland.com for companies that offer rides as short as a half day and as long as a week. If wheels aren't your thing, there are miles and miles and more miles of hiking trails throughout the Highlands. National Geographic Expeditions offers a seven-day hike that covers a lot of ground. Walkhighlands.co.uk has great info on shorter hikes.
If there's one thing that's abundant in Scotland, it's water. There are more than 31,000 freshwater lochs. Of these, Loch Lomond is the largest in surface area, Loch Morar is the deepest and Loch Ness is largest in volume, which may be how Nessie can hide from us so well.
With the abundance of water, trout, salmon and pike as well as salt water fishing are all easy to schedule. For the do-it-yourself fisherman, fishpal.com/Scotland has great info on who's catching what where and river levels. For those wanting a more all-inclusive fishing experience with a professional guide, check out Scotia Fishing.
Scotland also has a plethora of mountains covered in snow, which melts in the summer and creates fun rafting. From a leisurely float on River Lochy to class-five rapids on River Morrison, there's no shortage of places to get wet. Boating, kayaking and surfing of all varieties are also available if you're willing to brave the cold water.
If you prefer to climb the mountains or scale the rock faces from which the water tumbles, you'll find your challenge in Scotland. Scotclimb.org.uk is a good place to begin your search for the perfect climb.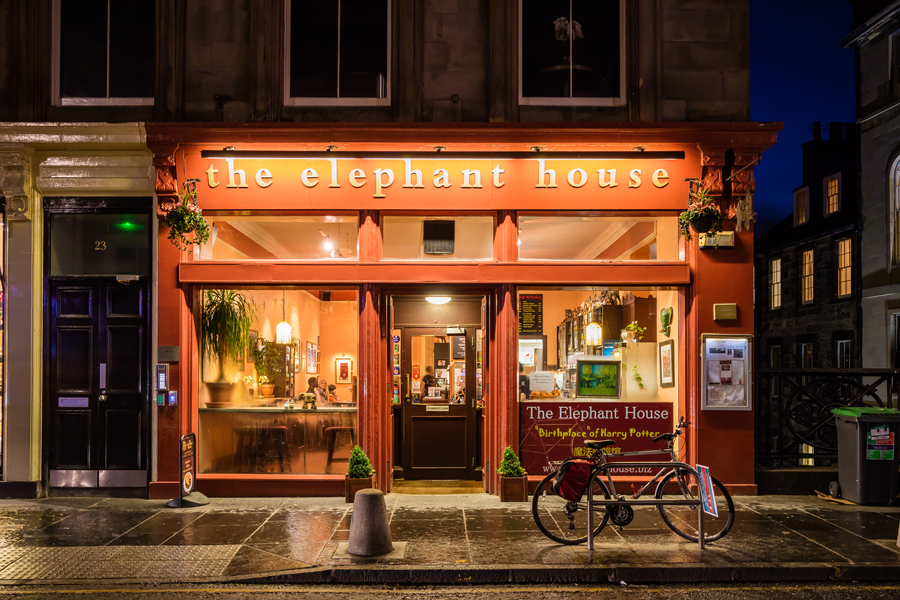 The Great Indoors
If your idea of a vacation involves little to no physical exertion, Scotland still offers plenty to enjoy, especially if you're wanting to imbibe a bit.
You don't have to go far to find a distillery, tasting room or pub. If you aren't sure what to order, just chat up a bartender. They love helping you discover your favorite. Peat or no peat? That is the question.
I don't know if whisky is more popular than golf in Scotland, but I do know you can easily lose interest in golf after a few wee drams. And there's no "e" in Scotch whisky. To get an "e," you'll have to go to Ireland for Irish whiskey.
No matter how many drinks you've had, don't miss old town Edinburgh, which is a historic site. Walk the Royal Mile from the Edinburgh Castle all the way to Holyrood Palace, the Queen's home when she visits. You'll pass the ultra-modern Parliament building, which looks out-of-place among the old brick buildings. A couple of fun places to see are The Elephant House, the coffee shop where J.K. Rowling penned early Harry Potter stories, and Greyfriars Bobby. Local lore has it that John Gray, a local policeman, had a Skye Terrier named Bobby. John died and was buried in Greyfriars graveyard. It is said Bobby so missed his master, he guarded his grave until his own death 14 years later. Now, a statue of Bobby sits atop a fountain at the corner of Candlemaker Row and George IV Bridge. If you rub Bobby's nose, it will bring you good luck.
Just outside Edinburgh is the beautiful Rosslyn Chapel, built in 1446 and made famous by Dan Brown's book The Da Vinci Code. It is worth the effort to see this magnificent and lovingly cared for chapel, which remains an active house of worship.
To go along with beautiful places, see some beautiful people at St. Andrews and Gleneagles, even if you go for no other reason than to rub shoulders.
While you're exploring, check out Pitlochry. Sure, it's touristy, but you're a tourist, right? The Victorian architecture draws visitors, but it's the playing, eating and shopping that keeps them coming back. It's right off the A9 between Perth and Stirling.
For a dose of history, head to Inverness to visit the site of the Battle of Culloden. The museum is very well done, and you can tour the battlefield if you wish. This is Scotland's Gettysburg, and it is just as solemn and sad. For history-lovers, it is a must-see.
 
Local Ingenuity
Scots have a tremendous sense of humor. Remember the childhood rhyme Georgie Porgie? 
Georgie Porgie, puddin' and pie
Kissed the girls and made them cry
When the boys came out to play
Georgie Porgie ran away
That little ditty was coined about King George IV, who enjoyed excessive eating.
They are smart, too. Scots are rich with inventions—things we still use every day, including bicycles, flush toilets, adhesive postage stamps and the first edition of the Encyclopedia Brittanica. And, of course, golf. Perhaps the most famous in recent history is Dolly, the cloned sheep. (The cloning was done by Brits, but they accomplished it in Scotland.) She, along with many other Scottish inventions, is on display at the National Museum of Scotland in Edinburgh. It's free and worth a half-day or more.
 
Rest Your Weary Head
Nira Caledonia in Edinburgh is not a tourist hotel. Rather it's located discreetly in a row of beautiful Georgian townhomes. It's a little oasis offering charming rooms, a gourmet restaurant and an extremely helpful staff. Two words of caution though: No elevator. The staff is more than happy to schlep your bags, though.
For the more modern traveler, Colessio Hotel in Stirling offers beautiful rooms. It's located downtown and within walking distance of shops and restaurants.
For a more country-estate feel than commercial hotel vibe, Pine Trees Hotel in Pitlochry is for you. The restaurant is outstanding.
If the 18th century restored mansion aspect of Coul House in Contin doesn't get you, the delicious food, extensive wine list, elegant rooms and beautiful grounds will. Coul House is located about 30 miles north of Inverness.
Castles, comfort food and crags await you in Scotland. With plenty of places and adventures to fill your itinerary, there's nothing stopping you from visiting Nessie. Take 417 Magazine with you and send us a picture!
 
Tunes for Your Travels
Learn these tunes so you can stop your foot, clap your hands, cry like a baby, laugh until you cry and sing like a local.
By the Dubliners: "Molly Malone," "Wild Rover," "Whiskey in the Jar," "Seven Drunken Nights"
By Steve Earle: "Galway Girl"
By Frank Patterson for the authentic: "Danny Boy"
By Eva Cassidy for the beautiful: "Danny Boy"
By Daniel O'Donnell: "Galway Bay"

If trying to plan all this makes your head swim, fear not.
Best Scottish Tours is a family-owned business specializing in (mostly) all-inclusive tours for groups no larger than 10 people. Tour lengths range from three to 10 days, and the driver doubles as your guide. Vehicles are new and comfortable. Admission to most places, overnight accommodations plus full Scottish breakfast and dinner are included in the price. The best part is they will run the tour, even if it's only for two people, so you don't have to worry about making your plans and having them canceled because of too few people. And, if you don't care for the itinerary, they will customize one for you. Easy peasy.