Life
Meet 417 Magazine's New Food Editor Jorge Cespedes
417 Magazine's new food editor, Jorge Cespedes, tells us about his experiences in the food industry, his favorite Springfield foodie spots and his favorite meals to cook at home.
By Kate Duby
Dec 2021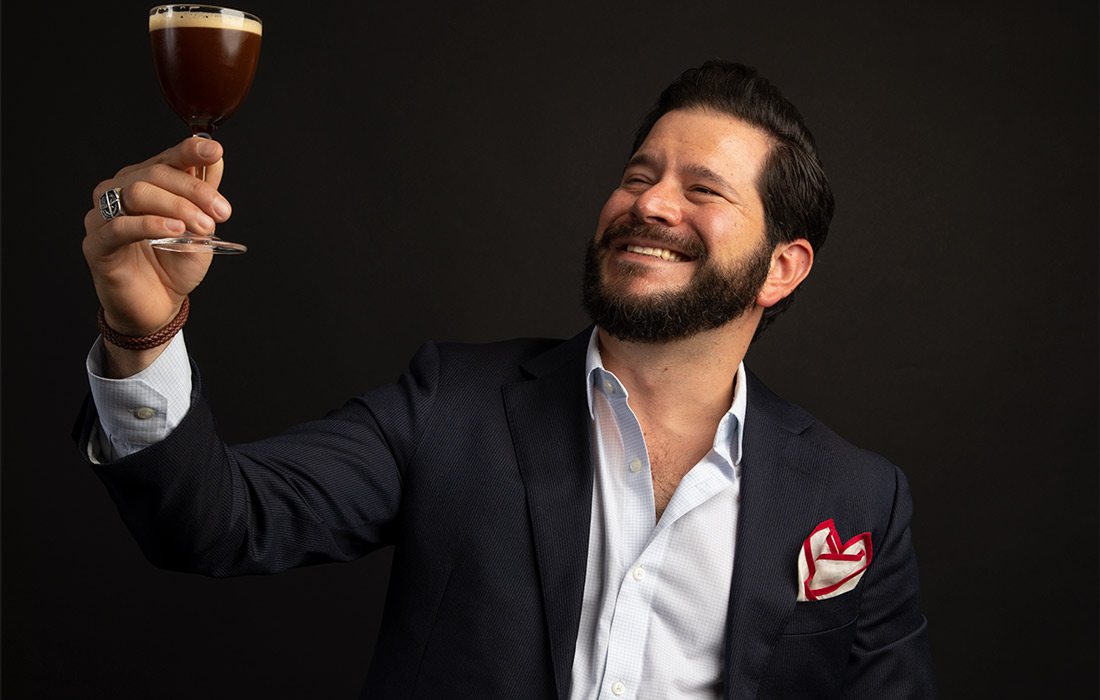 From Costa Rica to culinary school to southwest Missouri, Jorge Cespedes has roamed the globe tasting, developing, sharing and learning about good food. Now he's bringing his expertise to the page at 417 Magazine as our new Food Editor.
You'll see Jorge's culinary musings, food reviews and dining roundups from now on in the magazine's Taste section as he curates and develops our dining content. But the road that lead him here curved across the world. He grew up in Costa Rica before attending culinary school at Johnson and Wales University in Providence, Rhode Island.
"It's a town with such good food, and I think it's mostly due to the school having so much talent there," he says. Students started working in restaurants then came up with their own concepts. Cespedes says. "I worked for some chefs in restaurants, and it was good [that I did] because I realized that I didn't want to be a restaurant chef. I loved food, but I didn't love making it. I loved the creation part of it—the creative process, coming up with a recipe or an idea. But making it every day is not fun."
At Johnson and Wales, Cespedes worked for the university in their special events department, helping them with the VIP chefs that would come in. "It was cool because I met a lot of important people," he says. During that time, he was contacted by Springfield-based Food IQ, owned by Marlin Network, a culinary marketing company. "All of a sudden, I found myself in the marketing side and the consulting side of food, and it was eye-opening," he says. "It was a whole world that I didn't know existed. I immediately started helping fast-food chains develop their menus, and my job was more about the inspirational side of things. Most of the time, I would suggest we take a trip to get inspired. We would go to New York City or Atlanta, or Chicago or Dallas, and we would eat our way through the city, which was amazing."
In that role, Cespedes served as corporate chef at events for brands like Bush's Beans and Coca-Cola. He would do demo recipes on stage and talk about new food ideas. "We worked so much with Coca-Cola that for two years I moved to Atlanta, just because I was in Coca-Cola headquarters every week," he says. "It was awesome—Atlanta is one of the best food cities in the country."
But after a while, traveling 90% of the time grew tiring, so he moved into a more creative role as culinary creative director for The Alchemedia Project and Marlin Network, focusing on content creation. He directs photoshoots and video shoots, creates videos for clients and helps with their campaigns. Still in his role at Marlin Network, Cespedes's passion for travel and understanding food cultures is also being shared with 417 readers as he digs into Springfield's own food community.
417 Magazine: Take us on a food and drink tour of Springfield. What would the day look like?
Jorge Cespedes: It'd be hard to pick one [coffee shop], but we'd start at maybe The Coffee Ethic. We'd grab a coffee there and walk around downtown. I think we should have breakfast at Rise. I love the kind of food they're presenting, the portions aren't too big and it's just an enjoyable-sized meal. For a mid-morning snack, we'd go to Culture Counter and get a fresh juice. Then for lunch, I think something fun and easy—maybe sandwiches at Cherry Picker. My favorite sandwich there is one called To Brie or Not to Brie, and it's a simple, European-style sandwich. I think there we have a glass of wine with our sandwich, to keep the day going, and then for dessert we should have an affogato. You can get a scoop of ice cream at Culture Counter and then come over and have an espresso poured over it at Cherry Picker. [For] afternoon cocktails, I think I would start at Vantage because I love the view from up there, and the place is gorgeous. One of my favorite pre-dinner drinks is a martini, always—a gin martini with white vermouth—stirred, never shaken, because that's an atrocity. And only finished with a lemon twist, never an olive. Dinner-wise, there are so many options. I love what Andy Hampshire at Farmers Gastropub does. I would take us to dinner at Gastropub and enjoy some fun, English-style comfort food. [We'd] finish the night with a cocktail at Golden Girl Rum Club.
417: What's your favorite aspect of the local food scene?
J.C.: Right now, it's on a very important part of its evolution. It's changing for the better. I've been in Springfield for almost 10 years, and I can recall the change. Food quality has evolved. A lot of chefs are realizing that people in Springfield know more about food than they think they do. People travel a lot—they live here, but they travel. I've been speaking with chefs who have, in the past two to three years, lost the fear of ingredients that are "too out there" or "too new" or "too ethnic." And they have started to introduce those to their menus.
417: What meal do you love to cook for guests?
J.C.: I was raised in San Jose, Costa Rica, but my family's heritage is from Spain. When there were big events at our house, the dish was Spanish paella. That is definitely one of my favorite things to do for guests. It's very unique, it's very different from what people have experienced here and it's fun––it's a social dish. I like to make it outside over a fire, and it's a process of building layers over layers of flavor. The way you're cooking it, no matter when I'm doing it, it attracts people, and by the end of the meal, everybody at the party is just around the dish watching it cook. It's great because people talk, and they share stories and ask questions.
417: In the world of flavor, what are you most passionate about?
J.C.: It's the origin story of ingredients. Where do things come from, and what's the process from when they are being born on a farm to when they get to us? That curiosity started when I had my first cup of single-origin coffee––a really good cup of coffee [that] blew my mind. It was from Costa Rica. I had lived the first 25 years of my life there, and it tasted like nothing I'd ever tasted before.