Life
5 Best Ways to Bring the Fun Inside This Winter
It's the year's grayest month, so let's bring a little fun and color to the day with these indoor games and activities.
By Katie Pollock Estes
Feb 2023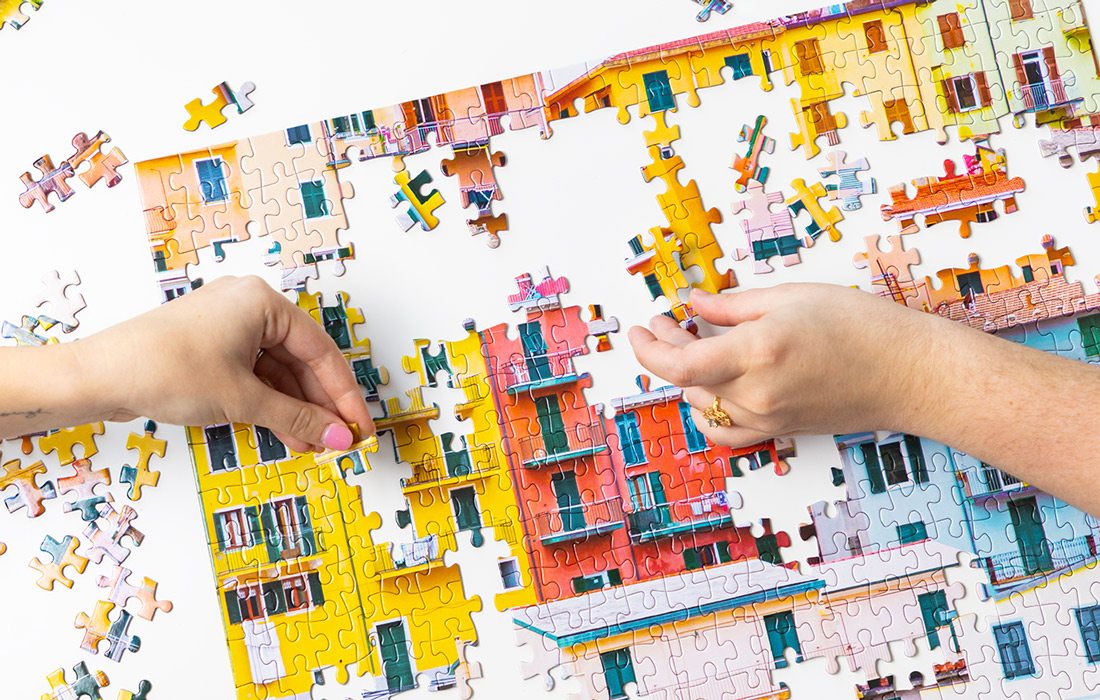 1. Artsy Puzzles
Both Pagination Bookshop and The Market carry some pretty jigsaw puzzles. Their vibrant colors and gorgeous artwork (in a variety of styles) bring the beauty, and the challenge of putting them together can add a little cozy fun to a chill day at home. A couple of favorites: At Pagination Bookshop, you can find a lovely double-sided puzzle that has a challenging black-and-white starry sky scene on one side and a colorful illustrated interior scene on the other. And at The Market, we've spotted beautiful vintage-style botanical puzzles that look practically frameable once they are assembled.
2. Chic Upgrades to Classic Games
At HIM, you'll find stylish games that are just as beautiful to display on your desk or coffee table as they are fun to play. Take for instance the giant, modern dominoes that come with a display case, the chic black-and-white tic-tac-toe game, or the beautiful chess sets.
3. Escape Together
Kill cabin fever but keep the game-playing spirit by heading to a local escape room, where you and your crew can hunt for hints and solve a giant, life-size themed puzzle. If you get out in time, you can celebrate your victory together at a local brewery. We can vouch for how fun that play-and-drink combo is! There are a handful of local escape room businesses, like Springfield Escape Room and 417 Escape Artist.
4. Board Game Rentals
If you're not a board game collector, but you're in the mood to try something out, Springfield-based Silver Twilight Games actually rents out board games. They carry popular games like Catan, Ticket to Ride and Codenames as well as a lot of games you've probably never heard of—so it's a perfect opportunity to gather up some friends and fun drinks and snacks, and make a night of it.
5. Combine Coffee and Games
There's another way to enjoy the fun of game night without the commitment of buying board games. The Cardboard Café is based in Joplin and hosts board-game pop-up events at local venues like coffee shops. There you can play one of their hundreds of games while you sip coffee and enjoy a little friend time. Past events have been at places like the coffee shop at Joplin Greenhouse, and more events are on the horizon for 2023.