Life
Big Fun for Little Kids in Springfield, MO
With two new options joining an already robust lineup, indoor toddler play places are having a moment, and we're here for it.
By Emily Letterman
Jun 2023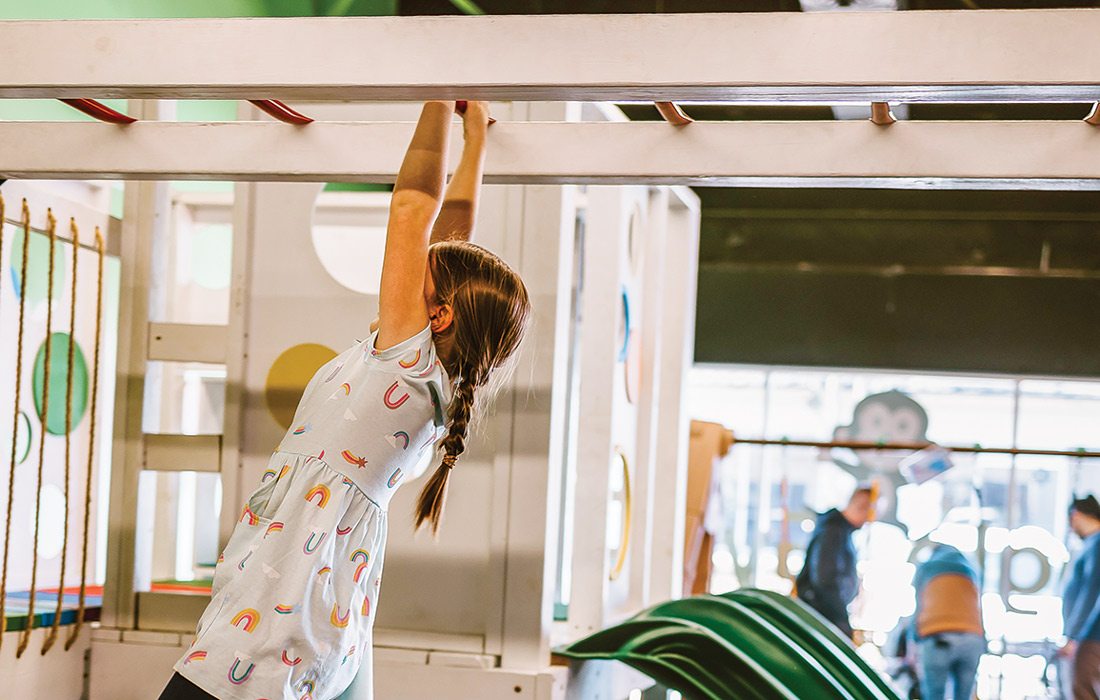 Wild Child Meets Calm Mama
Where the Wild Things Play
5557 N. 21st St., Suite 4, Ozark
Opening last year, Where the Wild Things Play offers up a bevy of imaginative play with a side of me time for parents. While my toddler plays in "Max's Market," "Wild Ivy Hair Co." or one of a half dozen other handcrafted spaces, I can relax with comfy seating throughout the play area. The best part? Unlike at other area indoor play spaces, I can take my coffee along for the ride. 
Toddler Options on the North side
Nana's Play Place
3550 N. Glenstone Ave., Suite K, Springfield
The newest addition to the 417-land indoor play place scene is a welcome extra on Springfield's north side. It's got it all: Wooden climber? Check. Bounce house? Check? Sand pit? Check. But as the newbie, it's also got a few upgrades for parents—like a phone charging station for my husband and complimentary locking cubbies for me and my armloads of toddler stuff. Bonus: One of the city's best kept pizza secrets is right next door.
For the Toddler With Big Ideas
Itty Bitty City
3640 S. Campbell Ave., Springfield
While Itty Bitty City may be small in name, it's big on imagination. Billed as a "creative play center," the art and science of learning through play are manifested in a small city just for kids—from a veterinarian's office to gas station and market. Parents, be prepared: That city also includes a local water works area. Itty Bitty City offers smocks for some protection, but I always bring a change of clothes for my girl. Speaking of water, the center requires hand washing before entry. The automatic machines are neat, but pack a punch for little hands. While the city portion tends to skew for an older toddler, they've also got a little ones play area in the center, giving the perfect watchful view for my friends with multiple ages. Unique to Itty Bitty City is the Playology lab. If you need us, we'll most likely be inside the window-painting nook.
Jump Up, Jump Up and Get Down
Imaginasium
3444 S. Campbell Ave., Suite O, Springfield
Imaginasium is full of squishy fun for little ones just learning to navigate the world, but complete with larger wooden equipment for growing kids. For us, the indoor bounce house reigns supreme, but we also love numerous tunnels, climbers and roller coasters. The sectioned-off parent area offers a small respite from the activity, but I still have full view of my toddler. If you're feeling really stressed, there's also a coin-operated message chair in the corner. A highlight for many is the slide and ball pit combo. If I let her, my daughter could spend all day sliding full speed into that ball pit. The balls go everywhere, but, thankfully, she also enjoys pretend cleaning them up. 
Run Toddler, Run
Jungle Gym
3322 S. Campbell Ave., suite GG, Springfield
The newly renovated and expanded Jungle Gym offers ample space to play, climb, party and run. Jungle Gym offers a myriad swing options—from baby safety seats to the always popular double-canoe. The big bean-bag jump is my fearless daughter's new favorite; climb, jump, laugh, rinse and repeat. Jungle Gym hosted our second birthday party in style, allowing us to rent the entire space for a reasonable fee. Perfect for an army of toddlers on the move.