Life
Diskey the Wonder Dog is spreading cheer through Springfield and Beyond
With tail wags, flips and a flying disc, Diskey the Wonder Dog and her owner, Russ Rosencrans, are boosting southwest Missouri one smile at a time.
By Claire Porter
May 2019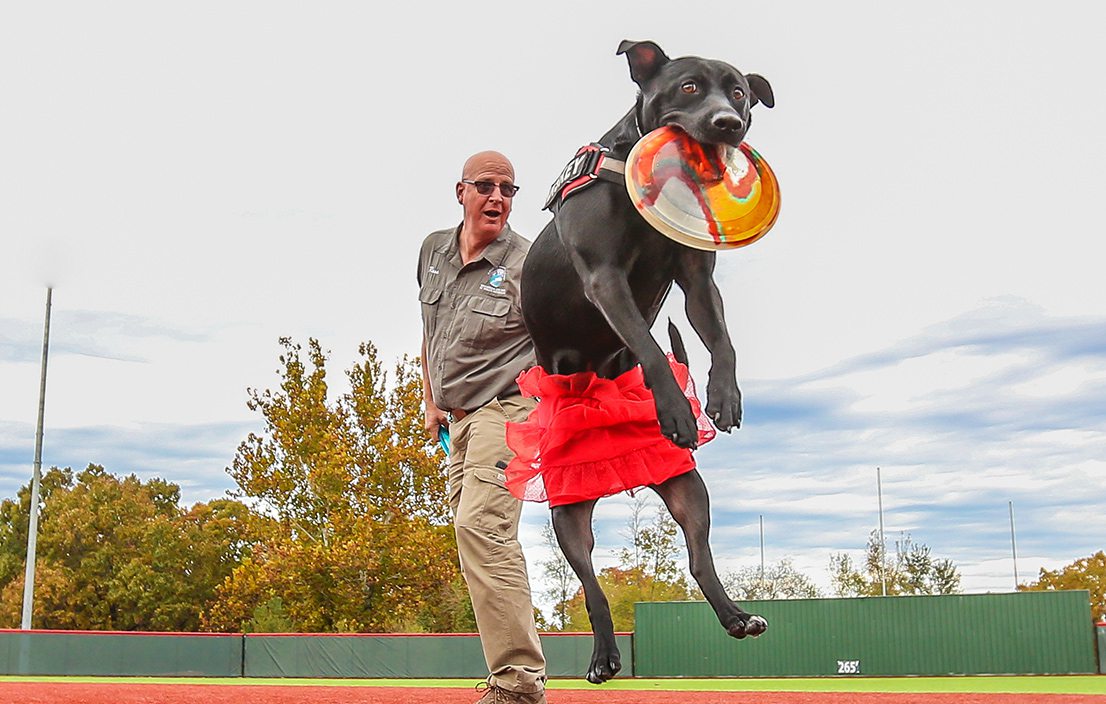 According to Russ "Allright" Rosencrans, he's had a lot of dogs in his life but never a "cool" dog—that is, until four years ago when he met Diskey the Wonder Dog. At the time, she hadn't unlocked her wonder dog potential. She was an 8-week-old black Lab mix Rosencrans's wife saw on Facebook. "I looked at that picture and my heart melted," Rosencrans says. 
As an avid disc golf player and Walnut Shade resident, Rosencrans adopted the puppy hoping he could train her to retrieve his Frisbees, even naming her after a disc. Rosencrans started taking obedience training courses and researching disc dogging and says it opened up a new world to him. "As my dreams got bigger, we started competing in Frisbee dog competitions," he says, including competing at Purina Event Center in St. Louis and traveling all over the Midwest for competitions. Although rewarding, the competitions aren't what drive them.
As Rosencrans was training Diskey, he had her obtain the AKC Canine Good Citizen Certification. The designation, which covers basic training and well mannered behavior, allows her in dog-friendly spaces, which is where Diskey the Wonder Dog's mission comes to life. "I like to say we're changing lives one smile at a time," Rosencrans says. 
Rosencrans works crowds at nursing homes, sporting events and school assemblies as Diskey performs her signature catches, flips and tricks. With Rosencrans, Diskey acts as an "ambassador of fun and excitement," catching the eye in a red skirt. 
Rosencrans caters the performance to the crowd. At nursing homes, low-key tricks are followed by Diskey getting cuddles from residents. At sporting events, a quick, intense show fills halftime. At schools, Rosencrans has coupled stunts with a program he developed called Seven Habits of Highly Effective Kids, in which he talks about skills like perseverance, determination, hard work and respect. 
When she's not on display, Diskey is a lap dog and is kept company by three other dogs. One of them, Layla, is a Chinese crested–poodle mix puppy—don't worry, Rosencrans assures people that she's actually cute—who travels along with the pair and gets pets from the crowd as Diskey works. 
Diskey has performed on The Mystery Hour; done 150 nursing home visits, 30 school presentations and several college basketball halftime shows; and represented the movie Super Power Dogs for the Branson IMAX. Rosencrans is semi-retired and looking to ramp up performances, but he self-funds Diskey's work, so he's exploring sponsorships so Diskey can spread smiles and tail wags across southwest Missouri.