Things to Do
Hidden Gems in Southwest Missouri
Leave routine behind and embark on a little adventure to find shopping, dining and experiences that are a bit off the beaten path.
by Katie Pollock Estes
Mar 2023
Catch It If You Can: Pop-Ups and Special Events

If you're lucky enough to snag a ticket, or if you're available on just the right day, you'll love these pop-ups and special events.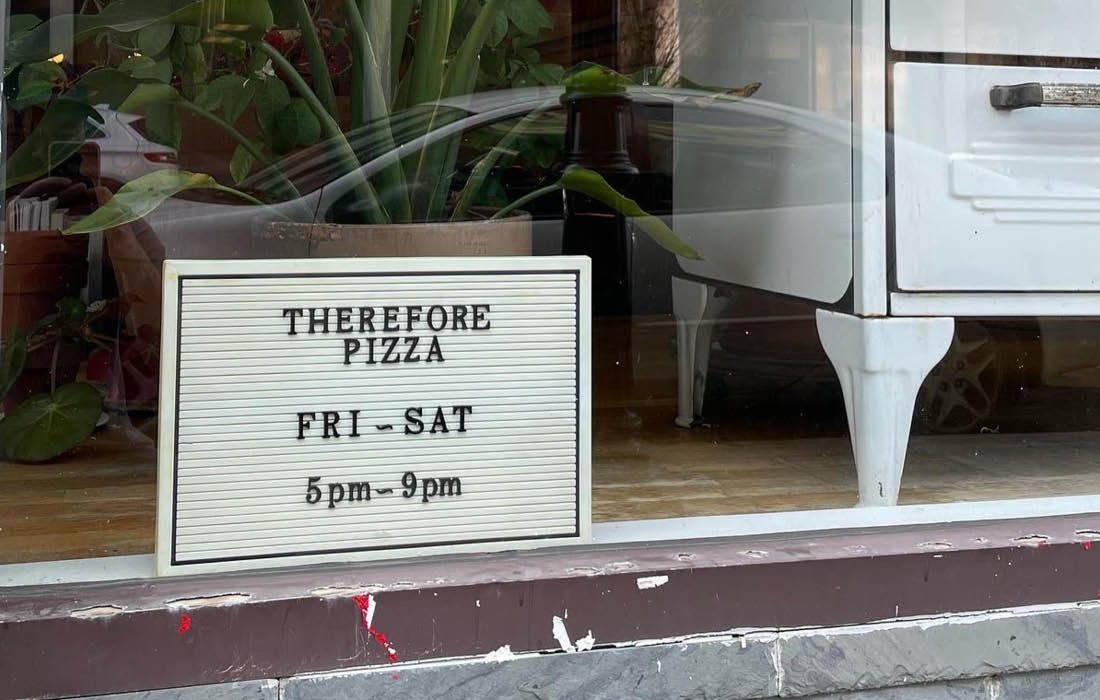 Photo courtesy Therefore, Pizza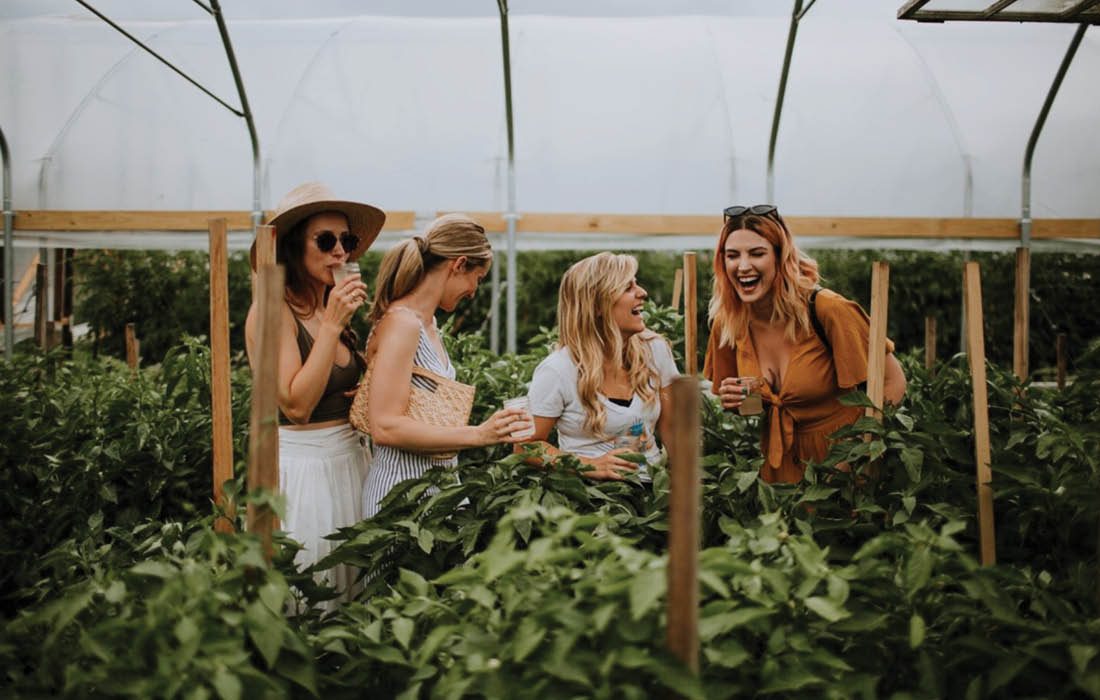 Photo by Elise Abigail Photo
353 E. Main St., Fordland
Know before you go: This darling pop-up market is more than shopping; it's an experience. Vendors gather on a cozy homestead that feels like its own little world but is really only 20 minutes from Springfield. There they sell vintage, antique, home decor, gifts and more—and food trucks are on hand to feed hungry shoppers.
Don't miss this: The Mother's Day Market event on May 13.
4741 S. 131st Road, Bolivar
Know before you go: It's not just the lovely vintage home goods that make Back Road Relics a hidden gem. It's also their hours: They are only open one weekend a month, which means going shopping there is an experience. Grab some girlfriends and make a day of it.
Don't miss this: The shop is full of vignettes and sweetly arranged areas full of great stuff. Make sure you plan time to really browse.
307 S. Jefferson Ave., Springfield
Know before you go: Once you've visited and fallen in love with the Prairie Pie storefront, come back on Friday and Saturday nights when Therefore, Pizza takes over the place, slinging a different type of pie. The menu changes regularly, but the crisp-chewy-perfect crust is always there. Their recent mushroom-potato-bacon pie was so good they sold out.
Don't miss this: Their cheese pizza is a classic for a reason.
823 W. State St., Springfield
One of our favorite summertime traditions is Cocktails on the Farm, a ladies' night event featuring live music, small plates and creatively crafted cocktails that you actually learn to make with hands-on instruction. The small plates are made with ingredients from the farm. It's the ultimate girls-night-out.
Follow them on Instagram @_collective_kitchen
Know before you go: This tiny little operation churns out some of the most beautiful loaves of bread we've ever seen—along with some other goodies like cookies and pizza dough. Keep an eye on their Instagram to see when they are offering specials (like holiday menus) or market-style pop-up events on their front porch.
Don't miss this: The crusty Table Loaf is perfection.
Follow them on Instagram @sofarspringfield
Know before you go: When you buy tickets to a Sofar Springfield concert, you know the date and time—and that's about it. The location is always an intimate setting  kept secret until 36 hours before the show. The music is a surprise too, with two to three sets from a variety of performers and genres. You can even bring your own alcohol to sip while you watch.
Don't miss this: The next scheduled concert is Friday, April 14.
Capture Some Culture at an Intimate Event
The audience is small and exclusive at these venues and cooking classes, for a truly special experience.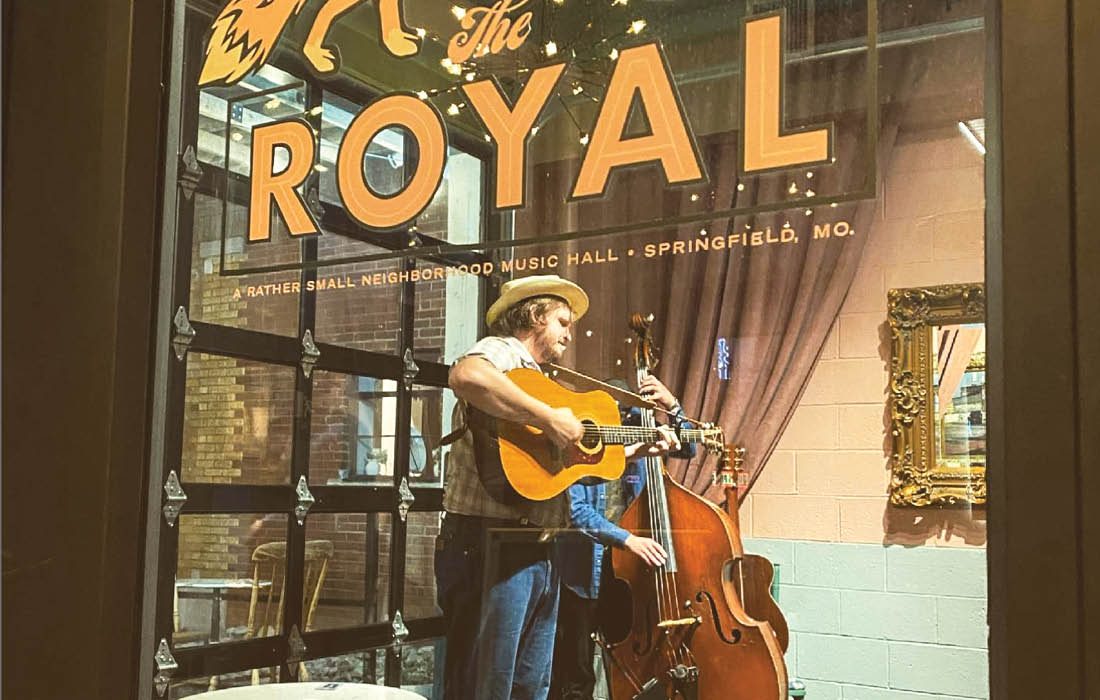 Photo courtesy The Royal Music Hall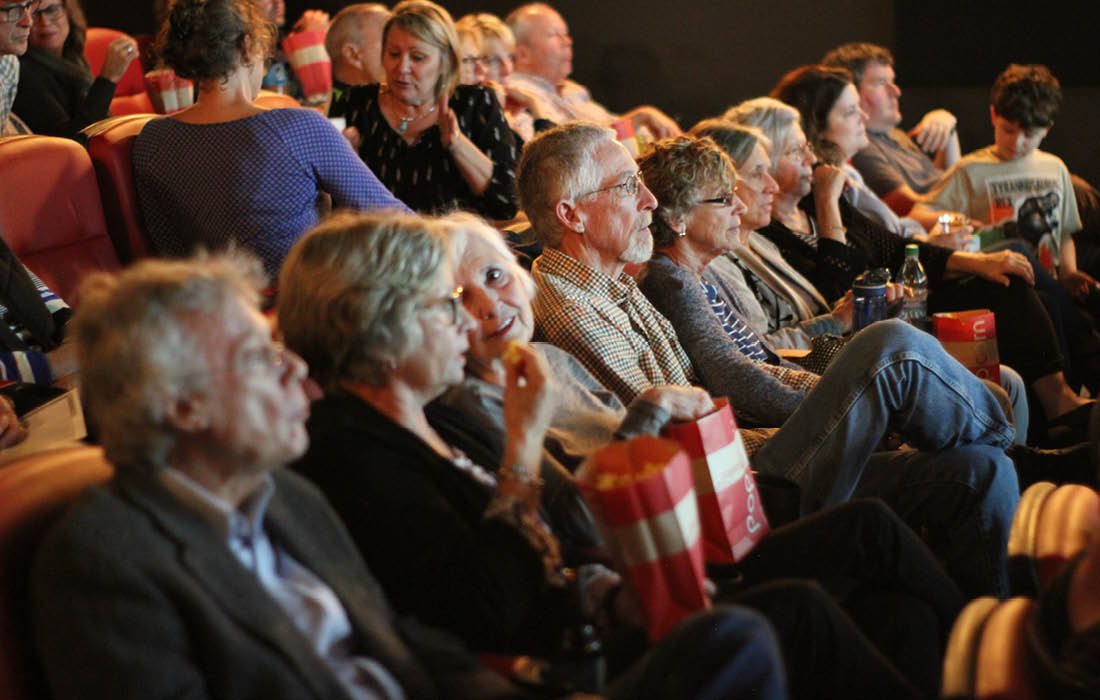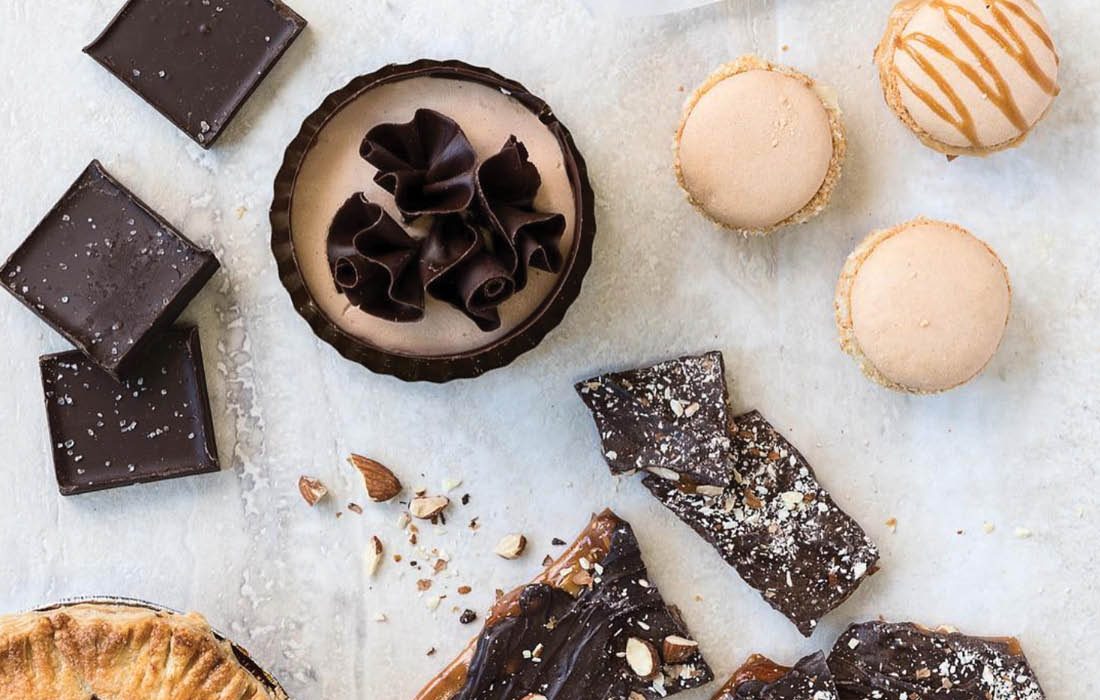 1427 E. Cherry St., Suite B, Springfield
Know before you go: If you like to listen, really listen, to live music in small, intimate settings, then you'll love concerts at The Royal. They call them "listening room concerts," and they feature talented local musicians without noisy crowds. There's a small menu of snacks to try too.
Don't miss this: Order one of their bottled cocktails to sip during the show.

305 S. Campbell Ave., Suite 101, Springfield
Know before you go: The stellar lineup of independent, arthouse and classic films is enough to make you fall in love with The Moxie. But we love the children's programming too. Moxie Mornings combines art and film for kids age 2-6, and Moxie Flix shares classic films with kids up to 13.
Don't miss this: Catch the 2023 Oscar-nominated short films through March 3.
607 S. Pickwick Ave., Suite B, Springfield
Know before you go: We love the baked goods here (the dinner rolls are stunning), but the date night cooking experiences feel the most surprising. With world-spanning themes, you can find a hands-on cooking class that suits your taste.
Don't miss this: March date-night experience themes include Greek, New Mexican, Italian, British Isles and comfort food.
Take in Some Farm Charm
Slow down a little with leisurely meals or flower picking at scenic local farms.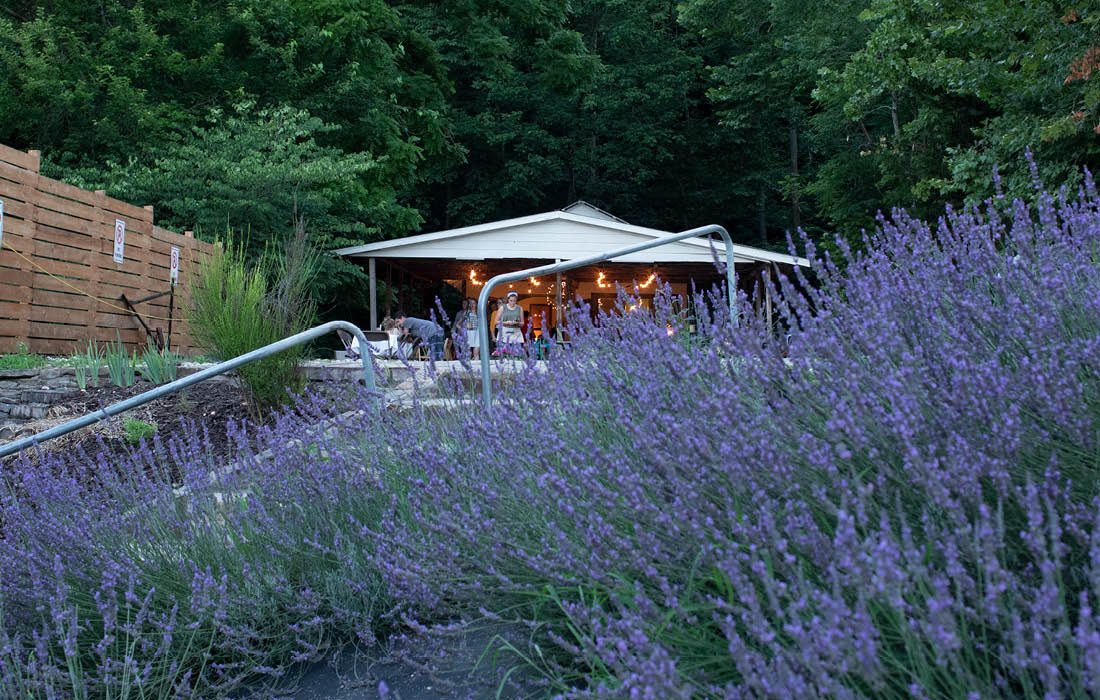 6593 Emu Lane, Springfield
Know before you go: The pizza is made fresh by a cheerful assembly line of Millsap crew. The dining area is a little clearing in the trees strung with lights, peppered with picnic tables and picnic blankets, and filled with the mingling sounds of live music and chattering guests. It's a darling atmosphere, and the pizza is fantastic too, topped with farm-fresh seasonal ingredients.
Don't miss this: There's a sort-of-hidden little area for the kids, where little ones can run wild.
3016 State Highway M, Clever
Know before you go: What's better than the soft smell of lavender wafting through the air, a view of a creek and waterfall down the hill, live music playing in the background, and tasty lavender-infused eats in front of you as you relax on the restaurant's cozy wrap-around deck? 
Don't miss this: The season is short and reservations fill up fast, and they opened on February 1. Be sure to grab a spot fast!
177 Elm Grove Rd., Rogersville
Know before you go: Visit this sweet little farm for a chance to cut your own flowers and create a freshly picked bouquet. Fresh flowers are a treat, and when you pick them yourself, it's that much more satisfying.
Don't miss this: They offer darling baby animal playdates too.
Find Your Zen Outdoors in the Ozarks
These surprising spots to let you relax in the great outdoors—without fighting a crowd.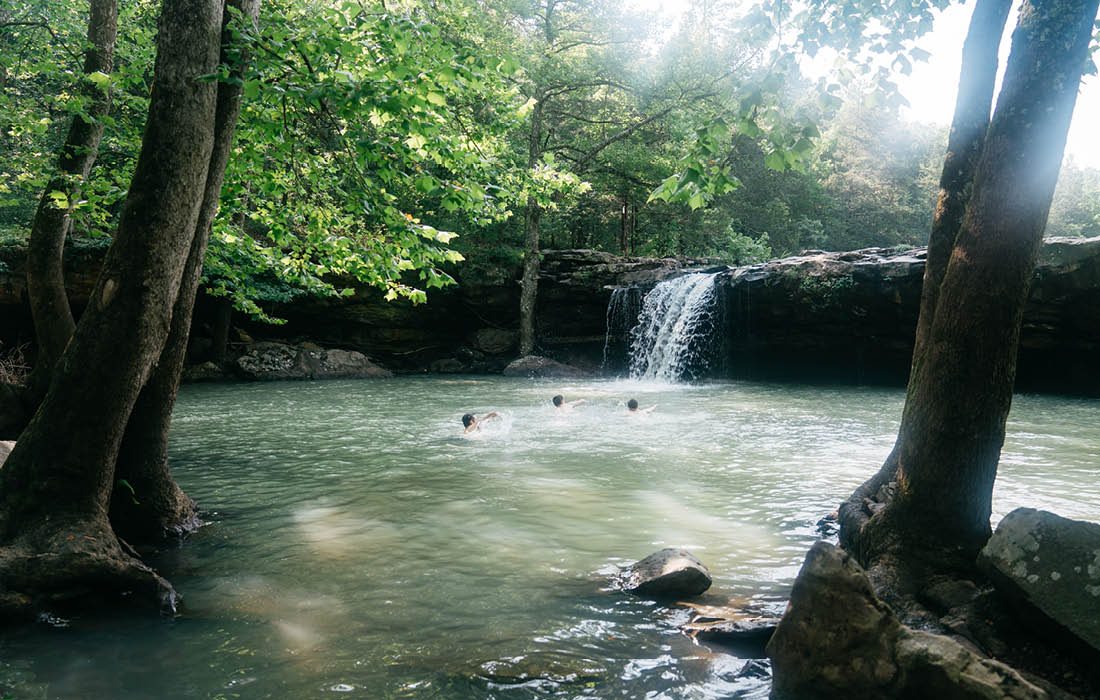 From Jasper, Arkansas, take Highway 7 south 28.3 miles to Highway 16 east. Take Highway 16 east 9.8 miles to County Road 1205. Falling Water Falls is on the right after about 2.3 miles.
Know before you go: This swimming hole is located just off Falling Water Road, with stone steps leading down into an idyllic little forest oasis. It features a sizeable turquoise pool, a waterfall and wood-slat ladders nailed onto trees that lead to a rope swing and the top of the falls. I took my kids here last summer, and they had a blast swimming in the cold, clear water under a canopy of trees and then picnicking on the surrounding rocks.
Don't miss this: If you're brave enough, jump off the top of the waterfall into the pool below.
4200 E. Farm Road 66, Springfield
Know before you go: This 860-acre lake in north Springfield doesn't get as much attention as other waterways, but it deserves some hype! The super-peaceful area is heaven for fishing, hiking and kayaking. The Dirt 66 natural surface trails provide mountain biking and trail running opportunities too. It's a place that gets better every day, yet you can still find quiet and crowd-free spots to connect with nature. Plus, it's on of Springfield's city water sources, so the lake is pristine—be sure to treat it with care while you're there to help keep it that way.
Don't miss this: Starting this year, you can rent paddleboards too.
Looking for more waterfalls? Check out our feature about the waterfalls in southwest Missouri.
Make Your Springfield Date Night Extra Special
Find magic in a dimly lit dining room with a password to enter, a twinkling communal dinner at an apple orchard and more.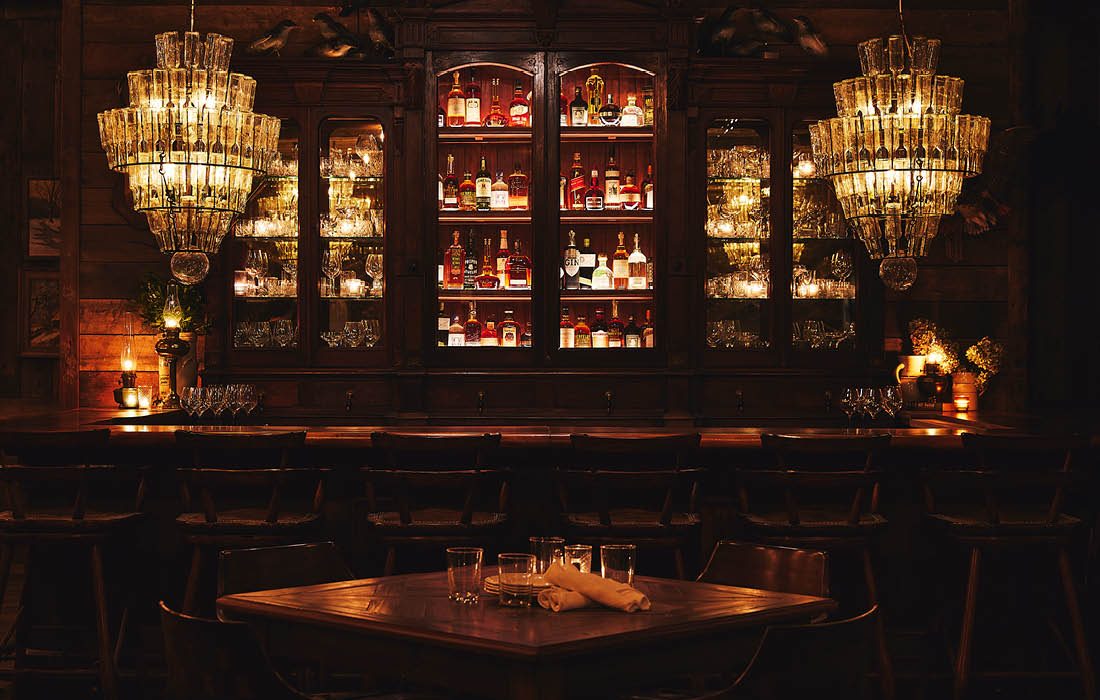 802 Finley Farms Lane, Ozark
Know before you go: What could feel more hidden than this? This fine-dining spot with speakeasy vibes is tucked away under The Ozark Mill Restaurant, and you pass through a moodily lit tunnel to get in—with a password of course. Inside, the lights are low, and the decor is dark and rich and full of history. You feel like you're dining somewhere secret and exclusive.
Don't miss this: Cheers your date with The Millpond, a bright and refreshing cocktail.
8011 E. Highway AD, Rogersville
Know before you go: Any meal at Harvest feels special, with its apple-orchard setting and wrap-around screen porch. But we love their special events the most, like the communal autumn dinners that take guests off the porch and out into the orchard where they sit at long communal tables under string lights in the cool and breezy evening air and dine on incredible food.
Don't miss this: The menu always changes, but any fish dish is a must-try.
200 E. Main St., Branson
Know before you go: Level 2 Steakhouse has built up quite a reputation, but its special Chef's Table is a less-well-known treat. A truly VIP experience, it's your chance to work with chefs to create a multi-course menu just for you, with drink pairings included. The Chef's Table for groups of two to 10, and you have to make reservations weeks in advance.
Don't miss this: You get to choose your steak knife from an array of lovely options.

Find more of the best date nights in Springfield, Missouri.
Dine with the Chefs of Tomorrow
Local universities with student-run restaurants offer stellar dining that flies under the radar.
Culinary Arts & Hospitality management students prepare and serve a changing menu that has included things like pan-fried rainbow trout, wild mushroom arancini, layered key lime mousse cakes and more. Scallions is located in room 108 of Information Commons West and is only open two hours a week: Thursdays from 11 a.m. to 1 p.m.
Students in MSU's Department of Hospitality Leadership create the menu and prepare the food. Dishes change with the semesters, but a recent Southeast Asian–themed menu included Korean bibimbap, laksa noodle soup, crunchy spring rolls, ube ice cream and more. Carrie's Cafe is on the fourth floor of Pummill Hall and is open Tuesdays and Thursdays from 11:30 a.m. to 1 p.m.
Here the students don't just prepare and serve the restaurant's food—they also grow the veggies and raise animals for meat and dairy. The menu includes dishes like fried green tomato caprese, braised osso bucco, pecan-crusted trout, strawberry-rhubarb cheesecake, and more. They are open for lunch and dinner Monday through Saturday, and for brunch on Sunday.
Take a Wine Break
Exclusive and hidden, charming and remote, or self-guided—there's a surprising wine adventure for every vibe.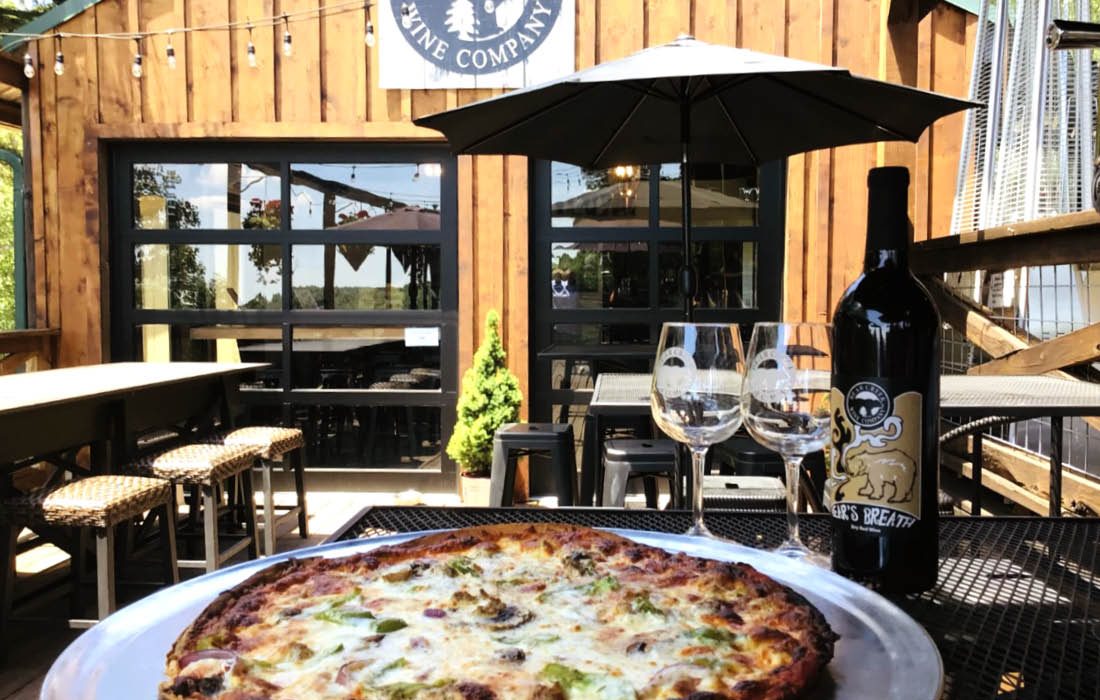 150 Top of the Rock Rd., Ridgedale
Know before you go: Accessed via a stone-lined staircase and tucked away beneath Osage Restaurant at Top of the Rock, this gem feels like a secret you've stumbled upon. It features a large wine selection and a whiskey room.
Don't miss this: There's a cigar humidor at End of the Trail too.
1320 Keithley Road, Walnut Shade
Know before you go: When the nights start to get warm, this is where you and your friends will want to go for a cozy, scenic, live-music-filled experience. They serve wine, beer, pizzas and apps, but you'll like the setting just as much as the eats. Covered seating overlooks a sweeping Ozark-mountain hilltop view, and patio seating is set up below twinkling string lights.
Don't miss this: Order a flight of Bear Creek's craft brews.
2023 S. Glenstone Ave., Springfield
Know before you go: Did you know that even when Derby Deli is closed, you can still take advantage of the wine tap for self-serve wine by the glass? It's a great way to taste new wines and inspire your next wine bottle purchase. Plus it just feels luxurious to serve yourself a glass of something delicious and sit down to enjoy it with a friend.
Don't miss this: You can order St. Michael's cakes by the slice here too.
3522 S. National Ave., Springfield
Know before you go: Speaking of self-serve wine taps, did you know they have that at D'Vine too? There you can order your meal and wine at the counter, then serve yourself from the taps before finding a spot to sit and enjoy the flavors.
Don't miss this: When it's available, order a lobster roll to munch on while you sip. It's a delicious change of pace.
Dine or Sip in a Cave
Duck into a cave or beneath a bluff for dining with a unique, au naturale setting.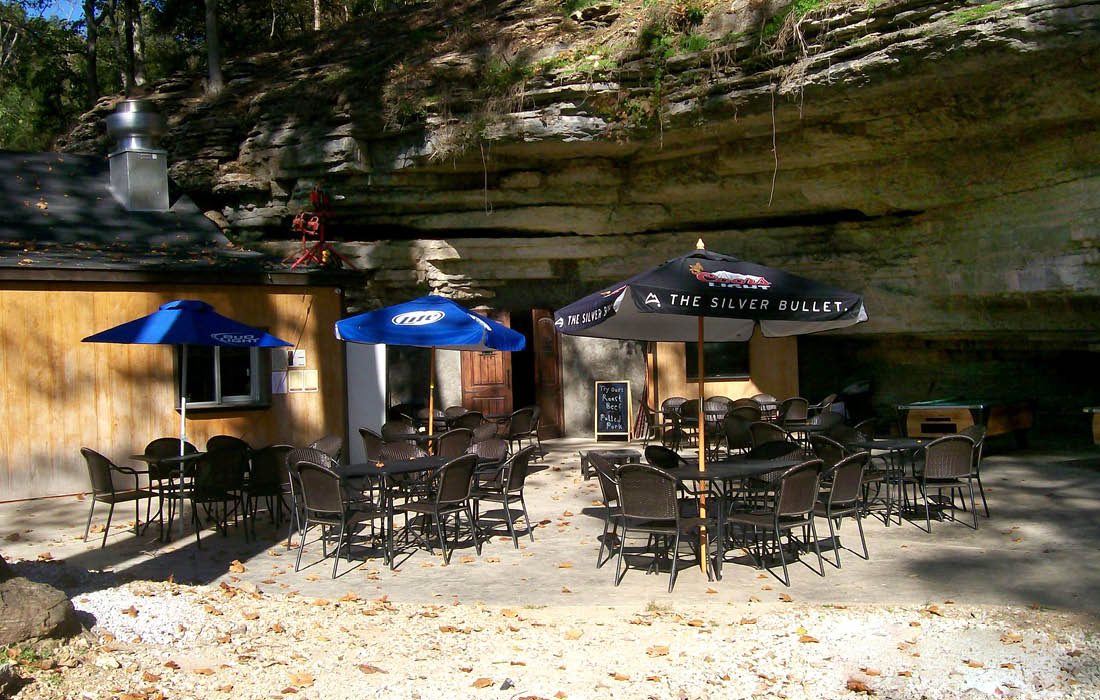 6385 Old Highway 71, Joplin
Although it's not exactly a cave, this place was built up against a towering bluff wall. The menu is filled with hearty fare, like grilled pastrami sandwiches, hefty burgers, fried chicken and meatloaf. But the draw is also in the history of this spot, which was a general store in the early 20th Century before finding new life as a restaurant in 1961.
Top of the Rock, 150 Top of the Rock Road, Ridgedale
You might know that you can take a golf cart journey through Lost Canyon Cave at Top of the Rock. But did you know you can get a tipple while you're inside this natural wonder? The aptly named Bat Bar is a little watering hole built inside the cave that offers freshly prepared cocktails for visitors who are passing through.
12386 Missouri 59, Noel
At The Cave Bar & Grill, you can dine on American fare with an actual cave-like bluff overhang and rock walls around you. Bonus: You can even spot some adorable goats roaming around outside and climbing on the rocks. This spot closes for the winter season, so keep an eye out for their spring reopening.
Spruce Up Your Home
Go treasure hunting at local shops that can inspire beautiful—or quirky—spaces in your home.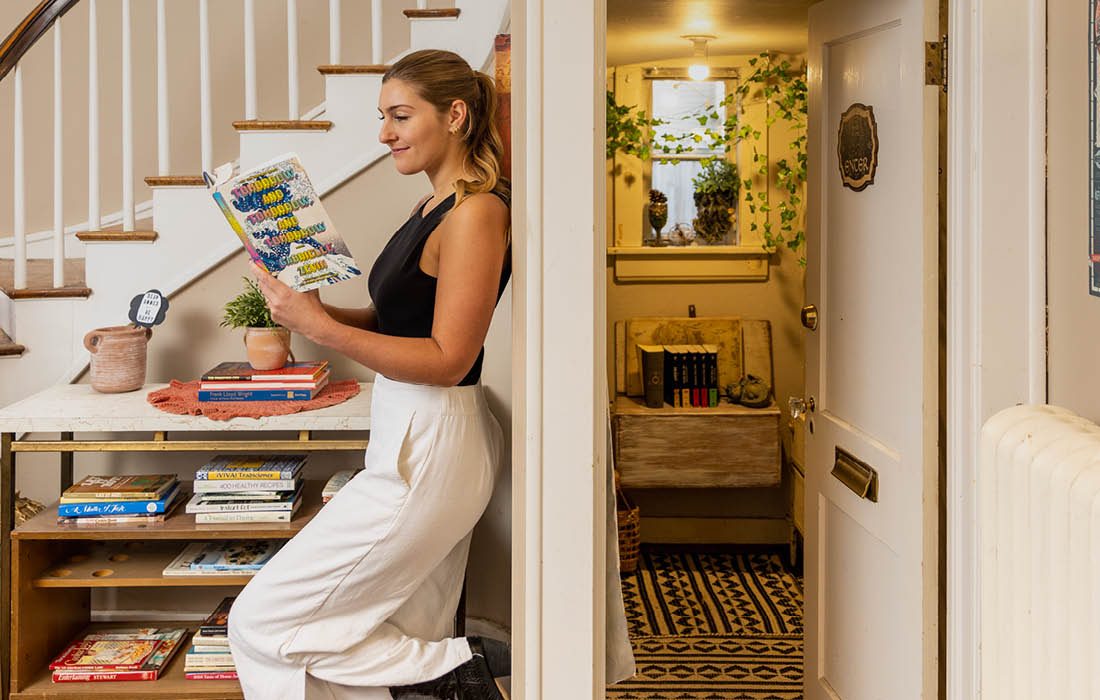 1856 E. Cinderella St., Springfield
Know before you go: The Thicket (which has a sister shop called  The Nest) has been a beloved spot since 1997. The decor and its arrangement in the store are truly lovely. It's a great place to shop for tablescape inspiration or that one-of-a-kind piece for your home.
Don't miss this: There are even some cute kids products—at press time they had a sweet display of different stuffed piggies.
400 W. Walnut St., Springfield
Know before you go: There's something so delightful about the scent of the perfect candle wafting through your home. Now imagine you created that perfect scent and poured the candle by hand. We love that you can do just that at Heirloom Candle Bar.
Don't miss this: Heirloom started out at Pickwick and Cherry, but their new location on Walnut Street opens March 16.
8847 State Highway 76, Branson West
Know before you go: Lodge-style decor is the name of the game here, and it's a great spot to find an unexpected piece for your home because it's full of surprises. The rugged furniture is great for outfitting your cabin in the woods or your little place at the lake.
Don't miss this: If you're lucky, you might snag some interesting taxidermy or a lamp styled from antlers.
1150 E. Walnut St., Springfield
Know before you go: If the best way to read is to cozy up in a comfy space full of warm light and good vibes, then Pagination is the embodiment of that feeling. It's a welcoming place where you can take your time, flipping through tomes to find  your next favorite book or that perfect pretty puzzle or coffee table tome.
Don't miss this: The Lord of the Rings-themed nook under the stairs.
Want more locally made decor and more? Take a look at our list of the best things made in southwest Missouri.
Downtown Gems
Hidden among bustling city strips or in historic buildings boasting old world and vintage charm are some must-see downtown stops.
Branson
Fashion House
109 Veterans Blvd., Branson
In downtown Branson, away from the city's theatre bustle, there's a must-shop boutique. Fashion House sells clothing, jewelry, shoes and accessories—including a nice selection of handbags to match the look you put together while shopping.
Hollister
Ye Olde English Inn
24 Downing St., Hollister
This charming Tudor-style inn first opened in 1912, is on the National Register of Historic Places, and still has the vibes to prove it thanks to a gorgeous stone-walled lobby and cozy fireplace. Stay at this gem for a change of pace on your next getaway.
Springfield
Prairie Pie
307 S. Jefferson Ave., Springfield
If you've only ever ordered whole pies from Prairie Pie or grabbed a mini pie from the grocery store, you're missing out. Prairie Pie's storefront is darling space where you can dig into steamy savory pot pies, fluffy mashed potatoes and cookies that are to-die-for.
Carthage
Courthouse Square
Carthage, Missouri
The Courthouse Square Historic District is a tour of 19th century American architectural styles, like Italianate and Romanesque Revival—many with Carthage marble facades. The historic buildings are now filled with shops that surround the Jasper County Courthouse.
Relax on a Tucked-Away Local Patio
Quiet hidden courtyards and breezy backyard patios make these dining spots feel like your own secret gardens.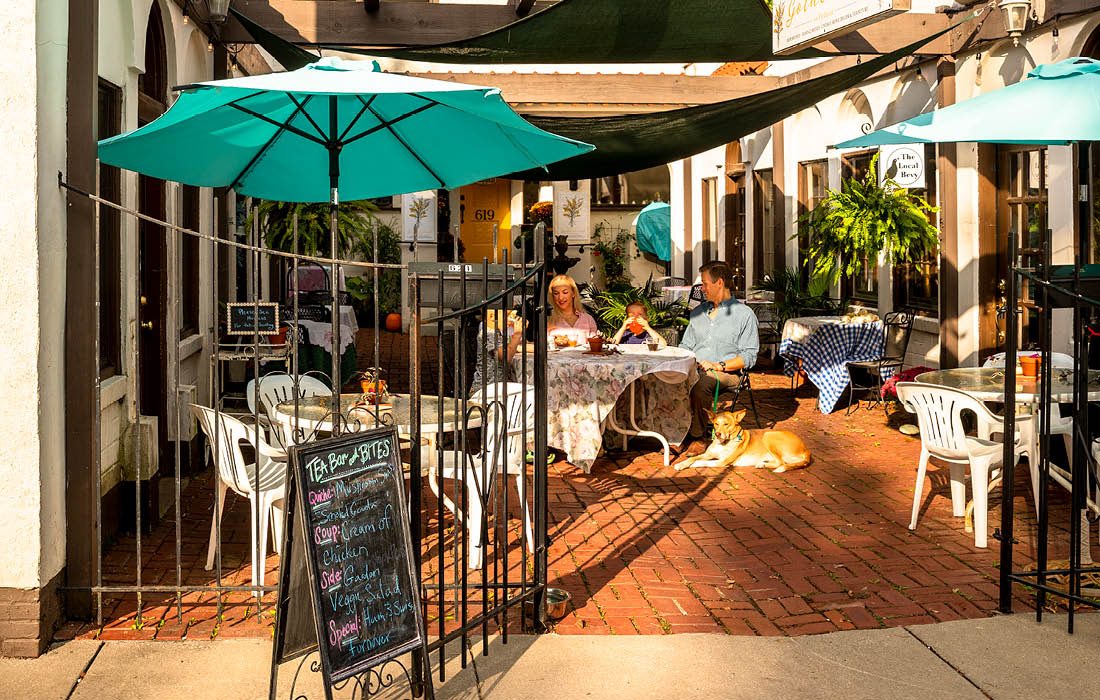 621 S. Pickwick Ave., Springfield
This dreamy little patio outside Tea Bar & Bites makes you feel like you're dining in a charming bistro in some sweet little European town. It has a burbling fountain and is situated in the courtyard of a Spanish revival–style building that just adds to that European atmosphere. Order a cup of tea and the curried chicken salad, and take it all in.
2925 E. Battlefield Road, Suite 105, Springfield
Did you know there was a patio at Catrina's? It doesn't face the parking lot, so you might not have seen it. But we adore it. It's a sweet, tucked-away spot that feels like a secret. The courtyard doesn't have the meh street views of some restaurant patios, so the vibe is private and perfect.
206 E. Elm St., Ozark
The Finley is located inside a converted church building, but the patio outside has a different kind of charm. It's spacious and grassy, creating an airier atmosphere than the other tucked-away patios on our list. It's a space that is practically perfect in every way when you're in the mood for a sunny mid-morning brunch on a lazy weekend.
Read about the best patios in southwest Missouri here.
Find Vintage and Antique Treasures
Antique shops are magical wardrobes to Narnia when it comes to finding hidden gems—but you better act quick because the good stuff goes fast.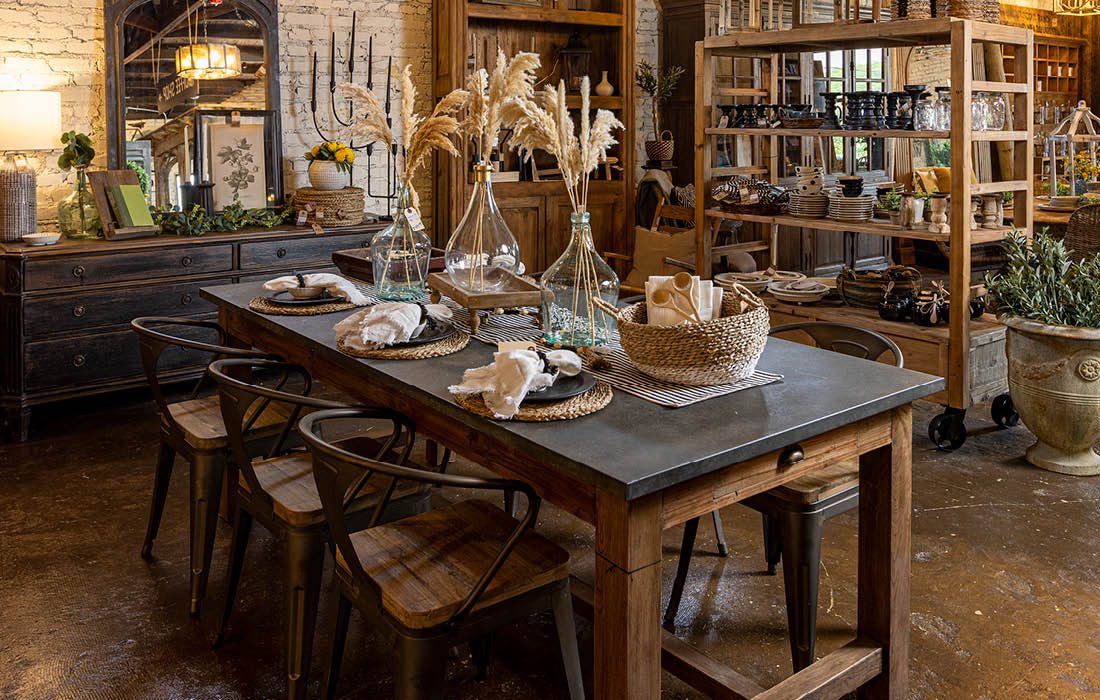 114 N. Commercial St., Branson
Know before you go: Make sure you set aside plenty of time to explore 417 Vintage Market. At three stories high and 15,000 square feet, it's packed with home goods, vintage items and more. Plus it's all beautifully arranged (we love the tablescapes) and so much fun to browse.
Don't miss this: The top-floor coffee shop.
Know before you go: If you follow Second Sittings on Facebook, you better have fast fingers. That's because their high-quality, in-demand mid-century modern furniture finds are posted sporadically and go fast!
Don't miss this: At press time they had just added an online store to make shopping anytime easier, and we're here for it. It's called The Block and Mortar.
2637 S. State Highway N, Republic, 417-732-6155
Know before you go: If you're spending a day in Republic, you'll want to stop by this antique shop. There you'll find high-quality furniture, including their specialty: American oak furniture pieces from 1890 to 1910.
Don't miss this: At press time we were admiring a beautiful roll-top desk with tons of little compartments for organized this and that.
217 W. Commercial St., Springfield, 417-771-8420
Know before you go: This vintage shop is an absolute vibe, and we love that. It specializes and retro and mid-century modern pieces. Find coffee tables, dining sets, and more—including a 1960s hutch that we had major heart eyes for at press time.
Don't miss this: We recently spied a cool set of tulip chairs. Think they're still there?
1047 S. Glenstone Ave., Springfield

Know Before you Go: If you're looking for furniture items, Cottage Consignments is a great spot to find high-quality items in a variety of different styles—from more contemporary pieces to more ornate antiques. It's a great spot to visit when you want to shop, but you don't exactly know what you're looking for yet.
Don't Miss This: Keep an eye out for the selection of beautiful rugs!
Surprising Ways to Get Your Blood Pumping
These are just any golf course holes, bike parks and zip lines—they're ones that offer a little something extra if you know to go.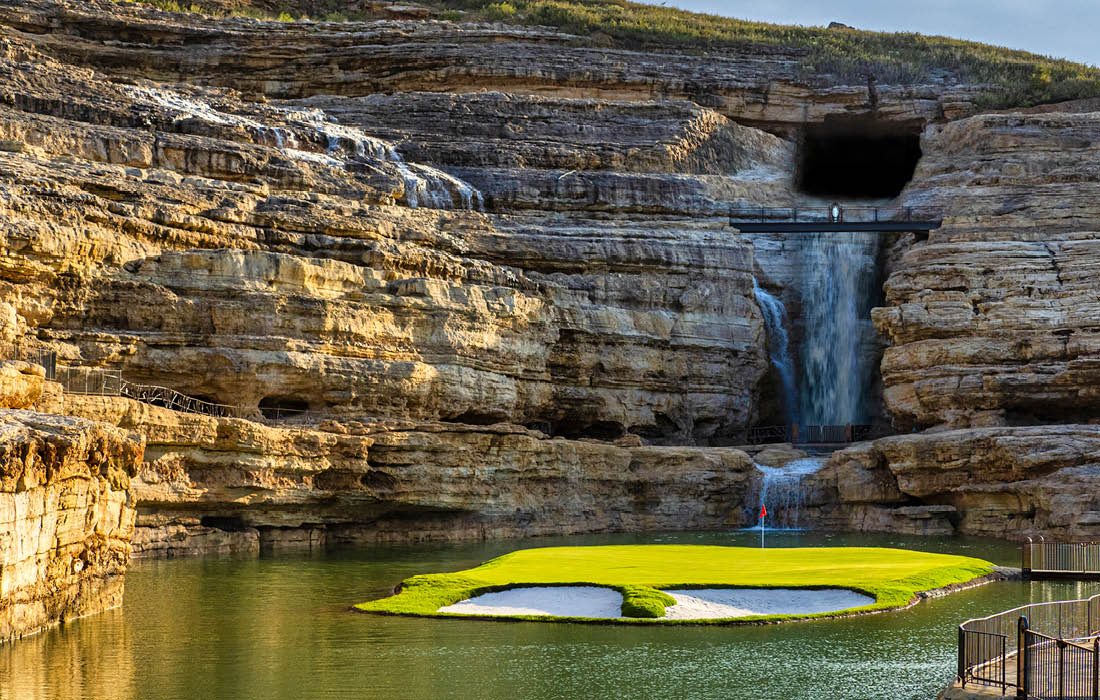 Payne's Valley Golf Course, 1250 Golf Club Dr., Hollister
Know before you go: This truly stunning golf course with Ozarks views in every direction was the brainchild of Johnny Morris and designed by Tiger Woods. But the bonus 19th hole, The Big Rock, was designed by Morris himself. It ends on a little island below soaring bluffs.
Don't miss this: The views, of course!
3410 Highway 65, Walnut Shade
Know before you go: This new mountain biking spot makes it so easy for beginners and experienced cyclists alike to get in on the fun. You can rent a bike on-site, and after you've worked up an appetite you can stop into the coffee shop or grill for something to munch on. There's even a bike shop on-site in case you need repairs.
Don't miss this: Spend the night in one of their glamping tents.
3335 Highway 160, Reeds Spring
Know before you go: Perhaps the most scenic zip line in the area, Zip Line USA has a mountaintop location that lets you sail from hilltop to hilltop over a huge valley. The set-up of the 10 zip lines takes full advantage of their Ozarks setting, and the zippers who visit for a high-flying thrill get to benefit from that as they sail over the forest floor.
Don't miss this: This spot has outdoor laser tag too, for even more heart-pumping fun.
Learn About Local Nature
Step off the obvious paths and trails to learn about wild animals and the ecosystem of our gorgeous region.
Outdoor Initiatives
Know before you go: The Springfield Park Board's Outdoor Initiatives program does an excellent job connecting residents to nature through cool events. They do boat tours of the caves at Sequiota Park, lead backpacking and rock climbing trips, host educational nature walks and hikes and more.
Don't miss this: The Sequiota cave boat tours are March 2–5 and 9–12, so sign up soon.
4601 S. Nature Center Way, Springfield, 417-888-4237
Know before you go: You probably think of wooded trails when you think of the Springfield Conservation Nature Center. But this is your reminder that its visitor center building is a little rainy day treasure too. It's a great place to bring the kids when it's too soggy out to hit the trails. They can explore self-guided hands-on exhibits that are interactive enough to keep the little ones enthralled. Plus there are plenty of kid-friendly events among the Nature Center's programming, like nature-centric storytimes and kids conservation challenges.
Don't miss this: The Snakes of Missouri event on March 15, where kids get to meet a snake.
518 Hwy BB, Saddlebrooke
Know before you go: For anybody who loves animals, National Tiger Sanctuary is a must-visit. There are several tour options, but all of them include a peek at gorgeous (and huge!) cats that have been rescued and are living comfy lives at the sanctuary. The feeding tour even lets you watch while they get some tasty snacks.
Don't miss this: Take the Behind the Scenes tour to see all the ins and outs (and an arctic wolf!).