Life
The Redesigned Hagale Family Arabians in Rogersville
A decades–long history of success in the Arabian horse world has led to the creation of Hagale Family Arabians, a handsomely redesigned farm and training facility with more than a few winners behind its gates.
By Colin Shea Denniston
Jul 2022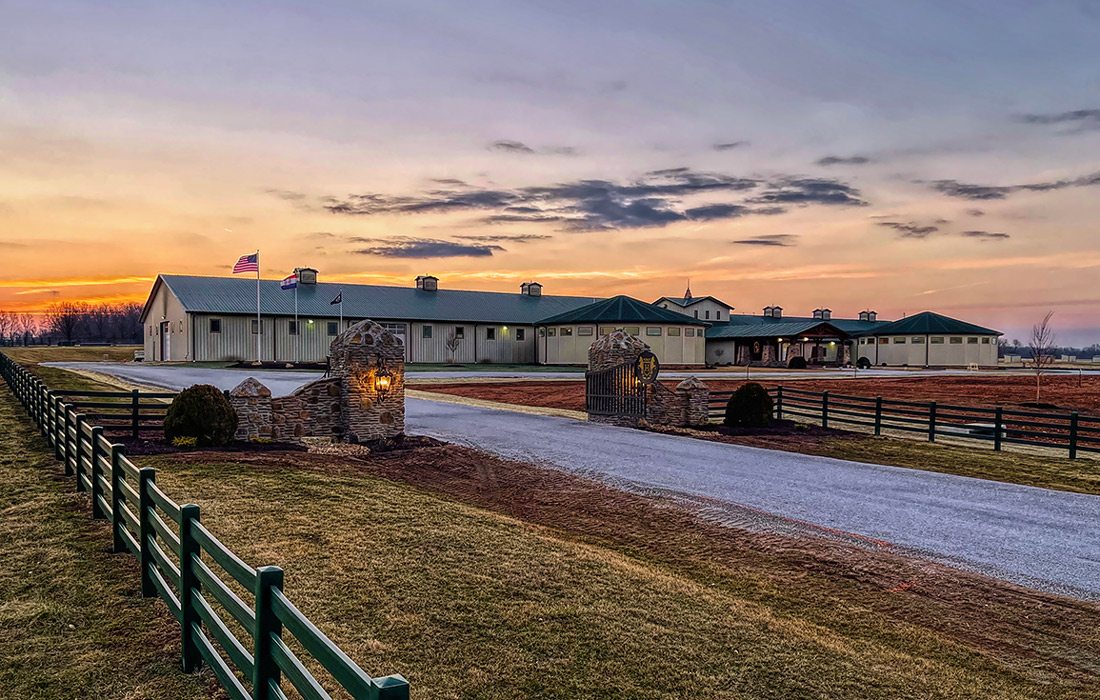 After 32 years in the manufacturing business and the last 20 years as the President of Bass Pro, Jim Hagale's post-retirement life is anything but typical, thanks in part to a conversation with daughters, Jamie and Jennifer. "I guess two years ago or so they came and said, 'Dad, we want to start showing [horses] again,'" recalls Hagale. "So, we got back into it—started a little bit kind of slowly and then I guess over the last year, it's really developed."
At around 8 years old, twins Jamie and Jennifer began showing horses in regional competitions in and around southwest Missouri. "And then one thing led to another, and they want to go to bigger shows, and they wanted hotter horses and here we are," he says. Things changed for the family with the acquisition of their stallion, Mamage, who just passed away in December at the age of 32. "That horse really changed everything for us back in the, I guess, early '90s," Hagale says. "He's a stallion, and he brought a lot of national champions. So, he was a really important catalyst for us in terms of really getting committed and much more involved."
The Hagale family's return to the world of Arabian horses began with the purchase of a few horses before making their largest—and arguably most impactful—purchase: SF Aftershoc +, one of the leading sires in the Arabian breed.
"That kind of changed everything for us when we bought him 18 months ago or so," says Hagale. "He's kind of the new catalyst. He's very, very well known in the breed. He's siring a lot of national champions and reserve national champions."
Although SF Aftershoc + hadn't been in the show ring for a decade, in February of 2021 the family decided to show him in the Liberty Class at the Scottsdale Arabian Horse Show. SF Aftershoc + received two perfect scores by all five judges.
Following the success in Scottsdale, the family took another risk by showing SF Aftershoc + at the US National Championship. "Jennifer showed him in what was called the Jackpot: all the English horses of all ages, all categories. And she went unanimous national champion," he says. "She ended up being the amateur of the year."
As word of the family's return to the Arabian horse world started to spread, Hagale received a phone call from a friend, which led to the creation of Hagale Family Arabians (5964 S. Highway NN, Rogersville). "Ronnie Stenger is a really good friend," says Hagale. "[He] called me one day and said, 'Hey, I heard you have a really bad horse habit. You need to buy the horse barn.'" The Stenger family owned the former Springfield Polo Club, before renting the barn to the Springfield Riding Club and eventually selling it to Hagale.
"It's about building a brand, you know? Having a brand that stands for something," says Hagale. If people hear Hagale Family Arabians or they see one of our horses in the ring, it has to mean something."
When asked if this is how he imagined spending his retirement, Hagale responds with a chuckle: "No, but I don't know how I had time to work. I spend my time now with the horses and the cattle. And it's just fun. I had to have something when I wake up in the morning to make sure I had a place to go and something to do."