Spaces
Ellecor's New Space is a Cozy, Eclectic Dream
Ellecor Design & Gifts moved into a 100-year-old Rountree home earlier this year, proving that old and new can coexist in a beautiful way.
By Lillian Stone
May 2019
Cozy, crisp, eclectic. For years, that's been the motto at Ellecor Design & Gifts. Now, that motto has come to life in the design firm's new boutique, located inside a 100-year-old home on Pickwick Avenue.

In January of this year, the Ellecor team ended their five-year lease in an expansive Farmers Park showroom and moved into the quaint Rountree home. "We tend to cater more to design services, in-house consultations and full remodels versus just walk-in retail customers," says owner and lead designer Haden Long. "We don't have a lot of people who come in and buy a coffee table off the floor."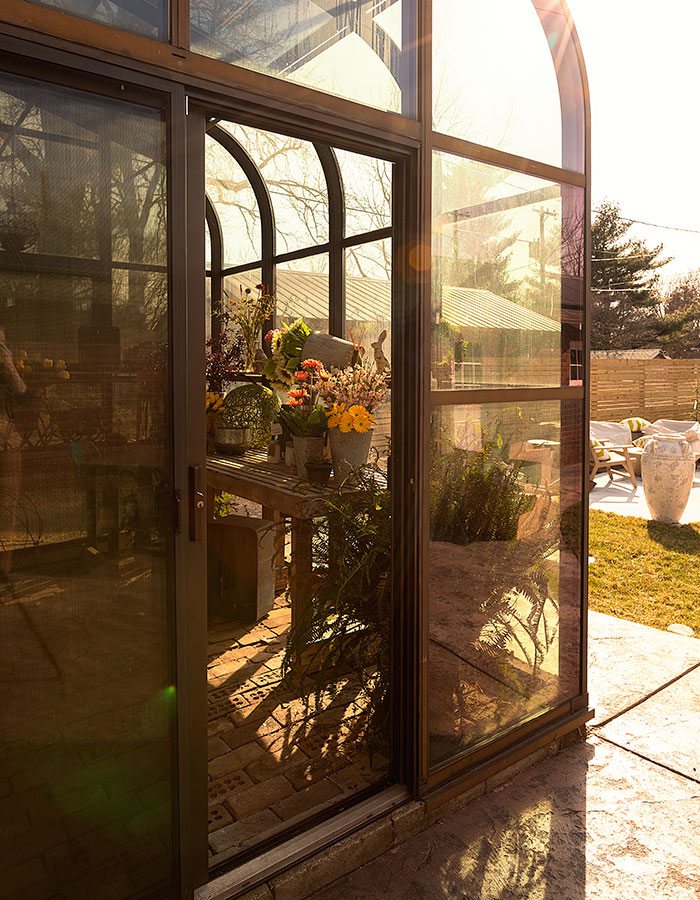 Photo By Brandon Alms
This up-cycled greenhouse hosts fresh flowers, ferns and other greenery.
Purchase Photo
Regardless, everything in the Pickwick house is for sale—everything except for the three-legged shop dog, Zeke, who tends to accompany store customers as they explore the space. The house is a testament to Long's love of mixing the old and the new; in fact, she lives in a historic Rountree home herself. Long's team maintained the integrity of the 1918 home by using original accents like trim and windows while filling the space with more versatile furnishings curated by Long and designer Sierra Penas. The home's charm is emphasized by quirky details like a wide front porch and a fabulous greenhouse, where Long houses fresh flowers, ferns and other greenery. The space is punctuated with high-end furnishings—everything from creative light fixtures to hefty dining room tables. Ellecor is the perfect destination for your next furniture investment. The shop is stuffed to the brim with versatile furnishings selected to withstand fickle home trends. Ellecor also has a tantalizing selection of deliciously scented candles, knickknacks and other gifts. Even if you left your wallet at home, the cozy, impeccably designed space is still worth touring.