Style
How To Wear Chain Detailing
Chain detailing is everywhere this season from runway shows to 417-land boutiques. We've asked two local fashion experts for their advice on incorporating the chunky chain trend into your 2022 wardrobe.
By Colin Shea Denniston
Dec 2021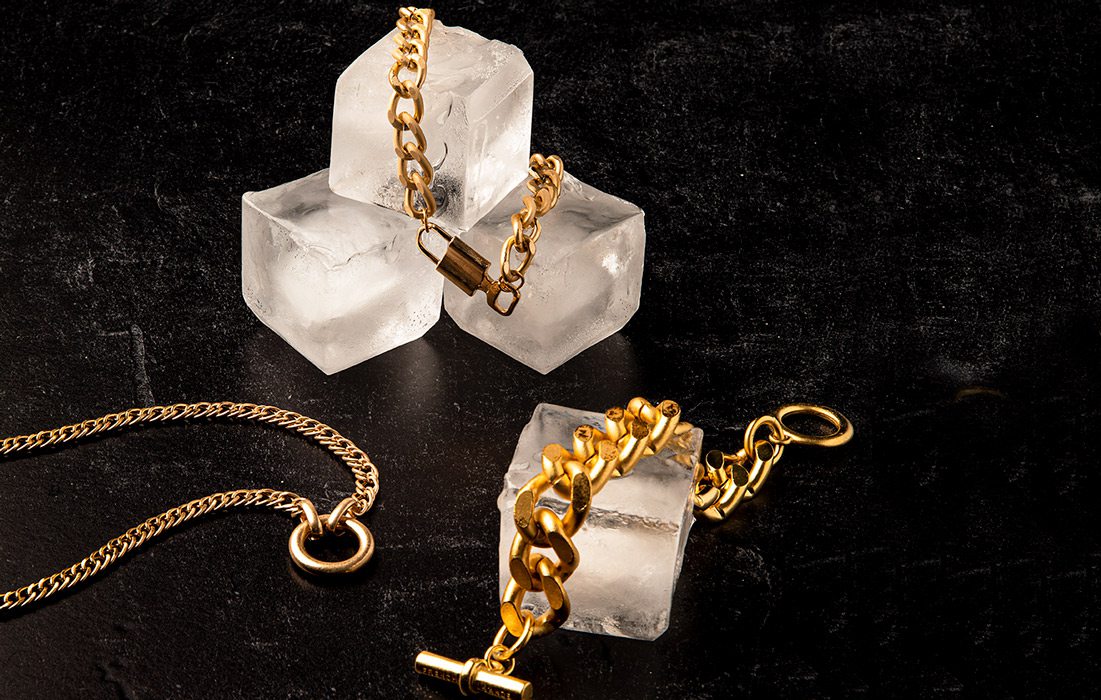 Recent fashion history tracks the chunky chain jewelry trend back to the early 2000s with rom-com characters like Elle Woods donning large Tiffany & Co. jewelry sets complete with "Please Return to Tiffany & Co." engraved charms. But according to Tammy Kirks, Marketing Director at Harem & Co (1638 E Republic Road, Springfield; 417-881-0602) the trend goes back much further. "We can thank Bottega Veneta for popularizing the chunky chain look on handbags," says Kirks. "Of course, the most classic chain example is the Chanel quilted handbag with chain straps. A perfect example of chain at its most chic."
From those 1950s Chanel bags to styles synonymous with the rap stars of the 1990s, large scale chains—with their broad and ever evolving history—are back in vogue for 2022. And this year, they are bigger and bolder and blingier than ever. From jewelry to purses to shoes, we've asked two local experts for their top tips on chunky chain styling. 
Layered Looks
"I love the idea of layering in your chunky chain with your dainty pieces," says Andrea Pena, owner of Modern Society Apparel (2652 S Glenstone Ave, Springfield; 417-831-0775). "It gives the look richness and dimension," she adds. For an added impact, Kirks recommends mixing metals when layering. "Decide on a focal point and feel free to layer at will. When wearing lots of chains around your neck, keep earrings simple," says Kirks. 
Bag It Up
"We are all about big chains on purses and bags," says Pena. In addition to clasps and straps, Kirks has been seeing chain details around the tops of bags and down the sides. Both Pena and Kirks recommend that if you go with bold chain details on your bag, keep the jewelry scaled back. 
Go for the Gold
Along with size and shape, chains are trending in a variety of colors and finishes this year. But according to Pena, "gold is always classic and chic." Kirks adds, "The warmth of gold is having a resurgence right now and looks great all year long."
Shoe In
"Chunky chains on shoes—especially boots— are making their way into everyone's wardrobes," says Pena. Kirks adds that chains are great on both classic pumps and Chelsea boots. Just remember that chains on your footwear will get a lot of attention so keep the jewelry simple or work to match your jewelry color to the chains on your shoes. 
Night Owl
While appropriate for every season and for multiple occasions, both large scale and daintier options really stand out with evening looks. "Delicate chains are great to wear in layers for evening," says Kirks. Pena adds, "There is something sophisticated about a silk blouse and chunky chain."